Belmont Stakes 2015
The third and final jewel of the Triple Crown did not disappoint in the least! With American Pharoah blowing the rest of the field out of the water – he grabbed the Triple Crown trophy that hasn't been touched for 27 years.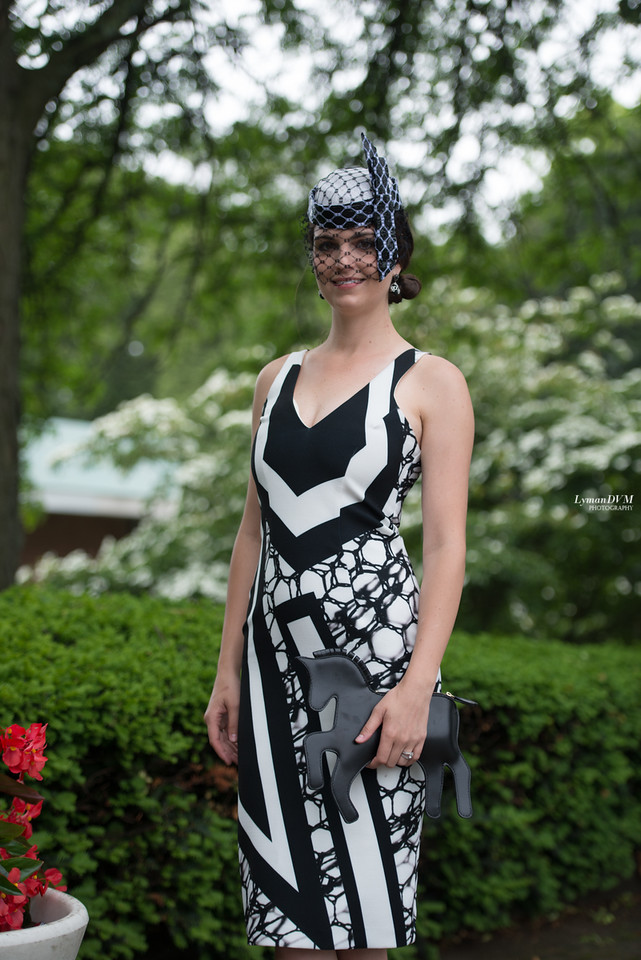 Staying on trend, Bri Mott rocked the Black and White style with some edginess in her dress design, a unique hat made by the talented Marta Glazen, and of course fabulous accessories to set the look off.
Bri began planning her outfit around her dress that she sourced all the way from Australia from the modern yet elegant brand By Johnny. The dress had an easy design with a fun and unique print that gave it an edgy New York feel. She stuck with her trusty BCBGeneration heels that she wore at last years race. Recycle ladies!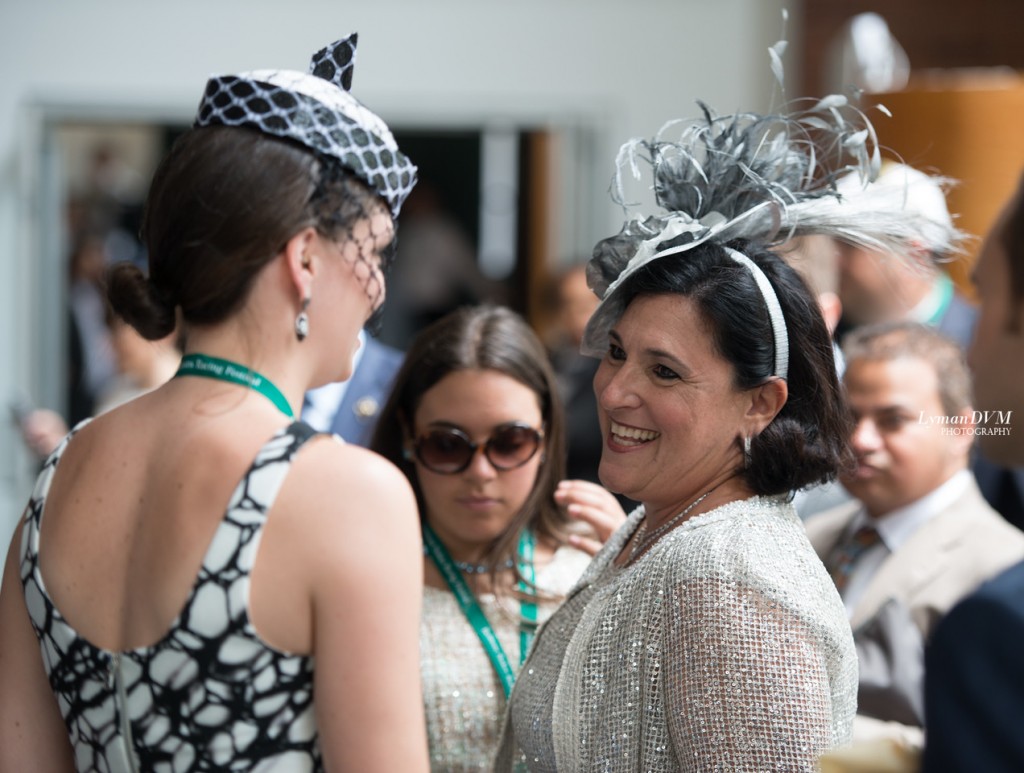 For this race she reached out to Marta Glazen who designed her modern cap to tie into the lines and circles that the dress's print shows off. The black and white hat tied in perfectly with some unique netting around the face. "Best Hat" might have been heard a few times in the crowd and she has Marta to thank for that!
As much as the dress and hat stole the show, her accessories helped push her outfit to the next level. Gorgeous earrings designed by one of the owners of American Pharoah, Ashley Zayat, complimented the outfit perfectly. Point Ashley's Pearl Onyx Orbit Drops are Matte Silver (Original Rhodium) Plated over Brass Onyx Gemstone with sterling silver backs. Retailing for $200 right here, these earrings are a perfect addition to your next special occasion. Be sure to check out Point Ashley's Triple Crown Collection- only available for a limited time ladies!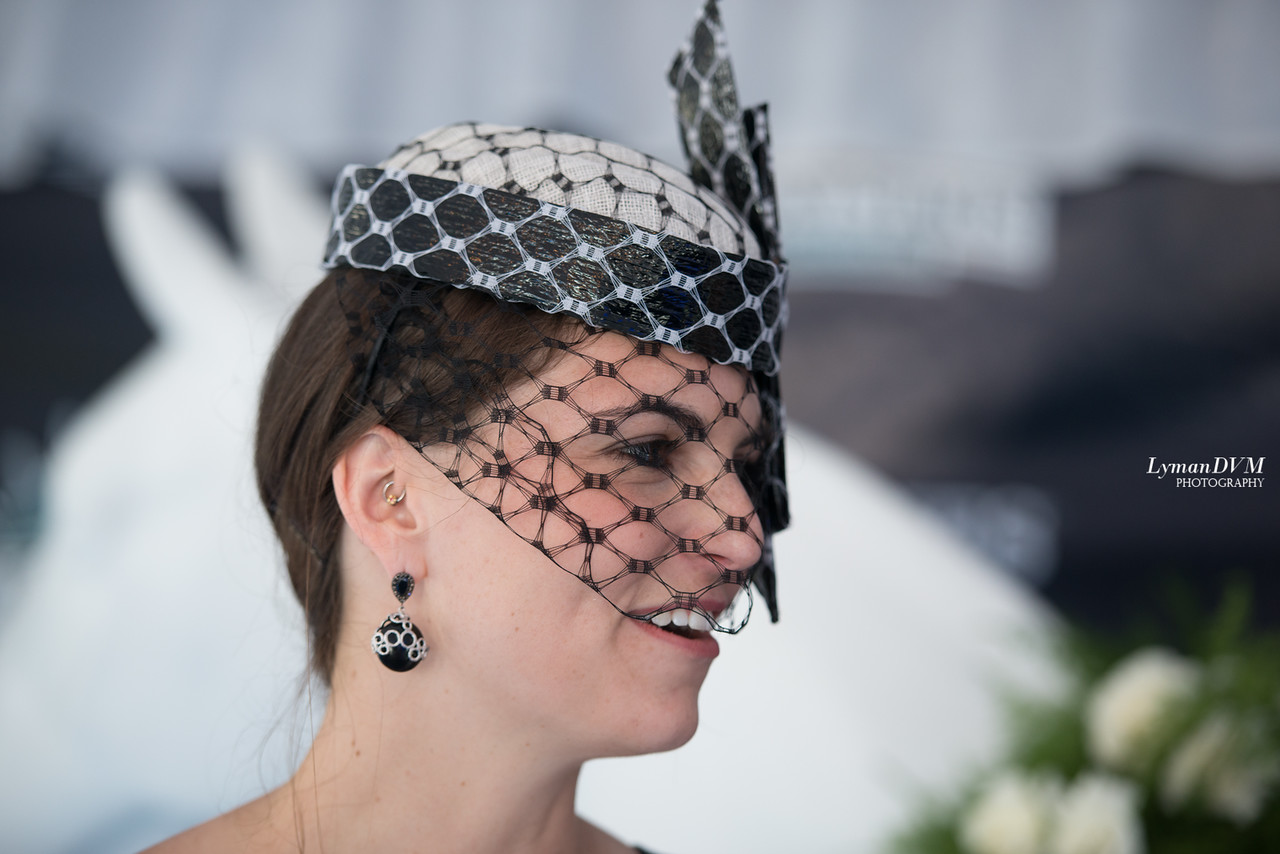 Her racing outfits are never complete without a Longines Timepiece to have her looking stylish as well as keep track of time and where she needs to be next. This piece is the same one Bri wore at Preakness with the face surrounded by diamonds on such a flat and minimalistic band. So chic and elegant for everyday wear.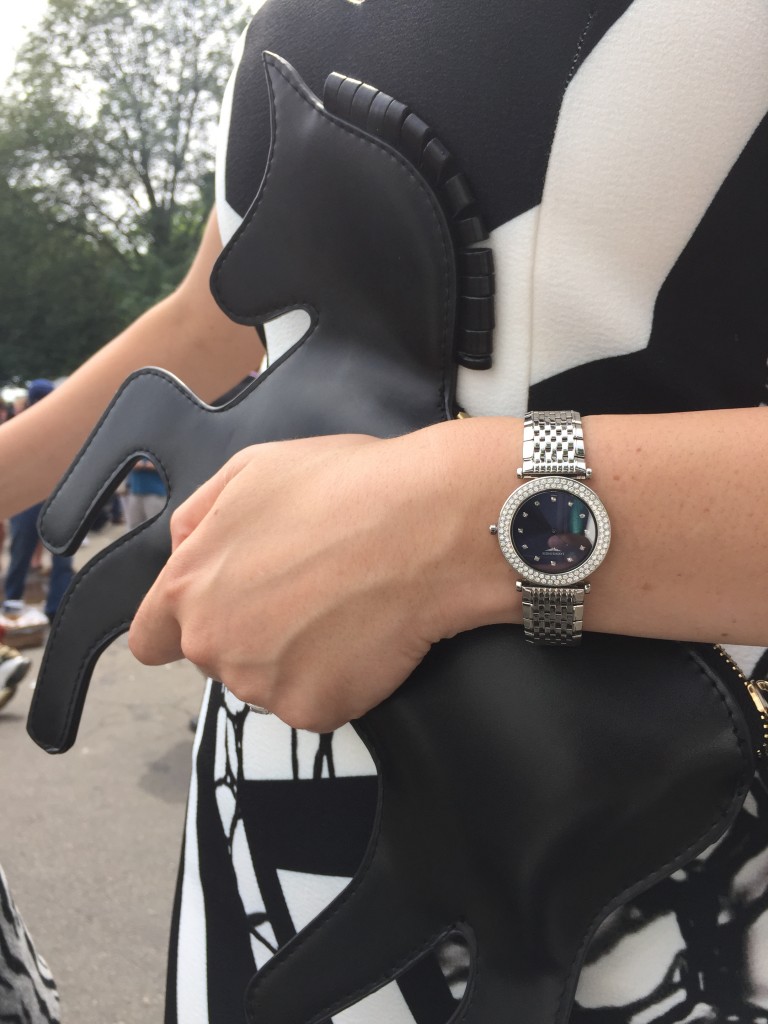 The one thing everyone asked about?? Her purse! This pony purse will be for sale (shortly!) in the Fashion at the Races store! Retailing $45 each, we will offer black, pink, red, and metallic to help bring your next racing outfit to the next lever. The purse fit Bri's two phones (don't ask) plus cards, cash, and lip gloss. What more do you need?? Stay tuned for the product release coming later on this week.
All of Bri Mott's hats will be for sale next month- and there is only one of each so be sure to purchase if you want it! xxoo
Preakness Stakes 2015
The Preakness Stakes is all about the party. Elegant Party that is! Bri Mott stayed on trend with a bold printed dress from ASOS.com. The dress had more of a conservative fit with her favorite midi length and mid-sleeved top. Recycling one of her favorite pairs of shoes, Bri wore her bold abstract wedge heels from BCBG to modernize the classic fitted dress.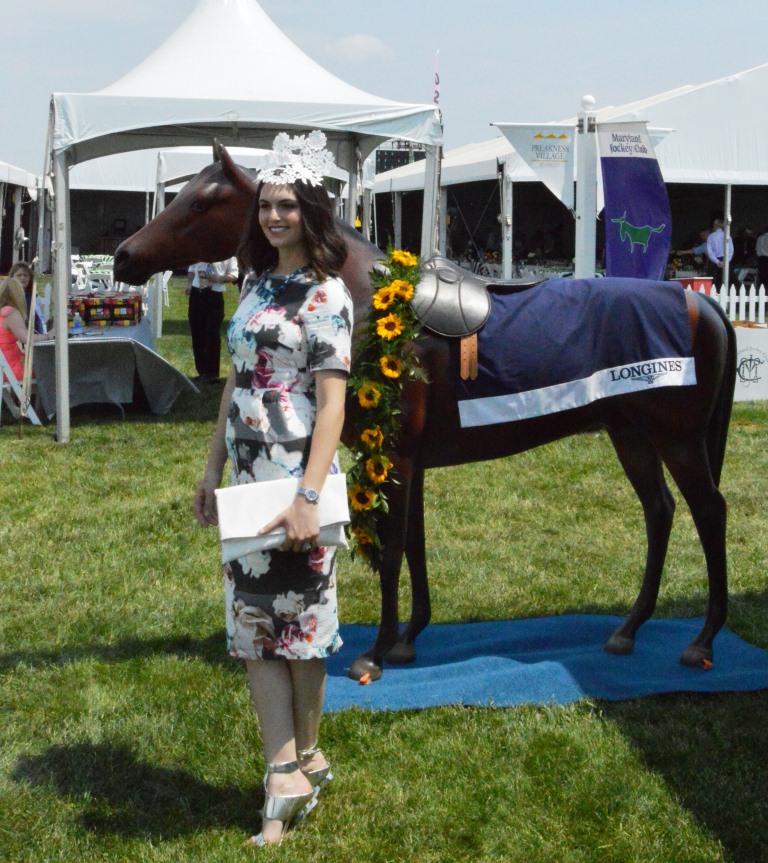 Just because we say go bold for your Preakness Stakes fashion doesn't mean you need an outrageous hat! Bri's subtle yet statement making white crown was made by Australian milliner Pamela at Locopa Designs. Gorgeous detail made a bold statement without taking away from the rest of her outfit.  To bring out the blues in the floral print, Bri grabbed one of her favorite necklaces from Chloe+Isabel. The teardrop stones added the perfect color to pull your eye toward the fun colors in the printed dress.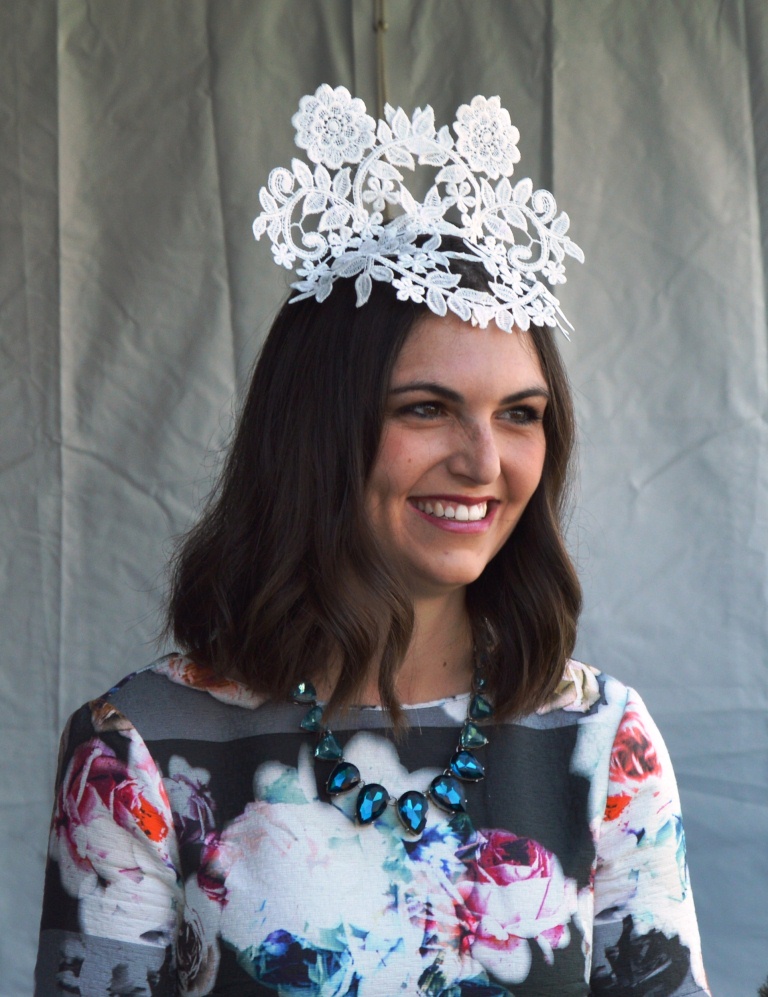 What would Bri's racing fashion be complete without her Longines Conquest Classic timepiece. Gorgeous Sunray Blue dial face surrounded by 12 Wesselton Diamonds as the hours, and 100 of these gorgeous diamonds on the case. This timepiece embodies the oldest aesthetic tradition of the brand known the world over for its winged hourglass logo. The ultra-slim profile of the specially designed case lends this collection a timeless beauty. Maintaining all the characteristics of the original creations, the models in this line grace the wrists of those who appreciate reliability.
LONGINES GIRL POWER!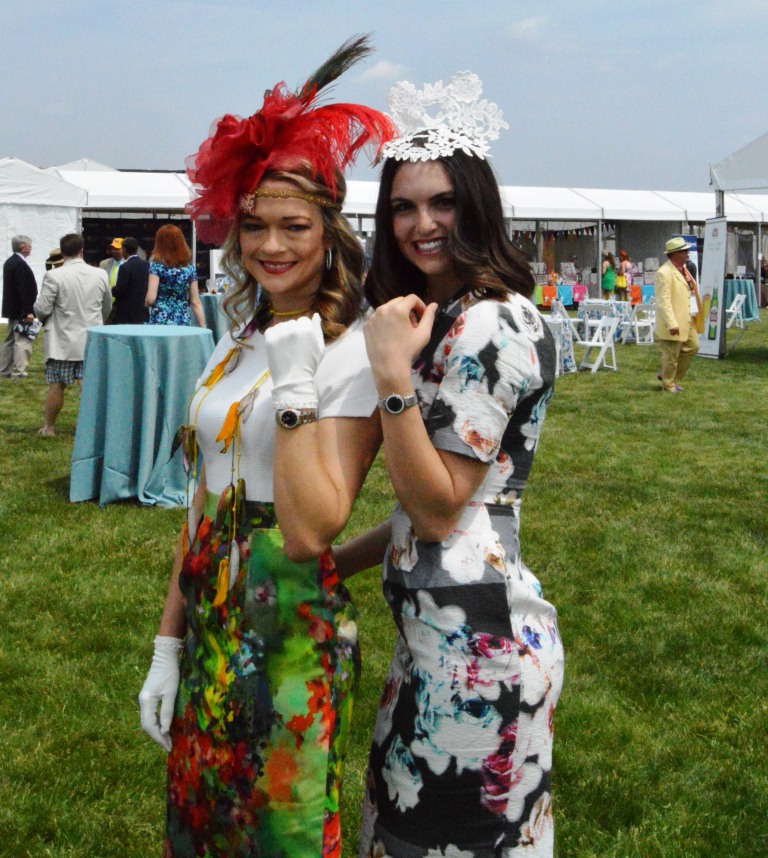 Lacey Johnson, last years Longines Most Elegant Woman contest winner wears her Conquest Classic timepiece with Bri Mott.
Kentucky Derby 2015
Keeping with the Southern Belle theme (minus the big brimmed hat of course) Bri Mott chose a floral fitted dress with an off the shoulder detail. This dress was actually found in the Bridesmaid's section of one of her favorite sites Asos.com. Simple in that it had no additional accents except its busy print, the perfect addition was a hat to match.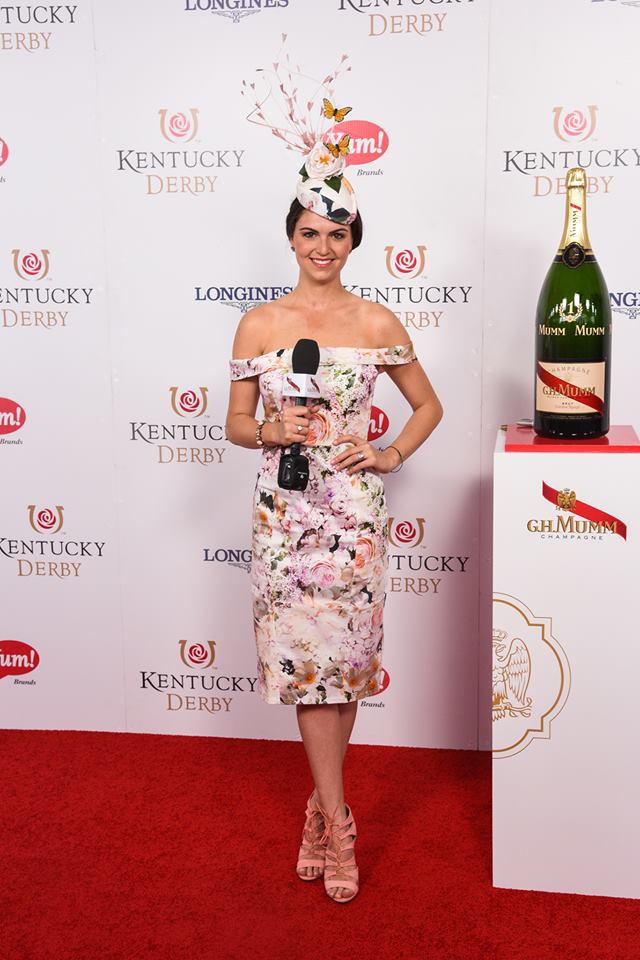 You don't have to go big to make a statement. Carol Kennelly's chic designs had even the celebrities on the carpet starting a conversation about the hat.  This piece named Consolata can be purchased for $395 (handmade one of a kind). Floral printed base with gorgeous ostrich quills curled with matching feathers accented with one flower and two lifelike butterflies, this was the perfect piece to accent the dress. Her laced up heels (bought on mega sale at Macy's) brought all the pastel colors together giving it that fashion forward look.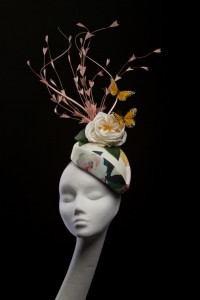 As she does most the time, Bri Mott kept the accessories simple with just a bracelet and matching earrings from Chloe + Isabel. Click the links to purchase your own gorgeous outfit for your next time out.
Kentucky Oaks 2015
 Bri Mott again did her dress shopping at Asos.com looking for the perfect combination of racing fashion and PINK! She chose to use a pastel pink paired with a wide black belt detail that tied in a big bow in the back with wide strapped detail on top.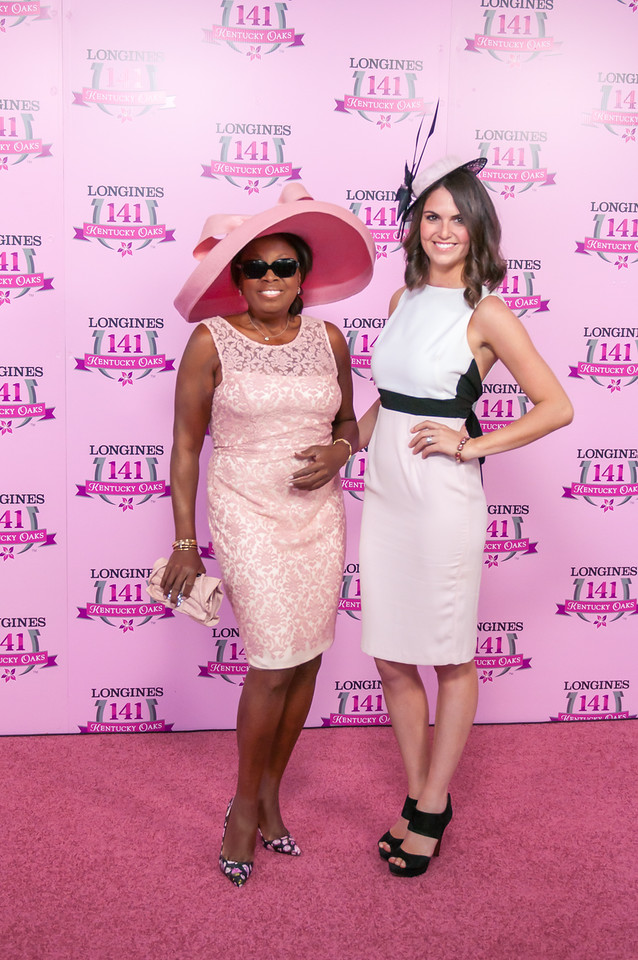 Going with her proven comfy black heels from BCBGeneration, the outfit was then topped off by a signature pieces by Karen Morris Millinery. A chic boater design made of sinamay with a black brim and pink base, accented with a star flower made out of feathers and two arrow feathers to give it a sharp finish.