Woodbine Queen's Plate
Photos by Caris Photography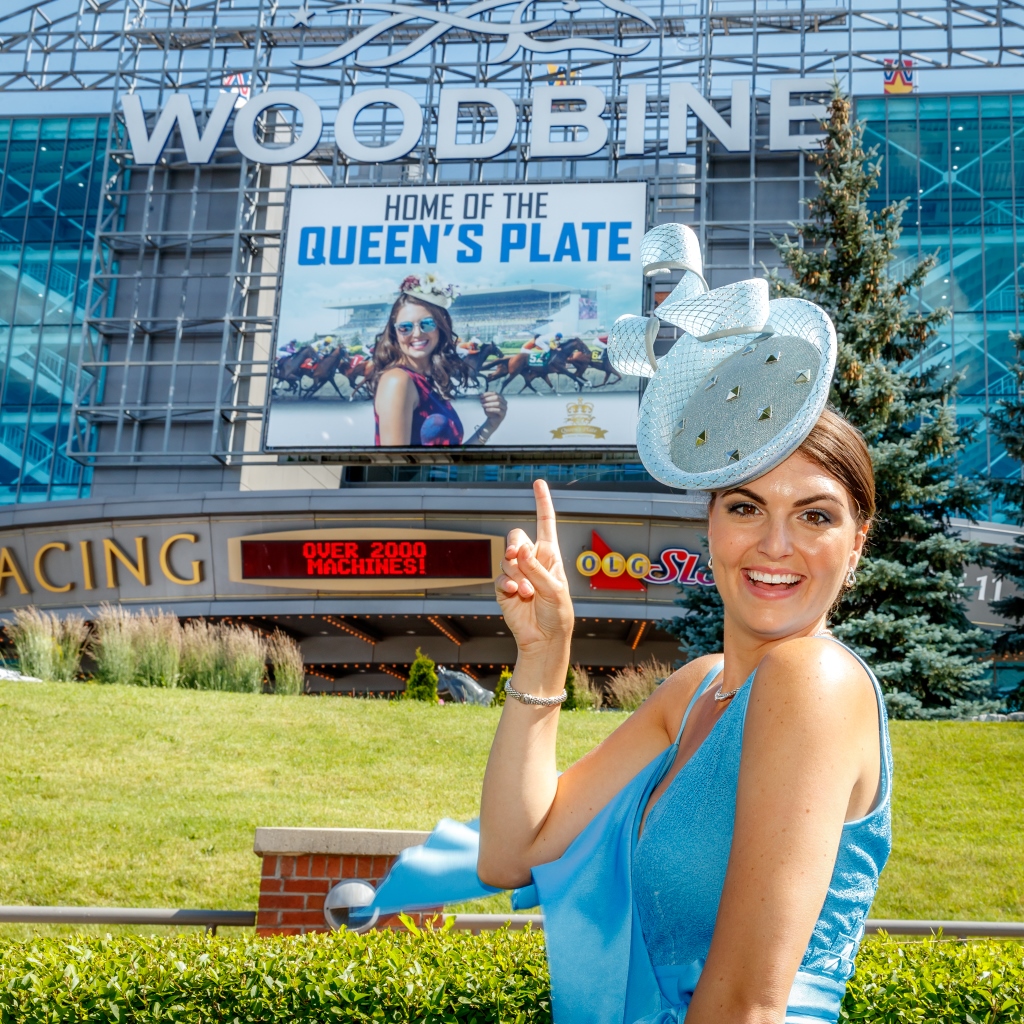 Outfit Details: Diane Von Furstenberg Dress |Milli Starr Millinery |BCBG Heels (similar style) | Longines Watch |Horse Clutch | Lagos Jewelry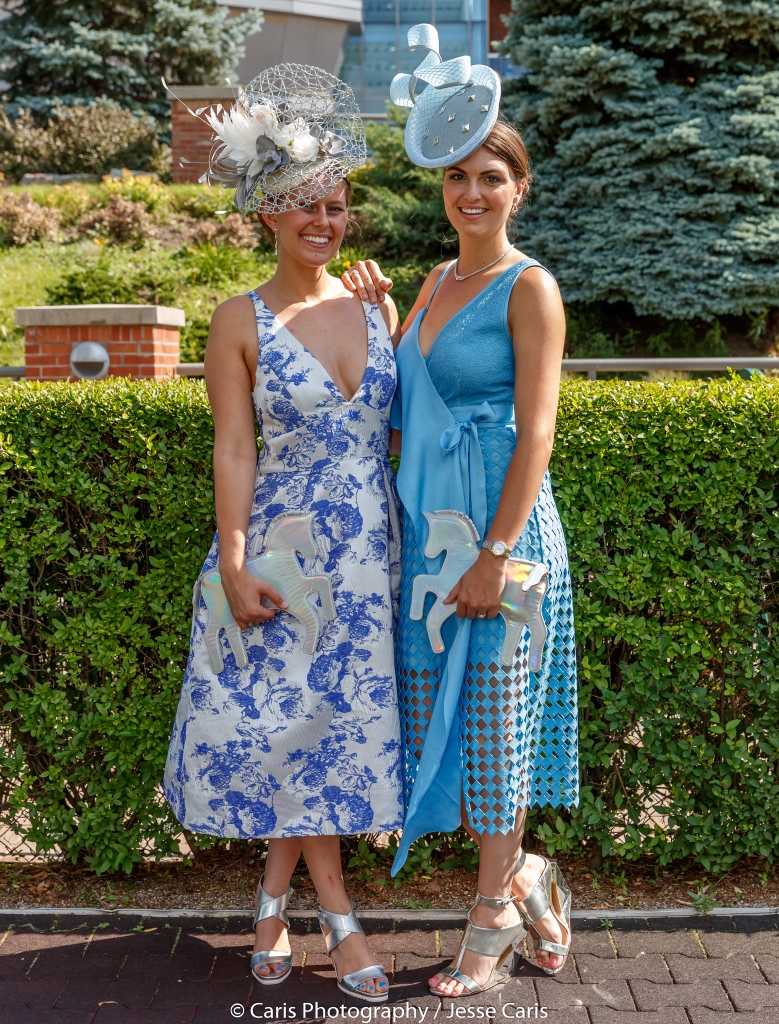 We couldn't have asked for better weather on the day of the Queen's Plate at Woodbine Racetrack in gorgeous Toronto, Canada. The sun shined brightly with a light breeze allowing all the attendees to get a nice tan and keep their hair and hats in place! 😉 We did have a rain scare at some point during the day, and luckily FATR had a tent that became cover for some of our fashionable friends, but it only made the sunny afternoon that much more gratifying.
I am pretty proud to say I began planning this outfit a month or so in advance when I found this unique Diane Von Furstenberg dress on MatchesFashion.com (which by the way sends the most beautiful box when you purchase a garment from them…maybe not a reason to buy but it is a good push to confirm purchase if you are already thinking about it). I had the dress for a few weeks before I 'tested' it out at a lighter raceday to see how it fit. After finding its weak spots with my body type, I knew we would good to go with a safety pin and a couple strips of body tape.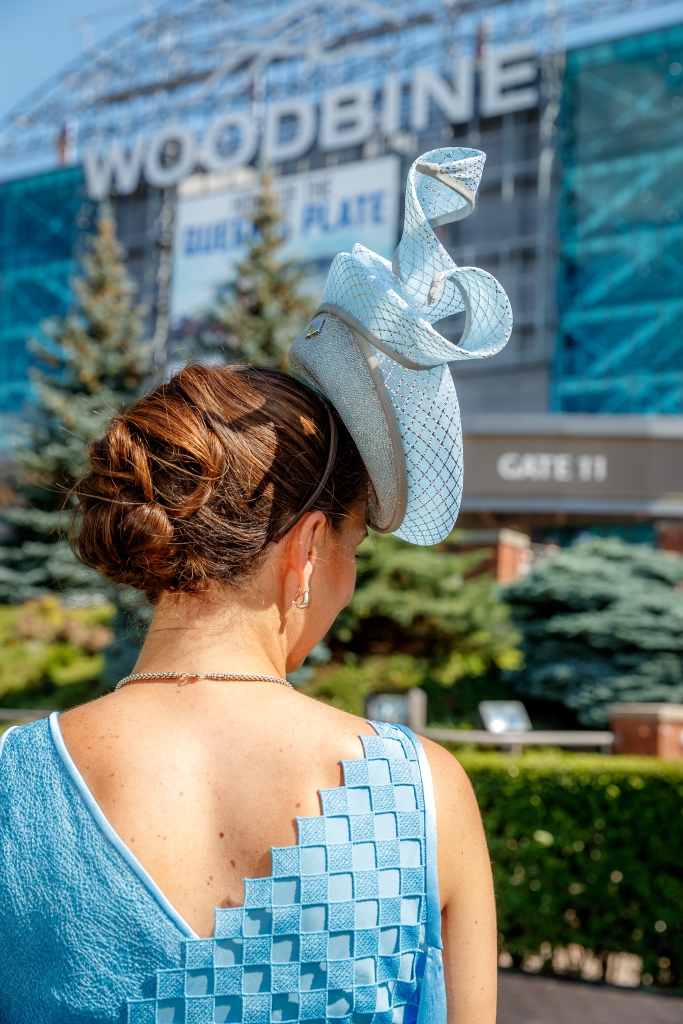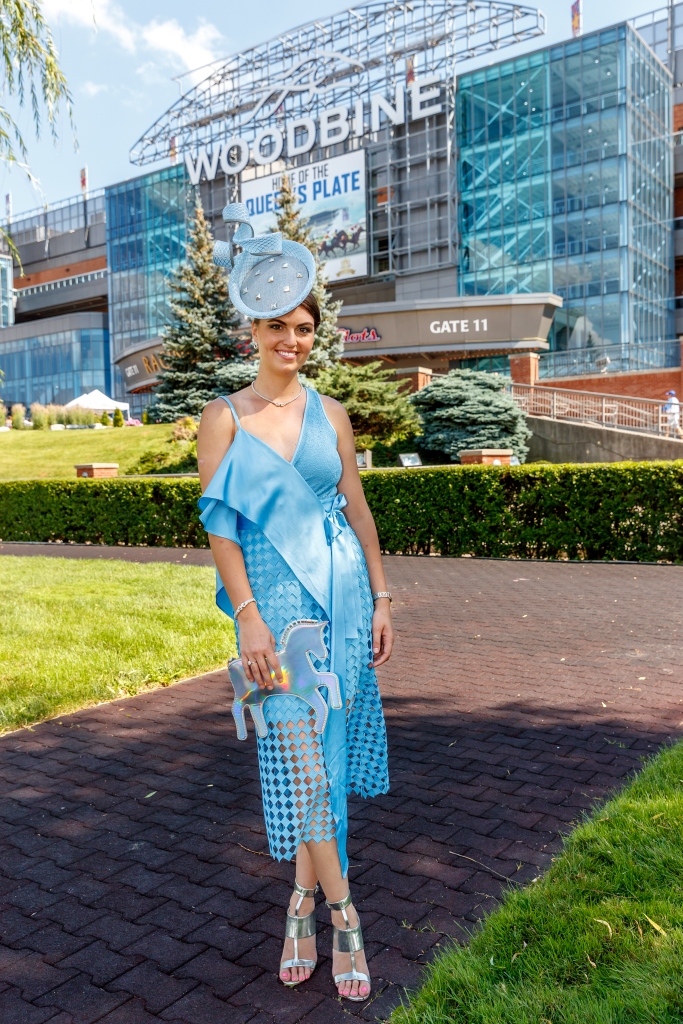 This dress deserved something interesting to top it off and for that I circled back to Milli Starr in Texas to create a custom piece that 'topped off' this unique style. We emailed back and forth brainstorming different ideas and agreed on a light blue and metallic, edgy percher look.
Laura, milliner of the brand Milli Starr, put together this amazing piece with studded details and crinoline ribbon. I am always amazed at the talents of milliners starting with my unorganized ideas to creating a vision and then making it into reality. Each time, my ideas are put to shame with this finished product. This piece is absolutely no exception.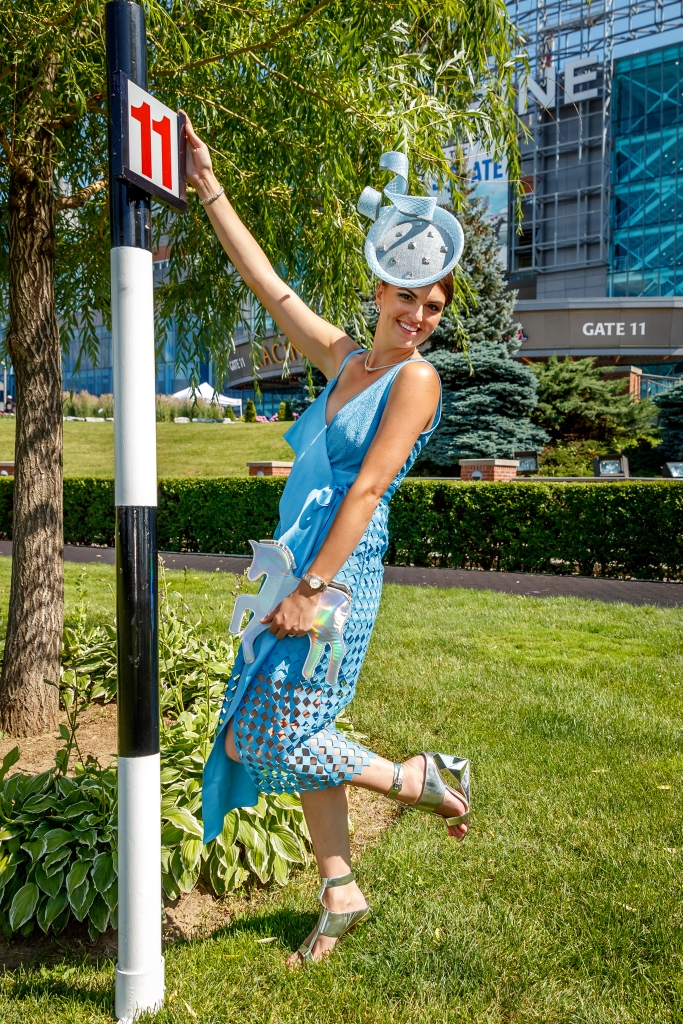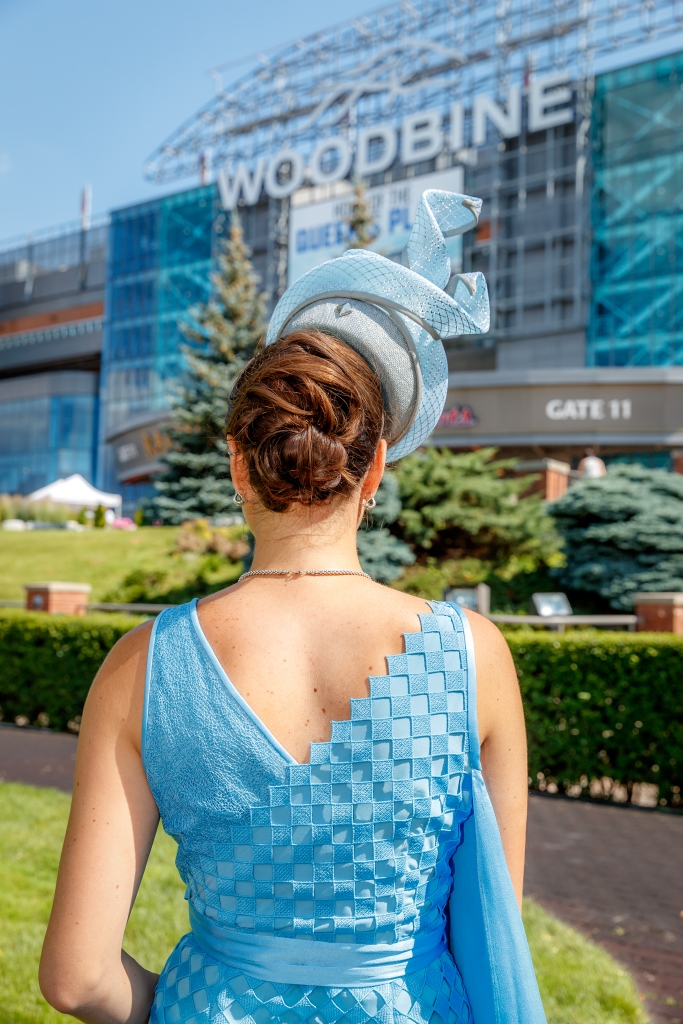 If you are looking for a unique piece, don't pass this one up. As always, I make sure the millinery I wear is something that I'm happy to sport all day and beyond. This piece attaches with a light headband secured with an elastic piece on the bottom. I did add a few bobby pins to the let side to help keep it in place (as it is supposed to sit a little dipped to the right) and never had it shift once throughout the day. Love the one stud detail peeking from the back. Just an added detail once the hat turns around. The silver 'checkered' crinoline blocked in a swirling ribbon gives the hat movement and a shine factor.
PS-how great is this hairstyle done by Karima Sumar??
To tie in the metallic details of the hat, I kept my jewelry shining as well. The Lagos Derby Collection was the perfect pair up to this ensemble. This pave bracelet gives an added glimmer (who doesn't like some diamonds??) which you can also find in my earrings.
My Longines watch kept me on time throughout the days events including Judging the Millinery Competition to set up of our fashion contest and emcee'ing on the stage. I'm loving some of the new pieces Longines has released this year including the Flagship Heritage Timepiece that Longines Ambassador Kate Winslet launched and auctioned off for her charity.
From the Longines Website: The Flagship Heritage by Kate Winslet watch is the result of a common project for the benefit of the Golden Hat Foundation, a charity co-founded by Kate Winslet, which is dedicated to changing the way people on the autism spectrum are perceived. During a visit to the brand's headquarters in Switzerland last year, the actress chose the dial, the case and strap of the watch. Five gold pieces have been produced and named after the brand ambassador.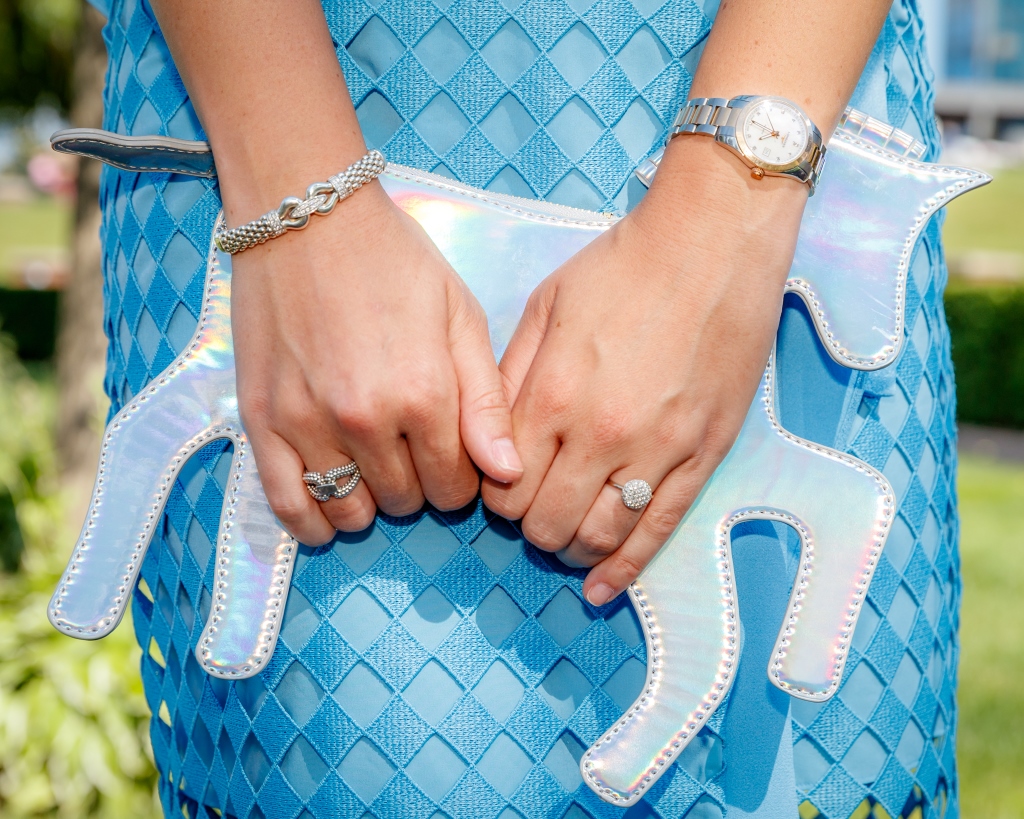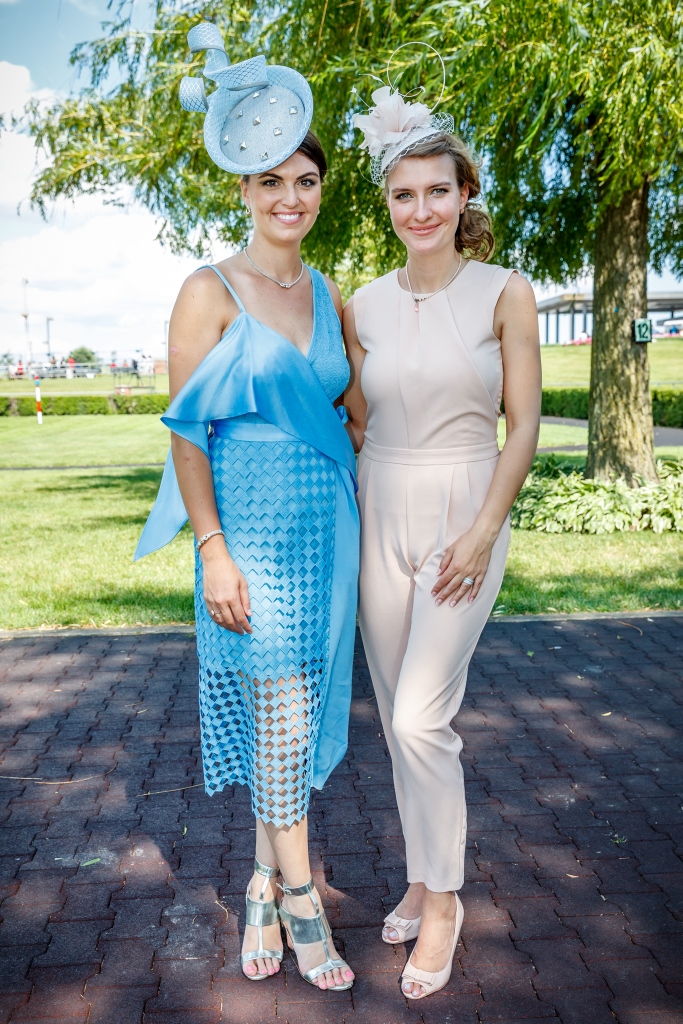 Of course I couldn't pass up this opportunity to sport one of our Metallic Pony Purses to the races. Christine and I decided to match (well we actually didn't talk about it until the day before wh
As always I met some wonderful people including Natalie who was the runner up of the Woodbine Fashion at the Races' Contest.