…with a Pop of Red!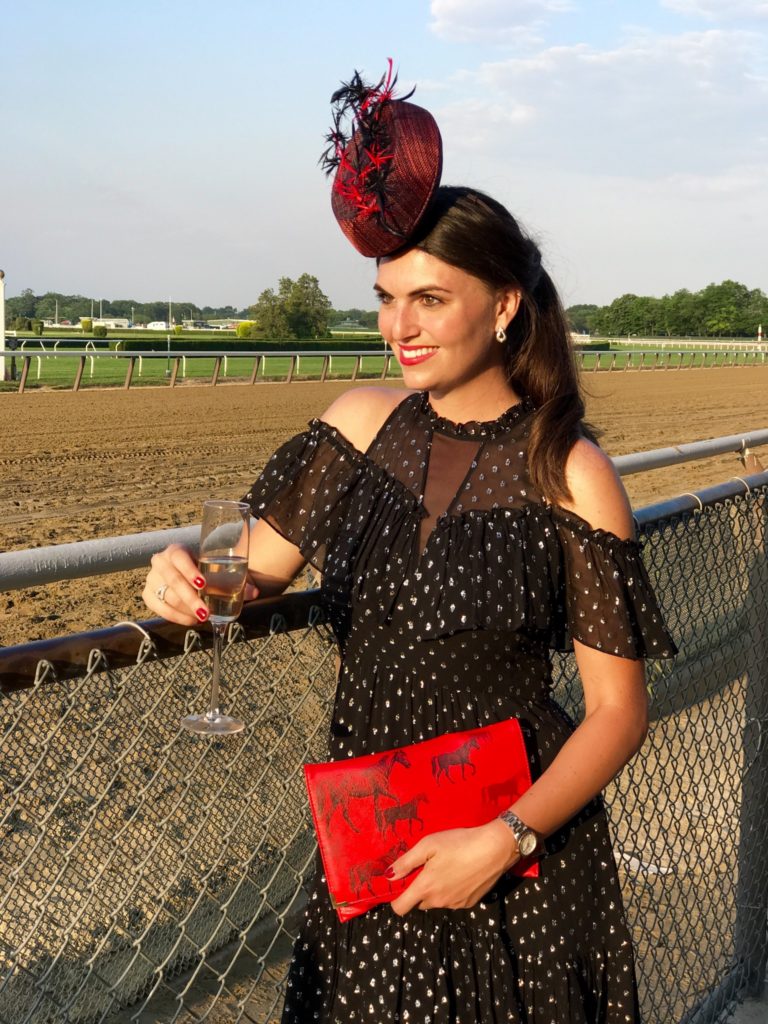 Outfit Details: Rebecca Taylor Dress |Milli Starr Millinery |Ivanka Trump Heels (similar style) | Longines Watch |Horse Clutch | Lagos Jewelry
The last jewel of the Triple Crown takes place in the Fashion Capital of the World: NYC Baby! If you haven't read up on our Triple Crown Trends, Belmont is all about the black and white. This year I found a black and white (or silver) dress that had such unique details. The open shoulder trend is still going strong and this dress had a nice twist on the regular off-the-shoulder look. With a zipper up the back and a high neck detail, this was a Victorian style dress with a modern metallic twist.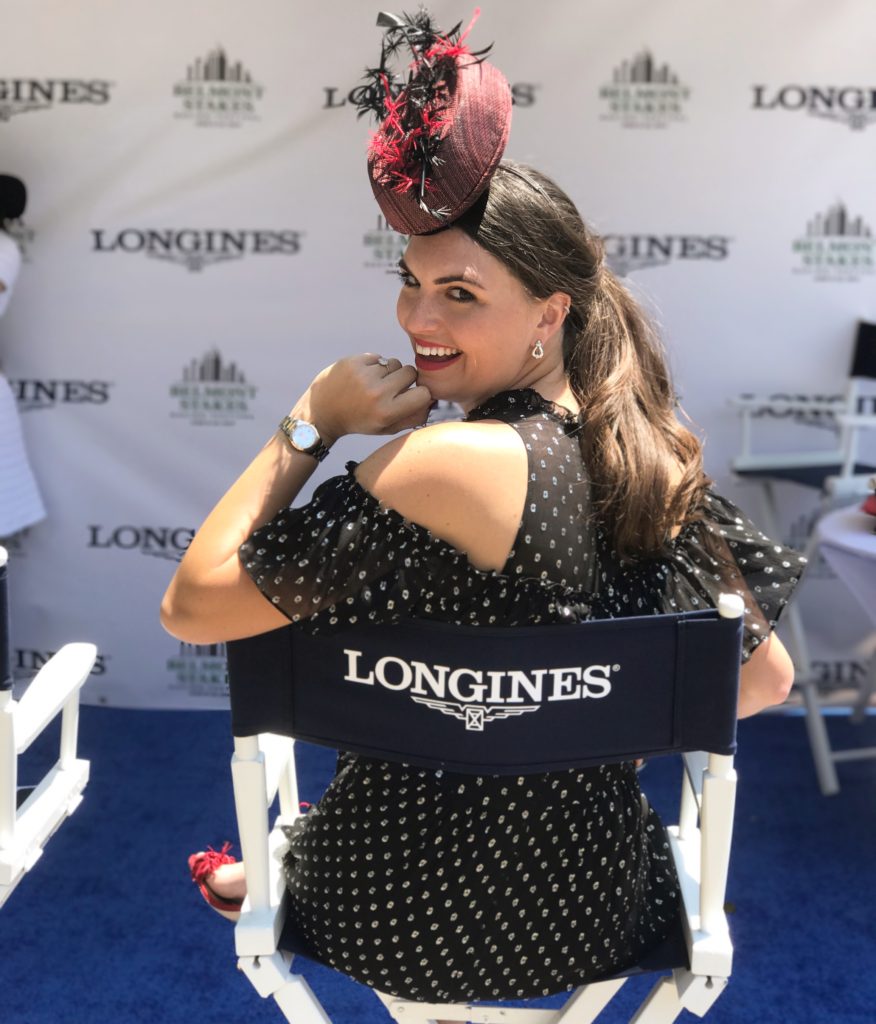 Like I said in my last article, I wore a Rebecca Taylor dress to the Kentucky Oaks and had my next piece from her collection on stand-by for the Belmont. There isn't many pieces of this dress left (and its on sale!) but she has plenty more pieces to check out in case its gone!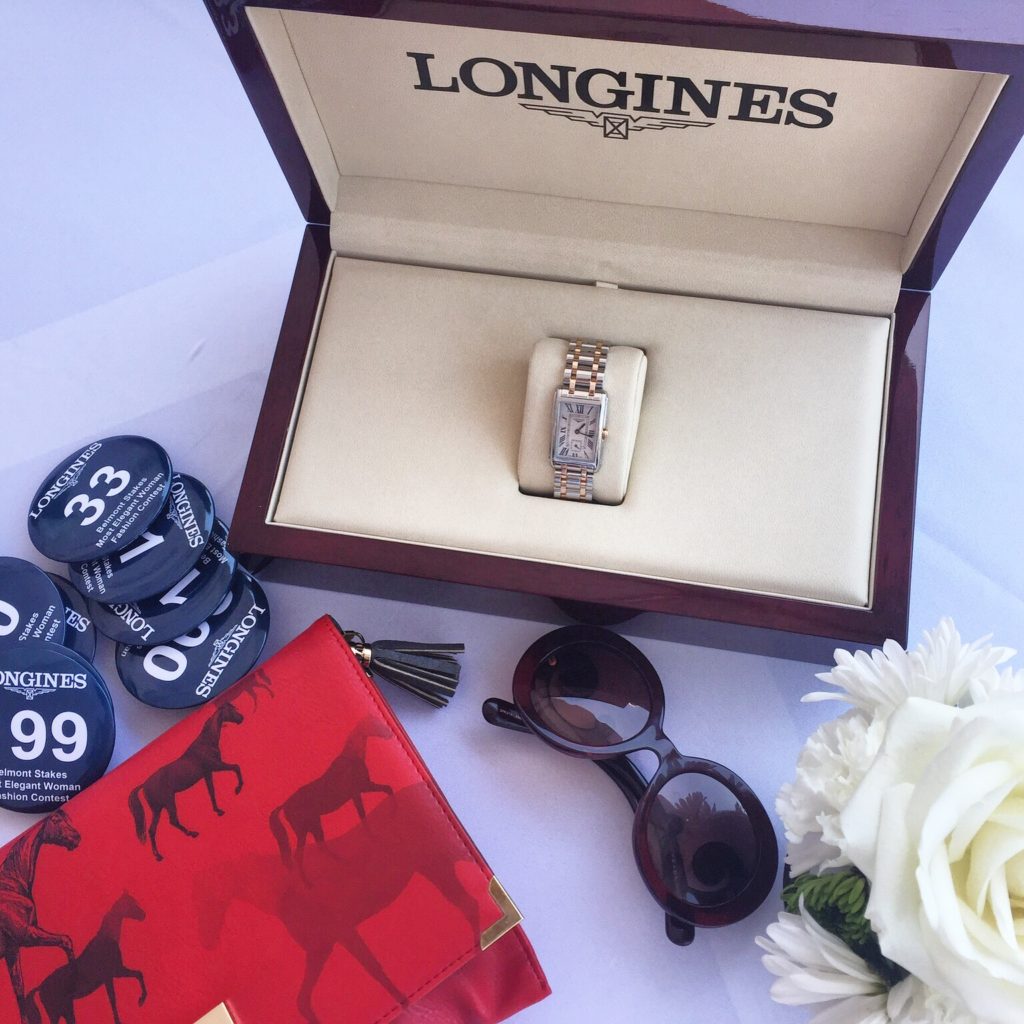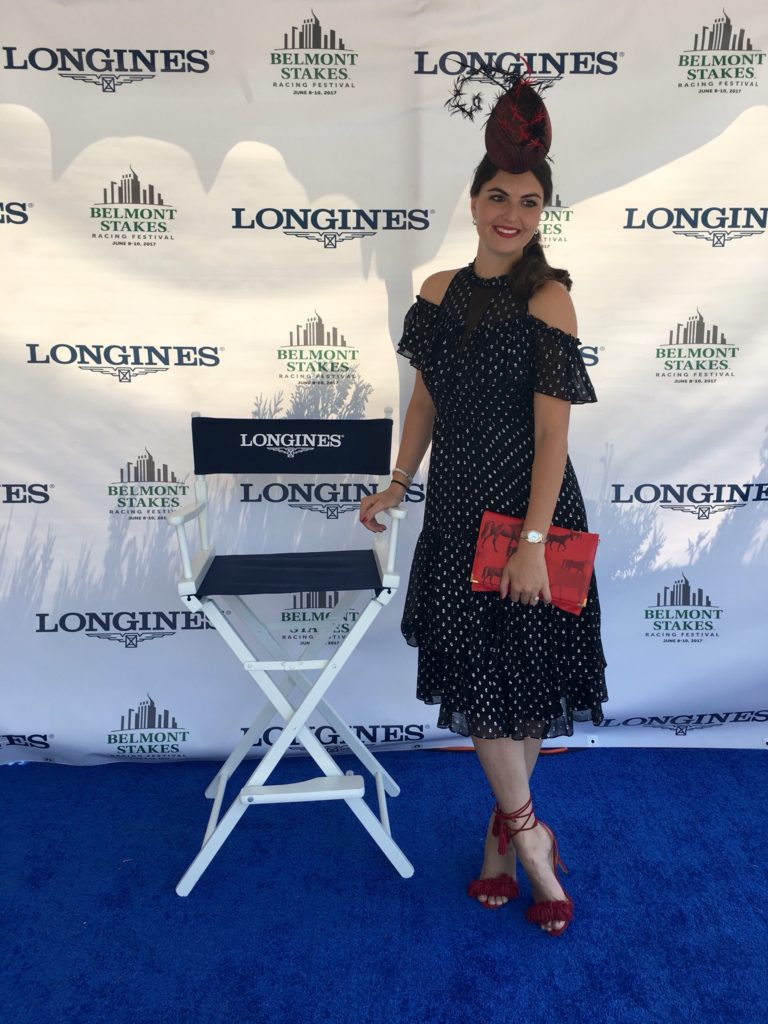 I was excited to wear a Percher style piece that I had seen a while back designed by the talented Milli Starr. The piece had this edgy look about it with almost 'barb-wire' style hand-cut feathers. The piece secured with a headband and elastic keeping it in place all day with no issues. Laura, the millinery behind the Milli Starr name, said, "I'm so glad you want to wear this piece. Many ladies seem intimidated by the percher design." I responded, "we are going to put perchers on the map here!"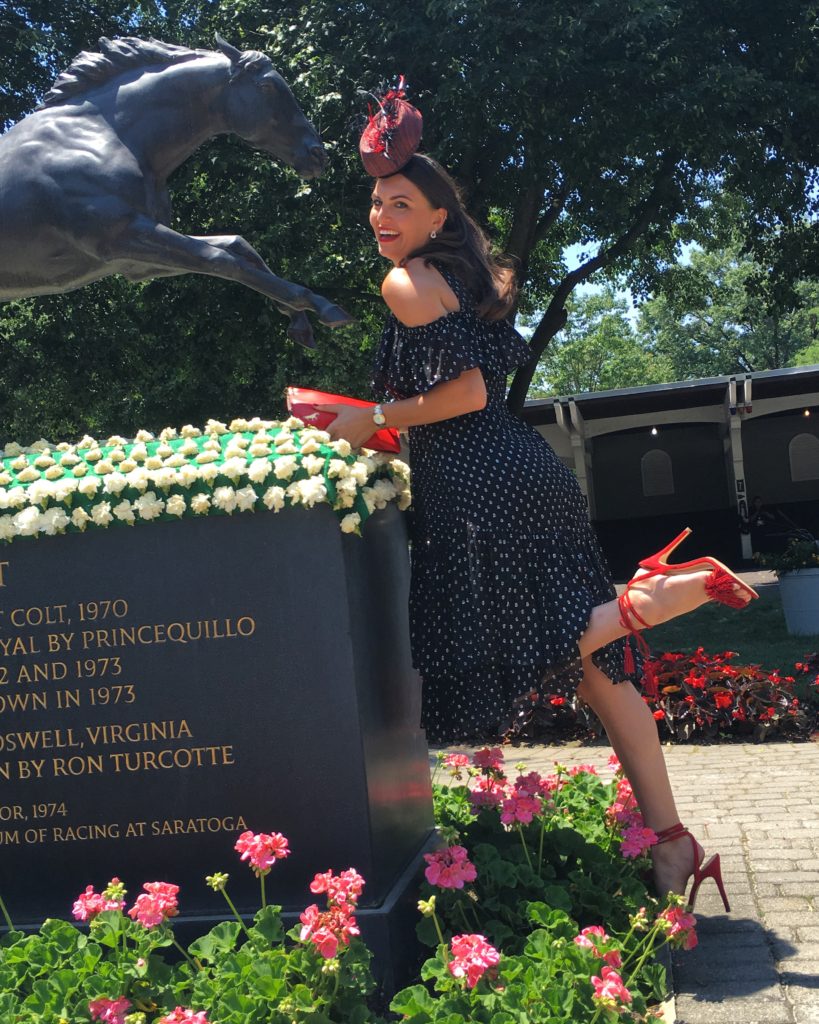 Seriously ladies! Why would you want to wear this piece?! Understandably different from the traditional Derby hat, this style is so easy to wear and really brings your racing outfit to another level! Doesn't mess up your hair, weigh down your head, or get in the way of any photos when your with your gals! If I was a car salesmen…I'd only be selling this model! 😉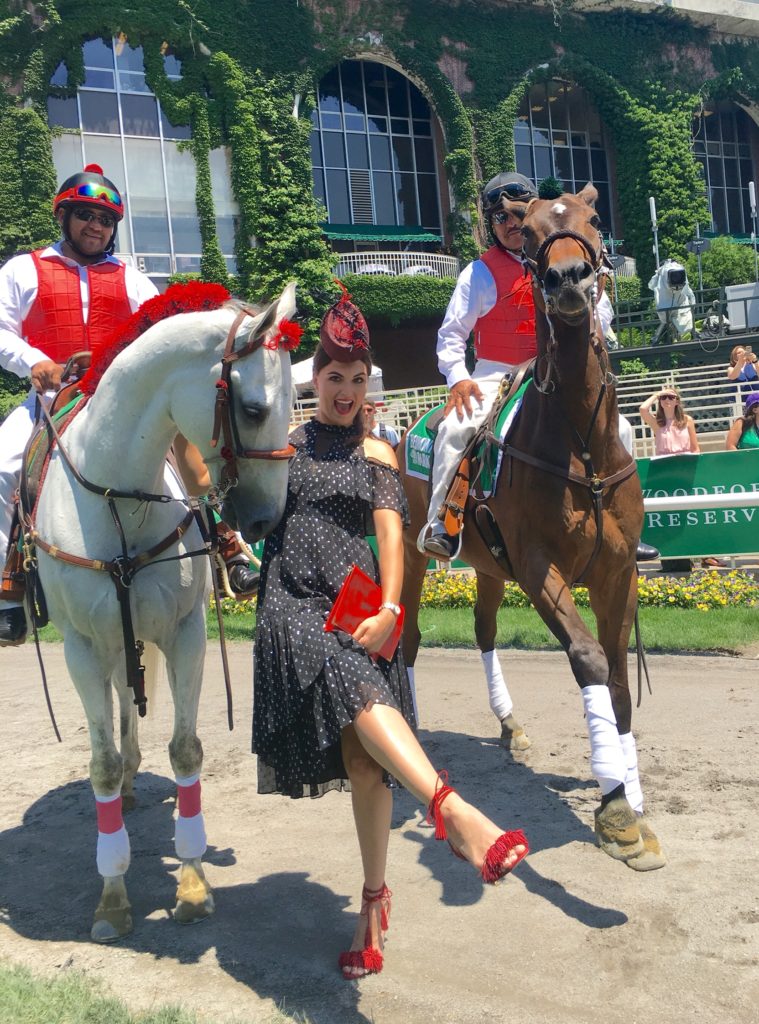 Off my soapbox….since I was staying with friends in NYC- I just had to raid their closests and found these Ivanka Trump heels that tied my whole outfit together. Similar (maybe too similar) to the Aquazzura style, these heels were the perfect red to compliment my hat and horse clutch.
Lastly, to tie in the metallic details on my dress, I turned to the Derby Collection of Lagos Jewelry along with my go-to Longines Conquest Classic Watch.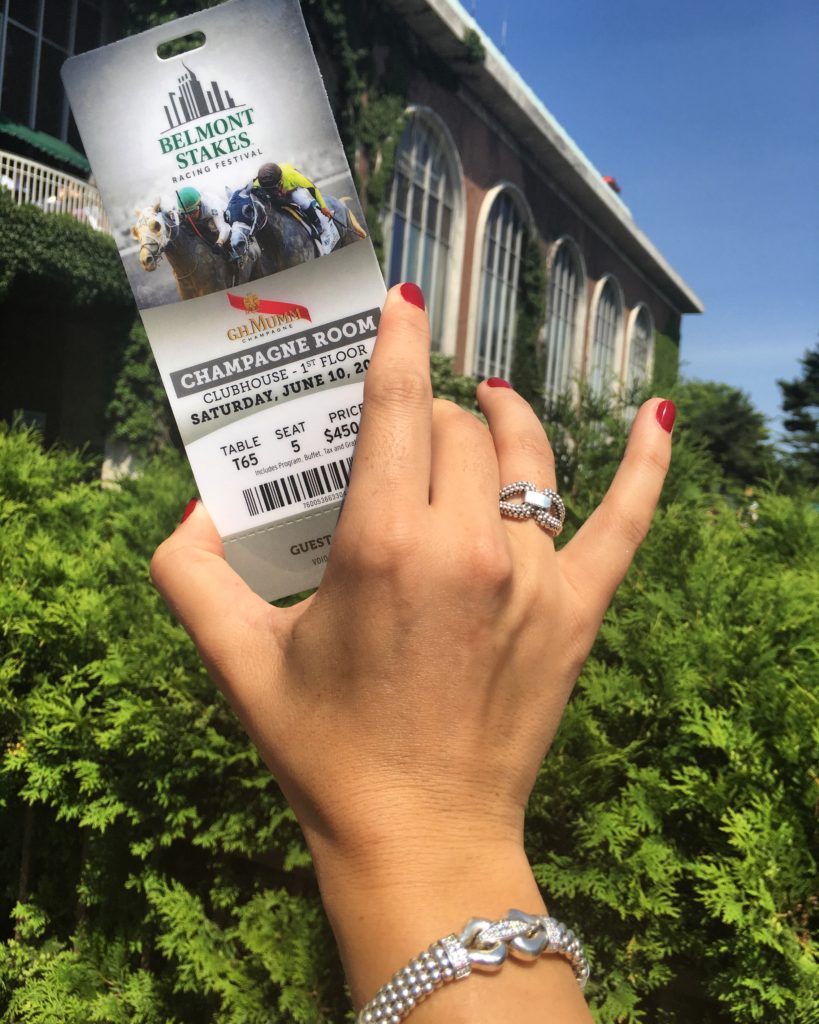 I had way too much fun in this racing outfit (even wore my percher all the way home in our Uber because I didn't want to take it off!)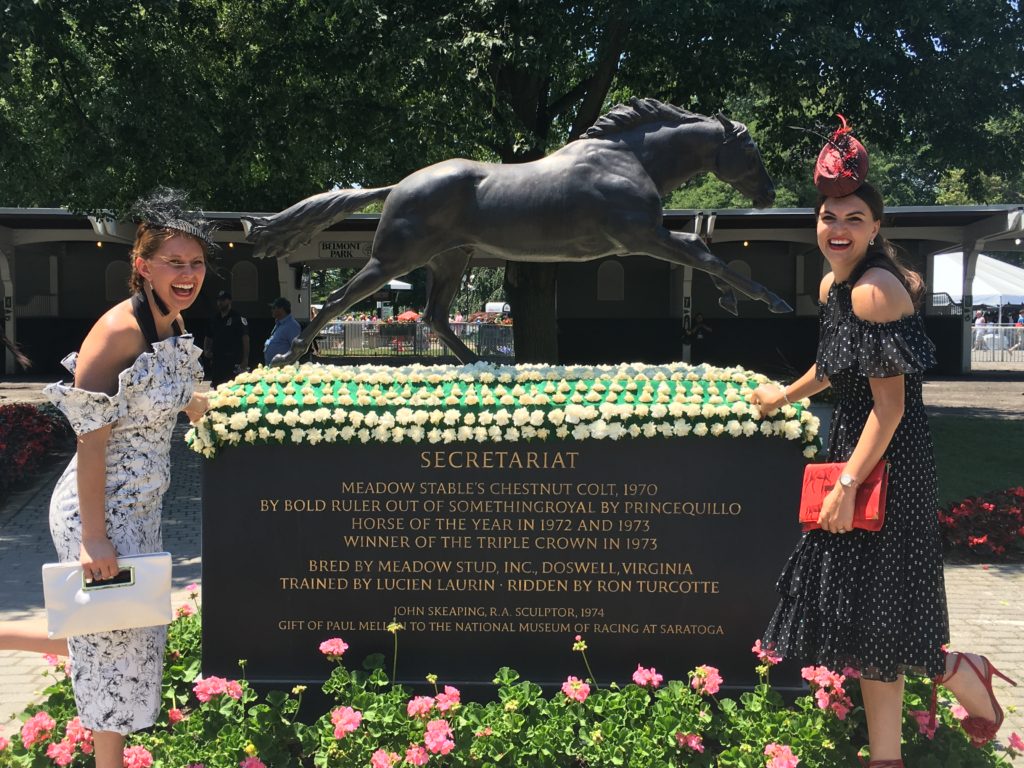 You can purchase this percher and others at store.fashionattheraces.com – stay tuned for my Woodbine Queen's Plate hat…another fashion forward design by Milli Starr. xoxo