Here is our synopsis
On May 19, 2012, I'll Have Another took on the boys to win the second leg of the Triple Crown. Fashion at the Races was at the Pimlico Race track outside of Baltimore, MD watching the horses fight to the wire and covering the fabulous (and not so fabulous) fashion.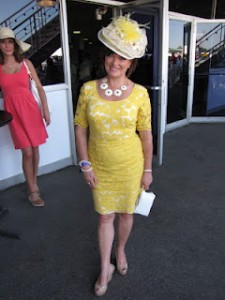 As some of you may know, the Kentucky Derby is known for its hats and "summery" dresses. The Preakness?….well that's known for its infield which is less than stylish. Now don't get me wrong, I love the Preakness and its popularity because of the infield. However, I can't change the fact that within the grandstand, many people don't seem to feel they should change out of their pajamas. Which only makes our work harder…we aren't trying to cover jean shorts and sneakers on a 50 year old man. (Sigh)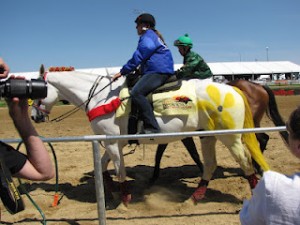 But anyways!!! It was still a great day, sun was shining bright, drinks were flowing and the equine athletes brought their A- game against one another to take home the title. When our team arrived, there were plenty of white chairs open on the ground floor of the grandstand. However, there wasn't an open seat in the house by 6:18 pm when the horses running in the Preakness took off out of the gate.
Almost directly in front of the finish line, you couldn't see I'll Have Another around the last turn until he kicked it in to third gear and began gaining on Bob Baffert's Bodemiester. It was even harder through the hundreds of heads to see that I'll Have Another took the win! As everyone rushed to the betting windows to get their payouts, people still couldn't believe that he surpassed the powerhouse Bodemiester AGAIN! Once the results were official, you heard the shocked noises ripple through the crowd.
So there you have it! We have our first Triple Crown Hopeful since Big Brown in 2008! The next day, I'll Have Another took the van ride to his temporary home at the Belmont Race Track in New York. He had a few days of walking and gaining his strength back and is now back into his training regime to prepare for the big run on June 9th!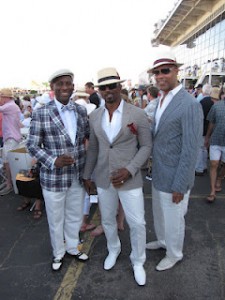 Now on to the fashion. I'm sure many of you are thinking…Preakness? What fashion?? Well we did find some!! Floppy hats were the definite favorite for the headwear. Our Race Fashionista stood out from the crowd as she created her own divine design which matched her beautiful canary dress. She had a small hat that showed her gorgeous face and perfectly complimented her outfit. These are the types of hats we are looking for!! You don't have to pay top dollar on them (prices are a bit ridiculous…we know) you can explore the possibility of making your own, hit up second hand stores or borrow from a friend. Fashion at the Races will soon have "Pop-Up" stores which will have second hand racing wear which will include hats! Join our Mailing List to be in the know!
Some of the men were dressed better than our fair ladies. Three in particular brought their Swagger with their white and oxford shoes, plaid jackets and their hats! We were both surprised and impressed to see these three in the crowd! Good work boys!!
Over time the fashion will improve at the races…after all…that's what we are trying to promote! However, my biggest complaint at the Preakness?? There were some rude rude rude people. Maybe there is something true to when people say "Southern Charm." At the Kentucky Derby, everyone is happy to meet one another, share a drink, inquire about their picks for the day and have a great experience. It seemed as though some in the Preakness crowd didn't feel this way. Upon three different occasions, both women and men were rude and not "welcoming" to the idea of "sharing" the experience with anyone. This was by far the biggest disappointment of the day. C'mon Baltimore! You need to represent better than that!!
More than ever, as said in our email, we need to remember the traditions of American culture and horse racing is one of those! We are looking to promote our industry as a fun fashionable event that you can bring your family, friends and colleagues to bond and have a great time! Rude people aren't going to help this promotion!!
Regardless we set our sights to June 9th and the happenings of the Belmont Stakes. Will you be attending?? If not…grab your friends over for a get together with good food, drinks and races on the teli!
Cheers to that!
xo
Keep in touch with us!!
info@fashionattheraces.com
http://fashionattheraces.com
http://www.facebook.com/fashionattheraces
Twitter: @FashionatRaces