We borrowed some time out of Britney Eurton's busy schedule to catch up and learn about her amazing time at Royal Ascot. A fabulous reporter that covers your TV on NBC and TVG, Britney stepped her game up for this years racing festival with a week of gorgeous racing outfits.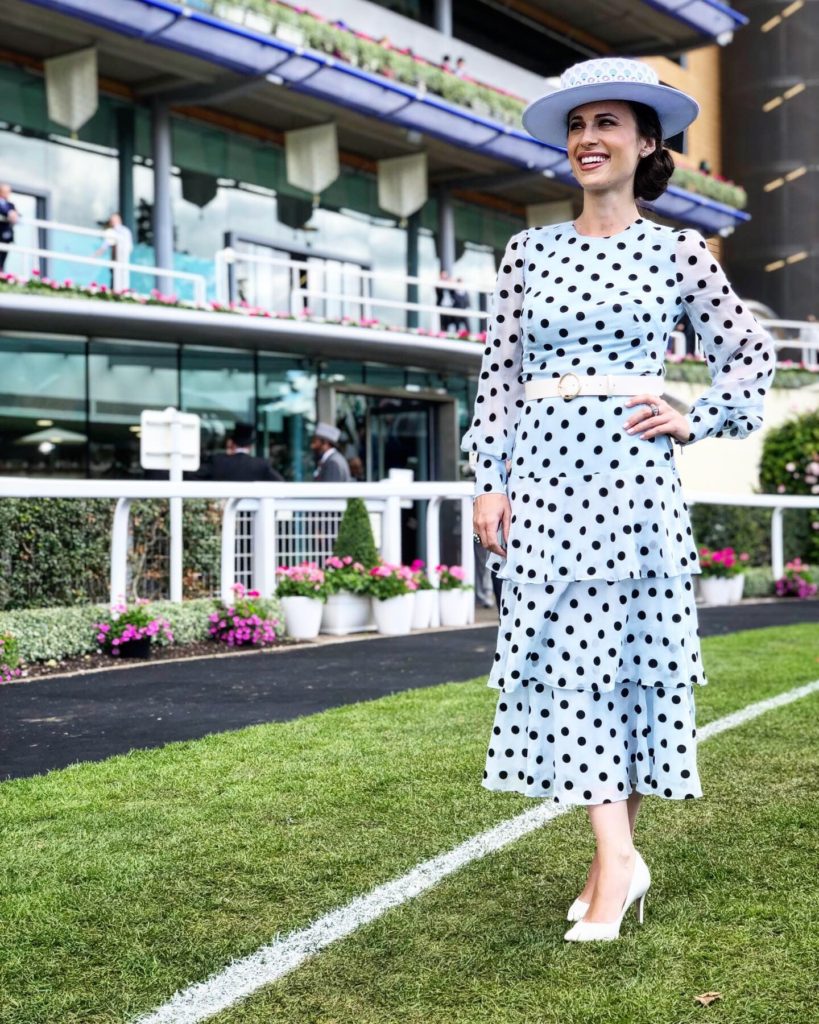 Outfit deets: Whistles Dress (similar) | Sarah Cant Millinery | Sam Edelman Shoes | H&M Belt
Was this your first time at Royal Ascot?
No, it was actually my fourth time! I was lucky enough to attend a few years ago just as a fan. I went the first day in 2015 with a few friends who aren't involved in racing and we had an absolute blast. I'll never forget taking the train in and walking to through the car parks to get to the racecourse… it was unlike anything I had ever experienced before! Just last year I worked for the five days for the first time, doing a mix of reporting. Those five days definitely helped prep me for covering the full meeting on NBC this year which was, undoubtedly, a personal and profession highlight.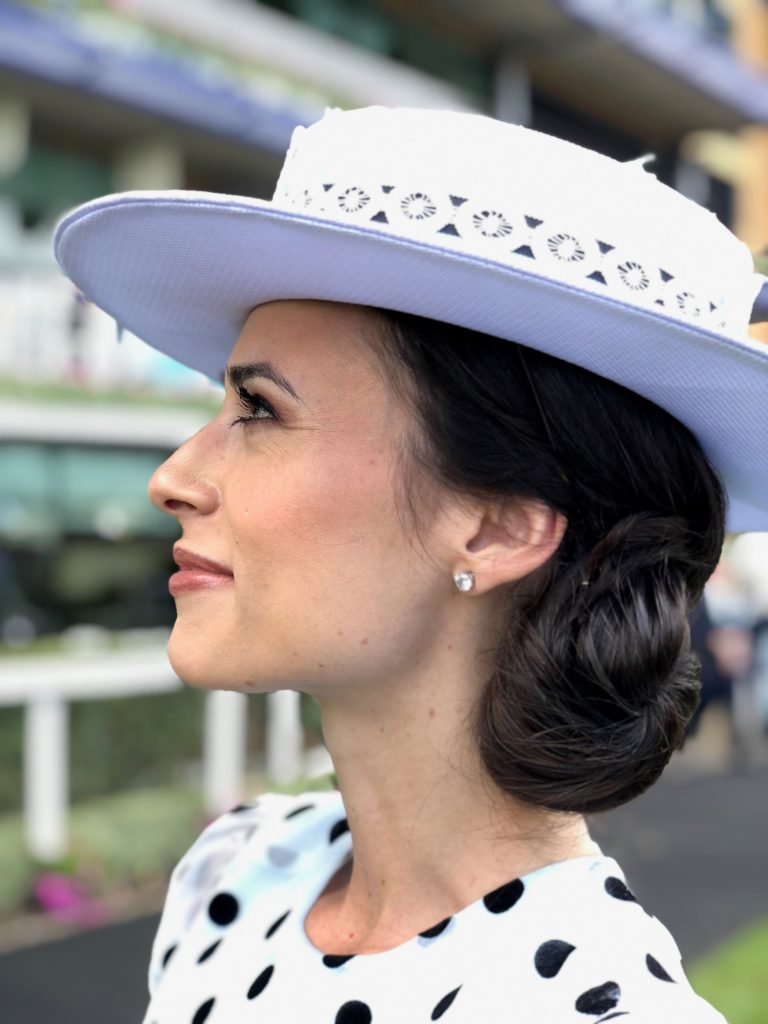 Looks like you had an absolutely amazing time! What was your favorite part of the experience on track?
It has to be watching the Royal Procession each and every day. The Queen's arrival, promptly at 2pm, is highly awaited by every racegoer whether it be locals or those coming in from another country, everyone loves to see her entrance. You can tell that this isn't a job requirement for her, but a real pleasure. There was a clip we showed on NBC as a lead in to the show every day of the Queen's reaction to her house Estimate winning the Gold Cup… the elation on her face just shows how much passion she has for these horses and this industry!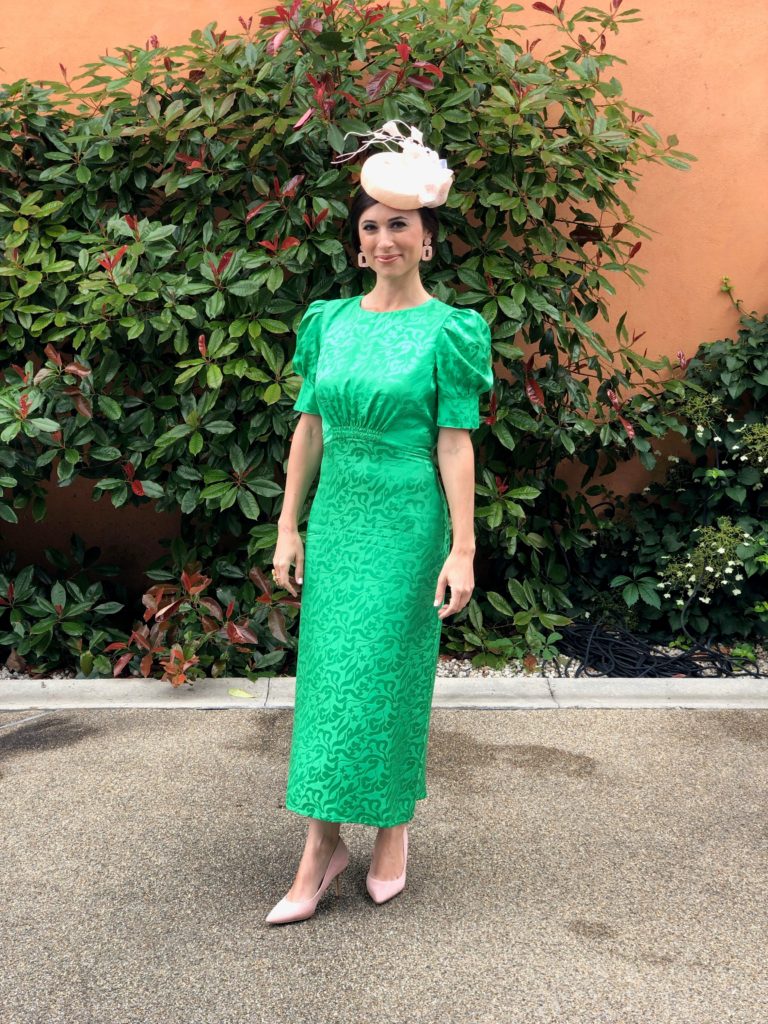 Outfit Deets: Saloni Dress | Sarah Cant Millinery | Marc Fisher Heels | H&M Earrings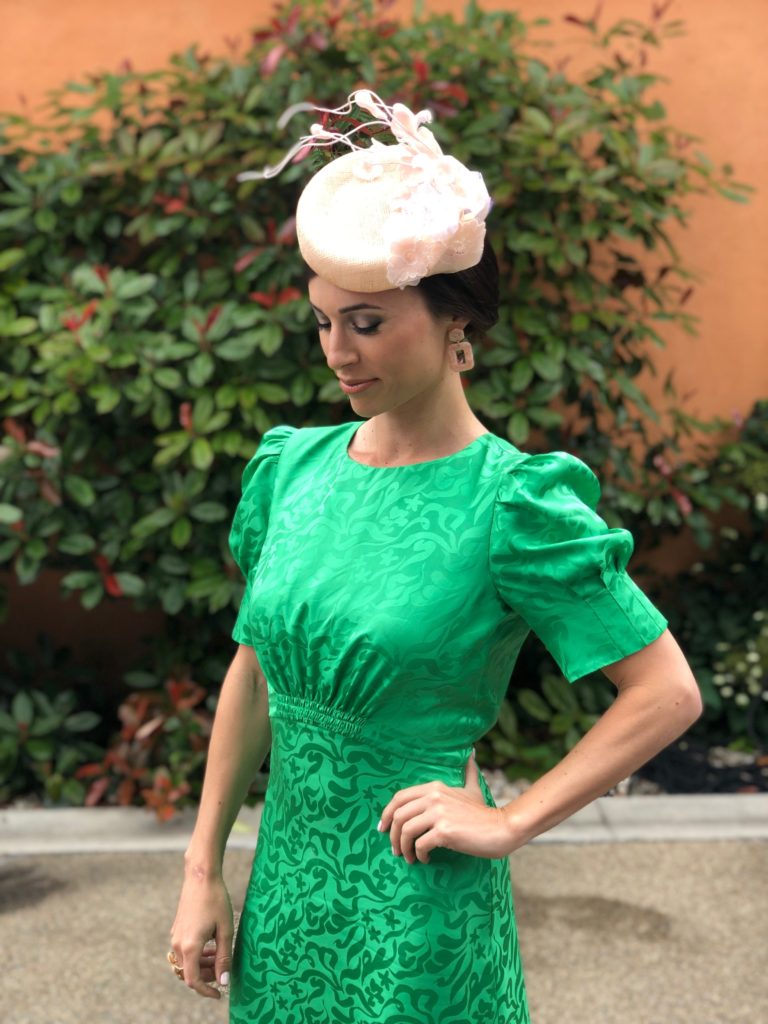 So 5 days is a lot to plan for when it comes to racing fashion. Were you overwhelmed at all?
Oh definitely! Although I love fashion, I've never thought of myself as incredibly fashion inclined. Putting together outfits can be a struggle for me, so five days of it was a bit daunting!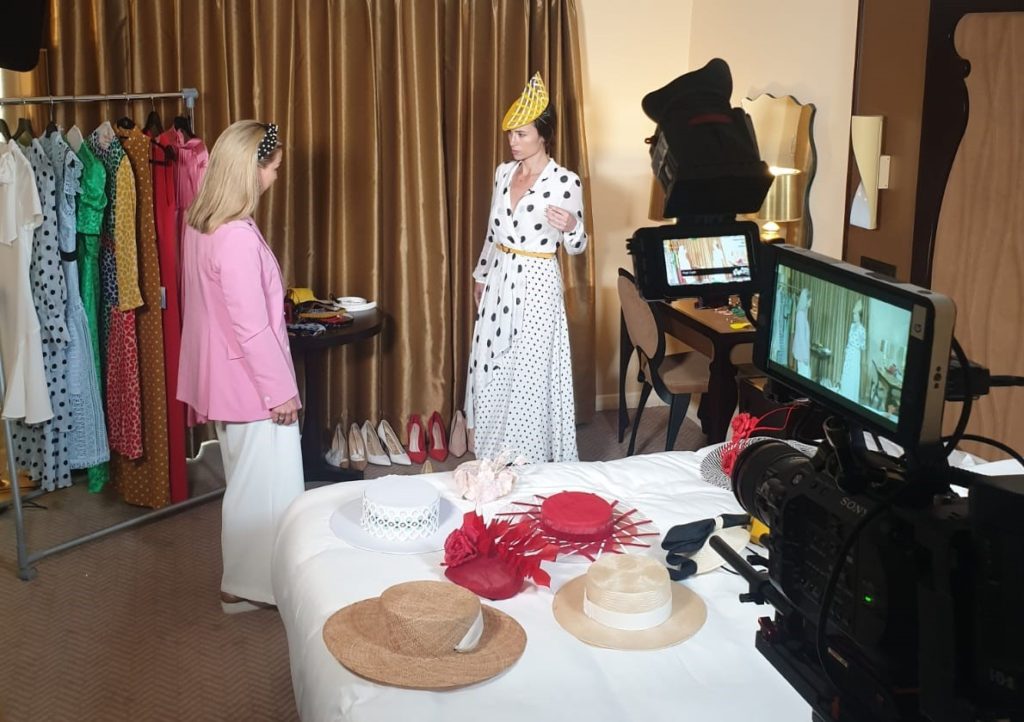 How did you organize your outfits ahead of time?
Thankfully, I had the help of Nina Victoria, a friend of a friend who is actually a stylist out in the UK. We spoke on the phone to get acquainted and then consistently emailed/text different outfit options and ideas straight up until the day I arrived in England. It was a massive help having someone to bounce ideas off of and get their professional advice.
Was it difficult to pack and ship all of the hats and outfits?
Ahead of time I decided to only use UK milliners for the fact that traveling with hat boxes would not be easy! I spent months scouring over Instagram, looking for different designers and touching base with them to see if they'd be willing to loan a few pieces for me to wear on air. With Nina's help, she coordinated pick ups and we got together the Monday before racing and pieced all of the outfits together. I will say though, I probably did things backwards. I've heard that finding the hat first, rather than the dress, is the way to go! Next time around, that will definitely be my plan.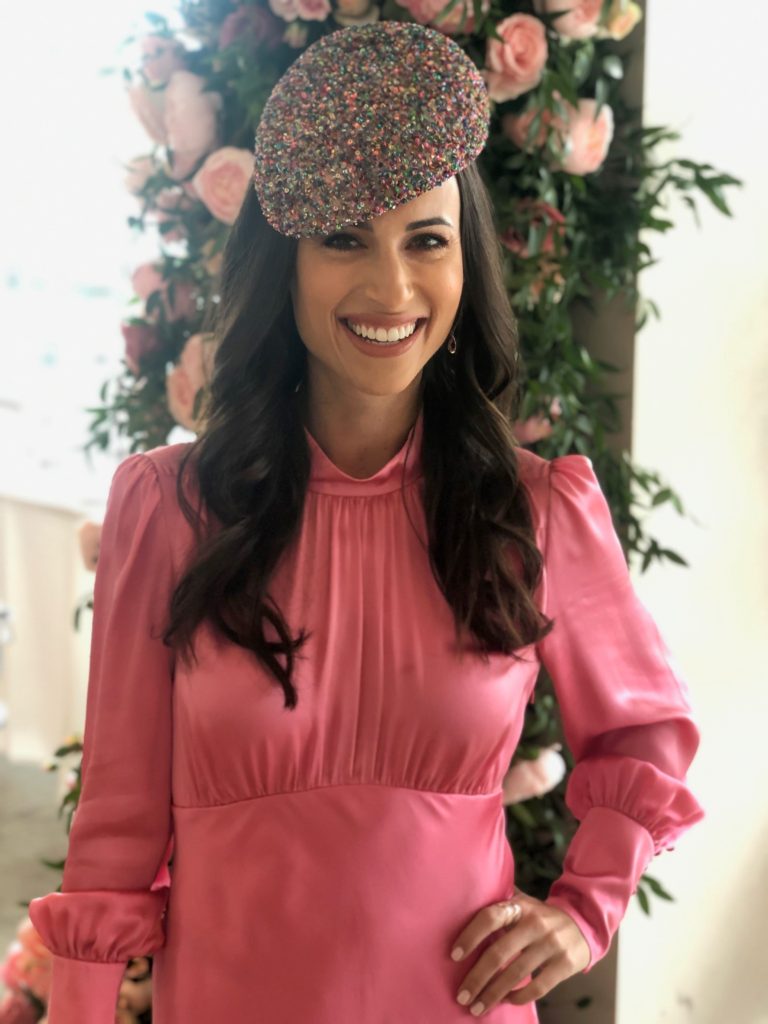 Outfit Deets: Veronica Beard Dress |Jane Taylor Fascinator
Looks like you wore millinery from a few different designers. What is your favorite part about sporting different hat designs?
The fact that they're all so different! I've gotten to know a few milliners and you can sense their style in each piece. I love being able to wear a piece one day and the next have something completely different on that evokes a very different look. Now, that being said, I am a huge fan of boaters. There's something to be said in finding a hat that you feel comfortable in. I'm a firm believer that the more comfortable you feel in something the more confident you will feel wearing it and THAT is what makes a great outfit. If you feel confident, you can rock anything you like!
What do you look for when picking the perfect millinery?
I've always loved pieces with a bit of an edge. My personal style is more so leaned towards clean, sharp lines, so I tend to look for hats or fascinators that have much of the same. I also look for something a little different… a designer that is willing to take risks. Being on air, I can't wear anything that is too distracting, but some of the most striking pieces are innately simple and I love a designer that showcases that.
Did you have a favorite outfit at the event? If so, why was it your favorite?
I saved my favorite outfit for Saturday… I absolutely adore Julia Roberts and her outfit from the polo match in Pretty Woman was the inspiration for Saturday's outfit. I also can't get enough of polka dots! Nina found the polka dot jumpsuit on Revolve and from there we paired it with a white boater I already owned but what really finished it off was the white belt and white shoes. It was comfortable (which is key), and very much my style while still suiting the Royal Ascot guidelines.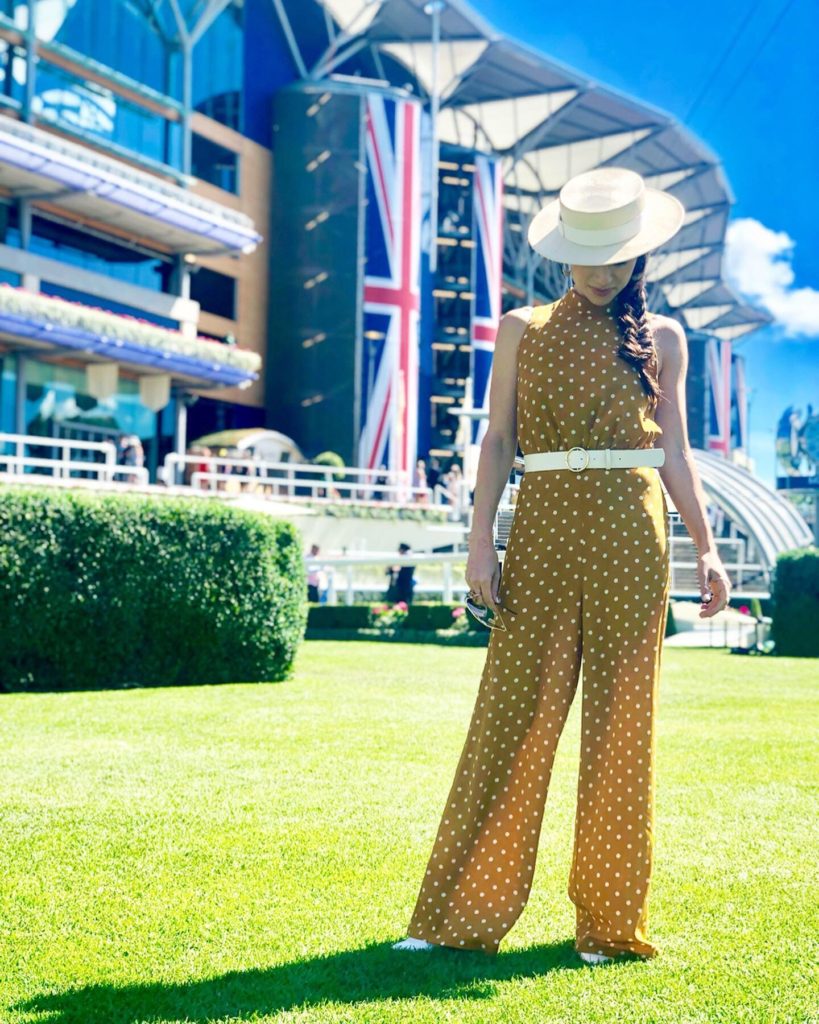 Outfit deets: Revolve Jumpsuit (similar) |H&M Belt | Lisa Tan Millinery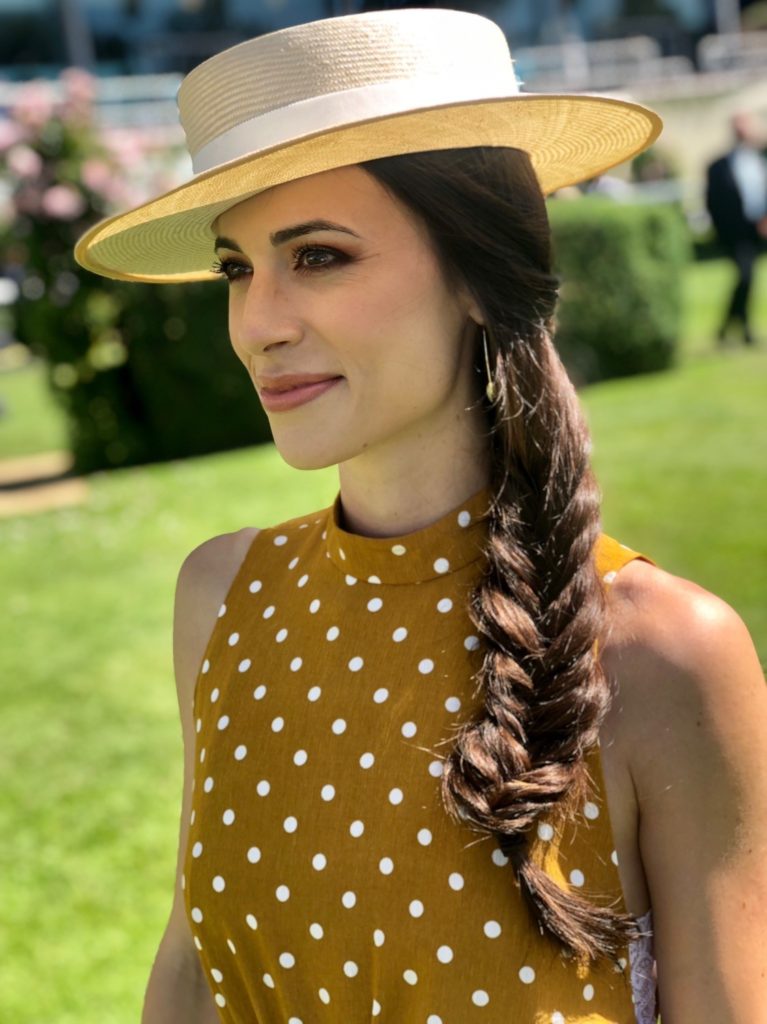 How was it seeing all the Royals on track?
The Queen's arrival was the highlight of each day for me! Not only because I had a few wagers on the color of her hat, but also because of how much joy she has in attending this meeting. No one would've ever thought she would wear blue on back to back days… very unpredictable! I didnt get a chance to see Kate in person as we were on the other side of the track when she arrived, but I have seen photos and she looked absolutely stunning. We can only hope that The Queen's love of racing is transferred to her grandchildren and they continue with this long standing tradition and legacy.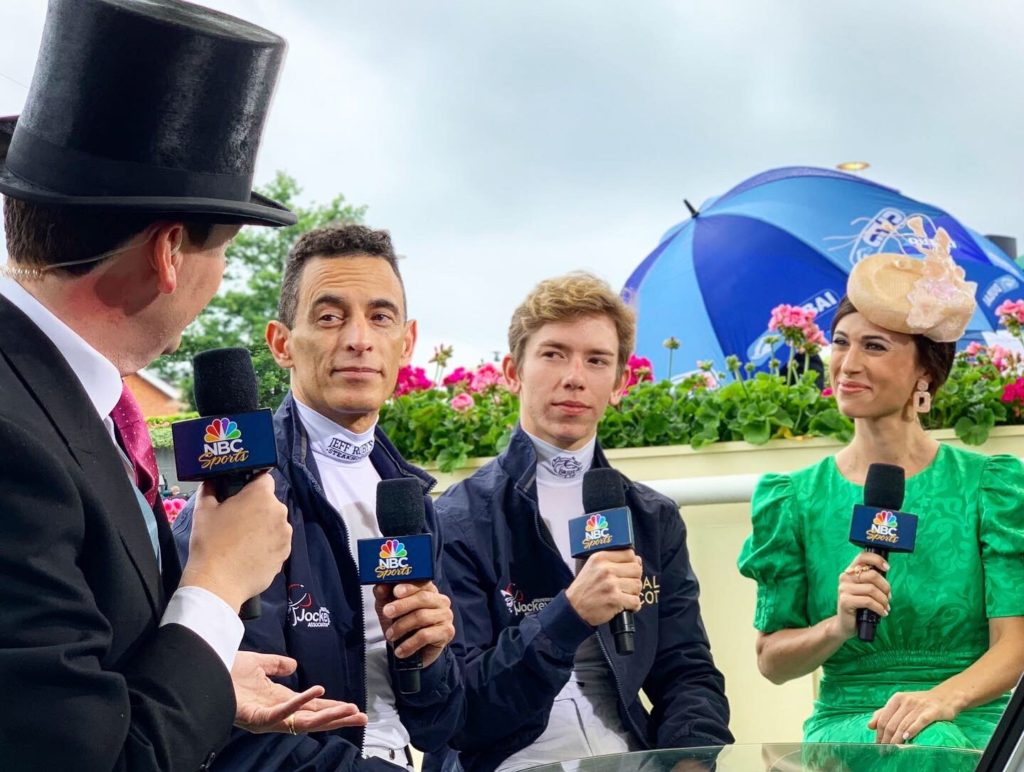 What were some fun things you did while there outside of racing?
During the meeting I kept things very quiet. The days were long and by the time racing was over it would be time to prep for the next day. I did extend my stay for a few days after and enjoyed London for a few days before heading home. There's something truly special about that city… if I could, I would move! But until then, I spend my days walking around town and eating as much great food as I can. Tip: You MUST eat at Dishoom. Some of the best Indian food I've ever had!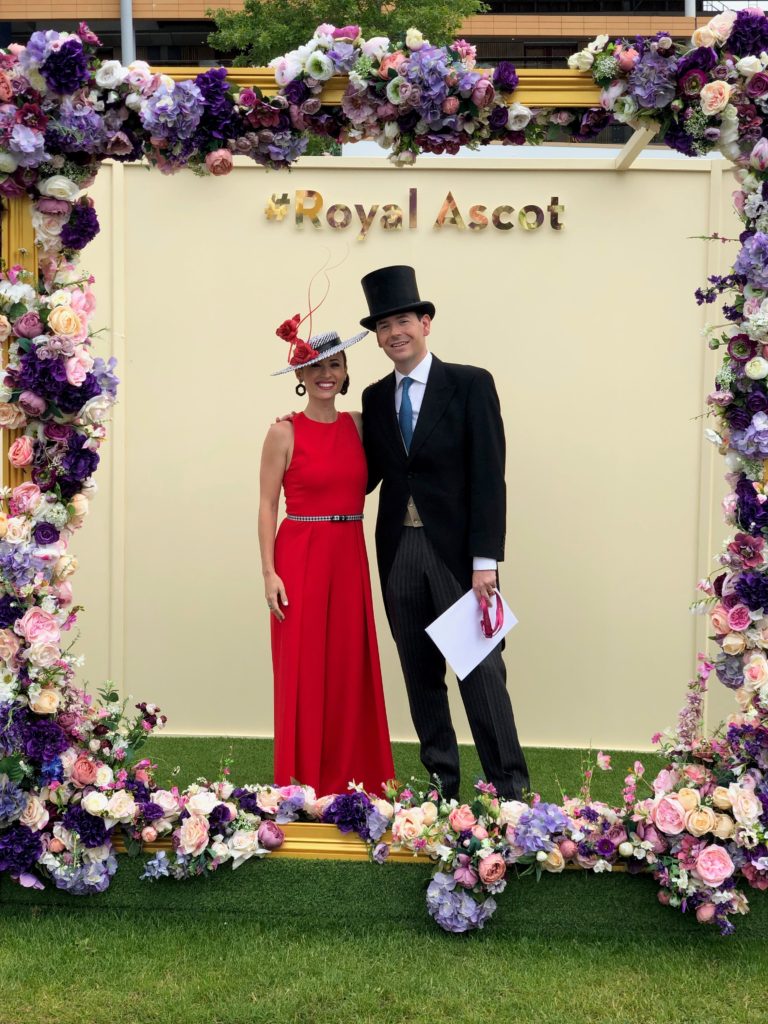 Outfit Deets: Alice & Olivia Jumpsuit | Justine Bradley Hill Hat | Haiden Ackermann Belt (similar) | Anthropologie Earrings
What is your advice for ladies attending Royal Ascot for the first time?
Start planning early, but have fun with it! This is a stage to take a little chance, step out of your comfort zone, and wear something you've always wanted to don but never thought you could. From a logistics standpoint, make sure to pay attention to the rules for each enclosure. The Royal Enclosure has the most strict dress code, so before falling in love with an outfit, make sure it suits those guidelines. It's a long day too, so as great as those Louboutins look, make sure you can handle an entire day with them on! Nothing gets in the way of a great day at the races like a pair of uncomfortable shoes (this coming from a gal who loves her heels too!) Fashion aside, just soak it all in. From The Queen's arrival, to the sensational horse racing, to the Pimm's and punting… it is an unforgettable experience that you will want to turn into a tradition year after year. 🙂