Millinery Madness
 Next Breeders' Cup Challenge Race is the $1,000,000 Haskell Invitational!
Here's Bri Mott's favorite pieces for the day: 
Studio 910
Leah Cassidy Millinery
Rose Monzyk Millinery
Christine A. Moore
Karen Morris Millinery
Arturo Rios
 All can be purchased: http://www.fashionattheraces.com/store/
George Brown Millinery Contest at Queen's Plate 2014
We can't say enough good things about the Queen's Plate Raceday at Woodbine Racetrack in Toronto, ON.
One of the highlights on the day was most definitely the George Brown Millinery competition. 14 amazing students were able to showcase their designs in front of a large crowd on the main stage at the Hats and Horseshoes contest. These students were chosen from all the millinery students at the George Brown College. They sketched their idea of a perfect Queen's Plate Hat and only 14 were chosen to create those designs and be in the running to win a $1000 prize!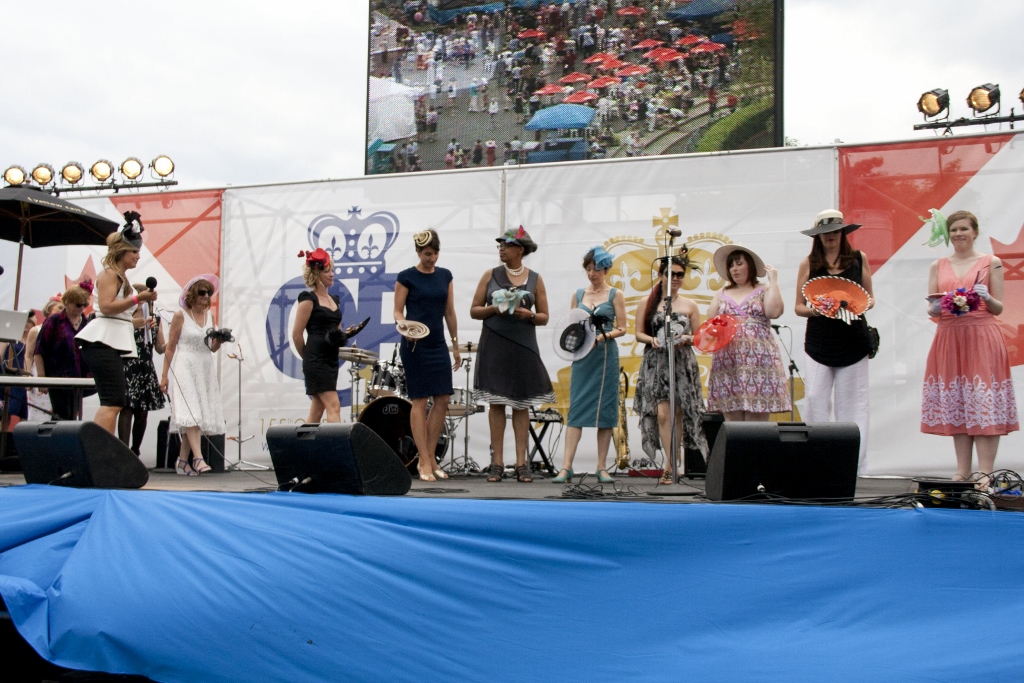 These fourteen designs were absolutely stunning! Each one was so unique and interesting as their creator described the inspiration while designing the piece. So much hardwork and creativity was put into each and it was great for the general public to hear numbers like 20 to 40 hours were put into one hat!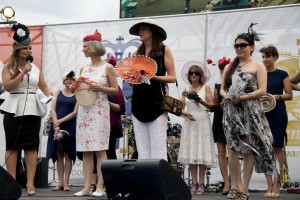 Unfortunately the panel of judges had to choose only one winner, runner-up, and second runner-up.  With such a touch job to do, Woodbine brought in the experts which included FATR's one and only Bri Mott! Along with her was the Official Millinery of the Queen's Plate, David Dunkley, George Browns' Cristina Grossi, and TV personality Traci Melchor from The Social.
After much deliberation the judges narrowed the 14 contestants down to the 3 finalists which included three very different pieces! One piece by Iris was inspired by the circular shape of the racetrack made of a light blue/grey sinamay and adorned with vintage crystals.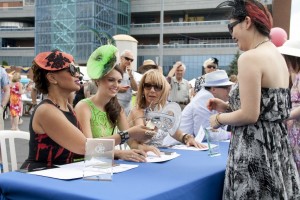 Another piece by Iris had such fun colors and embellishments which and orange sinamay base and black and white striped silk piping around the edge. Different color fabric flowers brought out the fun and femininity in this piece.
Lasty a nude colored fascinator had a fun surprised in the back when this milliner created bright orange and pink ribbons with modern cut feathers to create a fun and fashionable fascinator.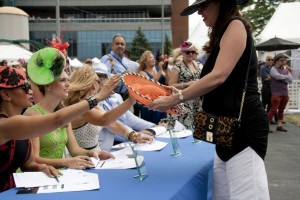 That fun and fashionable fasincator took the cake! The perfect combination of modern elegance and practicality at the racetrack, Anne Livingston took home $1000 for her beautiful design.
The runner up, Amparo Findlay, took home a $500 prize and the second runner up, Iris, wasn't left empty handed taking home $300.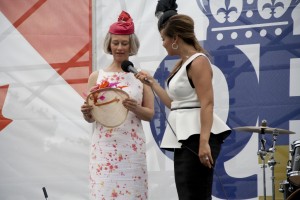 Congratulations to all the contestants who worked so hard and created beautiful pieces! It takes such confidence to stand up in front of a large crowd and show off your blood sweat and tears to be judged. You are all truly winners as you are such talented artists! Not everyone can do what you do! (Seriously-I've tried!)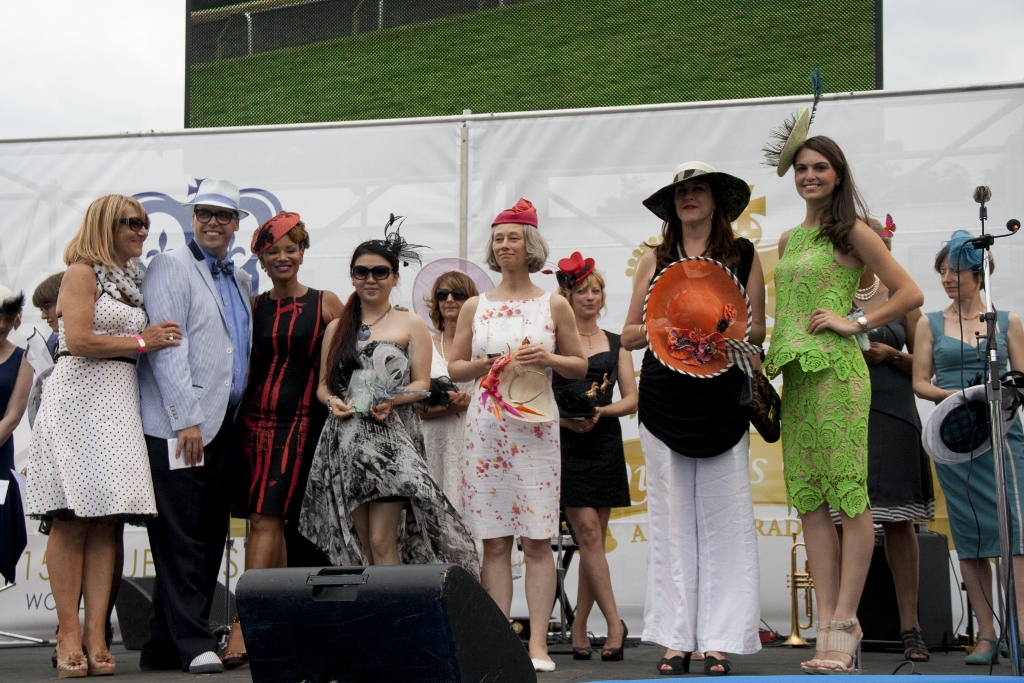 #QP14 Hats and Horseshoes Party
 The Hat's and Horseshoes Party is the largest and most fashionable get-together held at the horse races in North America. We are so excited to have the
opportunity to attend and cover this event!! Woodbine Racetrack saw the importance of showcasing the fashion worn to their racetrack and created a party focused on just that at their Queen's Plate event.
This year is the 155th running of the Queen's Plate which is Canada's oldest thoroughbred horse race and is the first jewel in the Canadian Triple Crown. In its 155th year…we expect big things both from the track, the fans, and of course…the fashion!!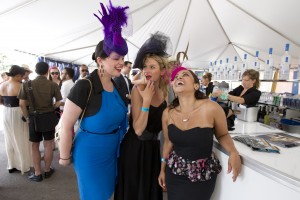 The Hats and Horseshoe's Party offers a great place for all fashionistas to get together, show off their outfits, and chat about their love of fashion and horse racing! Besides the horse racing (of course), the main event of this party is the Invite Only-Millinery Contest. 
George Brown College offers millinery classes for artistic and daring students. Leading into the Queen's Plate, the college organized a contest for the students to sketch out their idea of the perfect "Queen's Plate Inspired" Hat. 14 Finalists were selected to then create their hats from their sketches and showcase them on the big raceday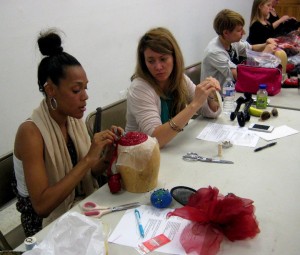 ! 
A panel of judges including David Dunkley (the Official Milliner of the Queen's Plate) , Desiree Cortes (Fashion Professor at George Brown College) and Editor of FLARE Magazine, will then have to select the top three designs awarding $1000 to the winner! The second place milliner will walk away with $500, and third with $300. Odds are higher to win the contest then to win the same amount of money betting horses… :) 
These are such talented students who are so daring to show off their designs to such a large (and usually judgmental) crowd! We applaud them for even entering the contest and can't wait to see what they bring to the track. 
Not everyone has the opportunity or time to attend millinery classes at a college. That doesn't mean you can't learn the great art! Another way to learn is to check out hatacademy.com which offers online courses to help you make your perfect piece!
 If you are attending the Queen's Plate make sure to tweet your millinery pictures using the hashtag #QP14 and if you need more details for the day, visit QueensPlate.com !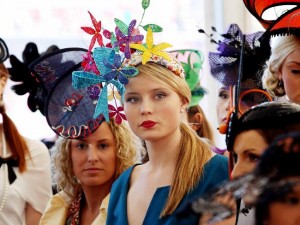 It is finally the week of the Belmont Stakes!! Check out Bri Mott's favorite pieces for the big raceday:
Check out some of the Best Millinery at the Preakness Stakes
Fashion at the Races Store
WOW!!…. That's all we can say since we dedicated ourselves to the showcasing the "Fashion at the Races"
Over the last few months we've been lucky enough to follow some amazing races and also take a look at some of the fantastic and individual style and fashion that they bring out on race day. But the best part so far about our growing company and loyal fan base that we have dedicated ourselves to serving up the finest fashion, is the amazing Milliners we have met and made great friendships with.
We've been lucky enough to have some of our Milliners pieces get exposure both on local and national TV networks as well as great exposure through our website and Social Media pages.
Our little online store has grown up, with a vast range of stylish milliners and still growing! We've covered some ground as well; our designers are some of the most amazing creative minds from the USA, Ireland, UK, and of course Australia! By bringing together such a diverse and unique group from all over the world, we believe we are offering all of you the best possible range of amazing hats and creations that you could hope for!
We want all of you to be able to see the stunning designs that are on offer, both from your home grown talent and also that of the talent that is abroad.
Just take a look at some of the amazing designs that we've already sold and the gorgeous ladies who've worn them on race day!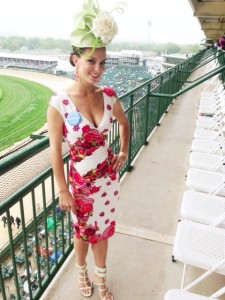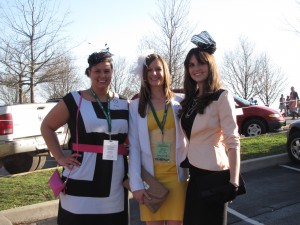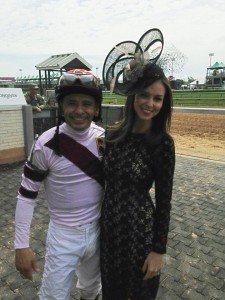 Don't miss our blogs on America's Best Racing's website:
Right before Christmas, we had a chat with the fabulous milliner, Lisa Tan, to ask some questions about the racing and fashion over in Australia…Here's what she had to say!!
1. How did you get involved with Fashions on the Field?
Lisa and Grant at the AUS Spring Carnvial
I studied fashion design when I was younger, and fell in love with racing at the same time. My mother and nanna loved dressing up for the Melbourne Cup, and I convinced them to go on a holiday there when I was 17. I found out they held this best dressed competition at Flemington, and the prizes were unbelievable, so I made an outfit, consulted a milliner and commissioned a hat, and entered. I didn't get very far in the competition because I had no clue about racewear at that stage, and my outfit wasn't very fashion-forward, but I was hooked and continued to enter the competitions back in Perth, and later at the Spring Carnival when I started attending it religiously.
2. Tell me about your judging experience (couple sentences)
This year was the first time I've judged a Fashions on the Field competition. I've always wanted to judge Myer Fashions on the Field because it's such a prestigious event, and having been an entrant for so many years I always wondered what it was like on the other side of the catwalk. It's really quite an honour to be invited. I judged the Design Award, which is restricted to professional designers who are invited by the VRC to participate. This year's winner (Craig Braybrook) was a standout, and I think almost all the judges had him as our top selection.
3. What do you love about Spring Carnival?
It's the atmosphere – it's unlike any other racing carnival I've attended in Australia and outside of Australia. It just has this spirit, this sense of celebration that's so unique, and so much fun. And of course, I love the fashion – the ladies in Australia put in so much effort, no matter which enclosure they're attending. You see just as well-dressed women in general admission as you do in the members' enclosure. That never happens in Europe – it's very rare to see a hat in the silver ring at Royal Ascot.
4. When did you begin making hats?
I started making hats when I seriously began entering Myer Fashions on the Field. The milliner I had been commissioning to make hats for me wasn't making what I wanted anymore, so I started dabbling with making my own. I had absolutely no training with millinery, and there were no millinery teachers in Perth so it was impossible to learn, so I applied the general skills I learned while studying fashion design, and studied a lot of images of Philip Treacy hats. It wasn't until after I had moved to London, around 2009, that I realised I wanted to do something more creative career-wise, so I left my e-commerce job and (finally) took at short-course in millinery at Central St. Martins. I realised the set-up costs for millinery were quite low, and it was something I could do from home, so I put together a small collection of winter hats while I was interning with Siggi Hesbacher, and when I went back to Melbourne that year for the Spring Carnival, I met with Myer and showed them the collection. Though they didn't order it, they did order from the following collection (SS11).
5. How important do you think Fashions on the Field is to creating and keeping fans for the race industry? Why?
I think it depends on where we are in the world – in Australia, yes, Fashions on the Field is important for retaining female fans in racing. It's kind of ironic that it was introduced to entice women to the races, but it created this whole subset of attendees who now only come to the races for the fashion – they enter the competition and leave straight after – which is quite unfortunate. I know it's only a small selection of female attendees who do this, but it just shows how important the fashion side of racing has become. In Britain, best dressed competitions aren't important at all. I've heard Royal Ascot refuses to stage a best dressed competition for fear it will cheapen their brand, which seems ridiculous given Myer Fashions on the Field has only enhanced Flemington's. Nevertheless, Royal Ascot's attendances are always fairly high, and when enclosures do sell out it's because of the calibre of horses running.
6. How important do you think Spring Carnival is to creating and keeping fans for the race industry? Why?
Lisa at Fashions on the Field in her own Hat
The Spring Carnival is incredibly important for creating racing fans, and keeping racing fans. The Victorian racing clubs have really done a stellar job with the marketing of the Carnival, to the extent that it's now a major part of most people's social calendars – and you don't even have to understand racing to enjoy it. I feel like it's not really 'the sport of kings' anymore in Australia – it belongs to the people now, whereas in Britain racing is still very much for the wealthy. Of course, in the UK it's more about the horses than it is the fashion, or the other social activities that take place off the track. It's a purist's game over here and I'm not sure if that will ever change. However, they only need to look at the health and strength of Australia's racing industry to see that, whatever they're doing it, it's obviously working.