Millinery Madness
 The Dubai World Cup Millinery Awards
A 19 hour trip from the United States was completely worth it just to witness the fun millinery that the Meydan Racecourse had to offer. Here's some photos to give you an idea of the fabulous millinery:
Kentucky Derby Hats

It's less than 100 days now until the 2014 Kentucky Derby, and ladies (and gentleman) that means that it's about time that you really started to think about what you may want to wear on the big day. After all, this is pretty much Louisville's, and maybe even Kentucky's, biggest day on the social calendar….and you don't want to get caught not looking your best!
With all that in mind, we thought we would take a look at one of the icon pieces when it comes to a Kentucky Derby. You guessed it, it's the hats, or as we like to refer to it, the Millinery!
Kentucky tradition has without a shadow of a doubt always been about the big brimmed hats that stand out and make a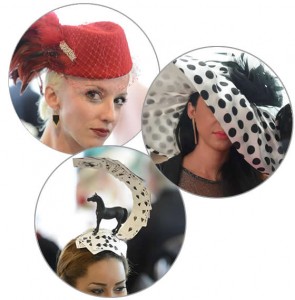 statement, but in the last few years we have seen the size start to become a bit more compact and some structured pieces that are not so much big brimmed, start to make their way onto the track. We are very excited at this prospect as it shows that we are starting to catch up and even compete with other big racing nations such as Australia, England and Ireland, where the social side of the industry is a whole new ball game.
When we started looking for our big piece for this years' Derby, we have been focusing on something that is going to stand out and set us apart from the crowd. This does not necessarily mean big brimmed, so we are thinking that we might be looking for something a little more compact and edgy this year. Colour will definitely play a big part as we think that the Derby is definitely a time to break the shackles of something dark, you can do that when it comes to the Belmont stakes in June.
A few things that we believe are extremely important when it comes to choosing the right piece for the day, we have listed below. These aren't exactly bible laws, but we guarantee that they will definitely have you headed in the right direction for the big day.
Comfort – Make sure whatever you choose to wear, you're definitely comfortable in! It's a long day at the track on Kentucky Derby day and the last thing you want an hour or two in is the burning desire to take off your hat because it's causing you pain! And trust me, a lady in an uncomfortable hat is very easy to spot and it's not a good look!
Make it Match – When you do decide on your outfit, start looking for your hat immediately! You can do it either way, Hat to Dress or Dress to Hat, but try and have a vision in your mind of the other half when you entertaining different ideas. The greatest outfit in the world falls flat if the headwear does not compliment it, and vice versa!
Dare to be Brave – Like we said before, the Kentucky Derby is known for its big brimmed creations, but that doesn't mean you have to conform. Be brave and choose something that you like, something you love, there are so many different styles of millinery that are on offer and certain styles suit certain people. A gorgeous lady should never hide herself under a big b rim just because it's expected.
Stay with us over the next few weeks as we plan to showcase some of the wonderful milliners that we are associated with here at Fashion at the Races. We will be doing some articles on their fabulous designs and taking a look at what they will have on offer leading into the Triple Crown season.
 When a Big Hat…is JUST TOO BIG!!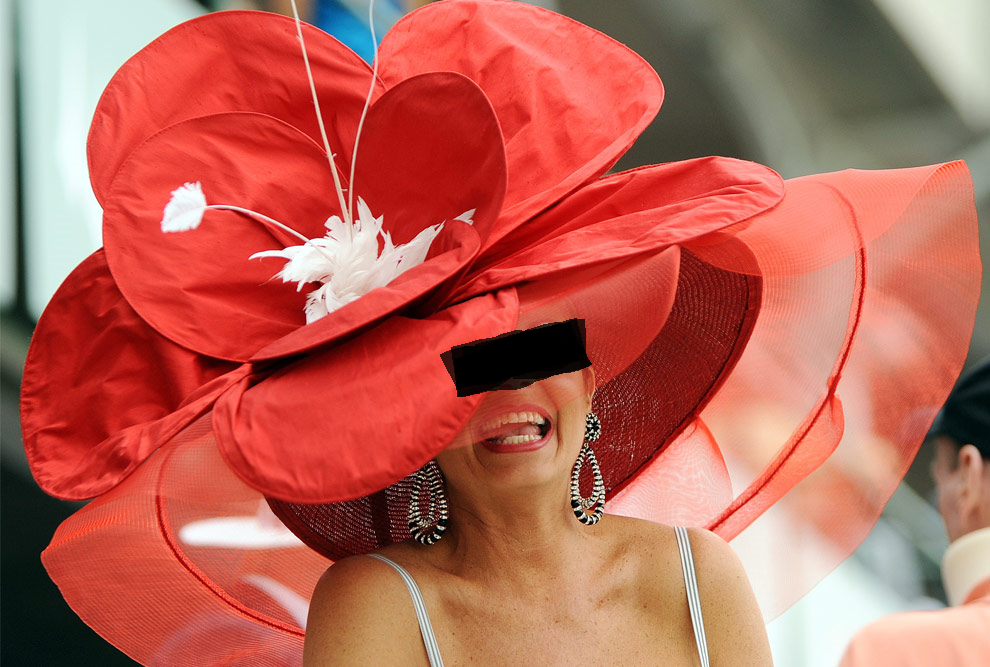 Unfortunately compared to the rest of the world, some of the racing fashion in the United States has a bit of a bad stereotype. Coincidentally…and shockingly this is in part due to our biggest and most favored raceday: The Kentucky Derby.
Whaaaaatttt?
Hear us out. The Kentucky Derby is known for its traditions of Mint Juleps, fantastic racing, and of course the 'Derby Hat.'  Women appear in fine outfits lavishly accessorized with large, elaborate hats," is the only description of the fashion worn to the Kentucky Derby according to Wikipedia. Therein lies the poor and very unfashionable stereotype of what racing fashion in the USA looks like.
Unfortunately, even at races other than the KY Derby, some ladies feed this stereotype by continuing to wear these overdone and unnecessary headpieces, (we choose not to call them hats).
Are you sitting down? Ladies, there is such a thing as a TOO BIG HAT! Here are 5 indications that your hat is too big:
1. If someone from the stands above look down and see's no body under a moving brim.
2. When the race starts fans are hooping and hollering for you to remove it (yes this happens).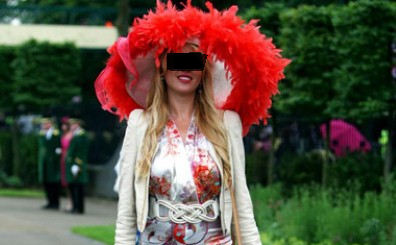 3. You need to bring your neck brace in your bag, "just in case."
4. When you go to kiss your friend on the cheek, they have to kneel and even then you opt for the forehead.
5. The box the hat sleeps in is bigger than your king size bed.
Three Rules to Live by when shopping for the big brimmed:
1. If you are a petite lady, opt for a smaller brimmed piece of a fascinator. A big brim will make you look unbalanced.
2. If it feels heavy when you first try it on, it will feel 10x worse halfway through your raceday.
3.  The bigger the brim, go for a more simple design: Feather boa's and fake flowers do not make the hat more artistic…they make it cheap and ugly.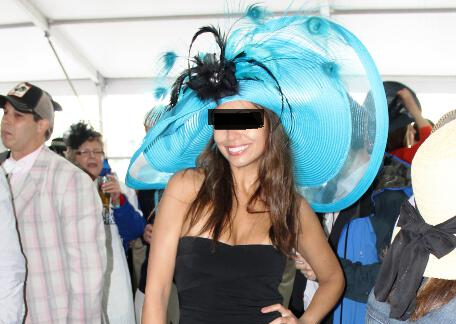 Don't let a designer name fool you either. If Philip Treacy creates a 10ft millinery masterpiece , just because it was created by this visionary doesn't mean it will translate on the street or at the races.
Don't purchase a hat just because of the name, purchase a hat because it will enhance your beauty and your fashion! Your fashion at the races is to enhance your natural beauty as well as play with your individuality and personality.
Don't follow tvhe stereotype or wear what you think others will 'coo' at, wear what makes you feel 10x better than what you felt before you put it on!
Keep it classy and remember the races are more of a marathon than a sprint…a full day can change your thoughts on your hat, shoes, or even tightness of a dress. Comfort is KEY in a literal sense as much as a confidence sense! The millinery you put on your head is supposed to have your confidence soar as well as turn heads!
Happy Fashionable Racing!

We want to hear what you think about the BIG BIG BRIMMED pieces… Send us an email to info@fashionattheraces.com  with your thoughts and we will publish it here on this page!!
 It's all about the Silks…and the Millinery of course!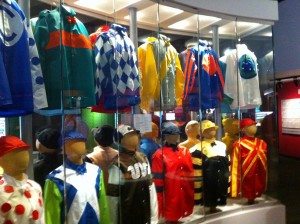 We caught up with the-oh-so Talented Christine A. Moore to get the inside information on her Silks Collection. Here's what she had to say!
Tell us about the "Silks Collection"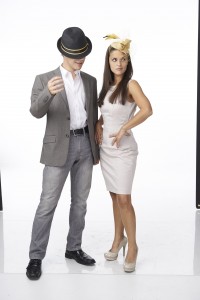 The "Silks Collection" is a great and fun additional way to get a custom designed hat for the races.  Anyone can order one of our styles trimmed in the silk colors of their favorite horse. A great way for both women and men to show their style and spirit!   A great addition for Breeders' Cup as well!
Where/How did you come up with the idea? 
Blake, my husband /business partner and I were at a marketing meeting here in New York with Breeders' Cup, and we were brainstorming so many ideas, and this was one that really resonated and stuck.  We figured it would be perfect to roll out for Breeder's Cup 2013.  At Preakness we made a hat for Rosie Napravnik and presented it to her in the colors of  MyLute.
What do you want to see in fashion at Breeders' Cup?
Santa Anita is such a beautiful art deco inspired track and they have a great tradition of dressing elegantly for the races.  Breeders' Cup has kind of adopted the fascinators and fedora look, which I think is a wonderful idea.  A fascinator for women is a great way to start dressing for the races and especially when the weather is hot, so I expect to see some great fascinators.  I also hope to see more elegant medium and large brimmed structured hats as opposed to beach style hats.  We will see a lot of purple in honor of BC and because it is LA and quite warm we will still see straw but more darker tones.  As for the men I hope to see all kinds of classic straw fedoras, again in the darker tones.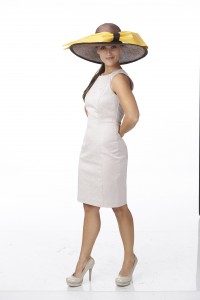 What are you favorite silks? Why?
Since I have so many owners and trainers as friend I have to be careful what I say, but I will admit I love the color aqua and especially when it is matched with earth tones.
Why do you think millinery and horse racing go hand in hand?
When you think of horse racing you think of course of the horse, a beautiful day at the track and fashion!  An elegant hat has always been part of the appropriate dress for a day at the races.  In addition, you are out of doors and with a hat you are shaded from the sun and you look great!  Having your photo taken is not a bad thing either!
Need to find your perfect color combination for Breeders' Cup?? Email info@fashionattheraces.com for information!! Check out Christine A. Moore's pieces in our store.
See more from the silks photo shoot below:
Fashion at the Races Store
WOW!!…. That's all we can say since we dedicated ourselves to the showcasing the "Fashion at the Races"
Over the last few months we've been lucky enough to follow some amazing races and also take a look at some of the fantastic and individual style and fashion that they bring out on race day. But the best part so far about our growing company and loyal fan base that we have dedicated ourselves to serving up the finest fashion, is the amazing Milliners we have met and made great friendships with.
We've been lucky enough to have some of our Milliners pieces get exposure both on local and national TV networks as well as great exposure through our website and Social Media pages.
Our little online store has grown up, with a vast range of stylish milliners and still growing! We've covered some ground as well; our designers are some of the most amazing creative minds from the USA, Ireland, UK, and of course Australia! By bringing together such a diverse and unique group from all over the world, we believe we are offering all of you the best possible range of amazing hats and creations that you could hope for!
We want all of you to be able to see the stunning designs that are on offer, both from your home grown talent and also that of the talent that is abroad.
Just take a look at some of the amazing designs that we've already sold and the gorgeous ladies who've worn them on race day!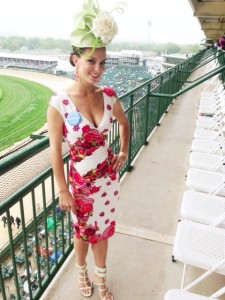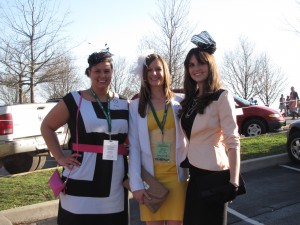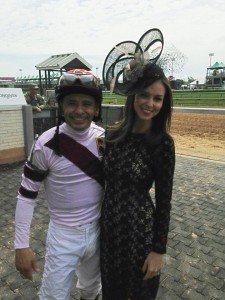 Don't miss our blogs on America's Best Racing's website:
Right before Christmas, we had a chat with the fabulous milliner, Lisa Tan, to ask some questions about the racing and fashion over in Australia…Here's what she had to say!!
1. How did you get involved with Fashions on the Field?
Lisa and Grant at the AUS Spring Carnvial
I studied fashion design when I was younger, and fell in love with racing at the same time. My mother and nanna loved dressing up for the Melbourne Cup, and I convinced them to go on a holiday there when I was 17. I found out they held this best dressed competition at Flemington, and the prizes were unbelievable, so I made an outfit, consulted a milliner and commissioned a hat, and entered. I didn't get very far in the competition because I had no clue about racewear at that stage, and my outfit wasn't very fashion-forward, but I was hooked and continued to enter the competitions back in Perth, and later at the Spring Carnival when I started attending it religiously.
2. Tell me about your judging experience (couple sentences)
This year was the first time I've judged a Fashions on the Field competition. I've always wanted to judge Myer Fashions on the Field because it's such a prestigious event, and having been an entrant for so many years I always wondered what it was like on the other side of the catwalk. It's really quite an honour to be invited. I judged the Design Award, which is restricted to professional designers who are invited by the VRC to participate. This year's winner (Craig Braybrook) was a standout, and I think almost all the judges had him as our top selection.
3. What do you love about Spring Carnival?
It's the atmosphere – it's unlike any other racing carnival I've attended in Australia and outside of Australia. It just has this spirit, this sense of celebration that's so unique, and so much fun. And of course, I love the fashion – the ladies in Australia put in so much effort, no matter which enclosure they're attending. You see just as well-dressed women in general admission as you do in the members' enclosure. That never happens in Europe – it's very rare to see a hat in the silver ring at Royal Ascot.
4. When did you begin making hats?
I started making hats when I seriously began entering Myer Fashions on the Field. The milliner I had been commissioning to make hats for me wasn't making what I wanted anymore, so I started dabbling with making my own. I had absolutely no training with millinery, and there were no millinery teachers in Perth so it was impossible to learn, so I applied the general skills I learned while studying fashion design, and studied a lot of images of Philip Treacy hats. It wasn't until after I had moved to London, around 2009, that I realised I wanted to do something more creative career-wise, so I left my e-commerce job and (finally) took at short-course in millinery at Central St. Martins. I realised the set-up costs for millinery were quite low, and it was something I could do from home, so I put together a small collection of winter hats while I was interning with Siggi Hesbacher, and when I went back to Melbourne that year for the Spring Carnival, I met with Myer and showed them the collection. Though they didn't order it, they did order from the following collection (SS11).
5. How important do you think Fashions on the Field is to creating and keeping fans for the race industry? Why?
I think it depends on where we are in the world – in Australia, yes, Fashions on the Field is important for retaining female fans in racing. It's kind of ironic that it was introduced to entice women to the races, but it created this whole subset of attendees who now only come to the races for the fashion – they enter the competition and leave straight after – which is quite unfortunate. I know it's only a small selection of female attendees who do this, but it just shows how important the fashion side of racing has become. In Britain, best dressed competitions aren't important at all. I've heard Royal Ascot refuses to stage a best dressed competition for fear it will cheapen their brand, which seems ridiculous given Myer Fashions on the Field has only enhanced Flemington's. Nevertheless, Royal Ascot's attendances are always fairly high, and when enclosures do sell out it's because of the calibre of horses running.
6. How important do you think Spring Carnival is to creating and keeping fans for the race industry? Why?
Lisa at Fashions on the Field in her own Hat
The Spring Carnival is incredibly important for creating racing fans, and keeping racing fans. The Victorian racing clubs have really done a stellar job with the marketing of the Carnival, to the extent that it's now a major part of most people's social calendars – and you don't even have to understand racing to enjoy it. I feel like it's not really 'the sport of kings' anymore in Australia – it belongs to the people now, whereas in Britain racing is still very much for the wealthy. Of course, in the UK it's more about the horses than it is the fashion, or the other social activities that take place off the track. It's a purist's game over here and I'm not sure if that will ever change. However, they only need to look at the health and strength of Australia's racing industry to see that, whatever they're doing it, it's obviously working.