What to Wear to Breeders Cup
Churchill Downs November 2nd and 3rd
The Breeders Cup Championships once again return to my home state of Kentucky. My first Breeders Cup ever attended was at Churchill Downs in 2009 when the famed Zenyatta (a famous and favorite filly of so many horse racing fans) went against the boys and got beat at the wire by a colt named Blame.
You know how they bring the horses back after the race in front of the grandstand and many people cheer and clap for the winner? Well that didn't happen for this race. When Blame came back, no one cheered. They all waited for her. Zenyatta. When she returned in front of the grandstand, every man, woman, and child clapped and cheered, some with tears in their eyes knowing that that was the last race.
Even though she didn't win, she had more fans in that moment cheering for her than ever before. That my friends, is a horse race.
So what will happen this year? Who will cause the upset? Who will continue their perfect record? Who will become the next BIG NAME? Well…who knows! We will have to wait and see. But in the meantime…why not plan our outfits!
I've already been getting messages asking for advice on what to wear in the colder (possible) temperatures in early November in central Kentucky. Don't get nervous about your options! There is actually way more options with colder weather because colder weather means more layers and that in itself gives you more play in your raceday fashion.
This is the time for sleeves! Long sleeved dresses and jumpsuits are a fabulous go-to for a cooler raceday.
Deeper shades will standout in Louisville the first weekend of November: Emeralds, Navy's, Maroon, Deep Orange and of course Breeders Cup Purple!
Shop some of my favorite Jumpsuits here:

You can absolutely still sport a dress to the races but just need to plan extra accessories to keep you warm. I am a huge fan of long sleeved dresses, there is just something so chic about the extra coverage. Make sure that your racewear still has some structure or added detail. Picking up a slouchy sweater dress won't look the part at the racetrack.
A great example of a nice fall dress is this red number from with 3/4 length sleeves paired with black tights and black booties.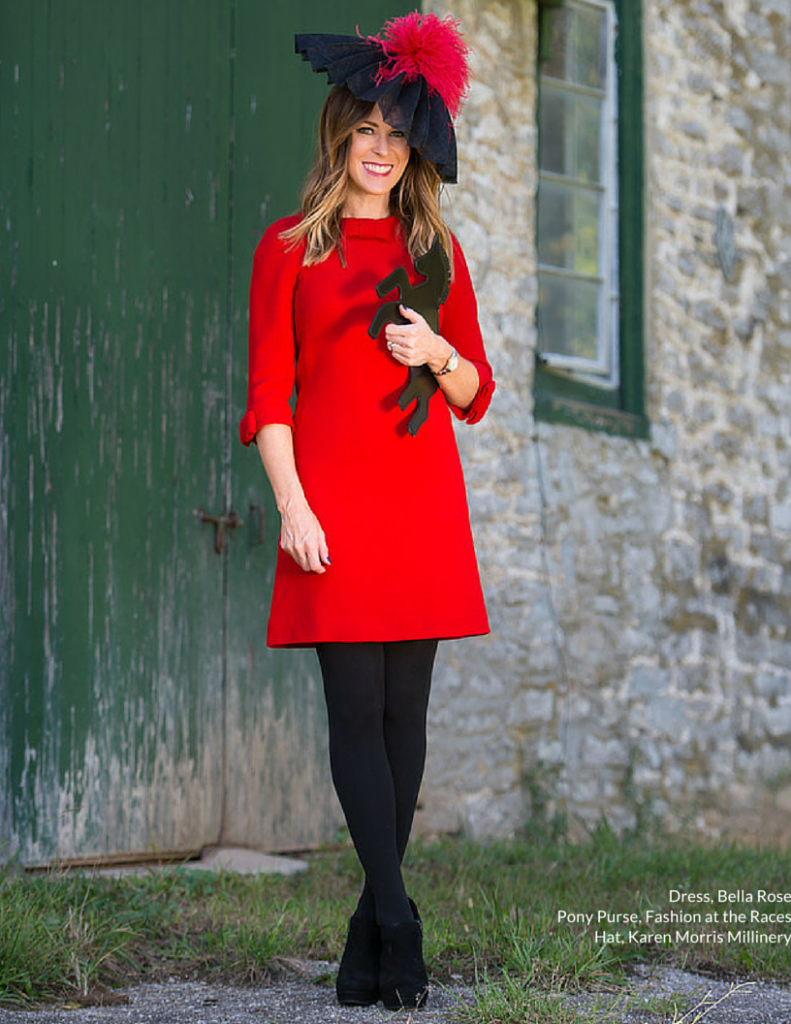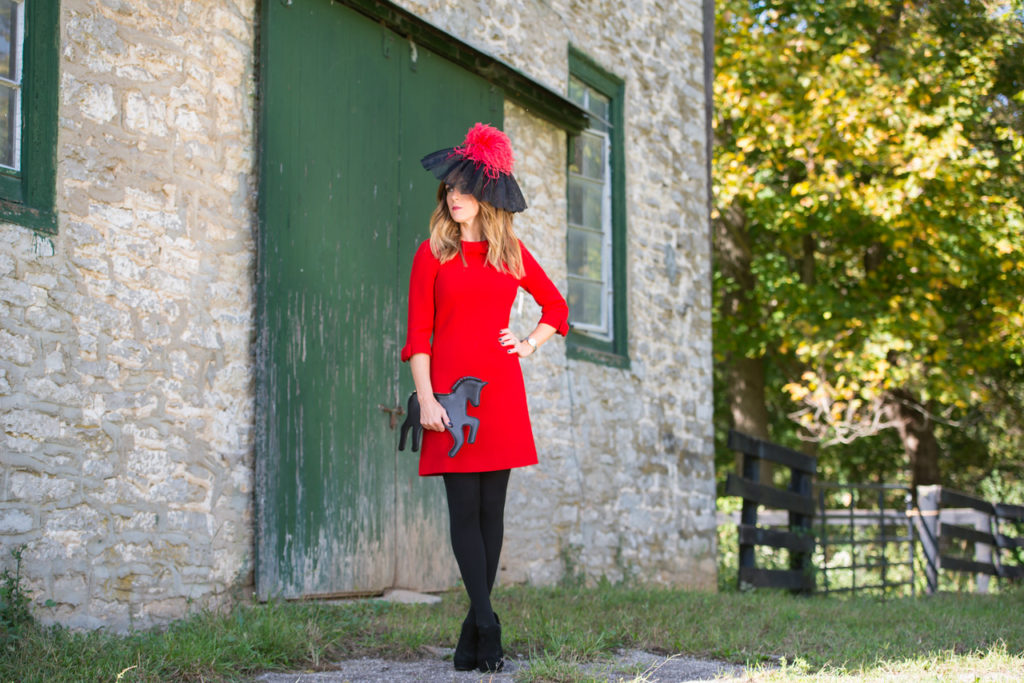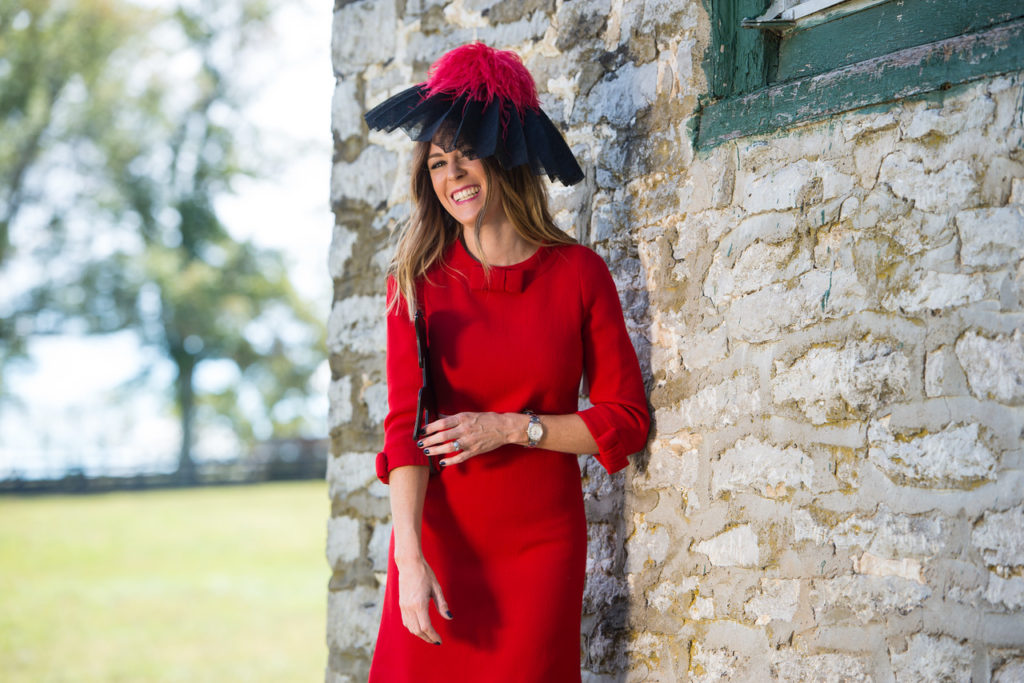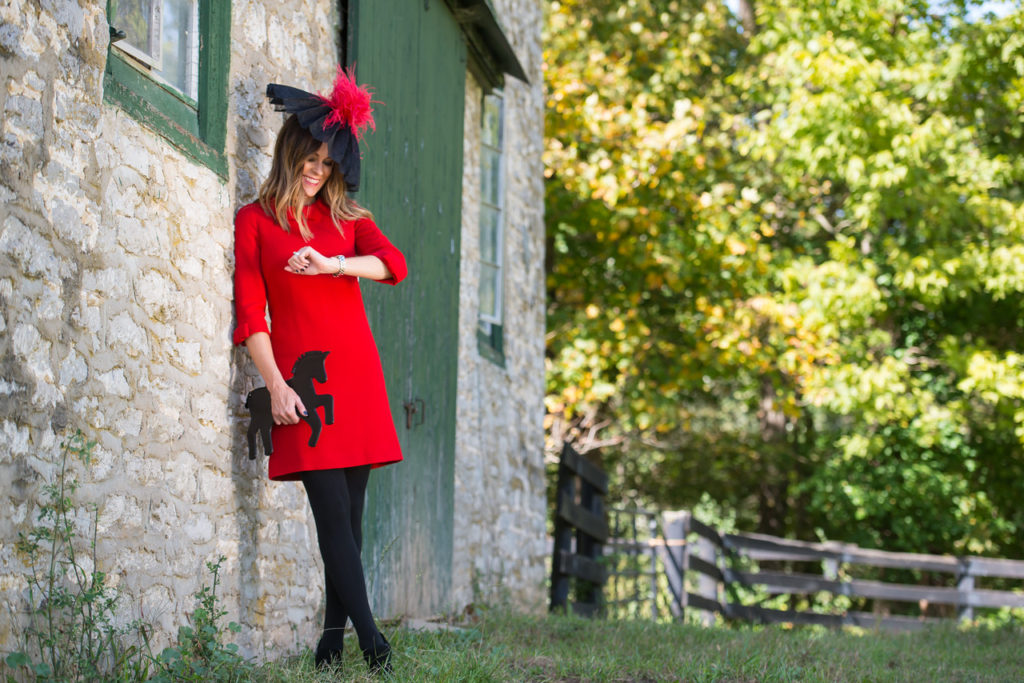 Shop some of my favorite sleeved dresses here:
Another option is to pair up some suit separates. Last year, we styled this great outfit, (yes I know white pants- relax!) from Bella Rose Boutique which I loved because it gives off a Coco Chanel vibe. The black and white plaid top accented with gold buttons topped over flowing white pants looked very chic and well put together. We kept the millinery simple using a 'beret' from Karen Morris to keep with the French style. The best part about wearing pants is you can even layer (secretly) even more! You can put a pair of tight leggings or stockings underneath to give you more coverage.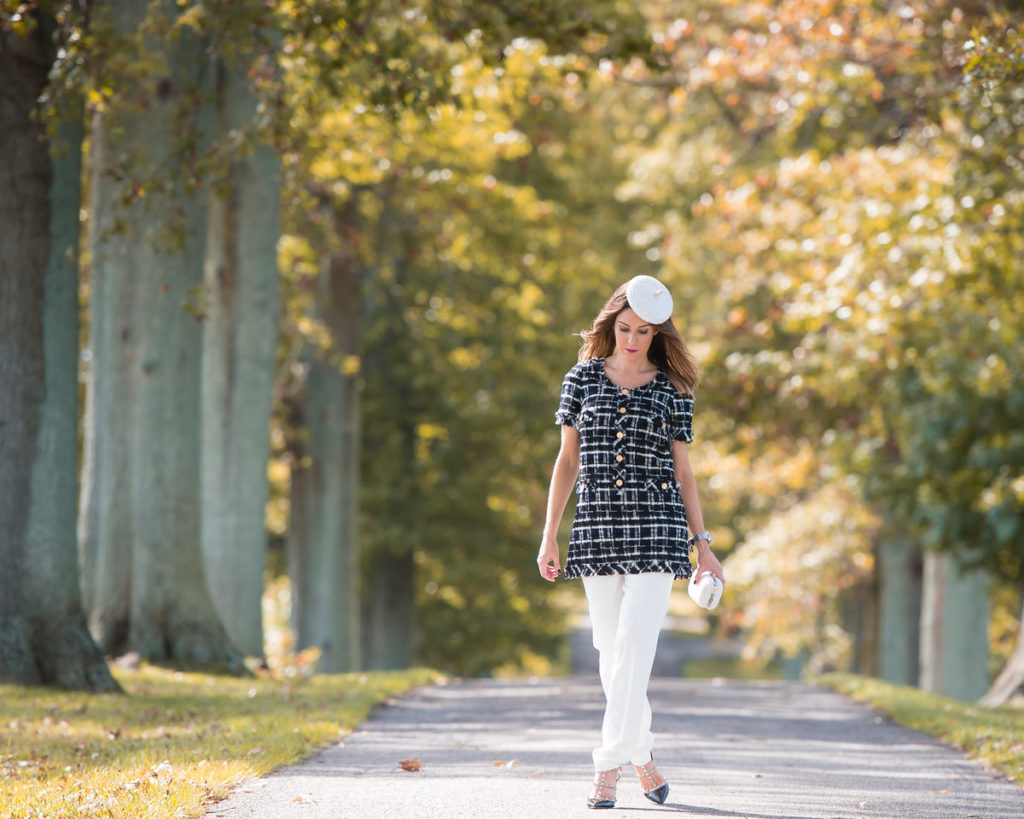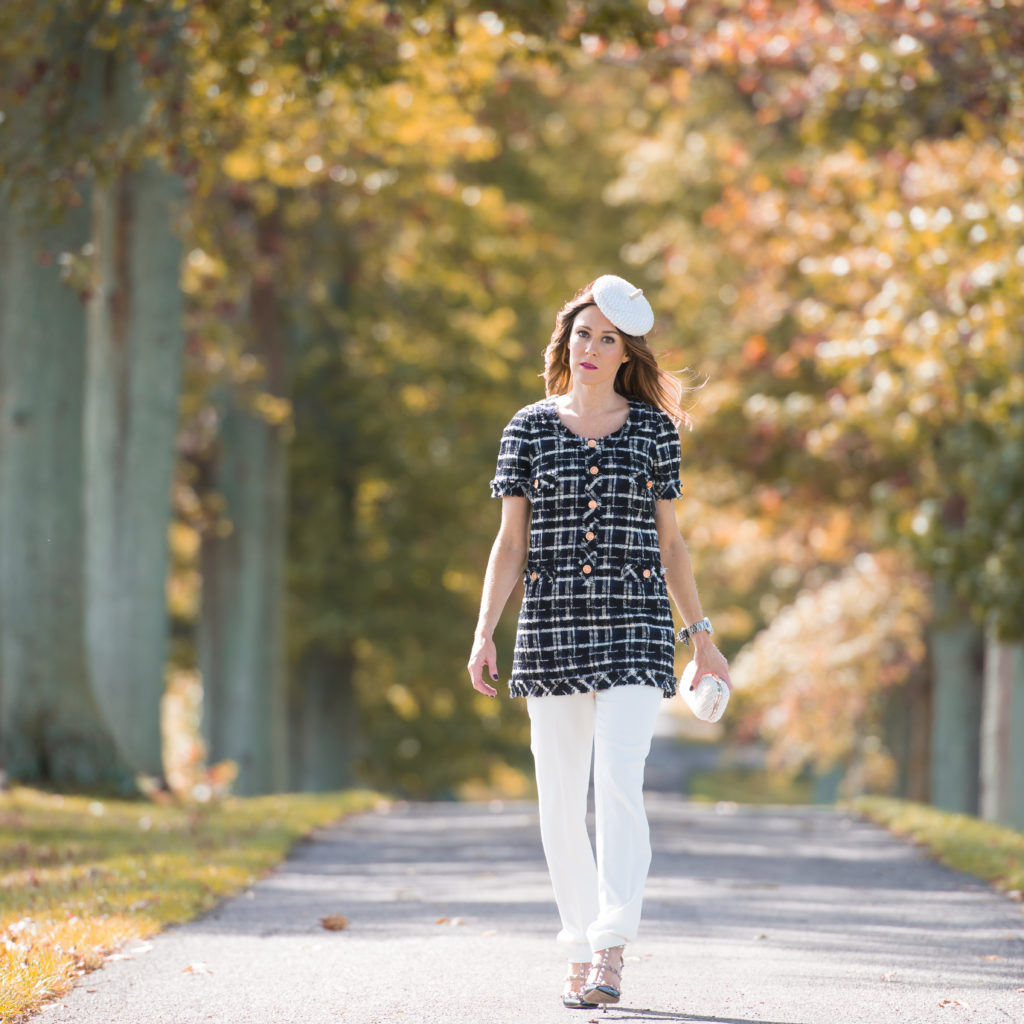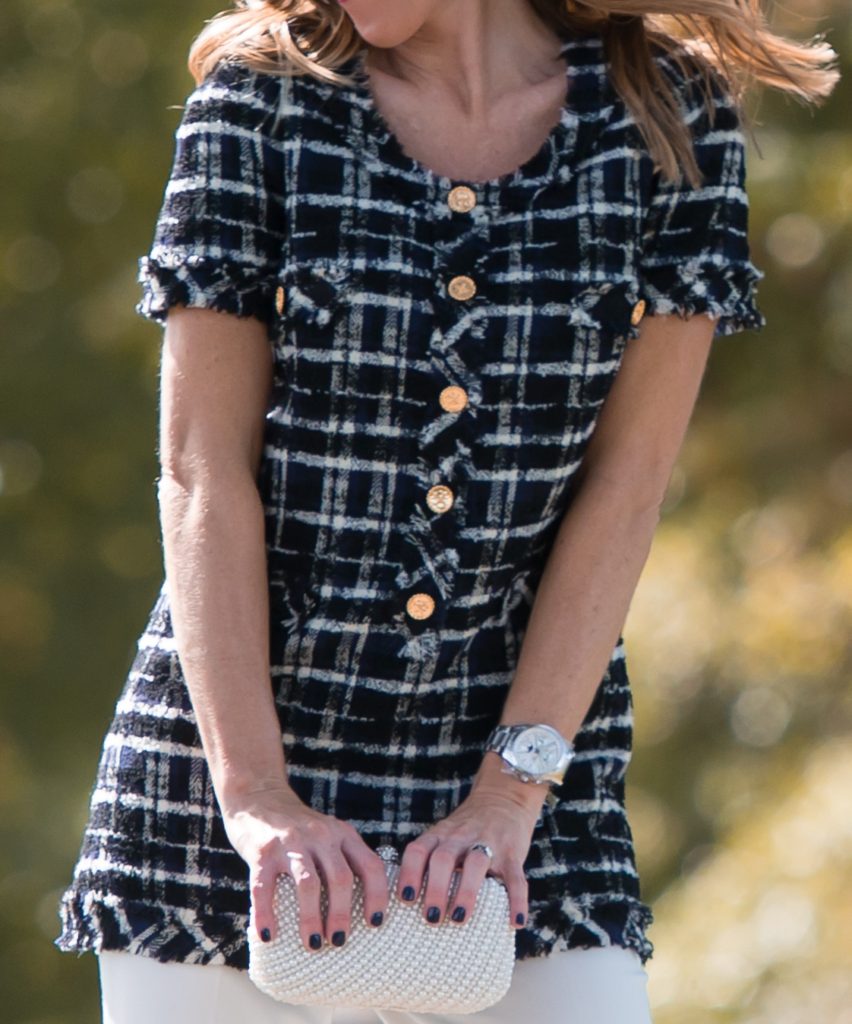 Truly, this far out, it is very hard to say what the temperature is going to be like in Kentucky. Last week we were 91 degrees on Thursday and it was cold and raining Saturday- we can have all four seasons (it seems) within one week! Your best bet is to prepare for it to be chilly because you can always remove layers/accessories if it heats up.
Just know with the colder temperatures, you have more you can play with in your fashion. Gloves, shawls, coats, and of course fabulous millinery! I found this coat and knew I wanted to pair it with something and found a red dress to match. I did end up wearing this beautiful headpiece to the races at Keeneland. I paired with a different red dress and a matching 'cape'- I was like a fashion super hero!

Here are some unique coat finds: