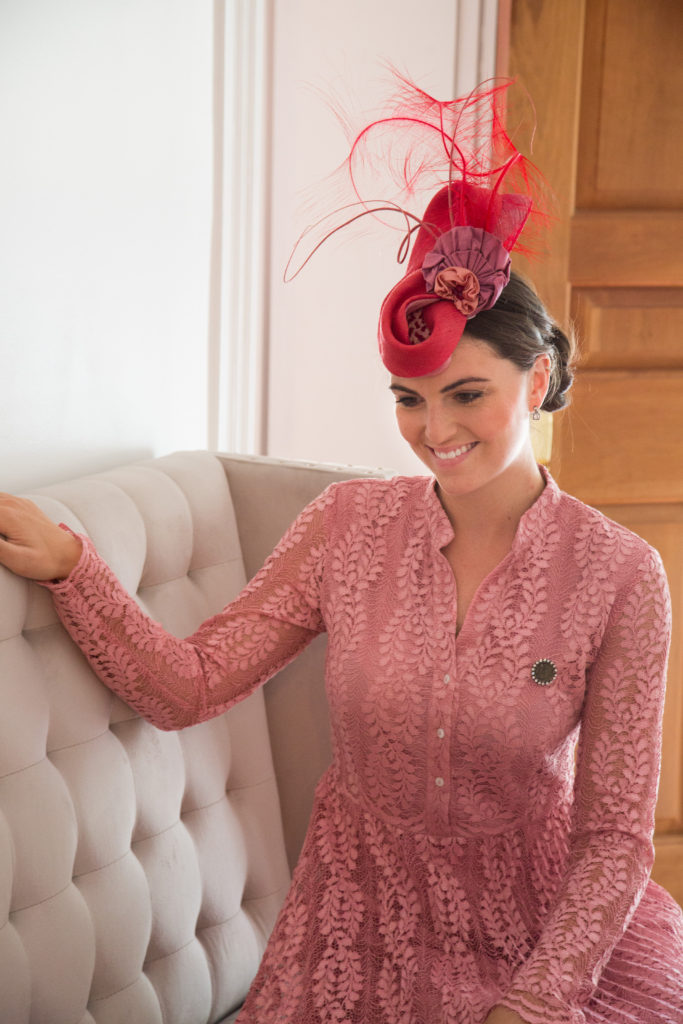 Pink lace is the epitome of feminine style. This pink lace dress found in a Warehouse Sale and was a great buy. It had a small stain on the upper left chest area which is wear the 'pin' is positioned (have to give my girl Christine Lund credit on that one!).
Paired with the Karen Morris fascinator adding a darker pop of color which is matched by the darker fuchsia heels. For a piece like this, put your hair up so we can focus on your gorgeous face and millinery. Too many times hair styles fall flat and it ends up ruining a beautiful topping. I styled a simple low bun (with donut included) which will stay in place for the entire raceday. This style took me less than 5 minutes to do!
This outfit is a great cross over of fall and spring- perfect for the late months in California.
Pictured in my Parisian styled foyer, I love how the pinks really pop out in a delicate way.
This exact dress is 40% off right now! See below to click and shop I've also included some more pink lace dresses that are always perfect for the races or any event you might have. If you'd like to purchase the one-of-a-kind fascinator you can do so here.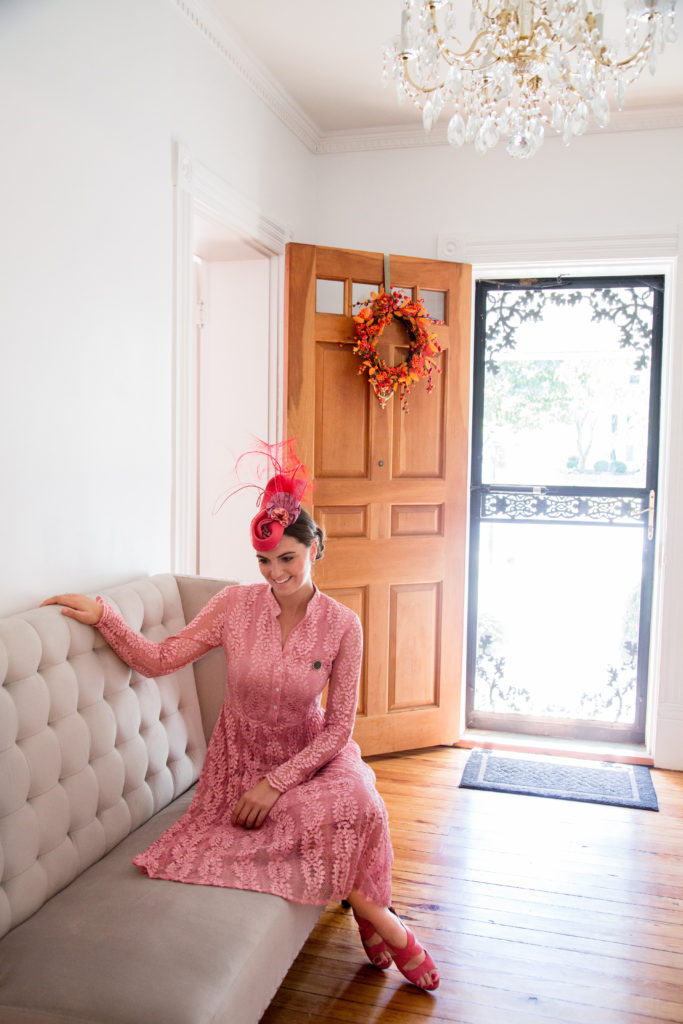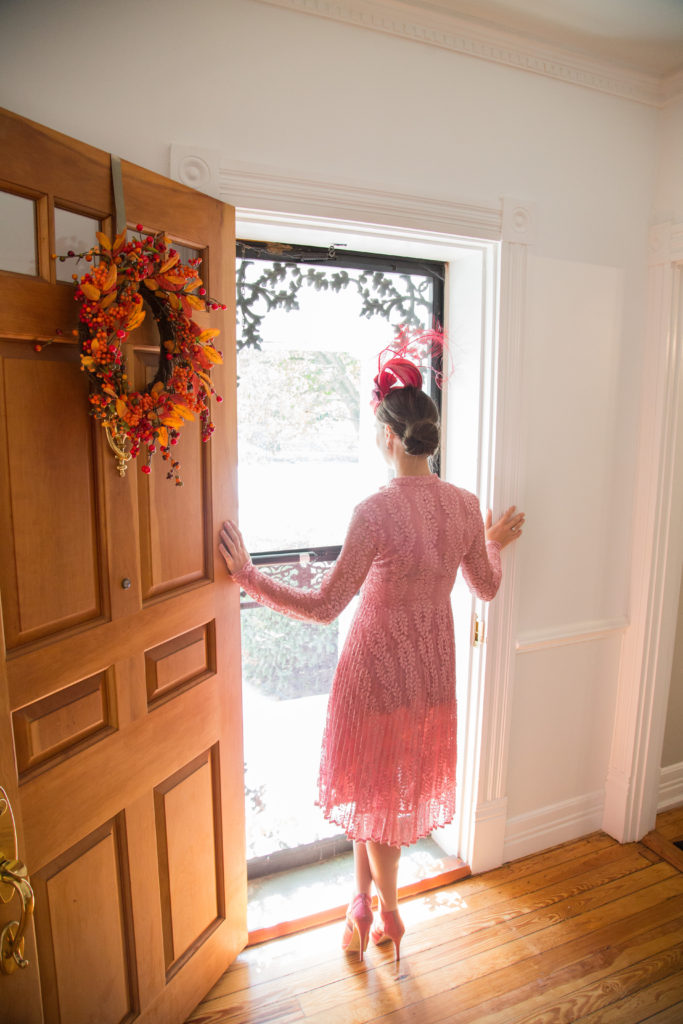 When in Doubt…Wear Red
Beware the Lady in Red
Red is a powerful powerful color. I would be lying if I said it was for just anyone…Red is for a lady with fiery spirit! Someone who knows how to pack a punch and has a strong presence…or WANTS to have a strong presence. Once you put on a red dress, you have prepared yourself for a day to remember.
I wore this BCBG dress to the Kentucky Derby a few years back and don't have the heart to pass it on yet. It is a light fabric with sheer detail at the chest and a pleated skirt with a peekaboo slit down the left leg.
How fitting it was to pair this with the bold Sophie Hunter fascinator from Ireland. With a sequin dark champagne center and white floral detailing, this piece NEEDS a strong dress to stand out with it.
Not many accessories are needed with this bold ensemble. A red lip is probably the best match and really accentuates your gorgeous smile. I kept things simple and classic with my always necessary Longines Timepiece, a pair of stud earrings, and red BCBG pumps. I tried adding a gold belt just for some extra metallic which the outfit could go with or without.
These sunglasses with a white pearl surrounding and gold reflective lenses are PERFECT for the added punch the outfit doesn't require but always accepts….and only $60! I've included links to the exact pair of glasses as well as some other styles below. Check out some fabulous red dresses and heels as well as gold belts- these are fashion items that can be worn with other outfits outside the races. Timeless pieces!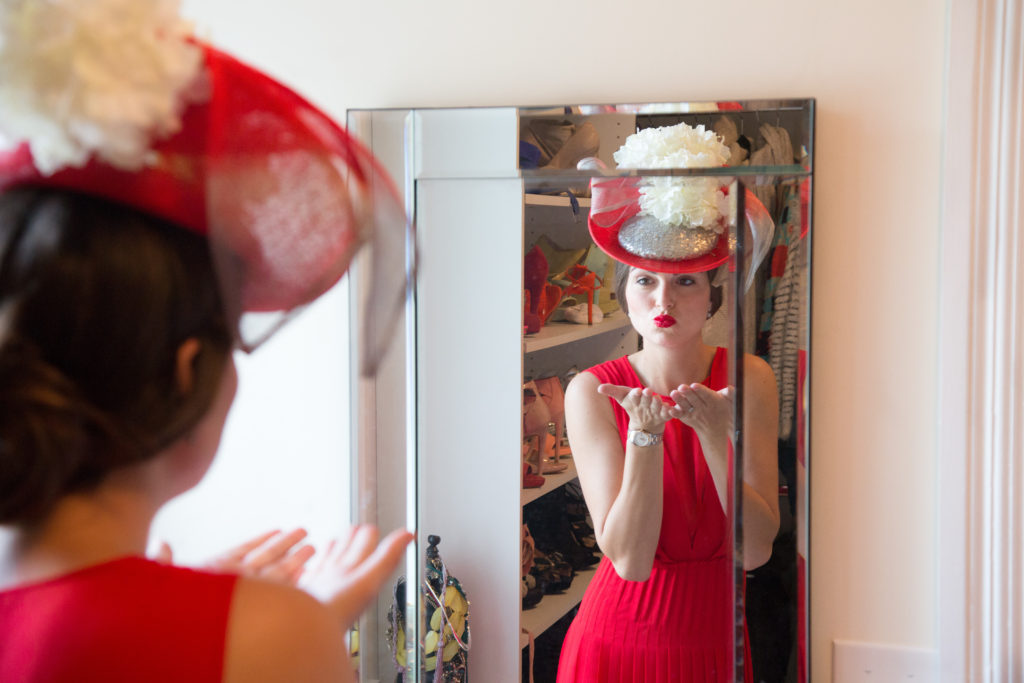 Always Fun in Florals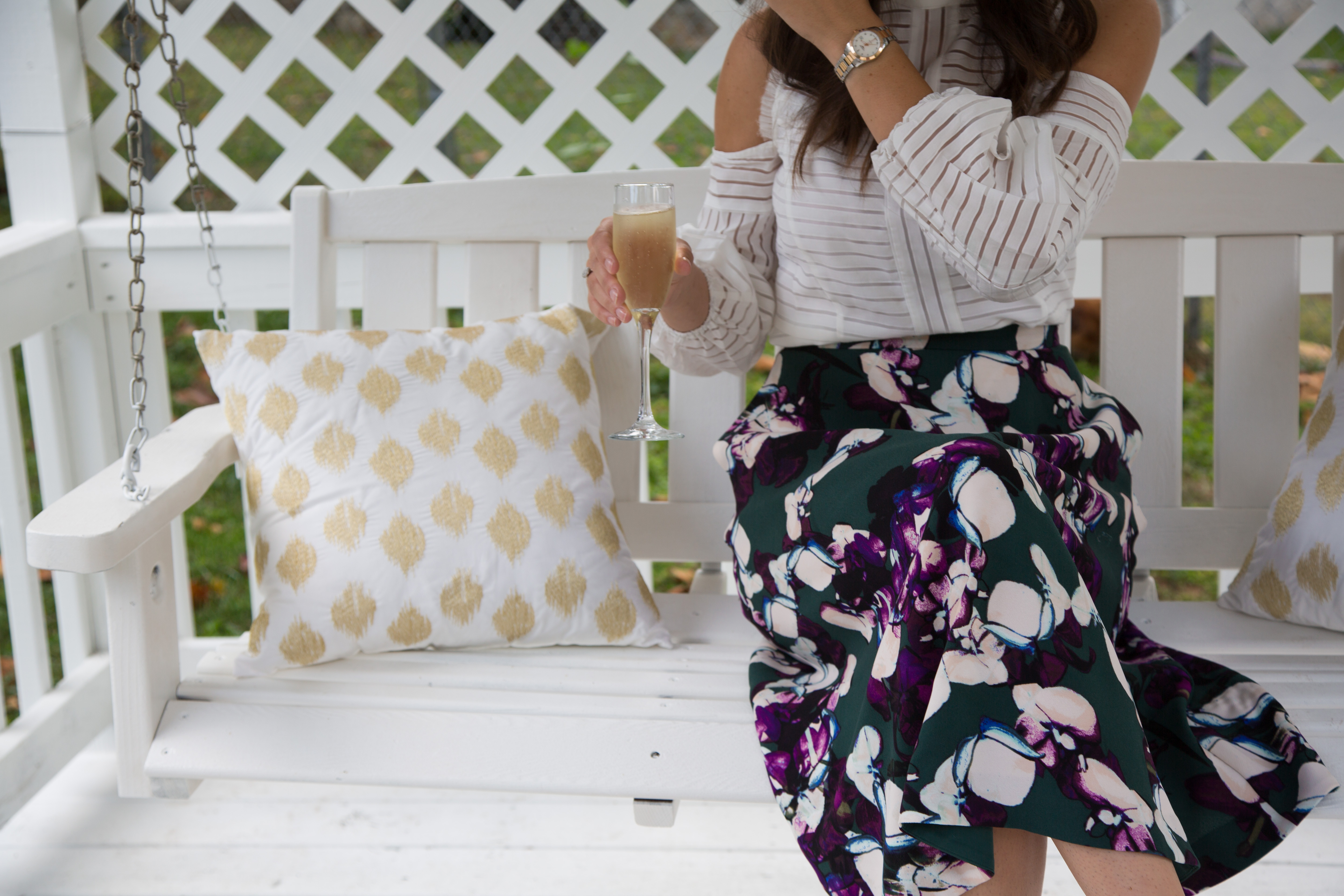 It is finally feeling like fall here in the Bluegrass States. The leaves have changed and began to fall, the sun is a bit weaker than a month ago, and the nights cool down to a crisp temperature.
Fall racing is full steam ahead at Keeneland but we still need to set our sites on a warmer raceday brought on with the California Sun. Breeders Cup at Santa Anita still has us thinking spring/summer fashion but with the crisp air still a possibility, we need to prepare for the in between.
This outfit was literally plucked from my closet of pieces that I've had for a bit and wear in my everyday regular fashions (I actually wore this top out Saturday night). The skirt was a lucky buy at Banana Republic for $22 and the hat, which is perfect for Breeders Cup I might add, came from Ireland from the talented Sophie Hunter. The veil is removable but I think its an added drama that would be fabulous to rock at the races.
This shirt is back in stock and under $100. With all the feedback I've gotten from these pictures- you will definitely be getting asked where its from! I wore a Medium so if you usually grab a small possibly order one up. It fit perfectly!
With the high collar of the shirt, there's not much need to wear a necklace so as I usually do, I kept my accessories simple with my Longines Watch and Pandora earrings.
Of course its totally normal for me to be dressed in my raceday fashion on my backyard swing with a glass of GH Mumm champagne. Typical Saturday…and wouldn't have it any other way.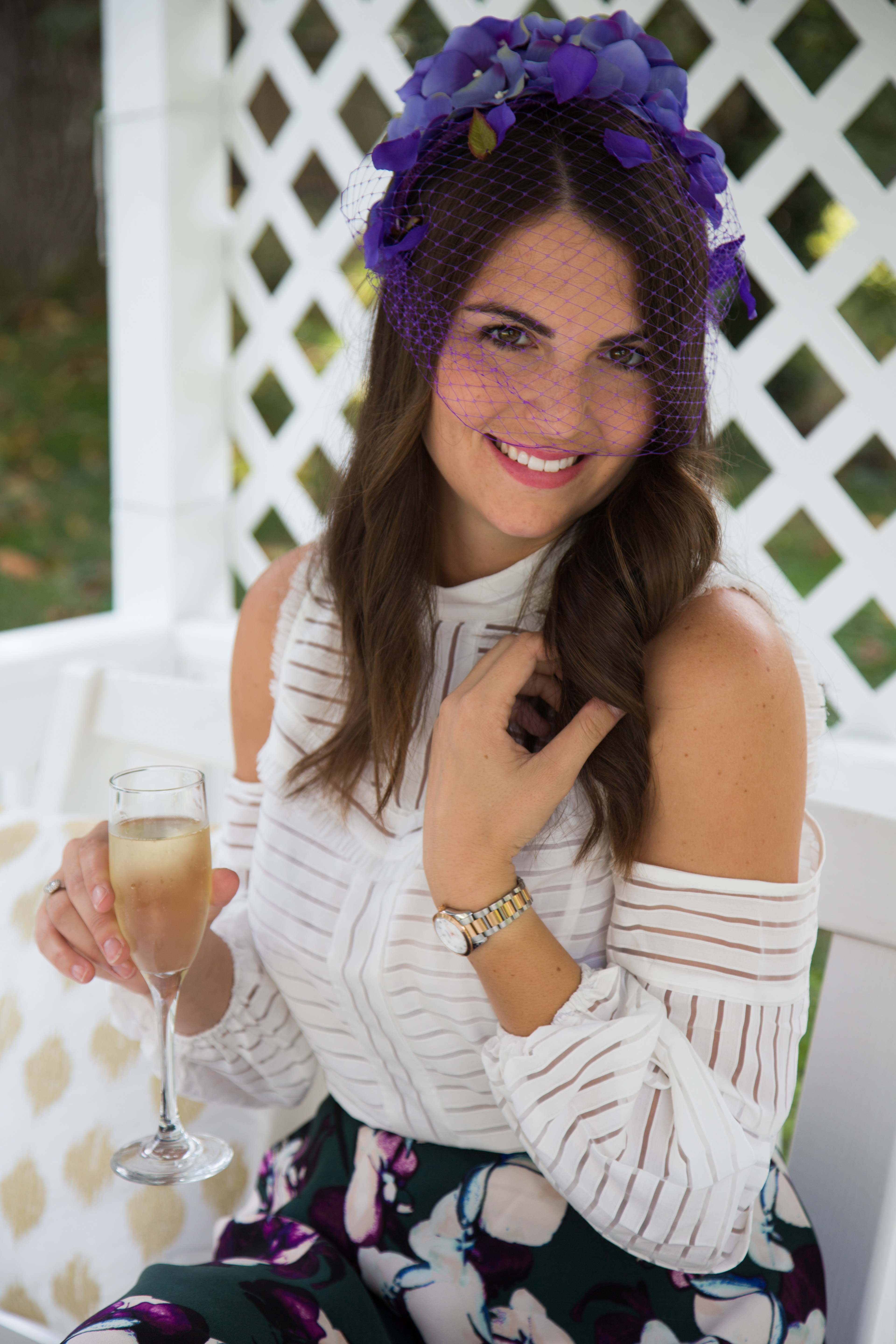 Shop My Look:
Sophie Hunter Fascinator: $110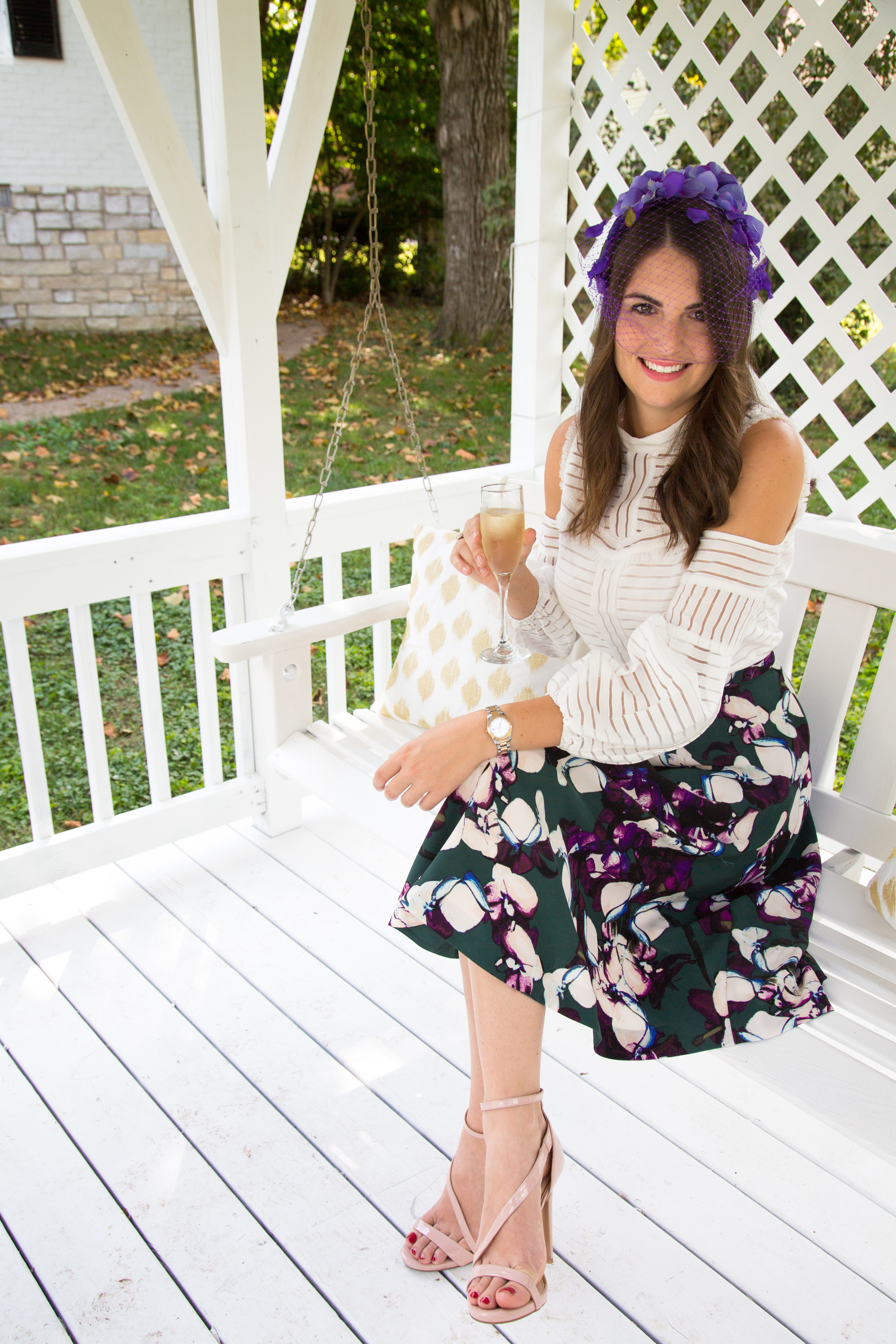 Metallic Florals
This is one of my most favorite racing outfits so far. I chose the ASOS dress because of its silhouette and it was under $150! It has such a classy shape that is formfitting to the woman's body. It has my favorite midi length with longer "short" sleeves and a high neck.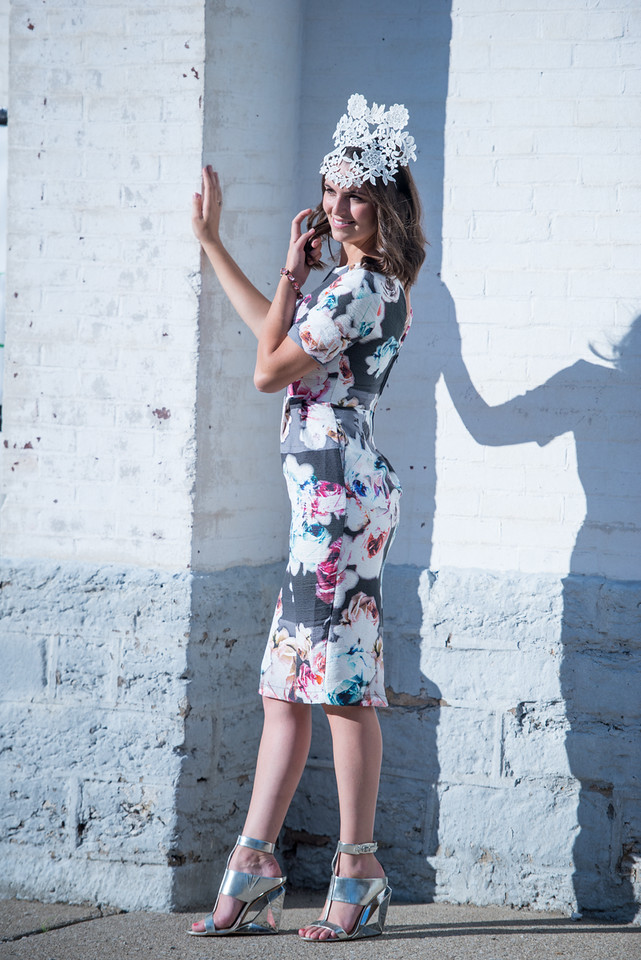 The back shows a little bit of skin with a lower "v" shape. (I got terribly burnt at the Preakness because I forgot to apply sunscreen there!)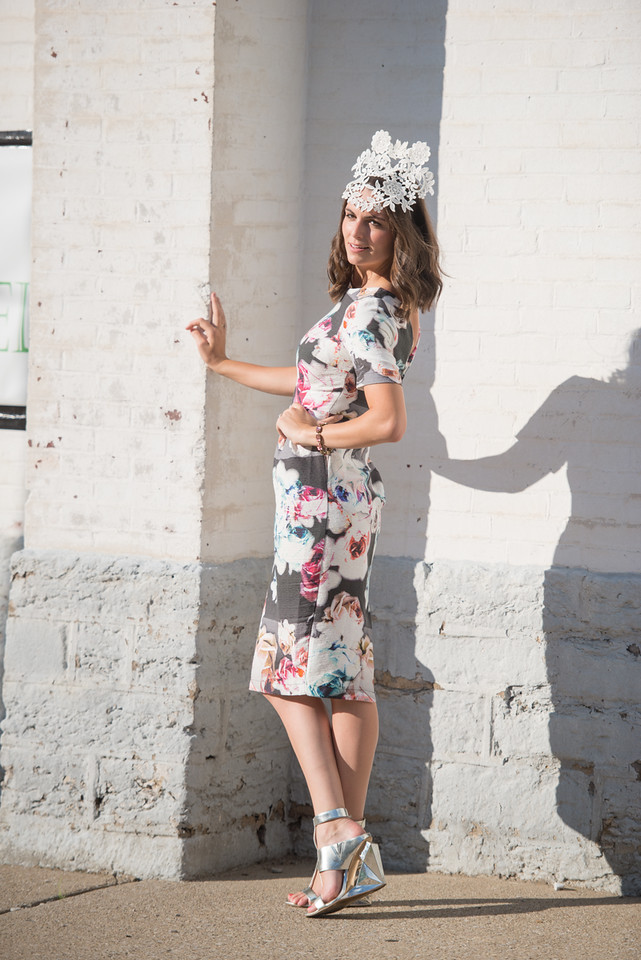 The print was a darker floral that could easily translate into fall. I paired it with a simple but gorgeous fascinator from Australian milliner, Locopa Designs. The Floral Crown brought out the white accents in the dress.
Since we are in the Corporate Village at Preakness which means I'll be on grass most the day, I opted for a wedge shoe but still wanted them to be high fashion rather than a typical espadrille. I grabbed one of my favorite shoe buys, my metallic BCBG heavy heels. They were still a bit dirty from the Preakness rain storm we had to run in! Wasn't ready to wipe off the fun memory just yet…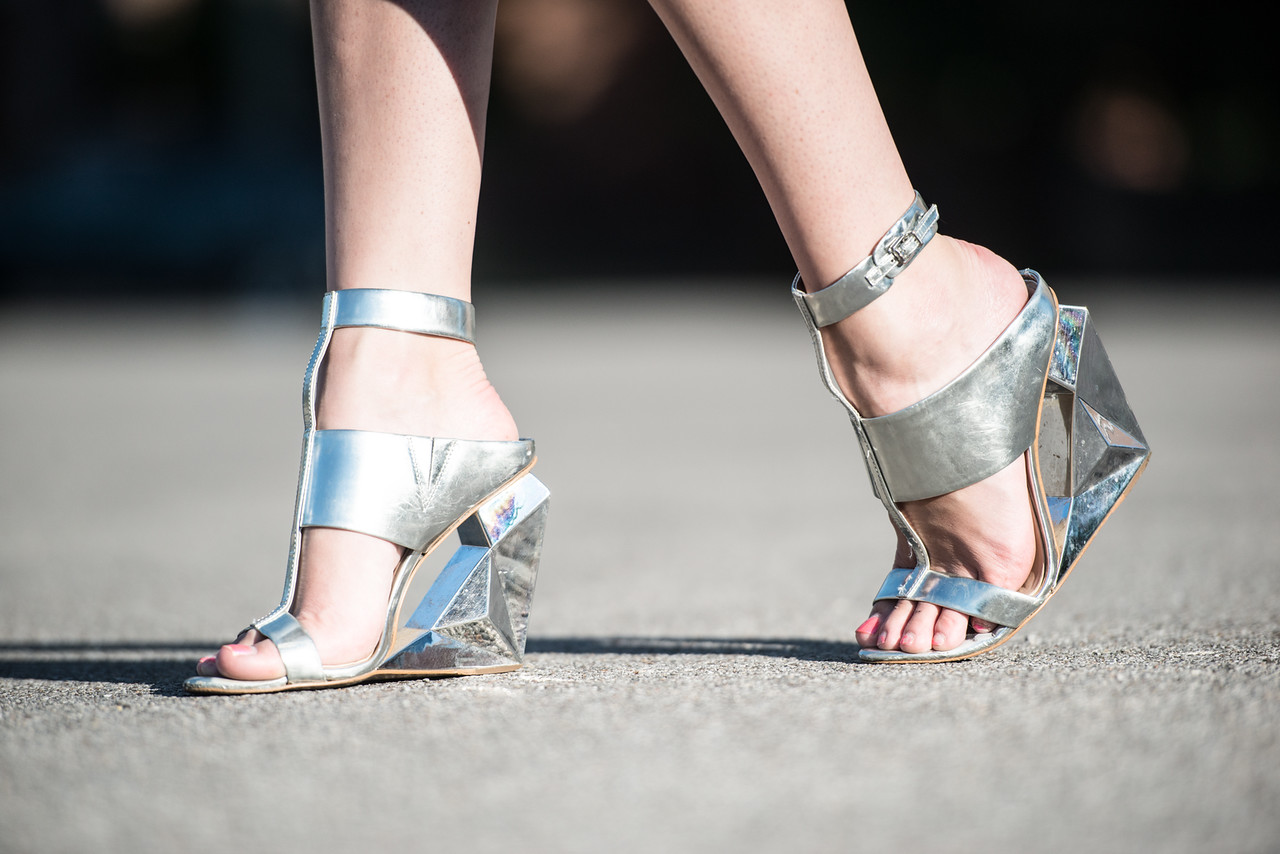 I never go to the races without my Longines Timepiece as I need to keep track of the time in between races and when the feature races are….like the Preakness Stakes!
What purse can you match with this outfit? A white clutch would be great but the metallic pony purse was PERFECT!