The Derby Trail offers many wonderful races but it is hard to say which is the best. *Cough* #LADerby *Cough* Just a few minutes outside of the vibrant streets of downtown New Orleans, Fair Ground Racecourse offers a relaxed and fun day at the races. On this particular day, everyone dresses their best and grabs a cocktail (or two) to watch the talented group of three year old colts compete for points toward their spot in the Kentucky Derby gate.
If you don't already have something to do on Saturday March 28th, pack up the Prius and head to #NOLA for a fun and fashionable day at the races!
With only a few days to go we've hit up our inside source, Paige Marcinek Albarado (just hitched!) for her take on the big day.
What is it that you do at Fair Grounds?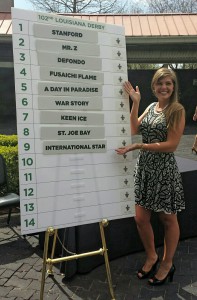 I have the best job at the Fair Grounds doing Horsemen's Relations. My job is similar to a liaison for owners, trainer, jockeys, or any backside employee. I love getting to see all the new faces and the old who have now become my friends.
Why is the #LADerby so special?
The Louisiana Derby is special for many reason but the number one reason is to earn points for the Kentucky derby.
What is the fashion like?
The fashion for LA derby is very eclectic as with any crowd of that size but everyone steps up there game for The Louisiana Derby. We get to see a lot of fabulous outfits and hats.
We couldn't be more excited for the hat contest! What do you expect this year?
We see a lot of tasteful homemade hats. I think this year we will see a lot of colorful hats!
What would be your tips to the contestants?
My tip for the contest is go big or go home. That doesn't apply  just to the size of the hat or fascinator but also the boldness.
Off the record, what is your favorite cocktail at the races?
My favorite cocktail at the races is Vodka and ginger-ale with a splash of cranberry and don't forget to garnish with a lemon and lime. This is my favorite drink of choice because it taste fantastic and is on the lighter side! It is very light in color just in case you spill. The ginger-ale prevents any kind of stomachache. Just for a little added fun it is a very light pink color for all my diva's out there.
If someone was heading to Fair Grounds for the first time what would you want to tell them?
For someone heading to the Fair Grounds for the first time I would have to recommend sitting in our clubhouse and eating all of our amazing food while betting the races. New Orleans is known for having some of the best food around so don't miss out on an opportunity to eat.
Lastly, what will YOU be wearing?!?!
I am still trying to decide between two Trina Turk dress for Louisiana Derby Day. One being a purple strapless sweetheart cut dress and the other is a fun yellow wiggle dress!
 Where to Stay and What to Do:
From Bri Mott
The Louisiana Derby is right around the corner. Having been to New Orleans for the races before I can give you a few pointers on how to enjoy your racing as well as destination to the fullest.
Spend the extra buck and book a hotel down in the French Quarter. You are only a short taxi ride away from the track and a walk from everywhere else. You will thank me! Hotel Monteleone is a gorgeous staple of New Orleans and also a proud partner of Fair Grounds Race Course. Gorgeous chandeliers will greet you right after the AMAZING door men open the door. (Trust me they will make your experience a happy one!) If the gorgeous chandeliers and charismatic doormen aren't enough to peek your interest, just wait until I describe the Carousel Bar and Lounge! Around for 65 years and covered in various magazines and travel shows, this one of a kind bar is something that you need to see.
Regardless where you stay, stop in the Hotel Monteleone and experience a cocktail with unique and one of a kind surroundings.  Yes, you probably need to fight for a seat but your wait will be rewarded. Grab your go-to cocktail or be adventurous and try something new! I tried one with raw eggs in it and have no regrets!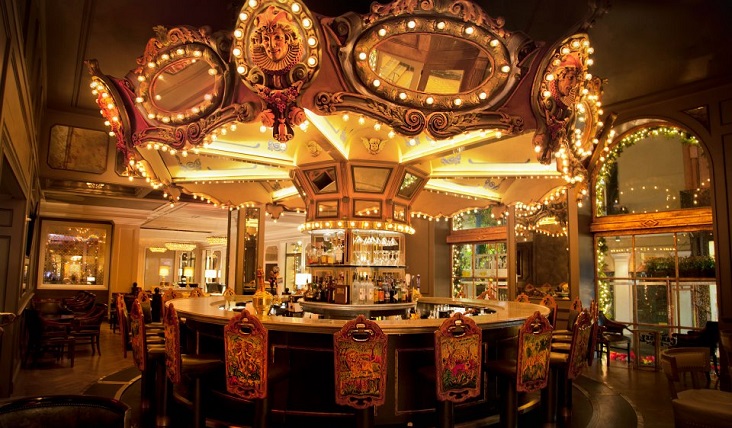 Be sure to chat it up with the person behind the bar, and the fellow drinker next to you. The interaction is as good as the cocktail as everyone in New Orleans is there to have a good time. Need a conversation starter?? Tell them you are there for the horse races! Everyone wants to learn about horse racing and how you are involved whether it be as a fan, an owner, a jock, a trainer, or just a little happy fashion blogger.
If you are attending the races on a Saturday, make sure you leave time on Friday and even Sunday to explore the area. Visit Café du Monde and enjoy their famous Beignets. Too busy? Get on the street car and travel down the famous St. Charles Avenue. Stop midway and find the New Orleans Coffee and Beignet Company and grab one there! See the grand old southern homes with their constantly glowing lamps and unique architecture. If you think you've gone too far, just hop off, walk a little and catch it on the way back.
Of course there is the famous Bourbon Street to visit. Where to go? Well pretty much anywhere. Hop in a spot with a live band. Grab a cocktail, (even if it is in a plastic cup), and boogie! Pet the Police Horse (asking first of course) and watch out for flying beads!
Heading down to #NOLA for the Louisiana Derby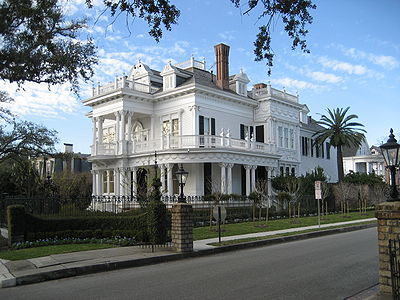 couldn't get any better. With amazing culture, people, and of course race day- it is a destination to be appreciated.
Last tip- TALK to you taxi drivers. Ask them how they are. Where they are from. If they love New Orleans. If they have been to the races. Tell them about your horses or who your favorite jockey is. They will appreciate it and they will give you wonderful insiders' tips of the areas. Put that phone down and interact!!
See you at #NOLA and of course the #LADerby! Couldn't be more excited 😉
Miss Megan Devine will help you get ready for the Louisiana Derby
Ah, New Orleans. A wonderful place where you can eat beignets and po'boys on a balcony, while the sound of Dixieland music echoes off the walls of Bourbon Street. The city is full of life, at every hour, and plays host to many exciting events including the notorious Mardi Gras celebrations. One of the city's special events will occur at the Fairgrounds Racetrack on March 28th, when some of the top 3-year-old Thoroughbreds will run in the Louisiana Derby, a prep race for the world-famous Kentucky Derby.
If you're thinking about attending the Louisiana Derby, we'd like to help you plan the perfect outfit. Here are 5 tips to help you prepare for a fashionable day of racing in New Orleans: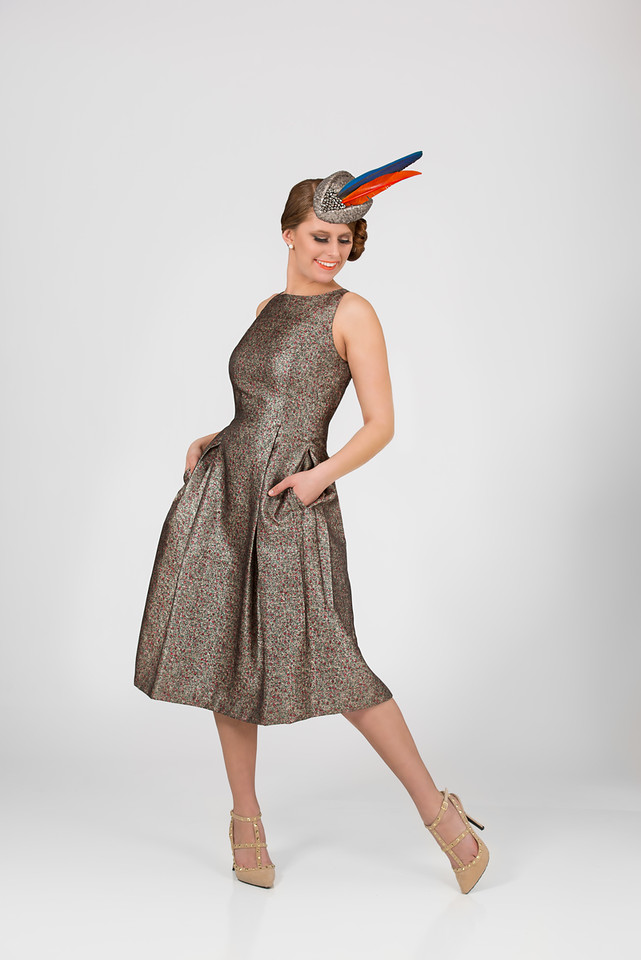 Hot and bothered

Always take the weather into account when planning your attire. For most of the year, New Orleans is humid and warm. Make sure your outfit is made out of a material that is relatively breathable. Heavy or itchy clothing is the last thing you'll want to deal with during a great day of racing on the Mississippi River.

A horse of a different color

Black, gold, purple, and green are the colors of New Orleans. Incorporate any or all of these colors in your outfit and you'll have fans chanting "who dat?" in no time! Want to add a little texture to your outfit? Feathers and beads are also involved in Mardi Gras culture and celebrations. So, if there were any time to wear that bold or unusual outfit, it would be Louisiana Derby day.

Fleur-de-lis

The symbol of the city of New Orleans (and the NFL's Saints). This term literally means "lily flower". The Louisiana Derby is the perfect time to break out your bold floral prints. Many of the hats and fascinators in the Fashion at the Races store have flowers. So, what are you waiting for? Go there to find your perfect millinery now!

Don't drop your pocket

Just kidding, that's not actually a thing. But you want to know what is? The possibility of you losing your personal belongings after a few hurricanes (the drink, not the weather event) and a night on Bourbon Street. Consider choosing a dress with pockets. This way, you won't have to worry about keeping track of a purse. They'll come in handy both during and after the races. Trust me.

Spring fever

Yes, this is an actual medical condition. The symptoms? Brightened moods, positive attitude and increased vitality caused by the longer, sunnier days of spring. Embrace this seasonal epidemic and wear whatever makes you smile!