What Bri Mott Wore
Kentucky Derby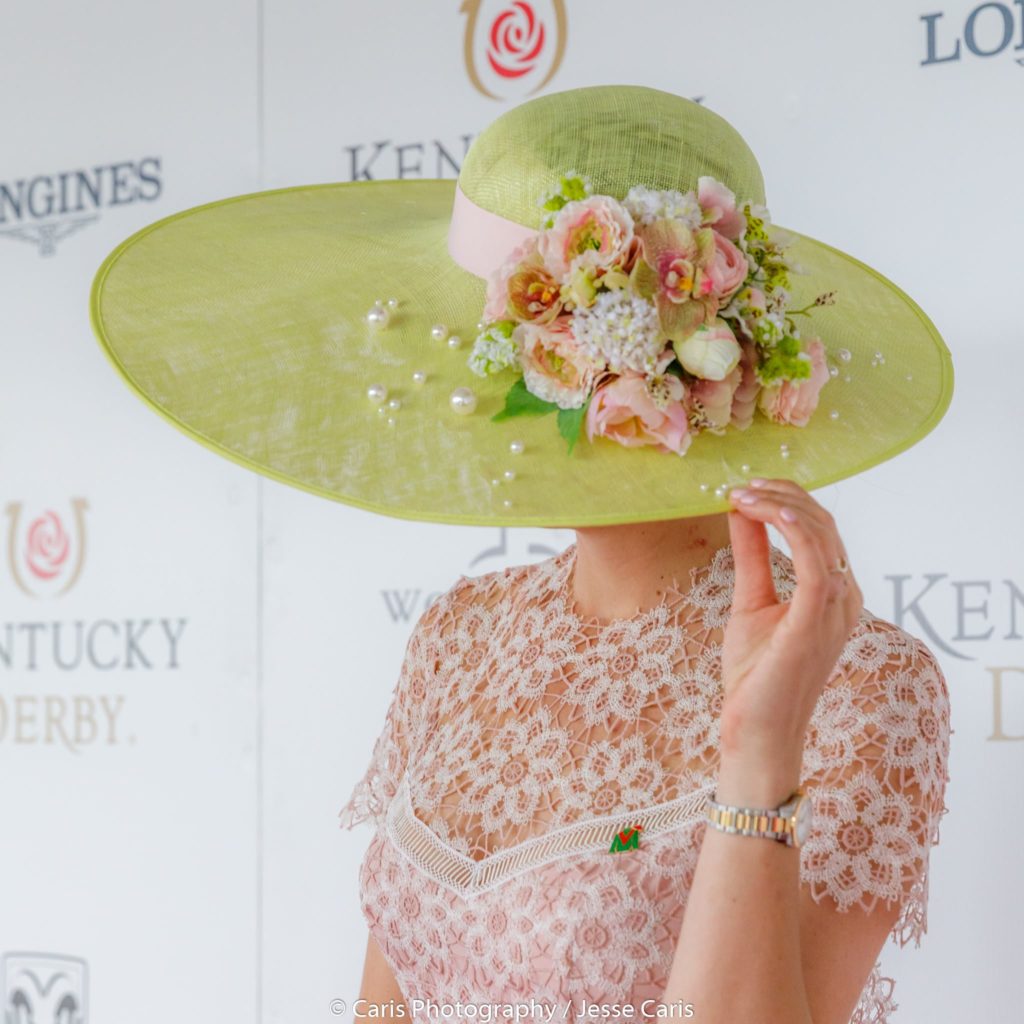 Outfit Details: : Marchessa Notte Dress |Carol Kennelly Millinery | Jessica Simpson Heels (similar style) | Longines Watch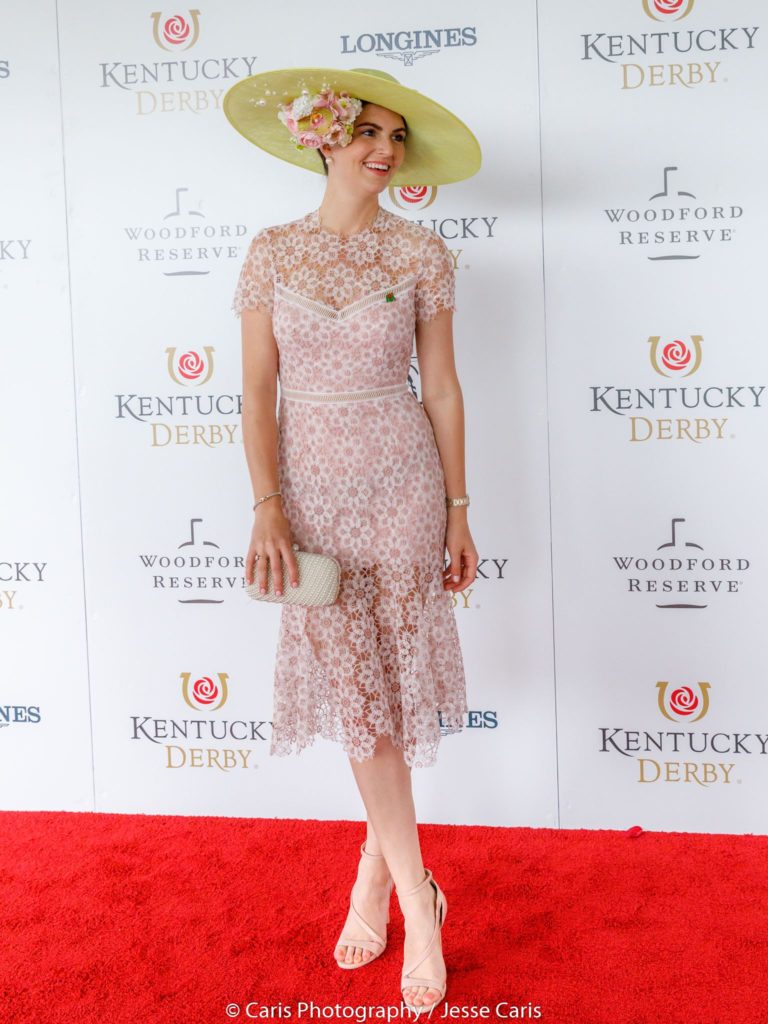 So if you were at or even watched the Kentucky Derby- you can remember lots of rain and mud. So much that we couldn't even try and get photos outside! It was the 'wettest' Kentucky Derby in history! Much of the fashionable crowds were either staying inside under cover or covering up their outfits with ponchos. We opted for option one and stayed inside and grabbed our outfit shots on the Derby Red Carpet after the madness slowed down.
Planning for the weather to be rosy and sunny, I found this dress (using a recommendation from one of my gal pal's) at Neiman Marcus. The flower lace detail was gorgeous enough but the top detail and the open back is what sold me! …again I was planning on NICE WEATHER!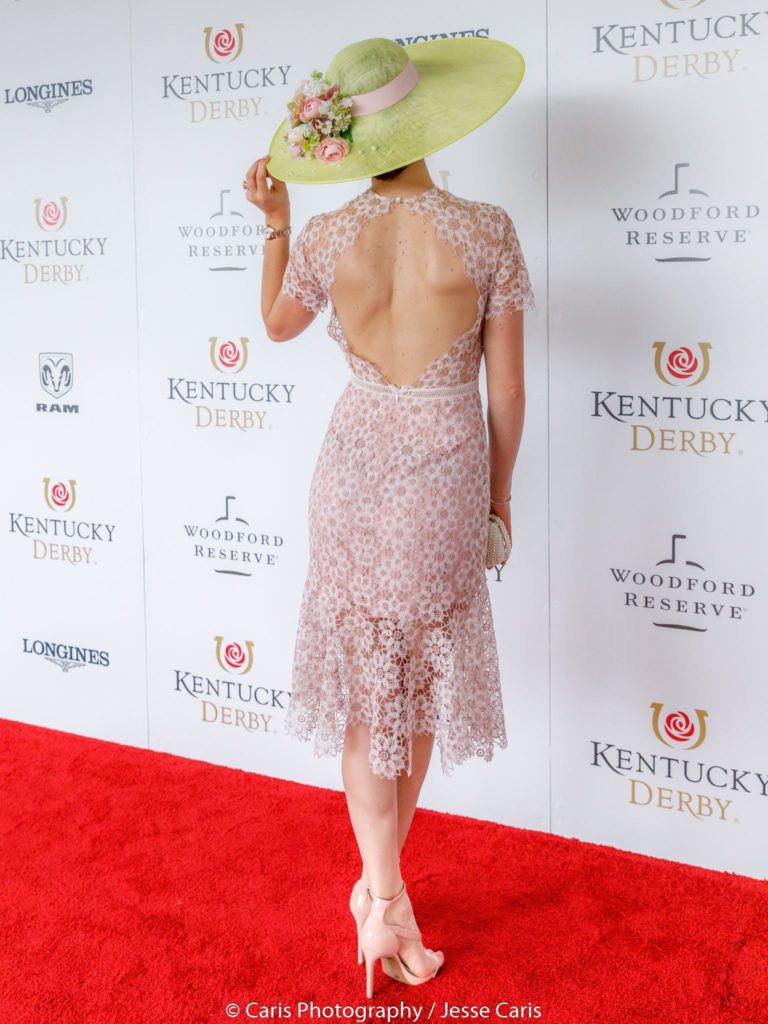 I let the dress detail do its own talking but really allowed my Kentucky Derby Hat to stand out. This absolutely gorgeous Carol Kennelly piece was one that I had been eyeing for quite a long time. As you might have already gathered, I don't normally wear large hats as I don't like to be constricted to the large brim. I thought it would be a fun change up to wear a traditional Derby piece and I was able to do that and still have my personal style come out within this beautiful design.
Be sure to focus on the beautiful detailing of the hand sewn pearls and flowers that make up the feminine accents of this gorgeous piece!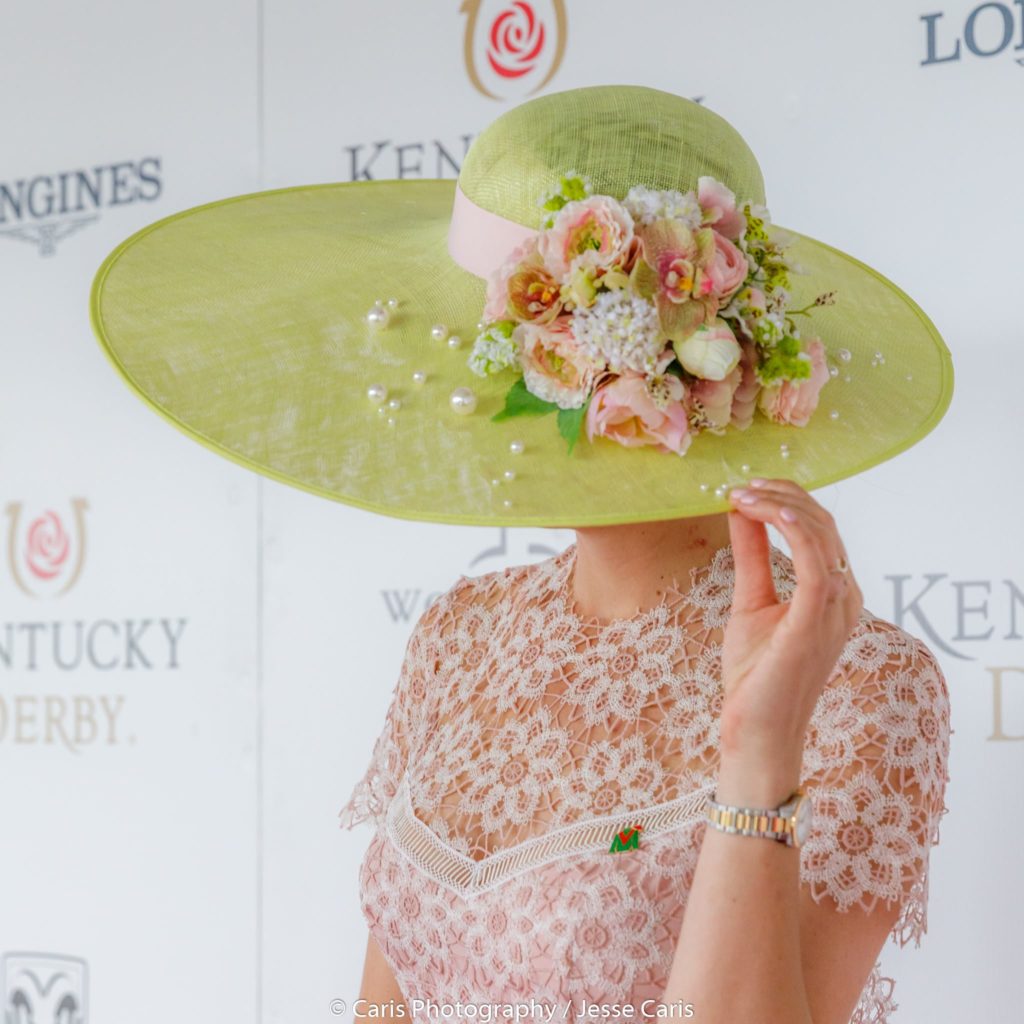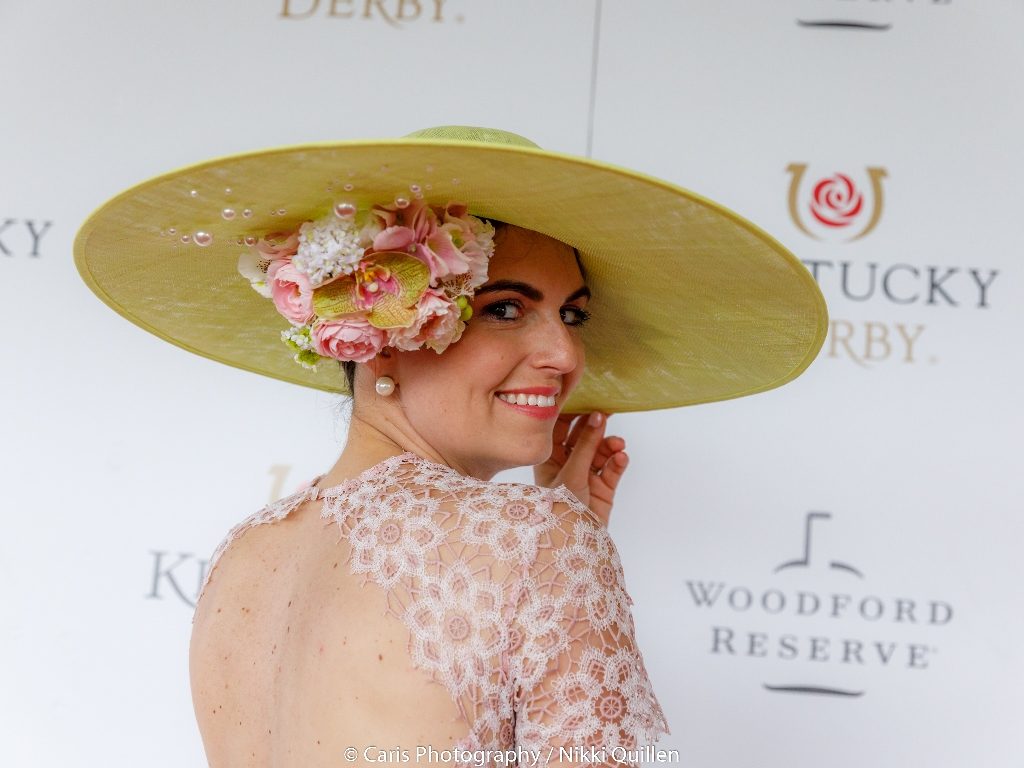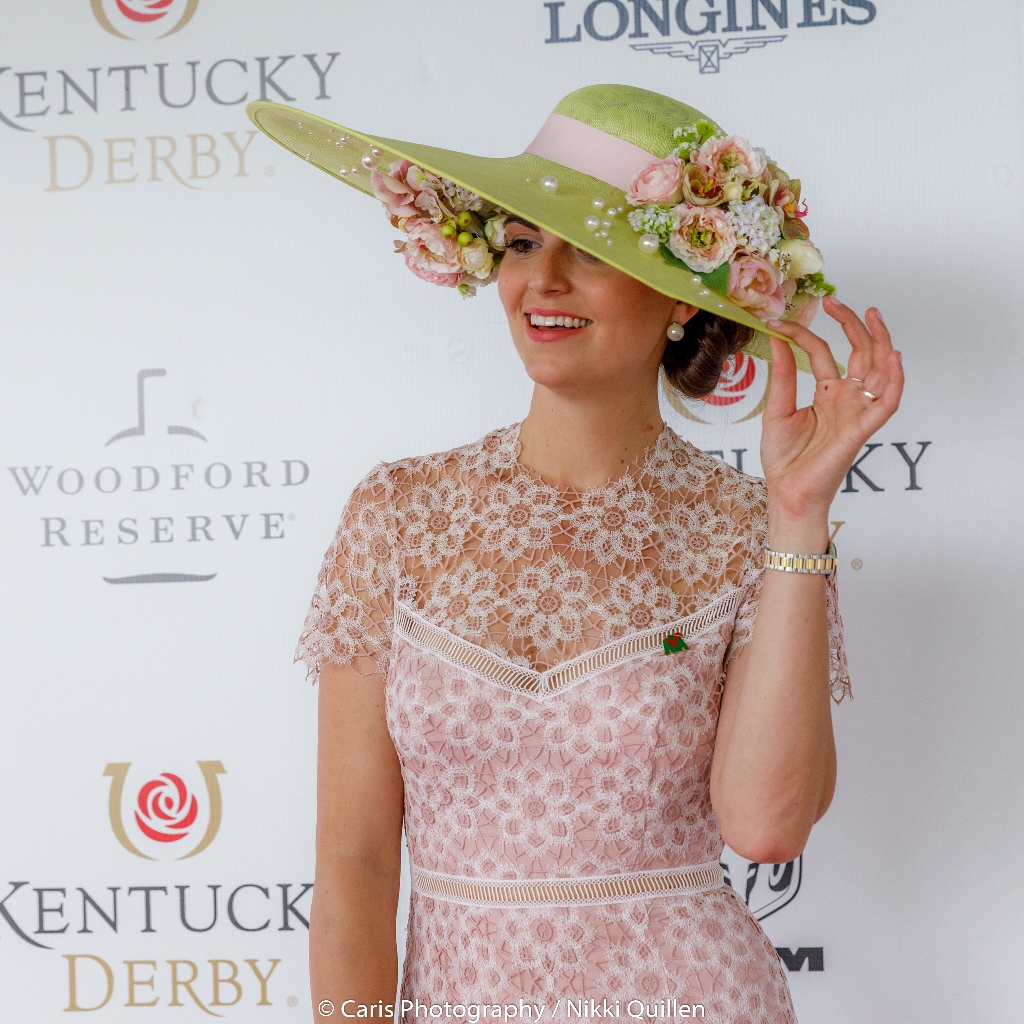 I thought I'd show off my bestie Tini's outfit too! She wore bolder colors and paired this Brooks Brothers dress with another gorgeous creation by Carol Kennelly. Like seriously….she outshined me! <3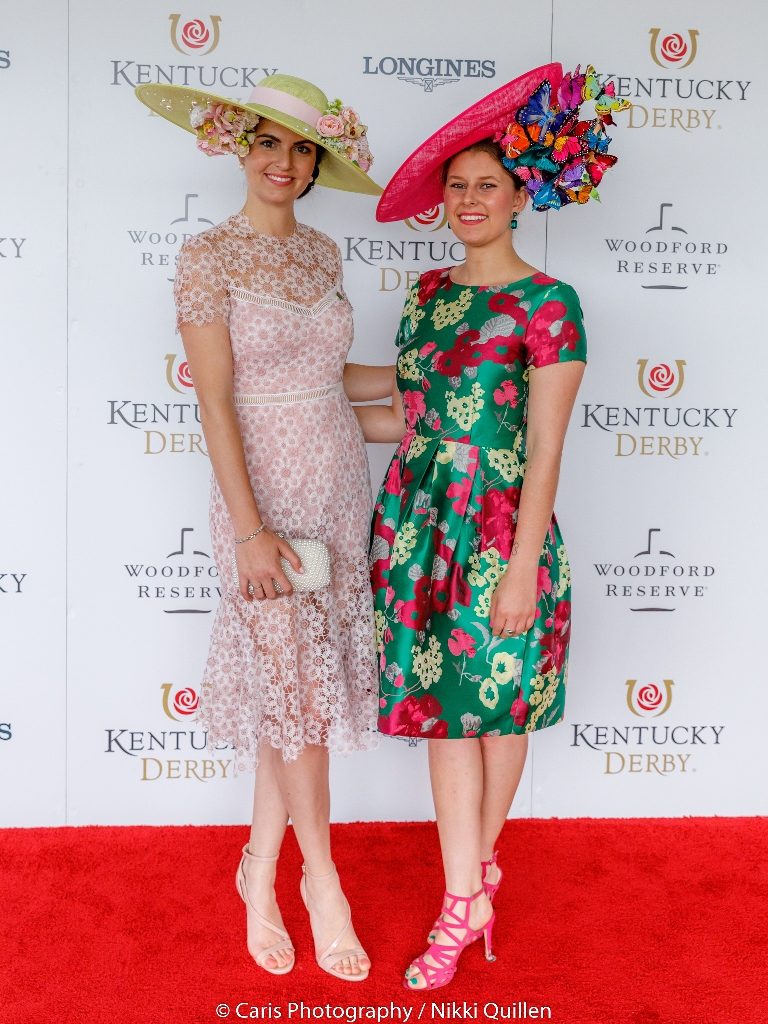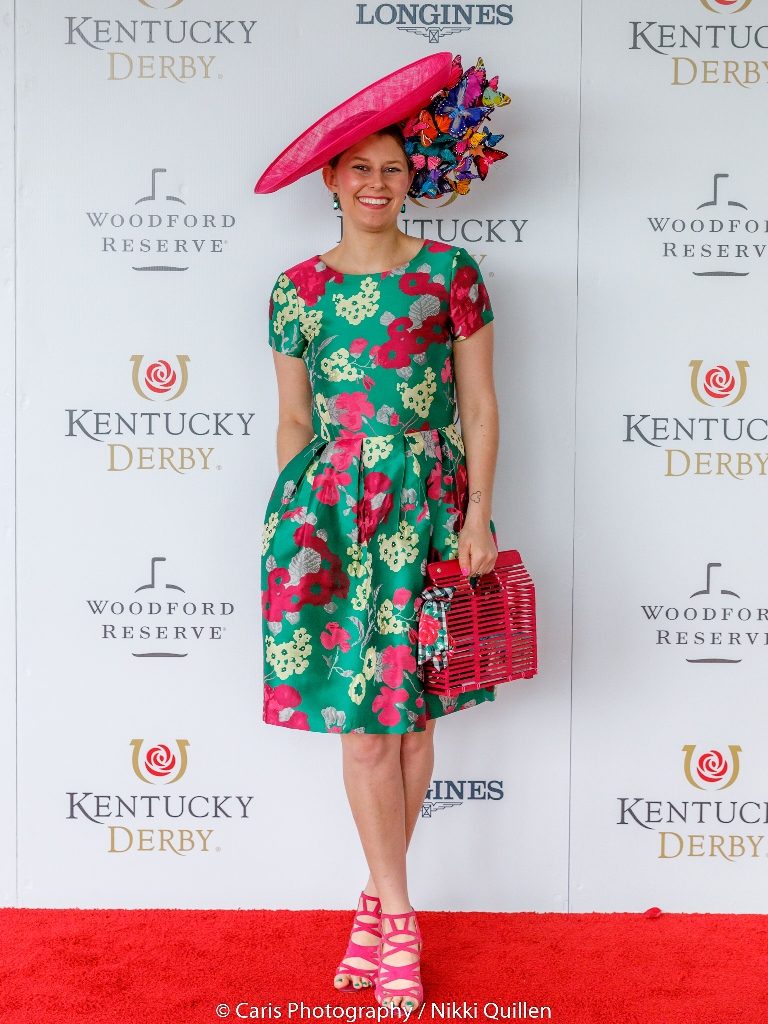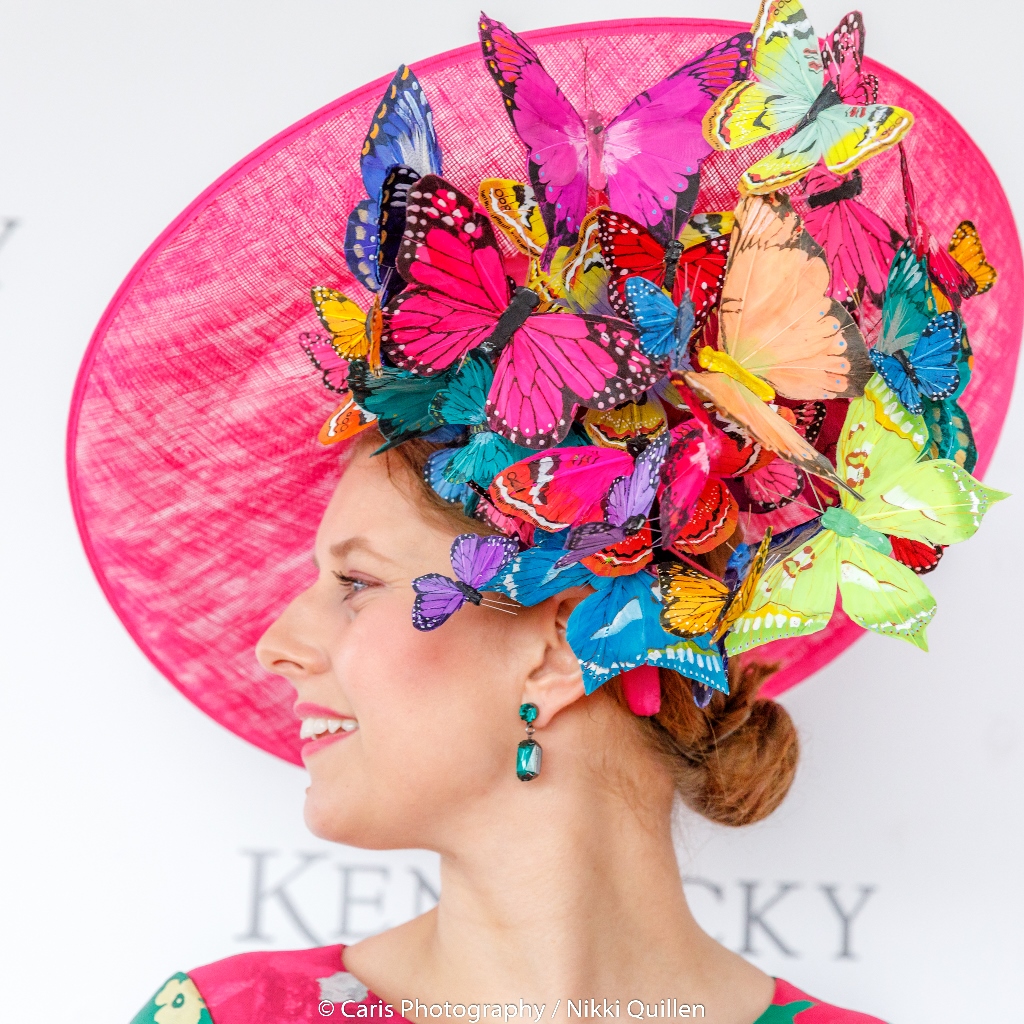 Getting dressed up for the Kentucky Derby is always a fun experience. Ladies start planning months in advanced…I'm getting better every year giving myself some more time to plan and piece together a great ensemble. I try to change it up each ear and this year I went for the Southern Belle / Easy Elegance style. I think I accomplished that…but definitely would have been better with some brighter happier weather!
It didn't slow Justify down though….he kept going through the rest of the Triple Crown too! Congrats to all connections on the 2018 Triple Crown Winner: JUSTIFY
Great photos by Caris Photography
Kentucky Oaks
Outfit Details: : Marchessa Notte Dress | Karen Morris Millinery | Jessica Simpson Heels (similar style) | Longines Watch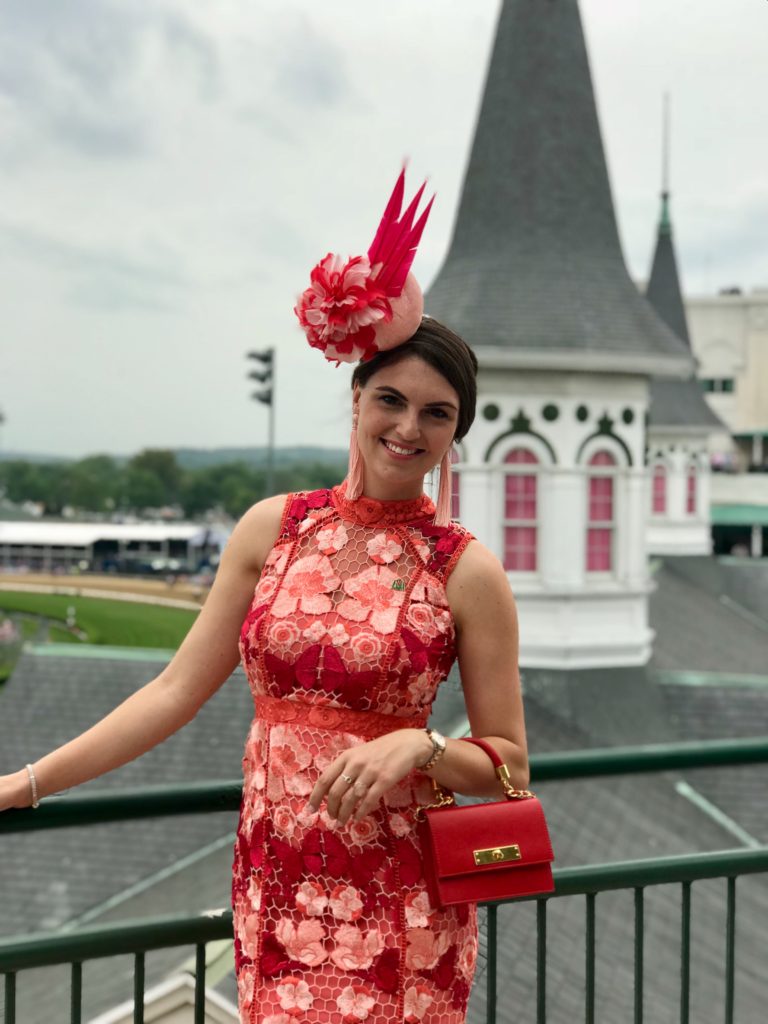 I always look forward to the Kentucky Oaks because it pushes me to dress in the popular (and very feminine) color of pink. Any of my closest friends would tell you that I have a 'color phobia' where I'm much happier to be surrounded in neutrals: white, black, nude etc. I only have one room in my house that has an actual color and I wish I had painted it white….
However, when it comes to Fashion at the Races, I have to represent some fun fashions and push myself to wear new and interesting styles. The Kentucky Oaks gives me the 'pink guideline' which is always fun to take and spin to my own personal style. If you have followed my outfits for the past few years, I don't think I have worn any sort of black in my outfit either at the Derby or the Oaks. I like to keep both of those races very bright, fun, and feminine.
So when I was selecting a Kentucky Oaks outfit, I was looking for something bright and bold. I kept looking for a bright fuschia colored dress and couldn't find what I was looking for… isn't that typical? Whenever you are looking for a specific color it is nowhere to be found.
So instead I came across this amazing Marchesa Notte dress from Rent the Runway and thought it would be a perfect piece for the Kentucky Oaks. With its many shades of pink and red (pinkish red) accents, I thought I could have some fun getting a hat designed to match.
Have you ever ordered from Rent the Runway?? Here is my advice:
Get your dress/clothing EARLY. I have cut it close before and the outfit either didn't come or my hotel actually lost it and I legitimately had no back up. I got mine on Wednesday and sent it back (literally on the way to the Kentucky Derby) the day after my 'event.' I'd rather have it ahead of time so that if something doesn't work, I have time to correct the situation.
Read the reviews and look at the photos on a non-photoshopped model. You can get a gauge on how it will fit you and what size(s) you should get. I originally ordered a 4 and a 6 in this and then changed it to a 2 and a 4….the 2 fit better!
Have a back up. Know that 'renting' is a bit of a risk. They payout is great – you can wear a gorgeous $800 dress for $100 but when matching it to a hat and only getting it a couple days prior, a lot can go wrong. Just be prepared and relax! It will all work out. Be smart and particular with your choices.I found these Bauble Bar earrings (less than $30!) at a cute little gift store in Lexington, KY and grabbed them with the hopes that they would match my outfit. A small miracle- they matched PERFECT. The tassel earrings are very trendy right now and I loved how I could rock these as an accent to my millinery and detailed dress. If you haven't already- grab a pair of statement earrings. You'll have a blast wearing them out for the first time and then will get hooked on the trend (trust me).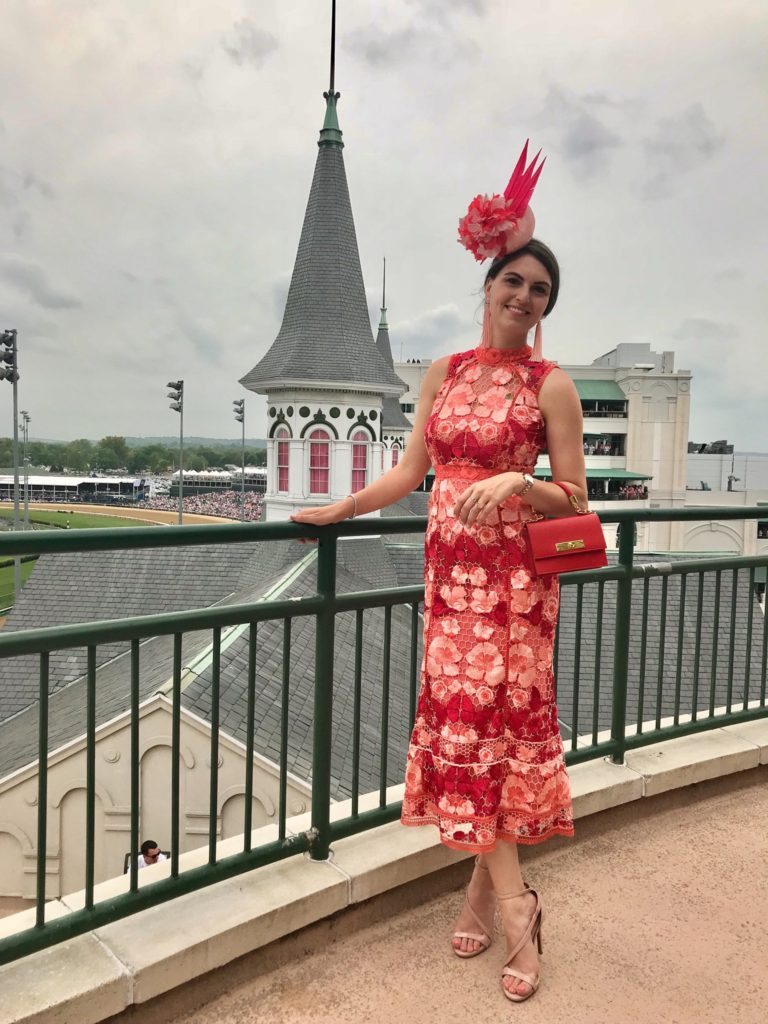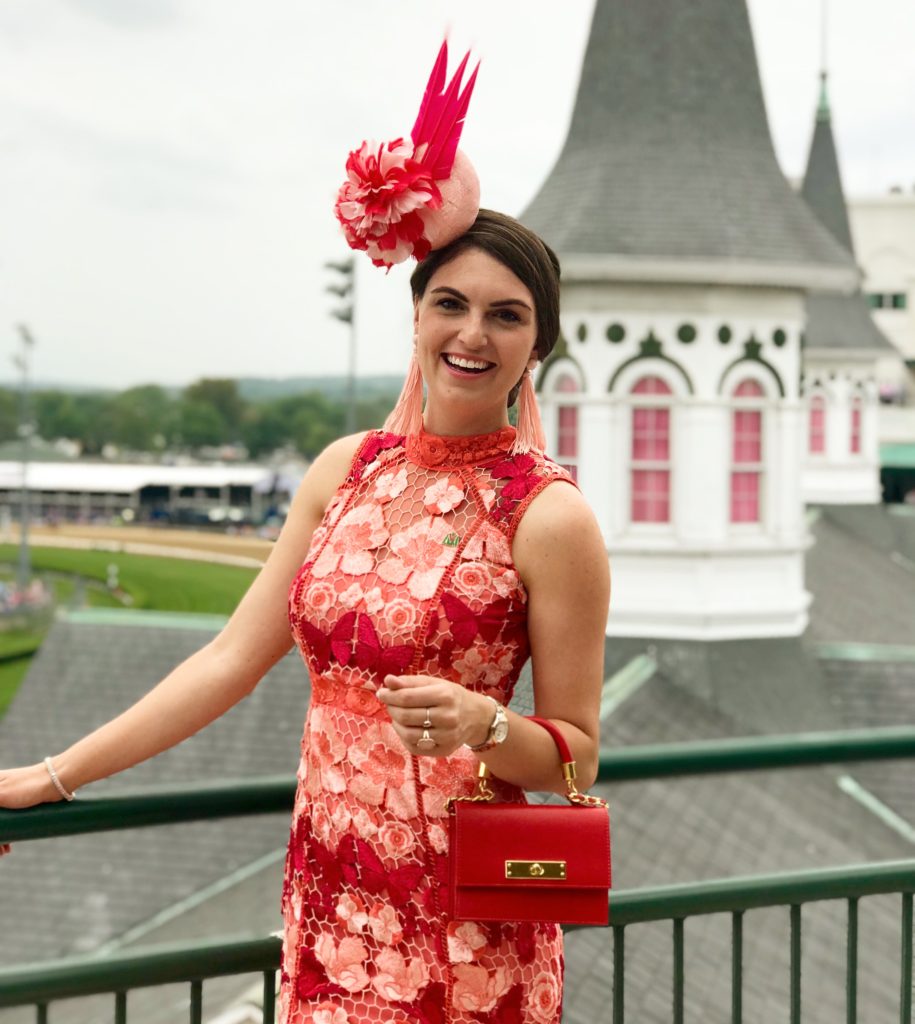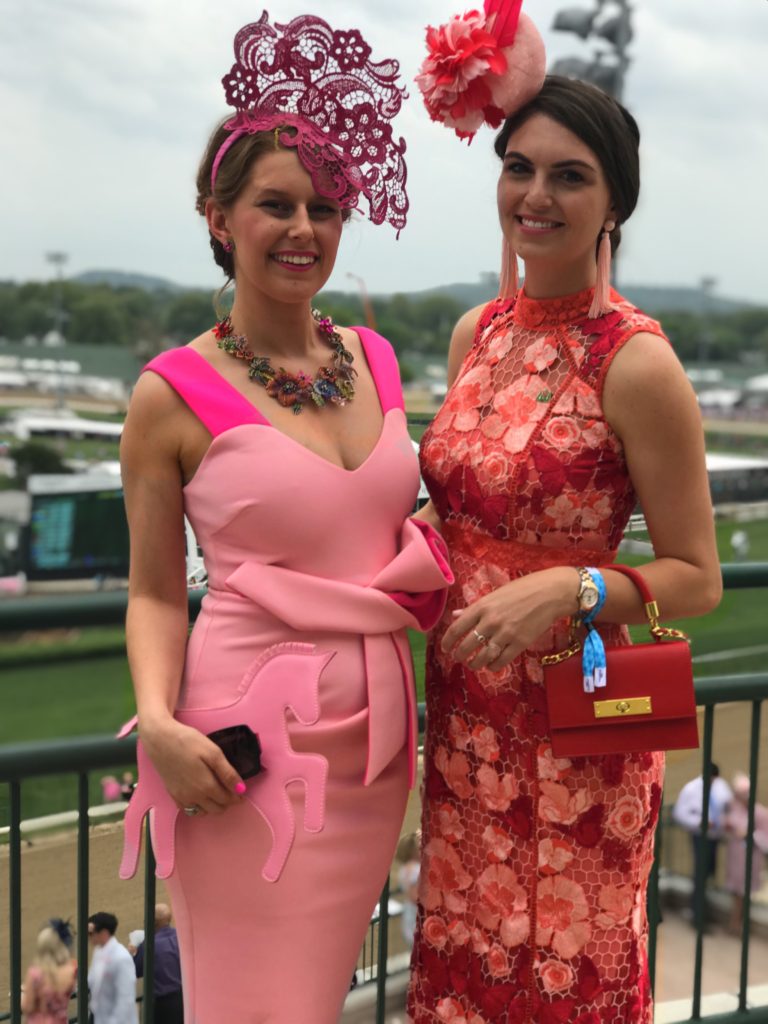 For the past 4 years I have had the fabulous Karen Morris design my Kentucky Oaks piece and this year might be the best one yet. I sent her a picture of my dress and referenced one of her designs for her Spring Collection and asked her to 'modify' the original design to incorporate the colors that I was wearing. She did that and them some! I am loving the 'percher' look more and more. Percher: fascinator that 'perches' on your head usually with a structured headband. Interested in purchasing this piece? Shoot me a message: briana@fashionattheraces.com <3 See more of Karen Morris's fabulous pieces here.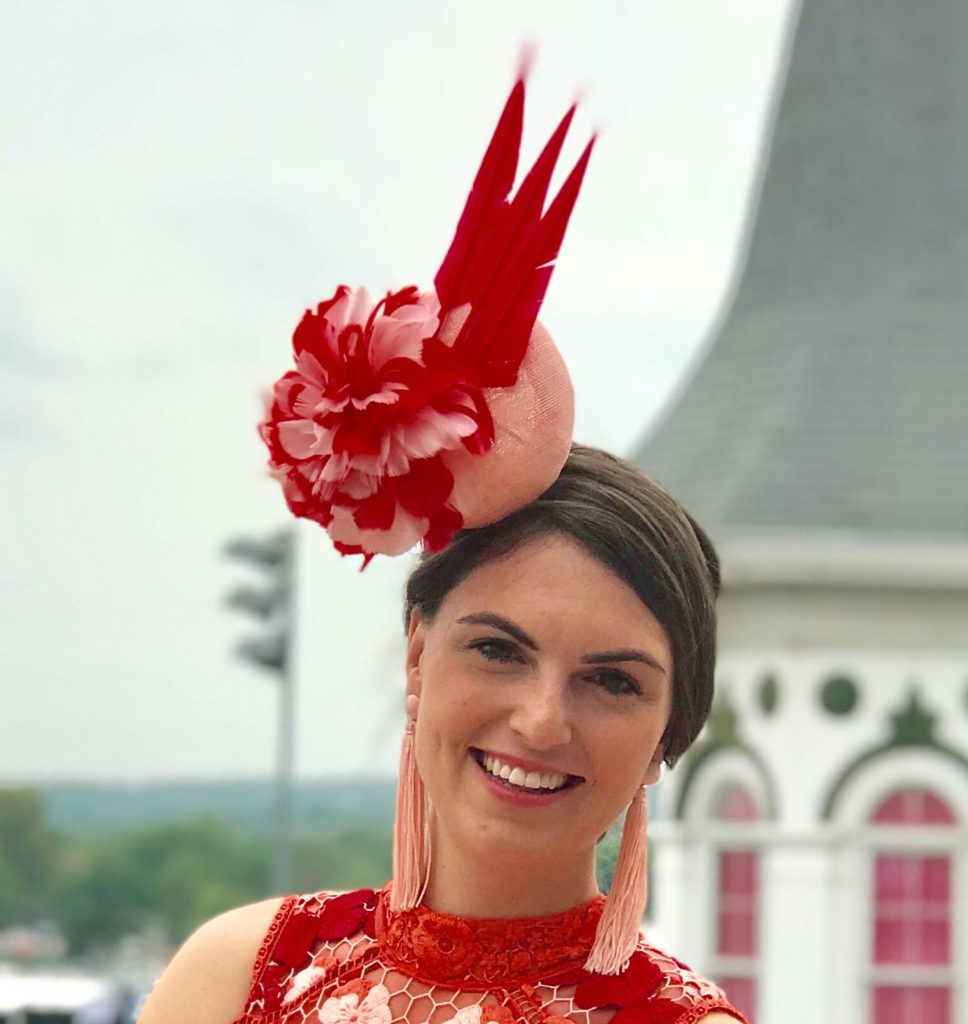 Louisiana Derby Day
Photos by Caris Photography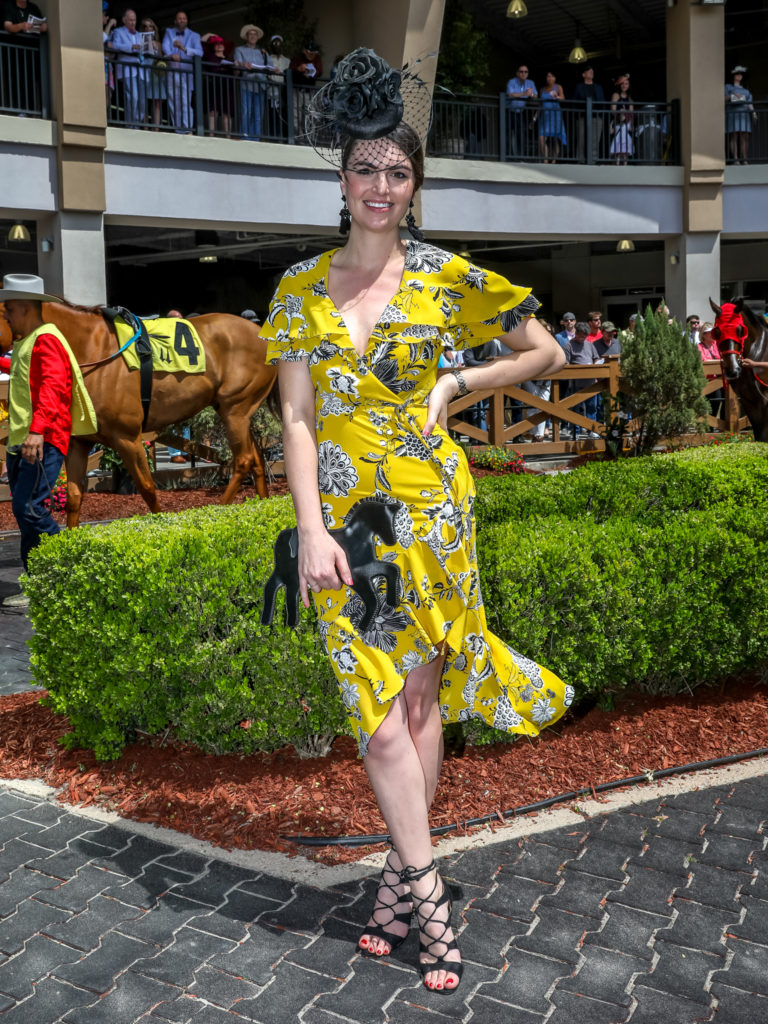 Outfit Details: :River Island Dress|Karen Morris Millinery | Steve Madden Heels| Longines Watch |Horse Clutch |
Each outfit I try to do something a little different and after going through my ensembles last year, I knew I needed to stay away from red and baby blue. So what do I keep picking out? Red dresses. That is when I decided to do something drastic…and type in YELLOW in the search box.
I remember in high school trying on the famous 'How to Lose a Guy in 10 Days' satin dress. They replicated that dress for girls to wear to prom and I thought it was going to be the perfect piece for my Senior affair. However, once the yellow satin touched my pale white skin, the rest of me completely drowned out. I have dark and and eyebrows and next to my pale (no olive skin here) complexion, yellow just didn't seem to be my color. Ever since, I've stayed away from it and never tried to make it work. However, when I first started searching for my Lousiana Derby outfit, I began thinking what colors would be apart of the vibrant city- gold, purple, green, yellow, royal blue…all bold and beautiful. I wanted to step out of my box and try to make a bold yellow work. I knew to pull it off, it couldn't be a plain jane yellow dress- there needed to be a fun busy print to offset the color.
River Island came through for me big time and produced this fun 'wrap' looking dress. It has a mini 'cape' feature to cap the shoulders with ruffle detail. The slit on the skirt gives it a spanish feel with a fun flare opening for the wind to give the outfit some movement. Maybe the best part about it….. It only cost me $102! IF you want to purchase this dress or anything else from their site- use this link to get 20% off: http://referme.to/tIAgPHo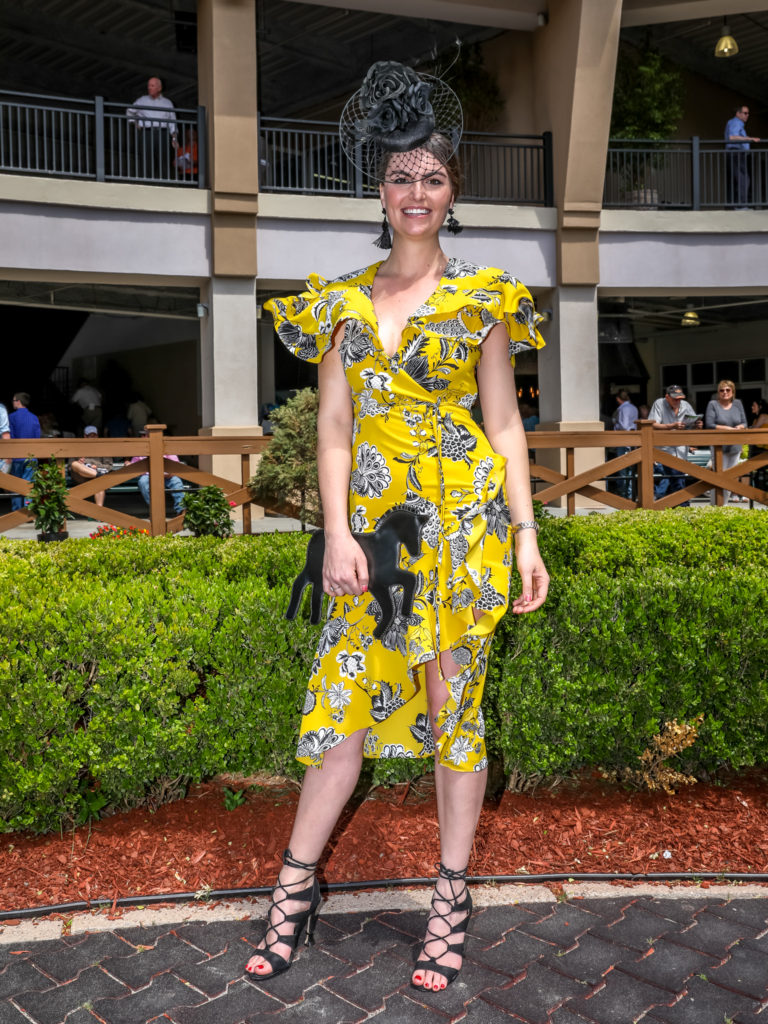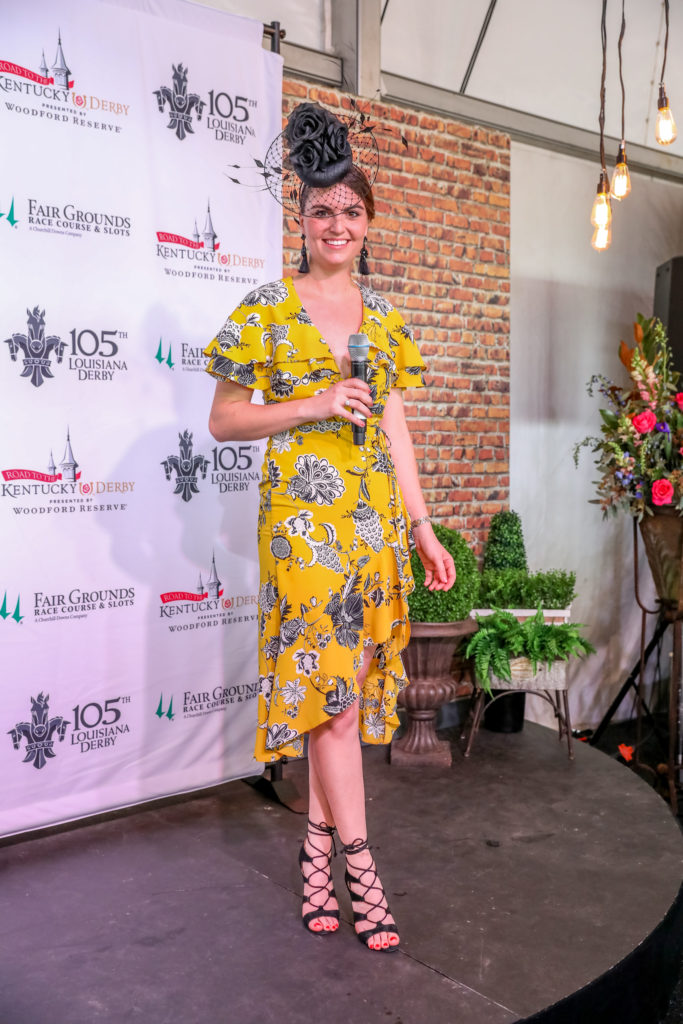 I have a few items from River Island which have all been stand out pieces for me. They give you free shipping on orders over $50 (standard shipping- allow about a week for US delivery).
These fun statement earrings are also from River Island and were under $25!
Having the black details in the dress print made picking a hat a little bit easier and rather than designing a custom piece, I decided to grab this gorgeous fascinator from Karen Morris's 2018 collection. I can't say enough about this piece- the details are stand out enough and the quality is always top notch. The wired circular 'brim' with the fishnet overlay gave the piece a fun 'peekaboo' factor. The flowers and dainty feathers added some movement to the piece and tied in perfectly with the dress. So comfortable to wear all day as it sits on a structured headband. Plus- it was soooo windy that day and I had little trouble with my hat blowing off. Win Win for all.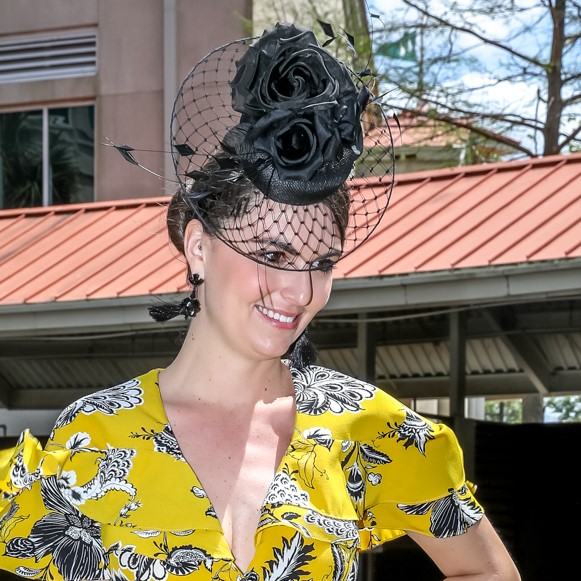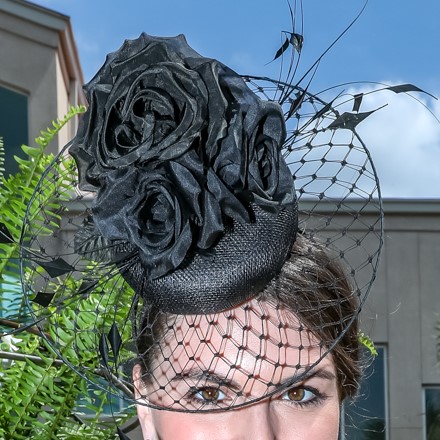 I've had conversations recently about millinery and how some designs being sold around the US are just a bunch of feathers or flowers glued on to a base and yet still sold for $500+. A fashionable friend of mine began purchasing her millinery from FATR a few years back and now can't imagine purchasing anywhere else. She said she has learned so much about a quality piece vs a non-quality piece and can't understand how people pay for a bunch of glue. My response was that many don't know the difference because if they purchase those pieces, they've never seen true quality in millinery.
I put up an instagram post a while back about the frequently asked question "why is that hat so expensive?" – I can't speak for all hats but I can speak for the ones that FATR carries in its online store. These pieces are handmade and can take days to complete. Fingers are sore from hand-stitching the delicate silks flowers into place and wrapping the sinamay base to hide the rigid edges. The designs don't come out of a book or from a google search but from the brilliant mind of the milliner (hat-designer). Many milliners don't have a 'team'- they have themselves and their small shop space lined with shelves of flowers, feathers, and ribbons. For each hat we sell in our store, there is a talented and hard working individual who has spent hours upon hours putting that piece together so that you can match it with your raceday outfit and rock it on the special day. The best part of their job….is not completing the sale. But seeing you wear it with a smile on your face. Those hats are expensive because they have a value that a machine or a production line could never produce. Handmade with some being one of a kind- these hats and fascinators are art and when you wear them, you should feel like you are modeling a piece of art. Once you get that feeling- you won't ask why they are so expensive- and you won't say you'll never wear it again. You'll appreciate the price and the piece.
I personally pick every piece that we carry in our store. I try to cover all budgets and styles and keep the bar on the quality of each piece very high. If you purchase a piece from the FATR store- you are choosing a high quality piece made by a trained milliner. No crazy glue in this joint. Something to keep in mind when you are choosing your next millinery piece. Any questions- feel free to email me at briana@fashionattheraces.com PS- just because its priced high- doesn't mean it should be.
'Got a Case of the Baby Blues'
Woodbine Queen's Plate
Photos by Caris Photography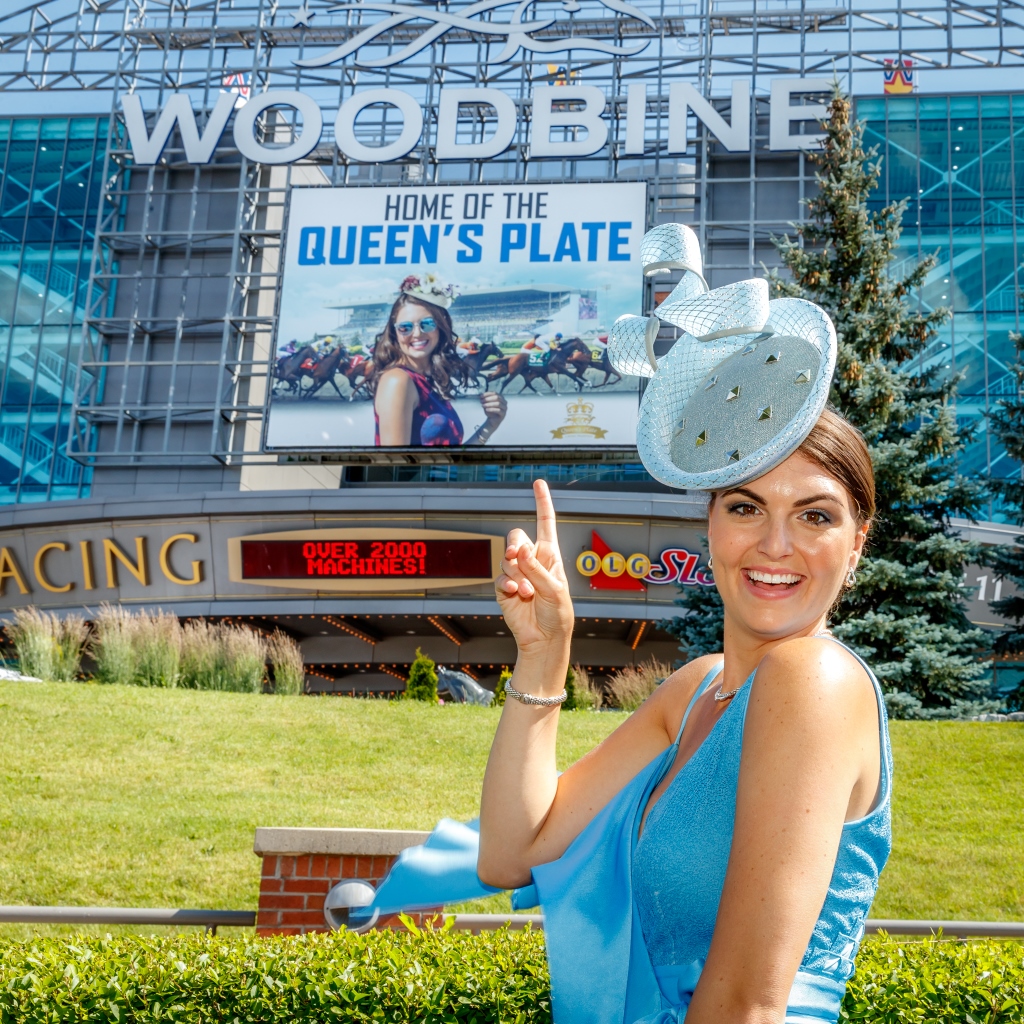 Outfit Details: Diane Von Furstenberg Dress |Milli Starr Millinery |BCBG Heels (similar style) | Longines Watch |Horse Clutch | Lagos Jewelry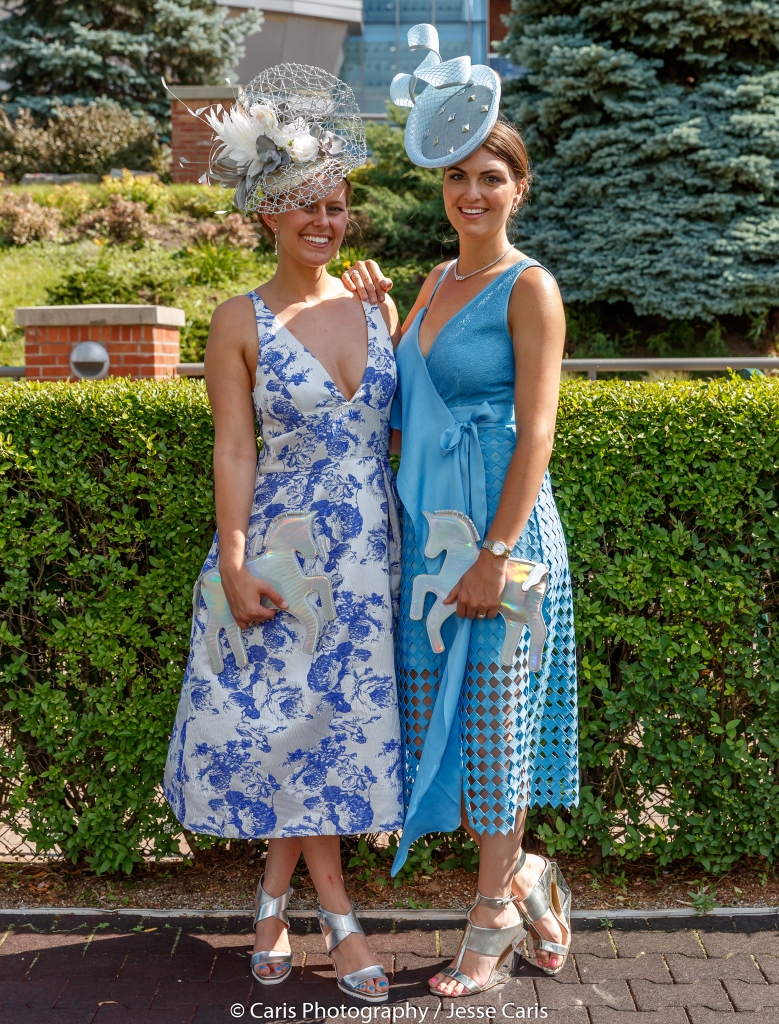 We couldn't have asked for better weather on the day of the Queen's Plate at Woodbine Racetrack in gorgeous Toronto, Canada. The sun shined brightly with a light breeze allowing all the attendees to get a nice tan and keep their hair and hats in place! 😉 We did have a rain scare at some point during the day, and luckily FATR had a tent that became cover for some of our fashionable friends, but it only made the sunny afternoon that much more gratifying.
I am pretty proud to say I began planning this outfit a month or so in advance when I found this unique Diane Von Furstenberg dress on MatchesFashion.com (which by the way sends the most beautiful box when you purchase a garment from them…maybe not a reason to buy but it is a good push to confirm purchase if you are already thinking about it). I had the dress for a few weeks before I 'tested' it out at a lighter raceday to see how it fit. After finding its weak spots with my body type, I knew we would good to go with a safety pin and a couple strips of body tape.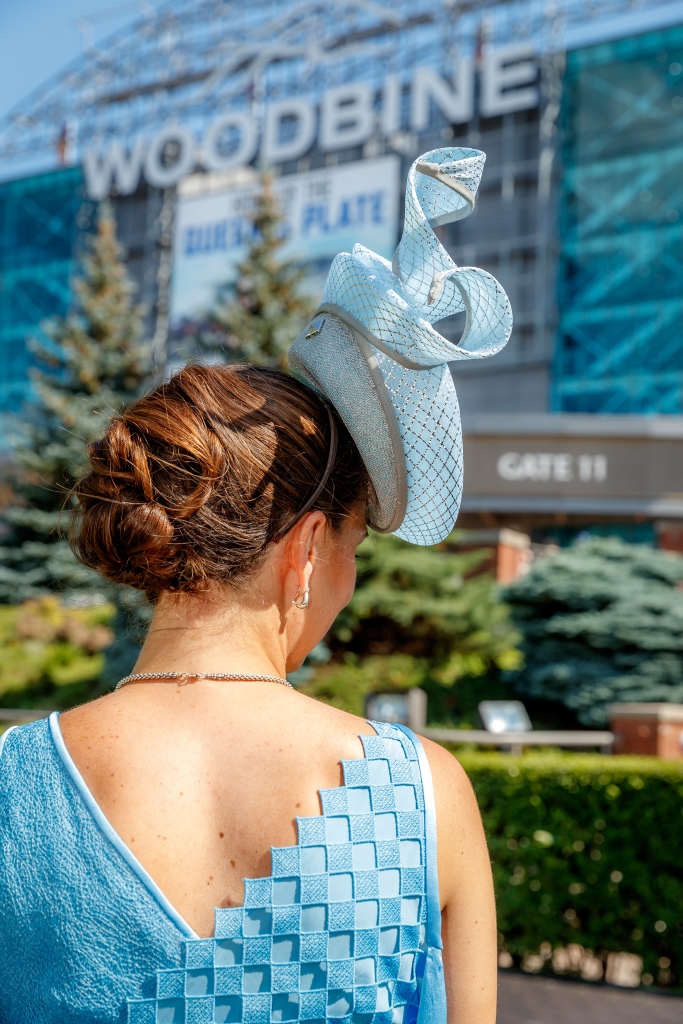 This dress deserved something interesting to top it off and for that I circled back to Milli Starr in Texas to create a custom piece that 'topped off' this unique style. We emailed back and forth brainstorming different ideas and agreed on a light blue and metallic, edgy percher look.
Laura, milliner of the brand Milli Starr, put together this amazing piece with studded details and crinoline ribbon. I am always amazed at the talents of milliners starting with my unorganized ideas to creating a vision and then making it into reality. Each time, my ideas are put to shame with this finished product. This piece is absolutely no exception.
If you are looking for a unique piece, don't pass this one up. As always, I make sure the millinery I wear is something that I'm happy to sport all day and beyond. This piece attaches with a light headband secured with an elastic piece on the bottom. I did add a few bobby pins to the let side to help keep it in place (as it is supposed to sit a little dipped to the right) and never had it shift once throughout the day.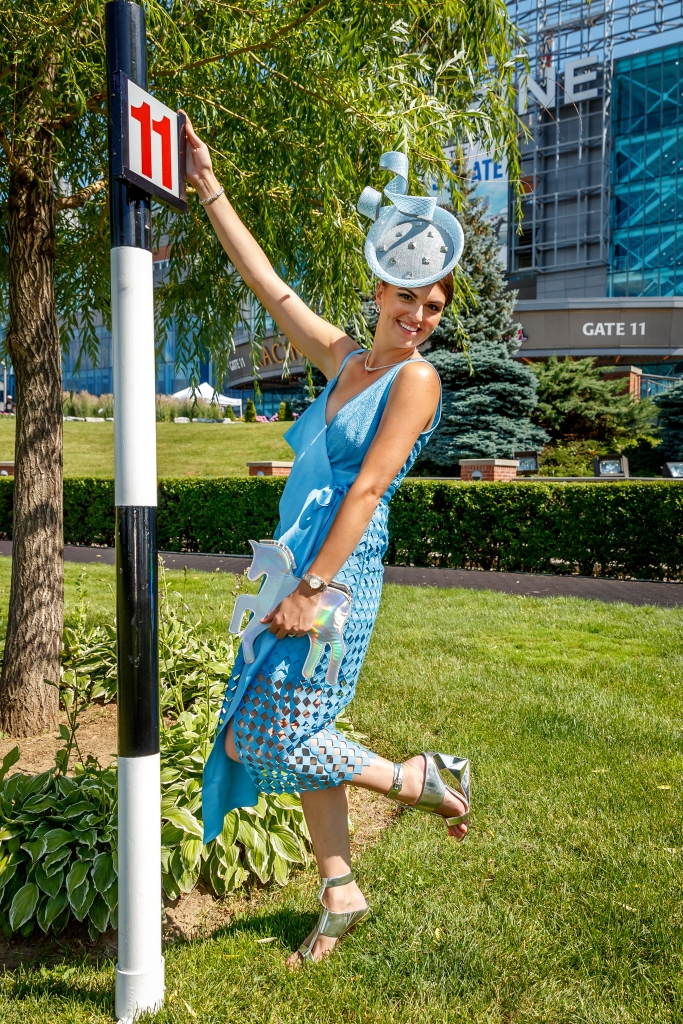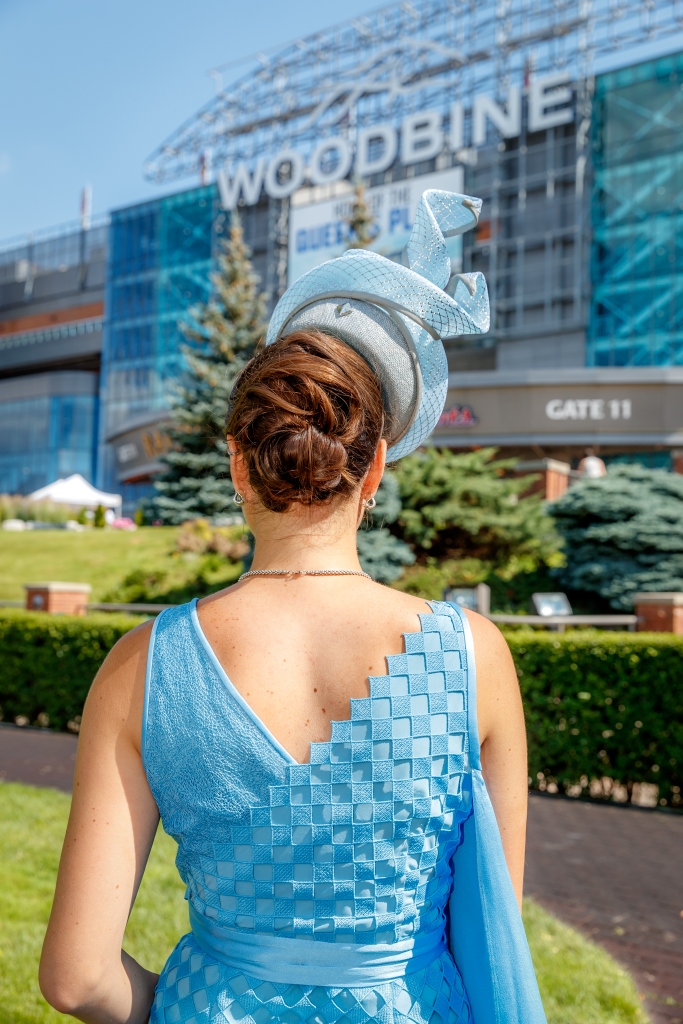 Love the one stud detail peeking from the back. Just an added detail once the hat turns around. The silver 'checkered' crinoline blocked in a swirling ribbon gives the hat movement and a shine factor.
PS-how great is this hairstyle done by Karima Sumar??
To tie in the metallic details of the hat, I kept my jewelry shining as well. The Lagos Derby Collection was the perfect pair up to this ensemble. This pave bracelet gives an added glimmer (who doesn't like some diamonds??) which you can also find in my earrings.
My Longines watch kept me on time throughout the days events including Judging the Millinery Competition to set up of our fashion contest and emcee'ing on the stage. I'm loving some of the new pieces Longines has released this year including the Flagship Heritage Timepiece that Longines Ambassador Kate Winslet launched and auctioned off for her charity.
From the Longines Website: The Flagship Heritage by Kate Winslet watch is the result of a common project for the benefit of the Golden Hat Foundation, a charity co-founded by Kate Winslet, which is dedicated to changing the way people on the autism spectrum are perceived. During a visit to the brand's headquarters in Switzerland last year, the actress chose the dial, the case and strap of the watch. Five gold pieces have been produced and named after the brand ambassador.
Of course I couldn't pass up this opportunity to sport one of our Metallic Pony Purses to the races. Christine and I decided to match (well we actually didn't talk about it until the day before wh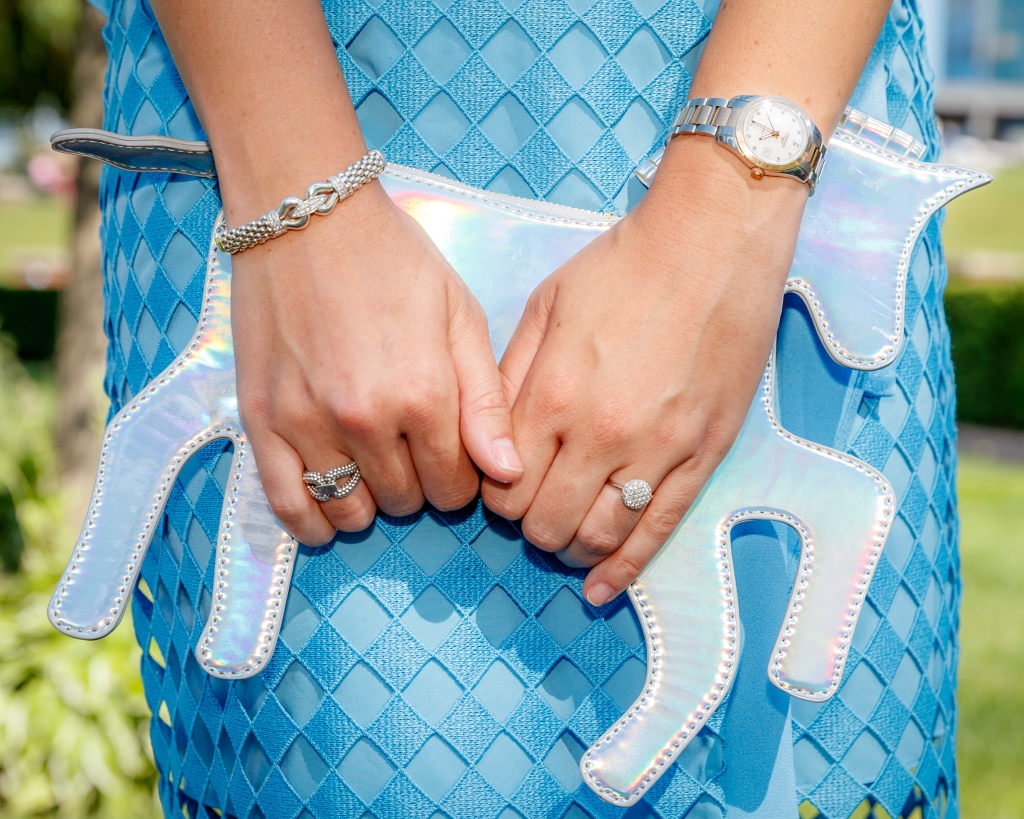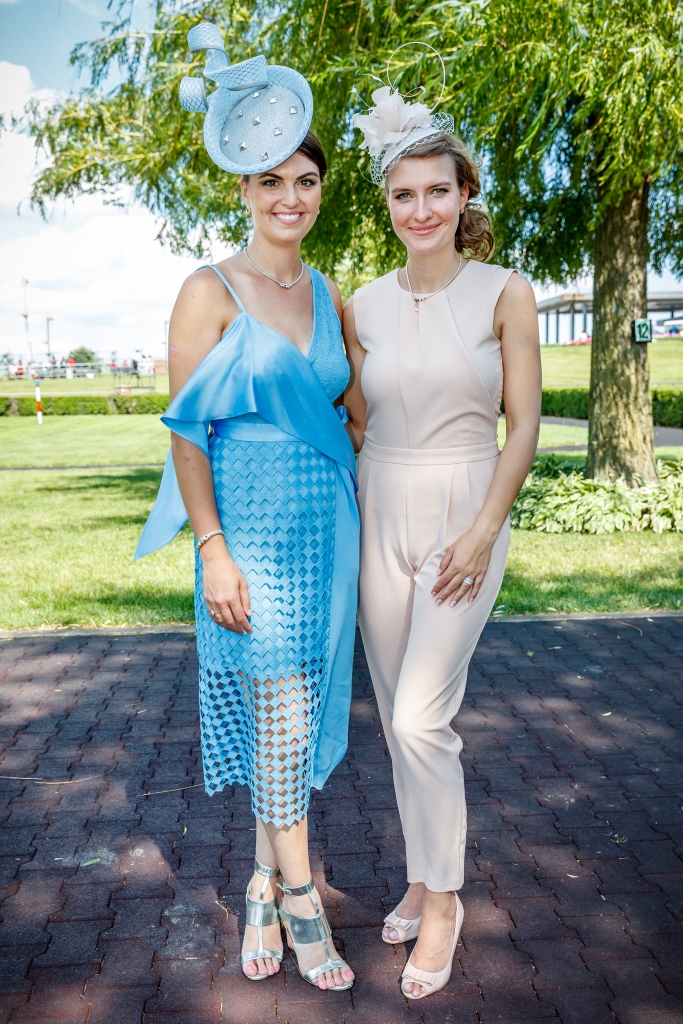 As always I met some wonderful people including Natalie who was the runner up of the Woodbine Fashion at the Races' Contest.

Belmont Stakes in Black and White
…with a Pop of Red!
Outfit Details: Rebecca Taylor Dress |Milli Starr Millinery |Ivanka Trump Heels (similar style) | Longines Watch |Horse Clutch | Lagos Jewelry
The last jewel of the Triple Crown takes place in the Fashion Capital of the World: NYC Baby! If you haven't read up on our Triple Crown Trends, Belmont is all about the black and white. This year I found a black and white (or silver) dress that had such unique details. The open shoulder trend is still going strong and this dress had a nice twist on the regular off-the-shoulder look. With a zipper up the back and a high neck detail, this was a Victorian style dress with a modern metallic twist.



Like I said in my last article, I wore a Rebecca Taylor dress to the Kentucky Oaks and had my next piece from her collection on stand-by for the Belmont. There isn't many pieces of this dress left (and its on sale!) but she has plenty more pieces to check out in case its gone!

I was excited to wear a Percher style piece that I had seen a while back designed by the talented Milli Starr. The piece had this edgy look about it with almost 'barb-wire' style hand-cut feathers. The piece secured with a headband and elastic keeping it in place all day with no issues. Laura, the millinery behind the Milli Starr name, said, "I'm so glad you want to wear this piece. Many ladies seem intimidated by the percher design." I responded, "we are going to put perchers on the map here!"
Seriously ladies! Why would you want to wear this piece?! Understandably different from the traditional Derby hat, this style is so easy to wear and really brings your racing outfit to another level! Doesn't mess up your hair, weigh down your head, or get in the way of any photos when your with your gals! If I was a car salesmen…I'd only be selling this model! 😉

Off my soapbox….since I was staying with friends in NYC- I just had to raid their closests and found these Ivanka Trump heels that tied my whole outfit together. Similar (maybe too similar) to the Aquazzura style, these heels were the perfect red to compliment my hat and horse clutch.
Lastly, to tie in the metallic details on my dress, I turned to the Derby Collection of Lagos Jewelry along with my go-to Longines Conquest Classic Watch.



I had way too much fun in this racing outfit (even wore my percher all the way home in our Uber because I didn't want to take it off!)




You can purchase this percher and others at store.fashionattheraces.com – stay tuned for my Woodbine Queen's Plate hat…another fashion forward design by Milli Starr. xoxo

On Friday…we wear PINK
Outfit Details: Rebecca Taylor Dress |Karen Morris Millinery |Jessica Simpson Heels | Longines Watch | Lagos Jewelry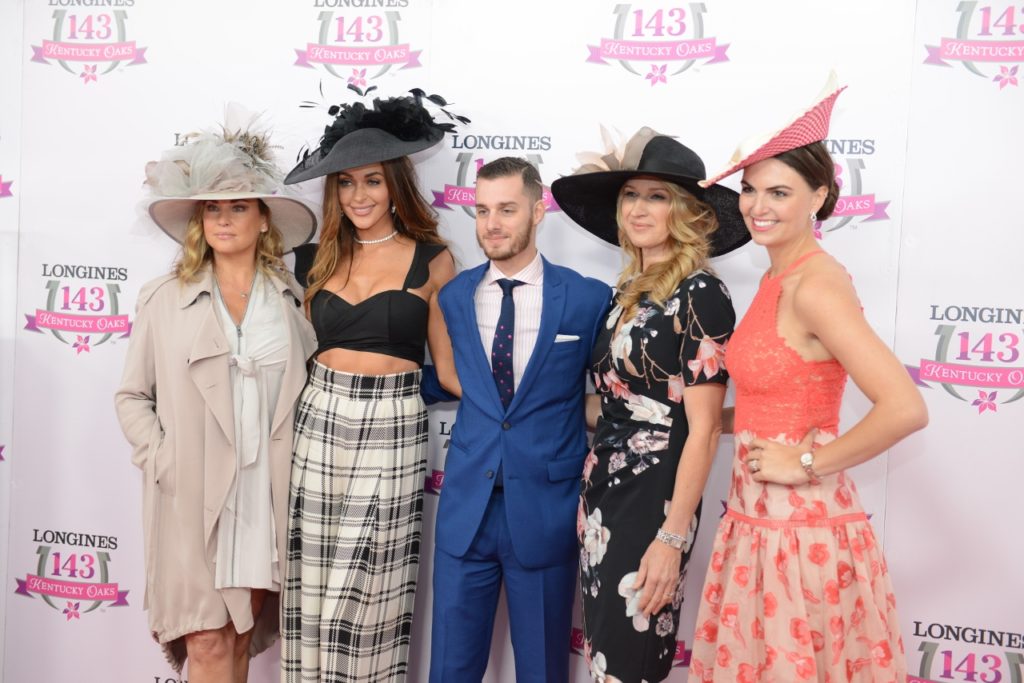 The weather may not have exactly cooperated for the Longines Kentucky Oaks Day but we made it work.
Oaks Day is all about the Fillies and the Lillies. Translation: The ladies and the pink cocktails! Lots of ladies were adorned in all different shades of pink holding their pink lily cocktails. The pink is in support of the strong women battling breast cancer and to the ones that won. Also the pink is worn in remembrance to the ones we have lost to the horrific disease.
The ponies wear pink, the riders wear pink, and even the jockeys wore some crazy pink pants for the main race (did you not see our Instastories??)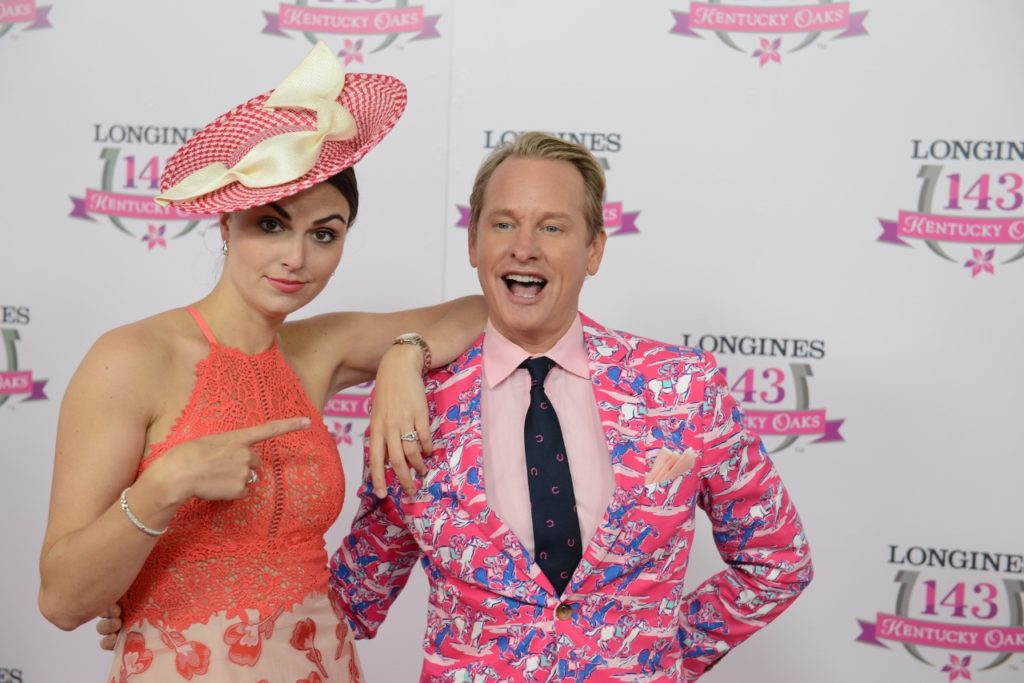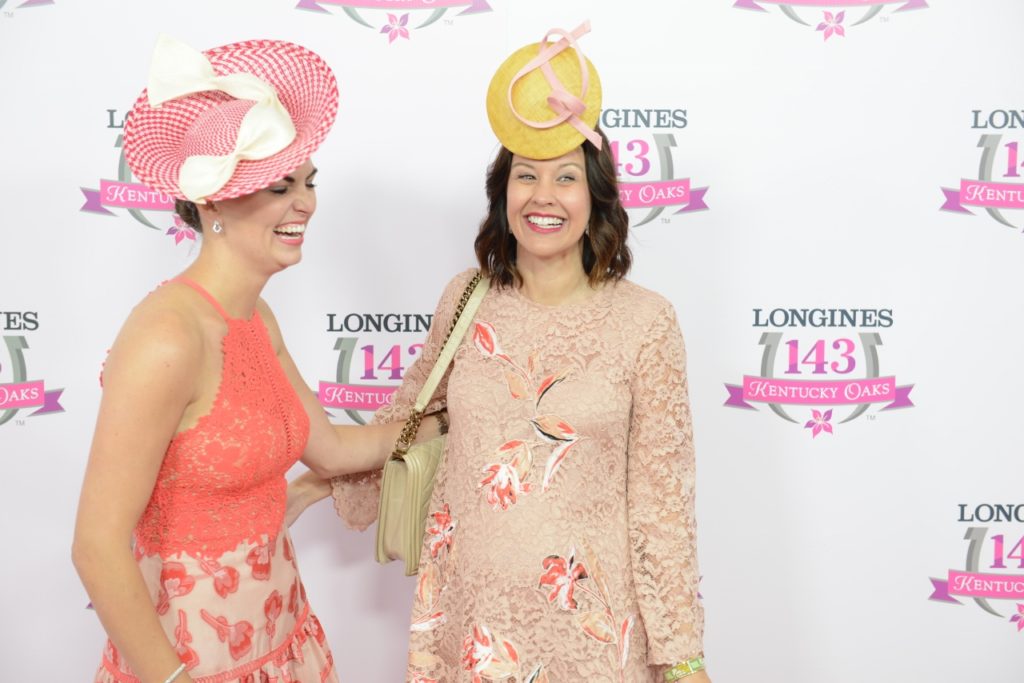 I started early looking for a gorgeous pink dress and I found the one I wanted a month or so out. Although I was a bit scared to pull the trigger, the closer we got to the event, the easier it was to press CHECKOUT.
I came across the Rebecca Taylor brand at the end of last year. Two things I loved about it: the effortless femininity of the designs, and the fact that the designer is a native New Zealander. I spent 3 months on the North Island working on a breeding farm and fell in love with the styles of the 'Kiwis.'
I only had one day off a week and I would drive an hour to Auckland (their big city) and shop in all the boutiques on the street. Well window shop as my farm job kept me on a beer budget 😉
When my pink floral dress dress came in the mail, I opened the box, pulled it out of its safehaven in plastic, and was delighted to find the detailing that the pictures didn't do it justice. From the fabric to the woven band on the skirt, this was a piece I knew I would cherish for a long long time. A cherry on top was that it fit like a glove! (and also gave me room for plenty of food and drink on the day).
I recycled shoes but grabbing my Oaks pumps from last year (solemates still on there) and then sent a picture of my dress to the talented milliner Karen Morris.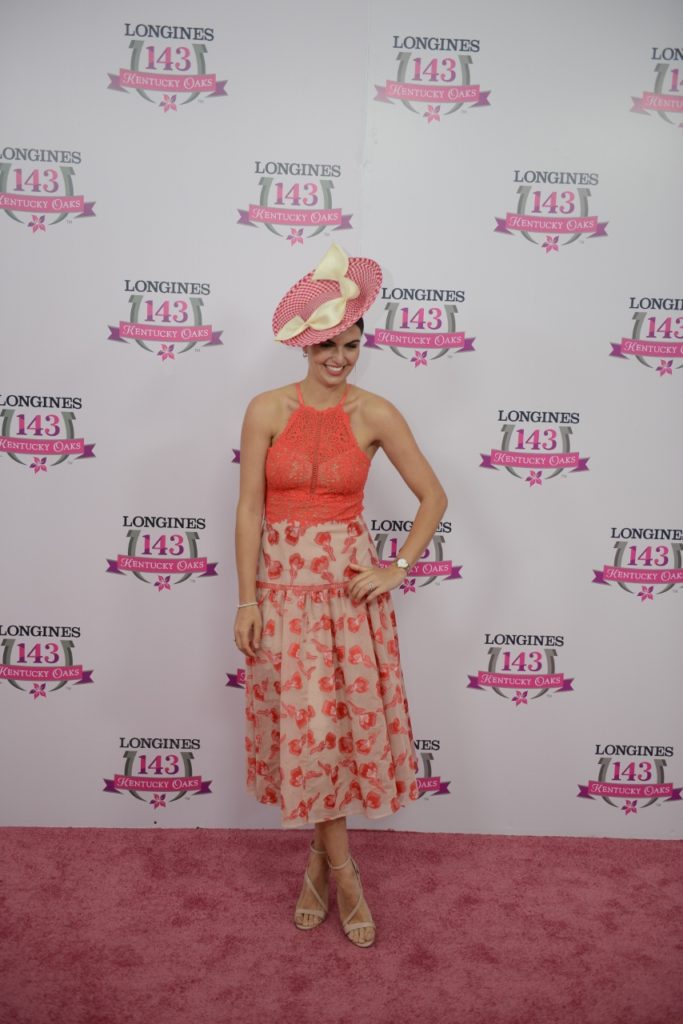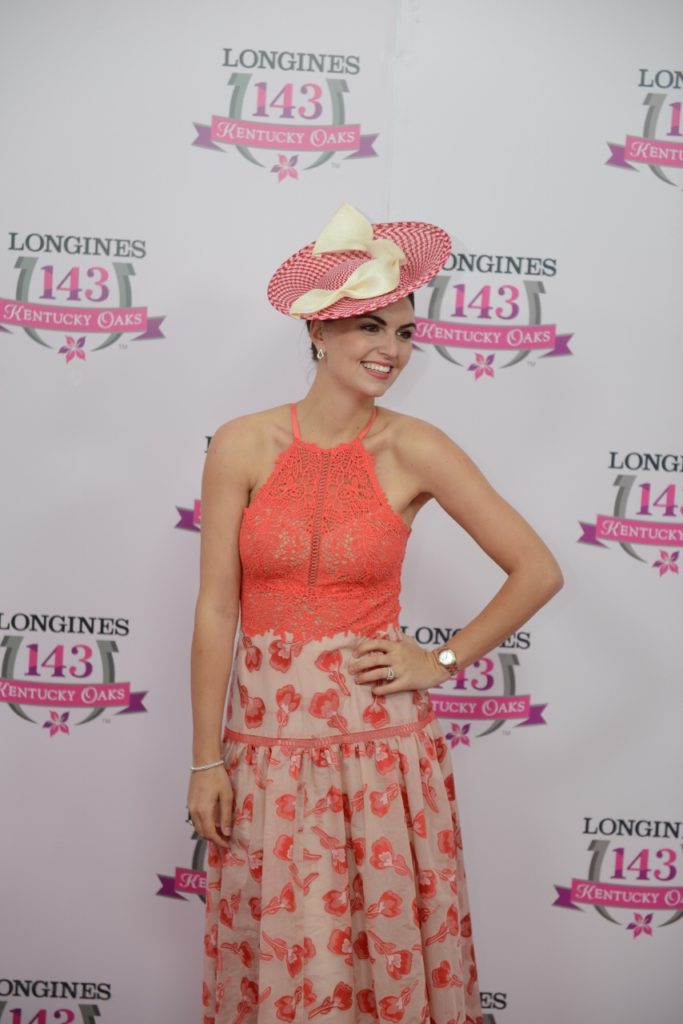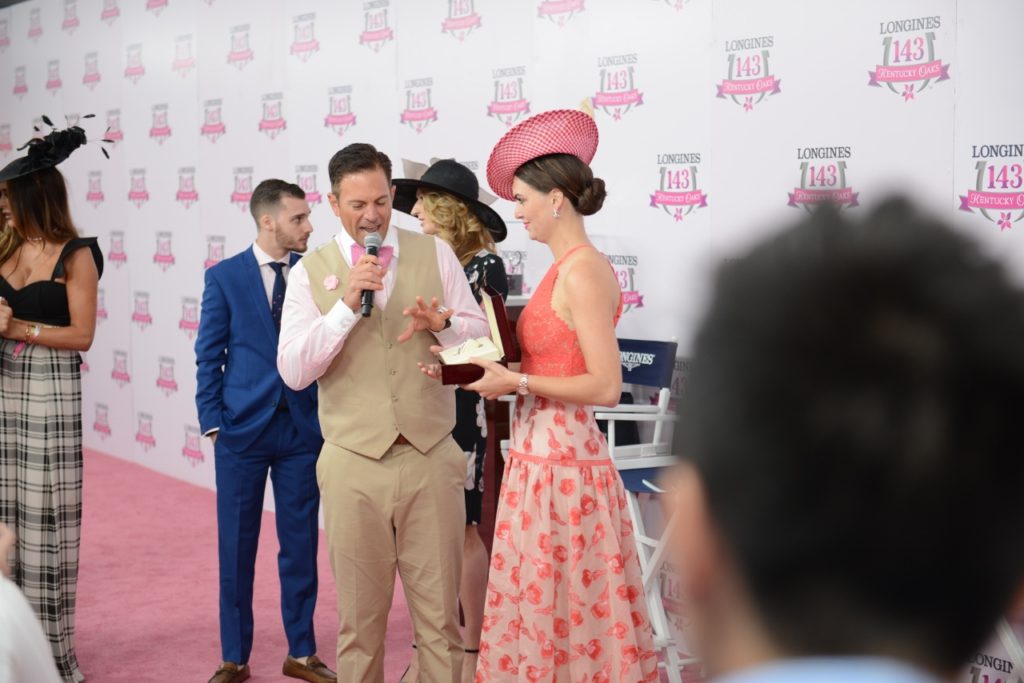 Karen has designed my Oaks hat for the last 3 years. Her impeccable designs are a go-to for my racing events and I can always count on her pieces to be effortlessly worn all day long.
This years hat was no different. A checkered braided straw piece in red and white (which actually gave it a pink hue) adorned with an ivory bow fastened to my head via an elastic band (my favorite by the way). The piece was light and stayed comfortable for the entire day. The design was the perfect 'pop' against my feminine dress.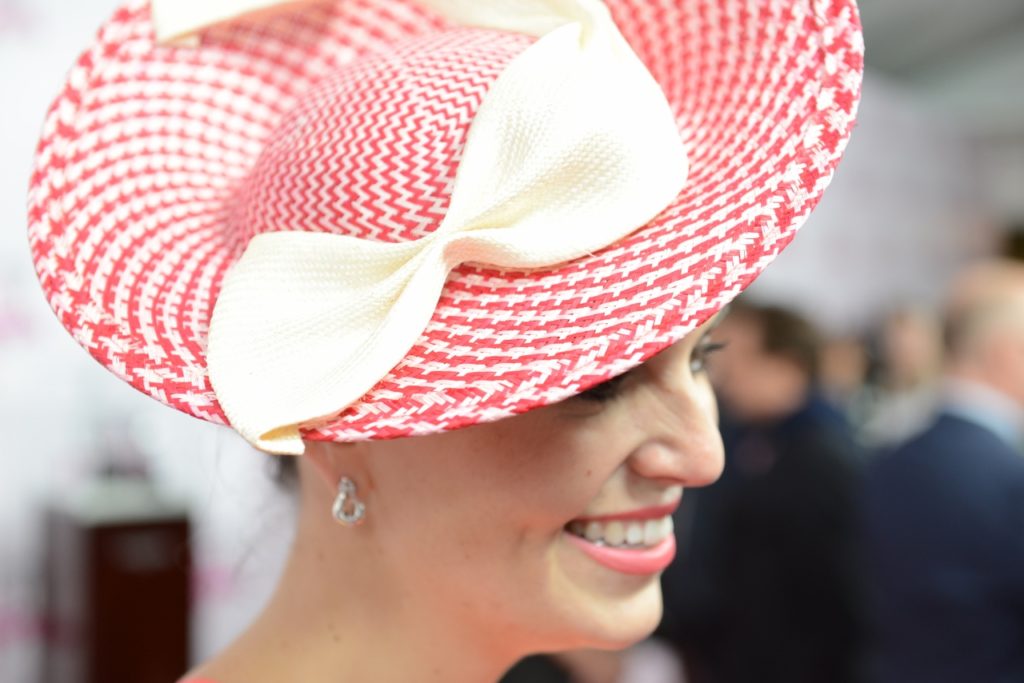 Check out Karen Morris's designs here.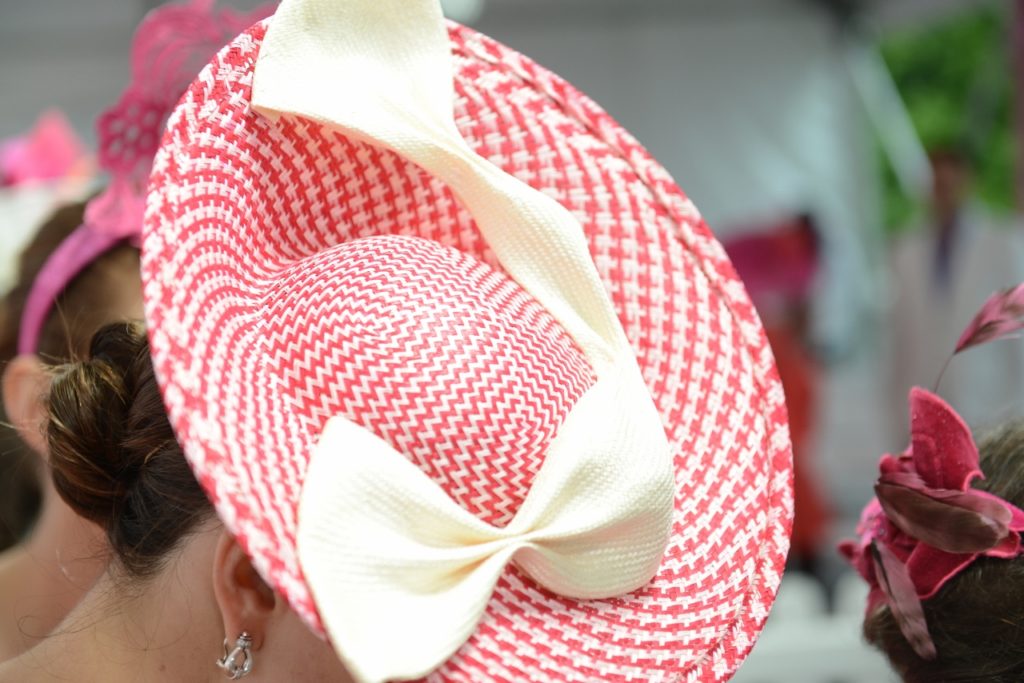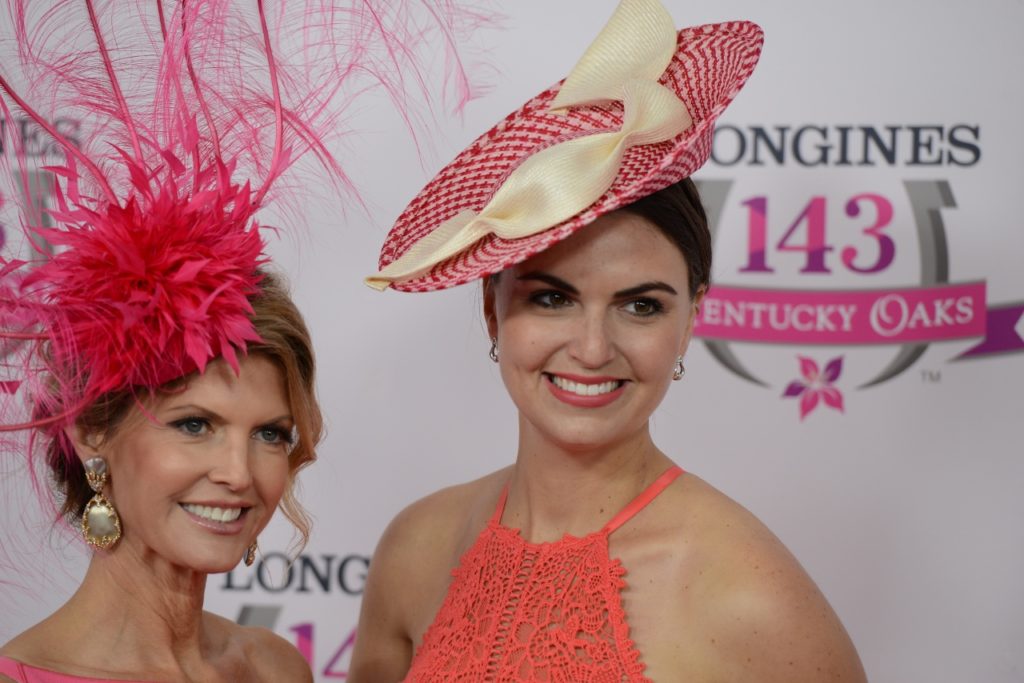 I wish I could repeat this outfit again and again. Luckily I will continue to adorn myself with Karen's pieces and have already picked out a Rebecca Taylor dress for the upcoming Belmont Stakes….stay tuned!!
PS- My Oaks Dress is on sale!!!
Click below to shop. I've also added some other products similar to what I wore from the same brands.
Kentucky Derby: Roses are Red….
This years Kentucky Derby all seemed a bit crazy to me as it came up so fast! It was winter in January and poof! all of a sudden we were only a week away from Derby. Seriously, where does all the time go?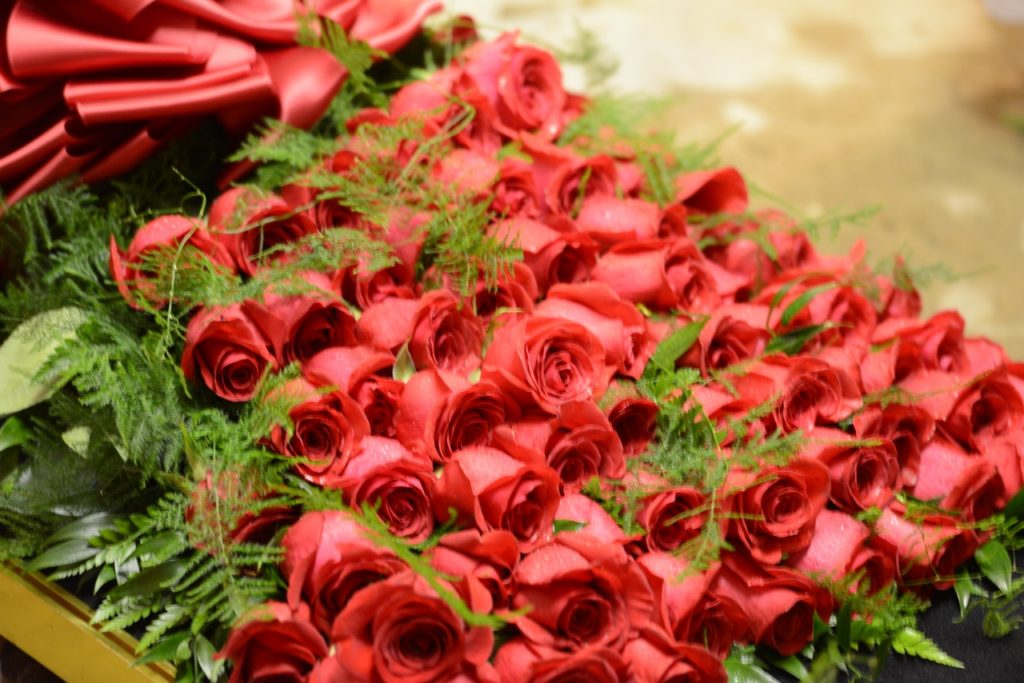 As always, my intentions are to start planning months out, find some beautiful designer dress (on sale somewhere), pair it with the perfect hat or have a hat made, and then add the accessories to really tie the entire outfit together. Wellllllll that did not happen. Not even close.
I had my eye on my 'perfect' Oaks dress for a while but never bit the bullet and purchased it. Once it got close to game time, I decided that was an easy pick, purchased that and then turned to focus on the Derby dress. Ps-I'll be showing the Oaks outfit in a couple days!
For colors, I wanted to stay along the lines of the GH Mumm fabulous bubbly brand and decided that red, like their red sash across their newly designed bottles, would be the color to grab. I decided to pick a hat first and then match the dress.
This Carol Kennelly piece really stuck out and even made me a little nervous. Now- when I say makes me nervous- I've come to find out that is a good thing. My Breeders Cup hat last year made me SUPER nervous because of its size and that piece had some raving reviews! This piece has amazing floral details, beautiful bright colors, and sits light as a feather attached by an elastic band.
Outfit Details: Shoshanna Dress | Carol Kennelly Millinery |BCBG Shoes | Longines Watch | Lagos Jewelry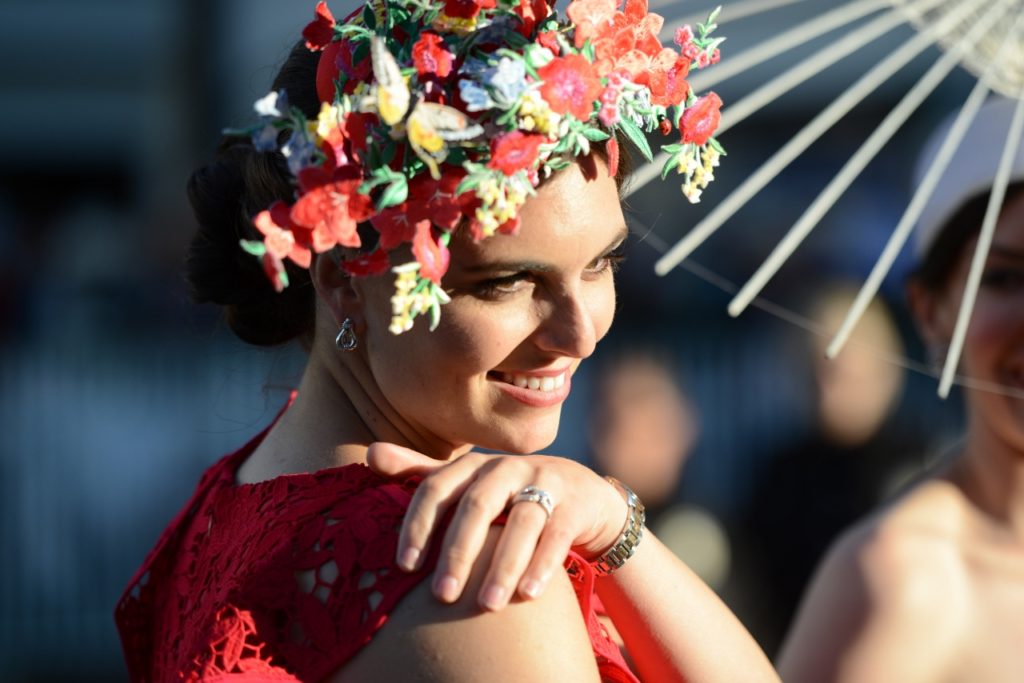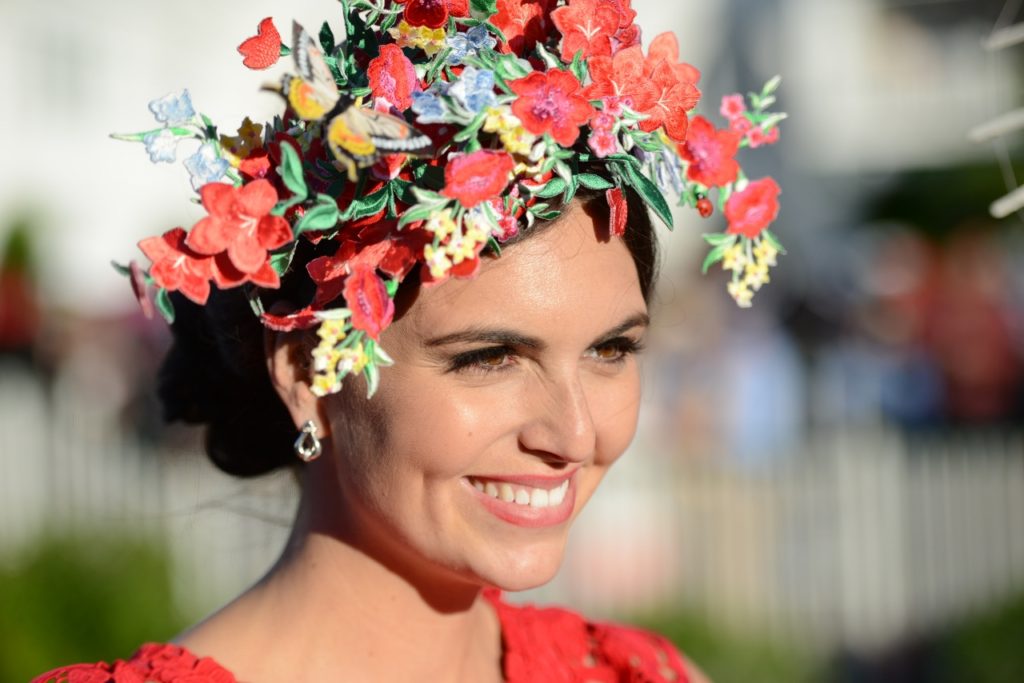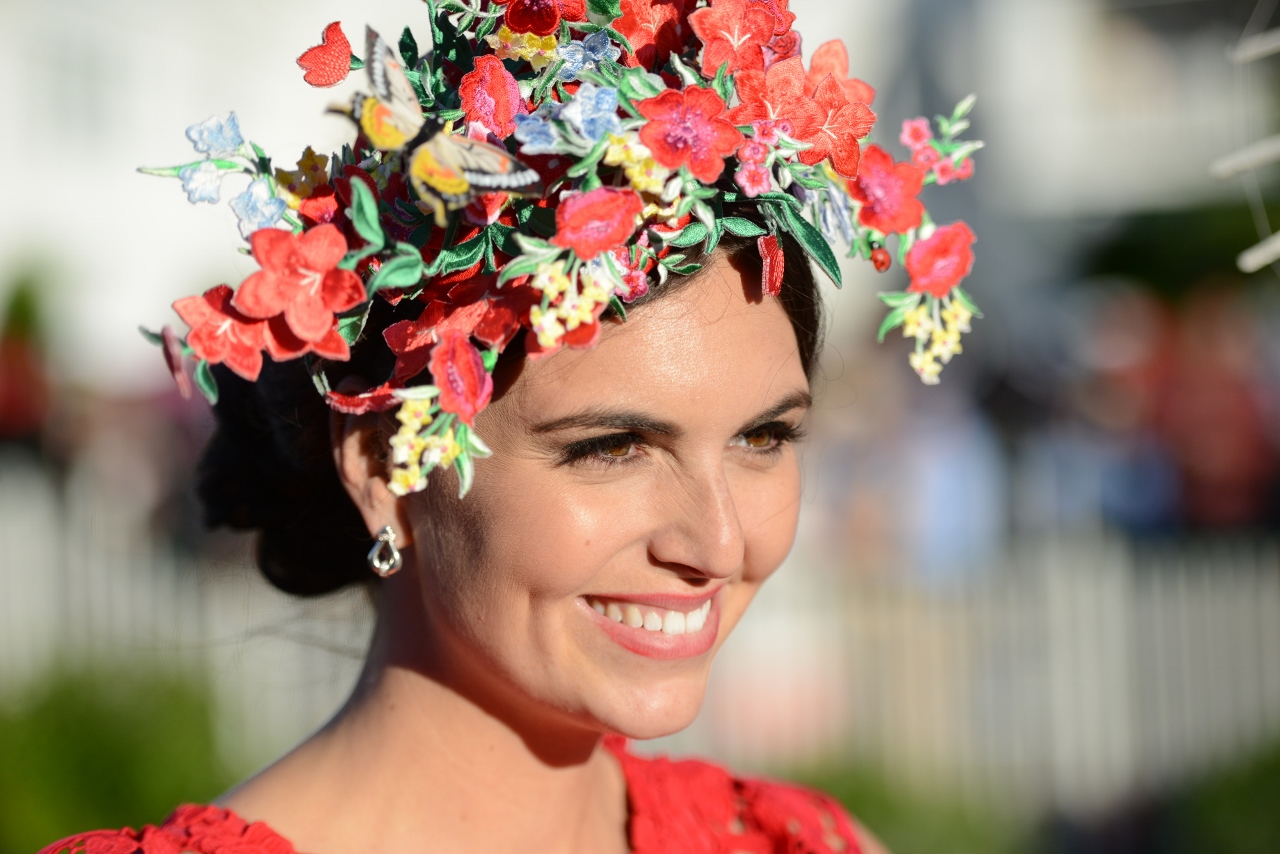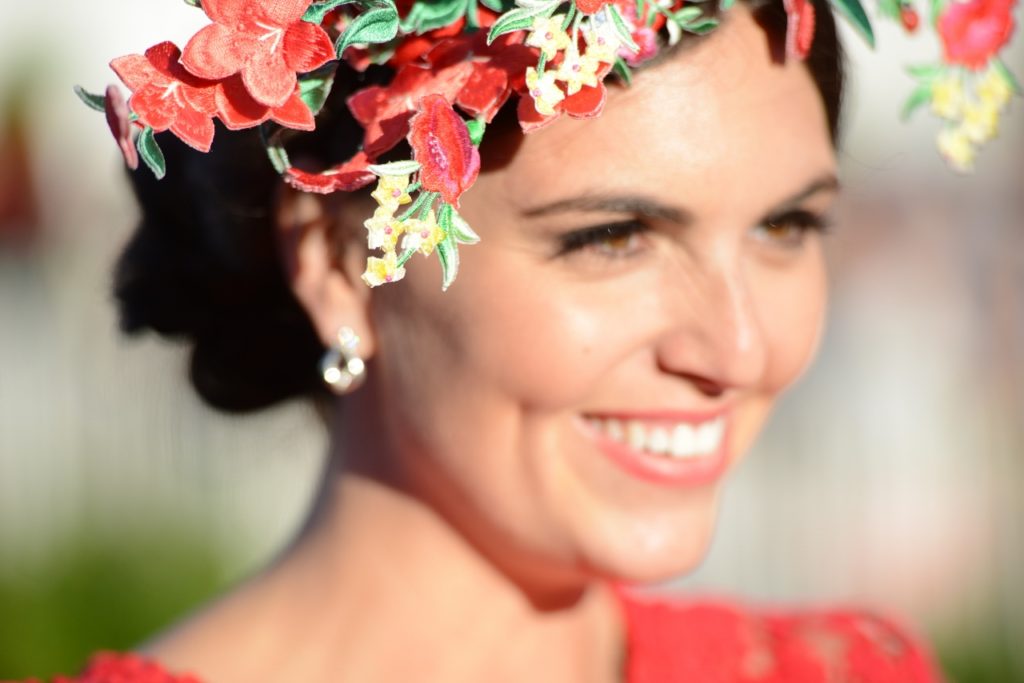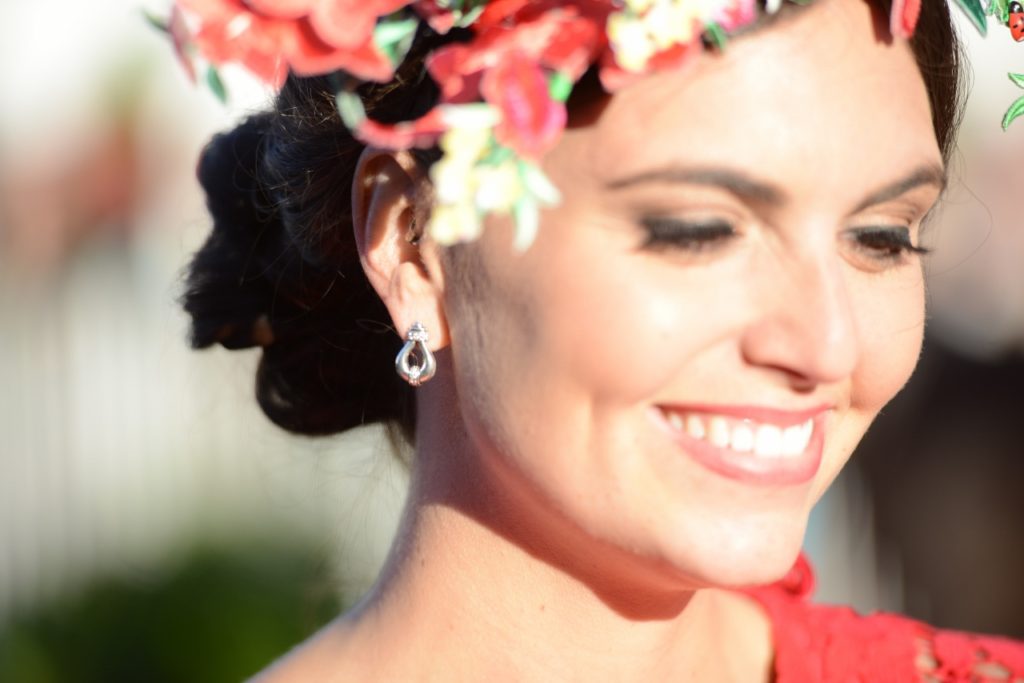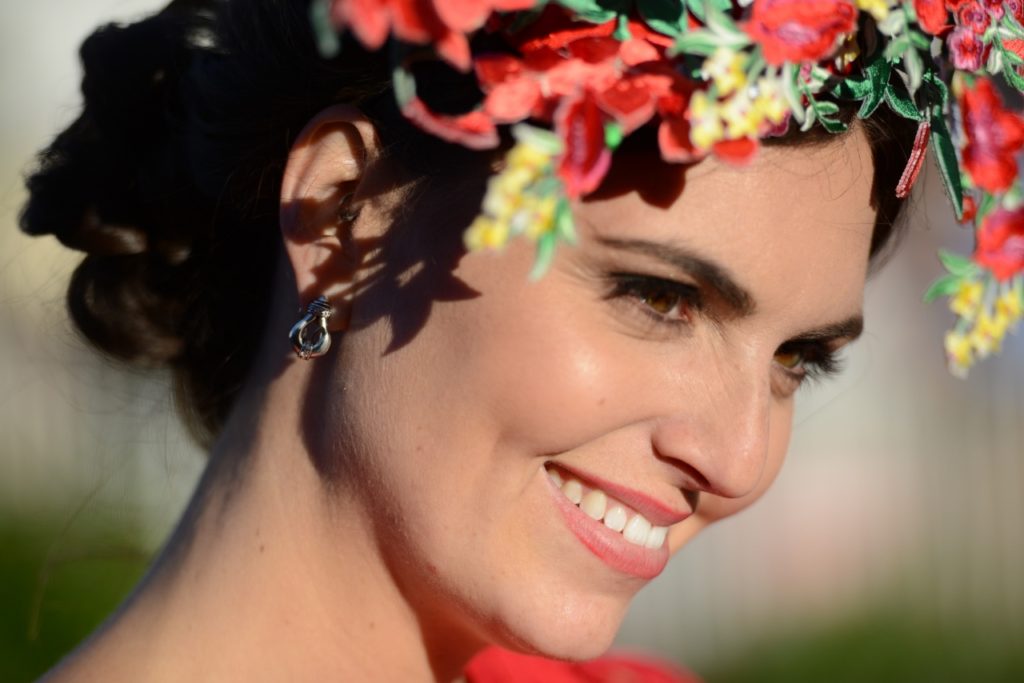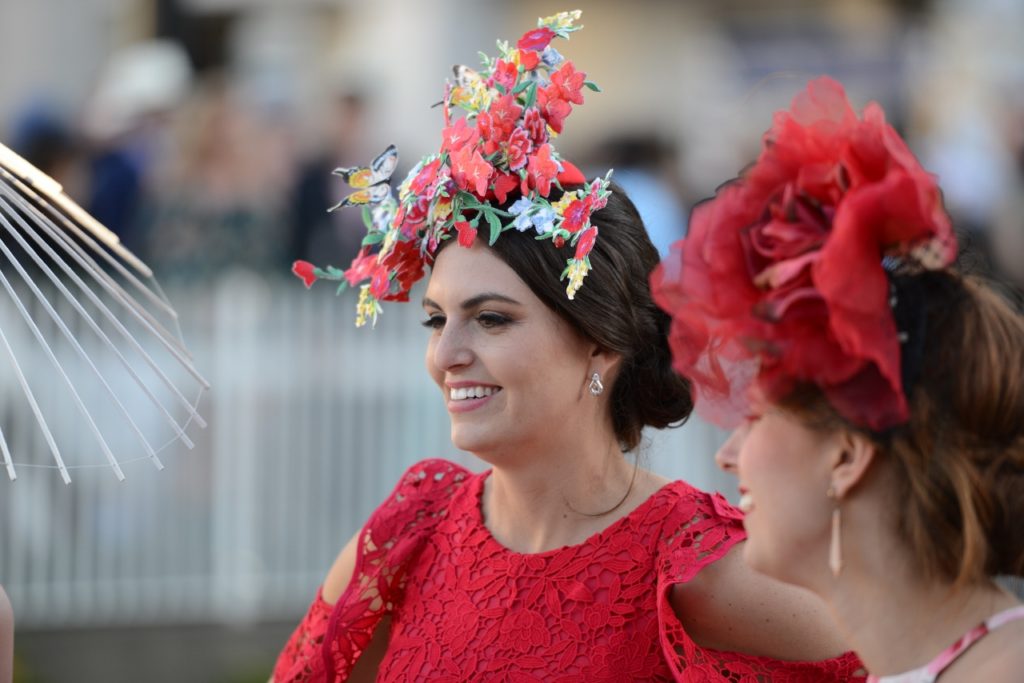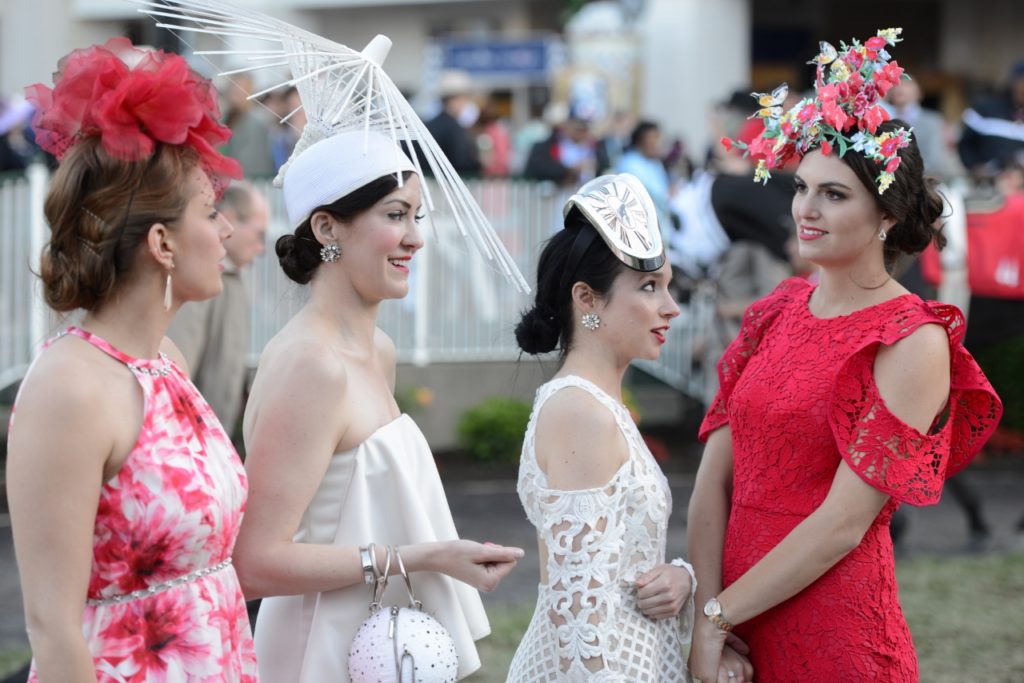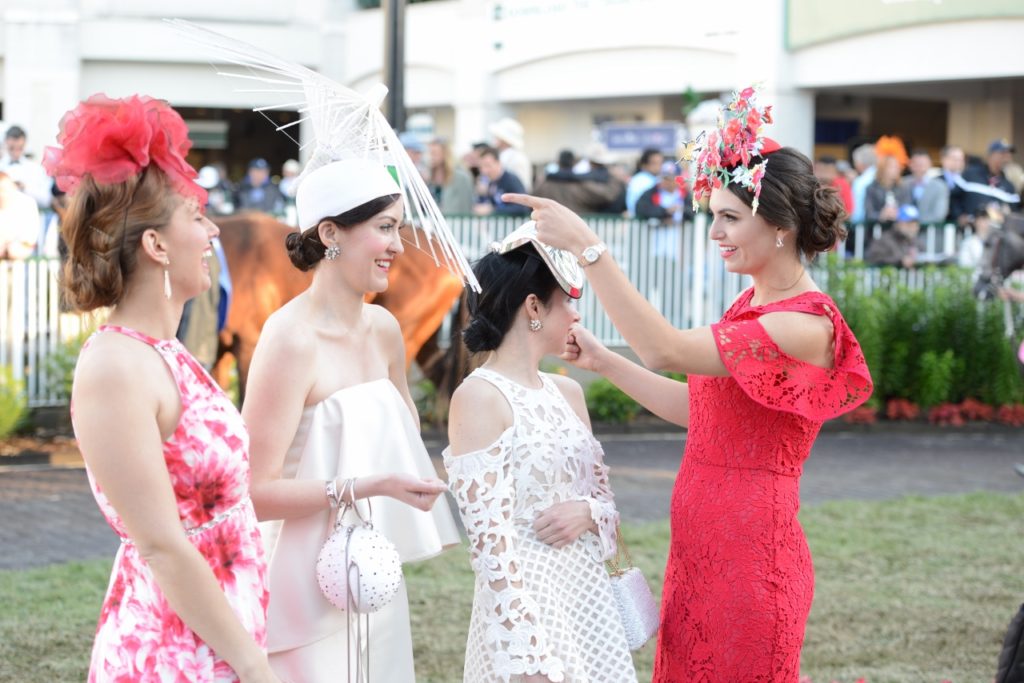 The dress was a lucky find from Neiman Marcus. I picked out two red dresses and actually thought I was going to wear the other one. When they came (which was Thursday of Derby week by the way…) I put this one on first and knew it was the one. I ordered a size up which actually fit me perfectly because for the first time, I wasn't worried about wearing spanx or pulling it down, sucking it in..etc etc. I wasn't as form fitting as some of my past dresses but to be honest, it was a relief to have it be just a tick loose!
I decided there was no embellishments needed as the focus would be the hat. The dress was a strong piece too but it complimented my millinery in just the right way.
This year I was super excited to wear some new jewelry which had a 'Kentucky Derby' theme. Lagos, a gorgeous jewlery brand came out with a Derby edition that has a ton of beautiful options of earrings, necklaces, bracelets and rings! I kept it simple (as always) and wore the earrings, bracelet and ring on the red carpet. I had my beautiful Longines watch to make sure I wasn't late (which I was early this year!!) and let the silvers glisten against my bright red.
There will be one year that I won't be able to pull it off, but thankfully I was able to round out a winning outfit for this years Kentucky Derby!
Click to shop the pieces here:

If you'd like to purchase this amazing hat, head to: store.fashionattheraces.com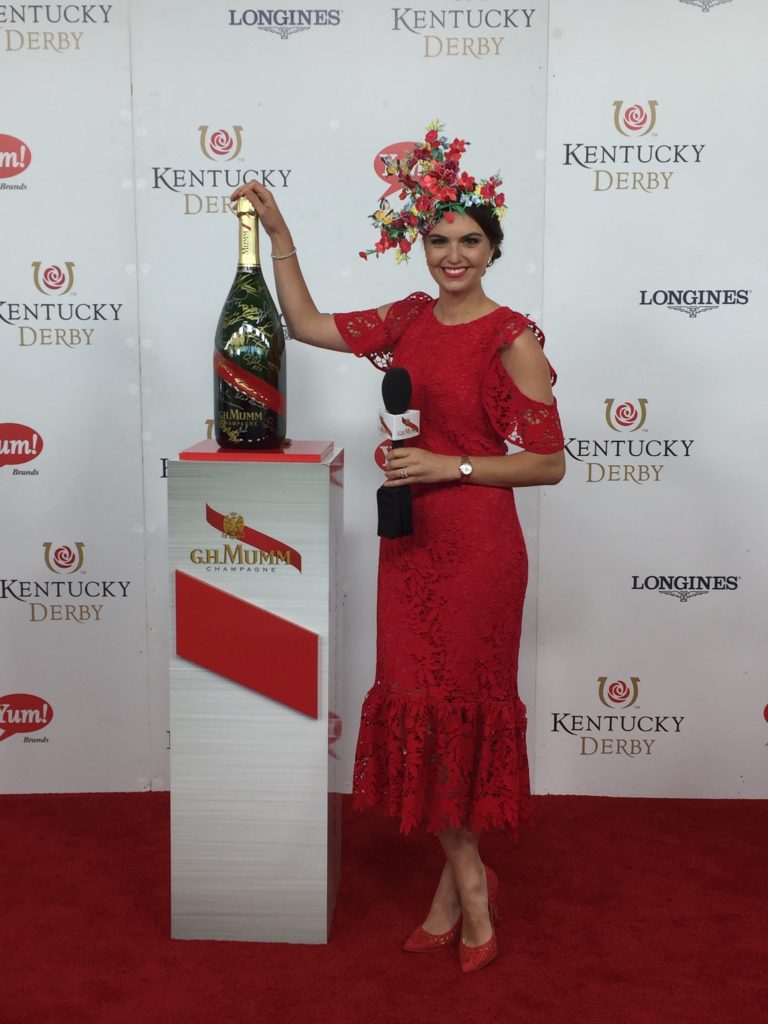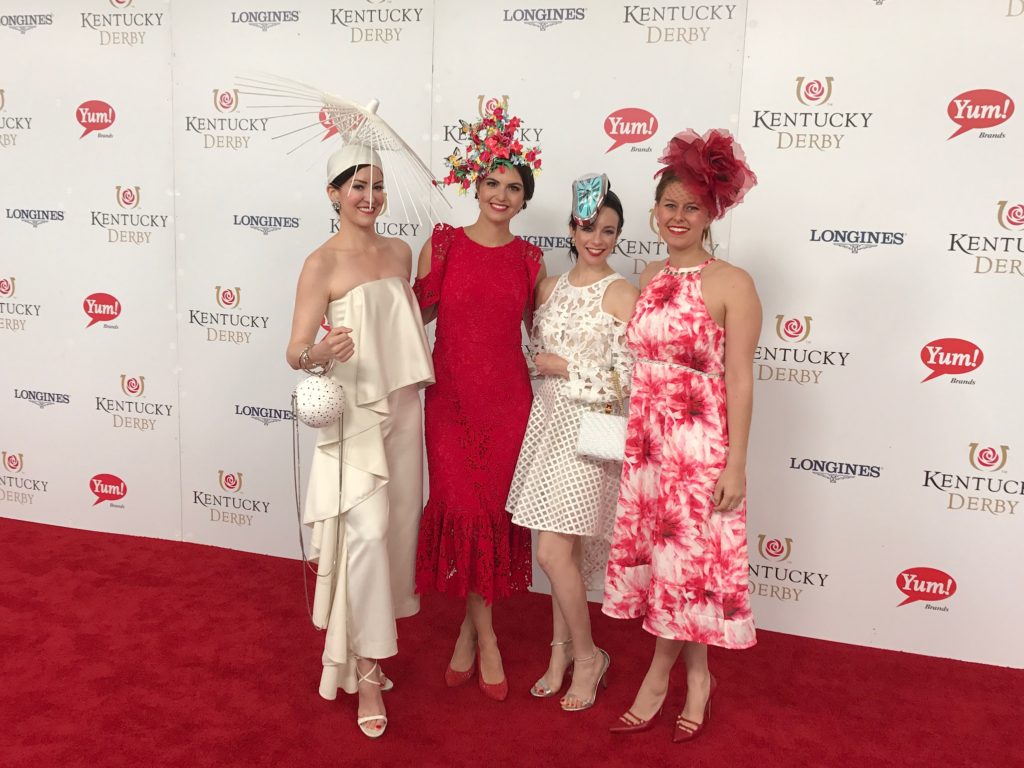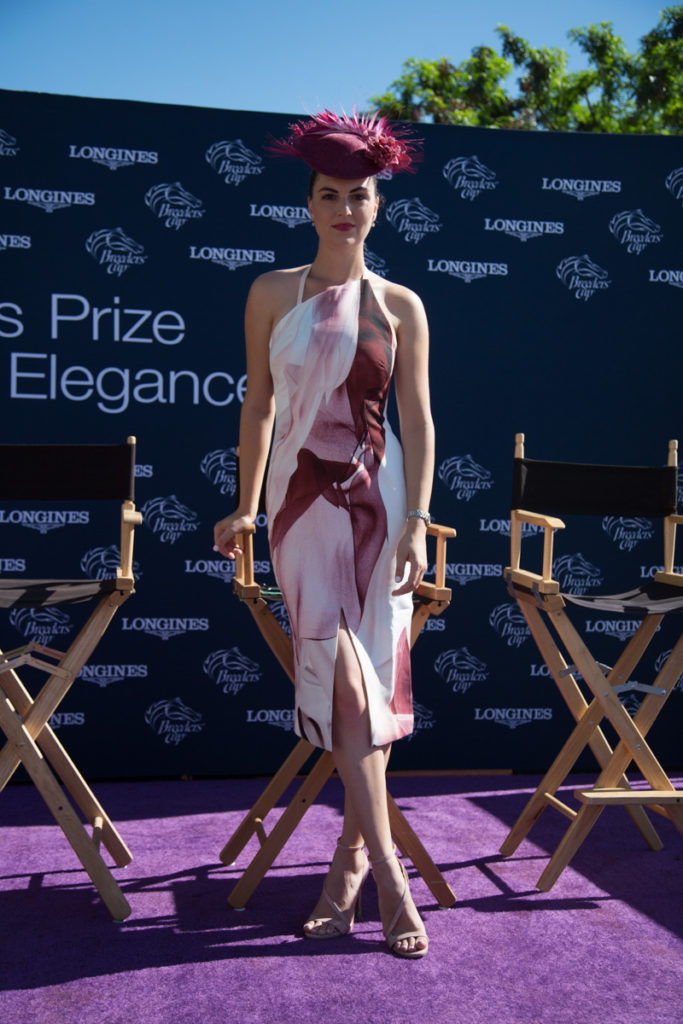 Outfit Details: Keepsake Dress | Karen Morris Millinery |Jessica Simpson Shoes | Longines Watch |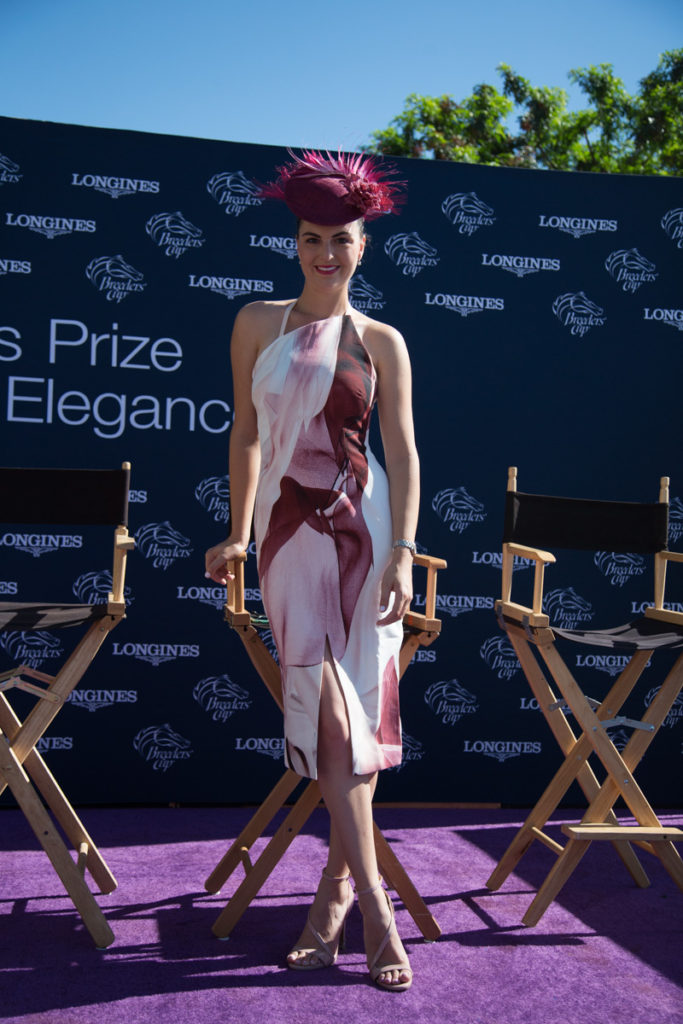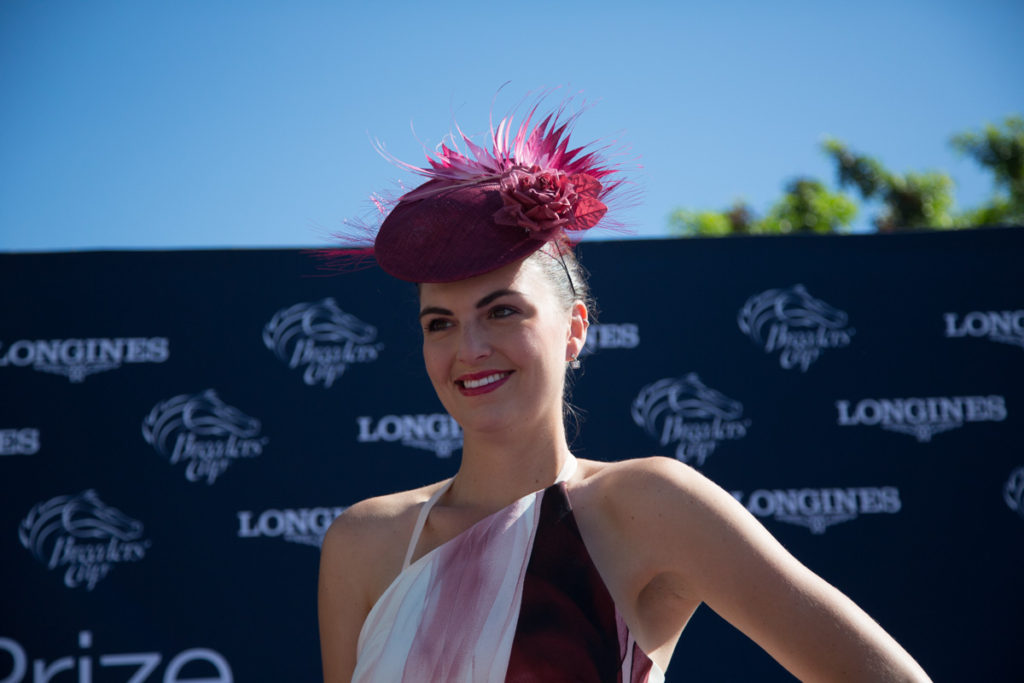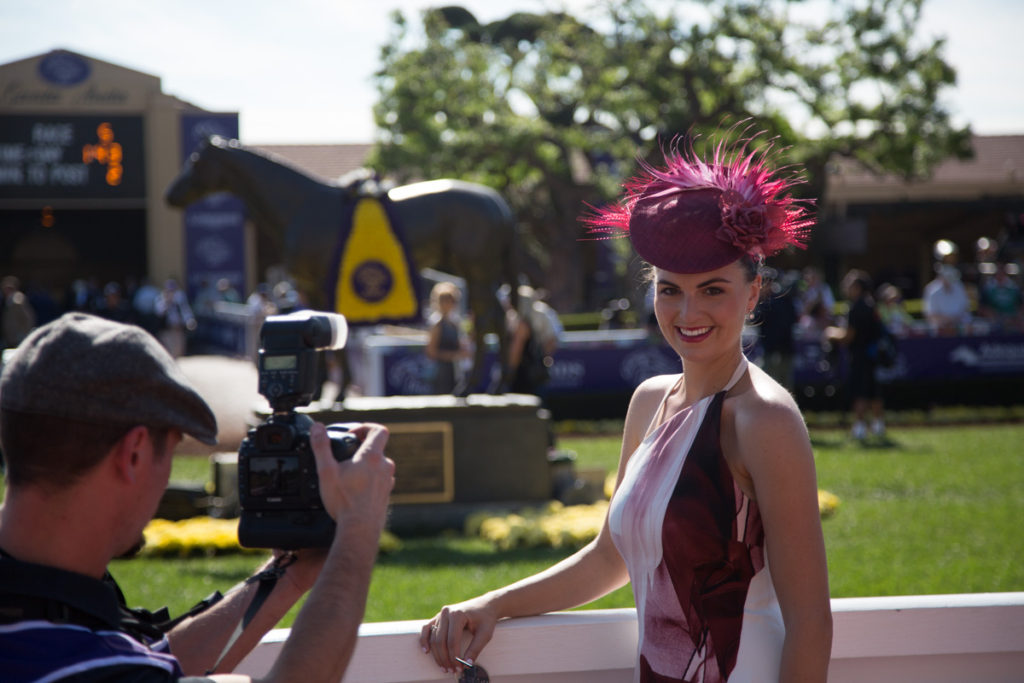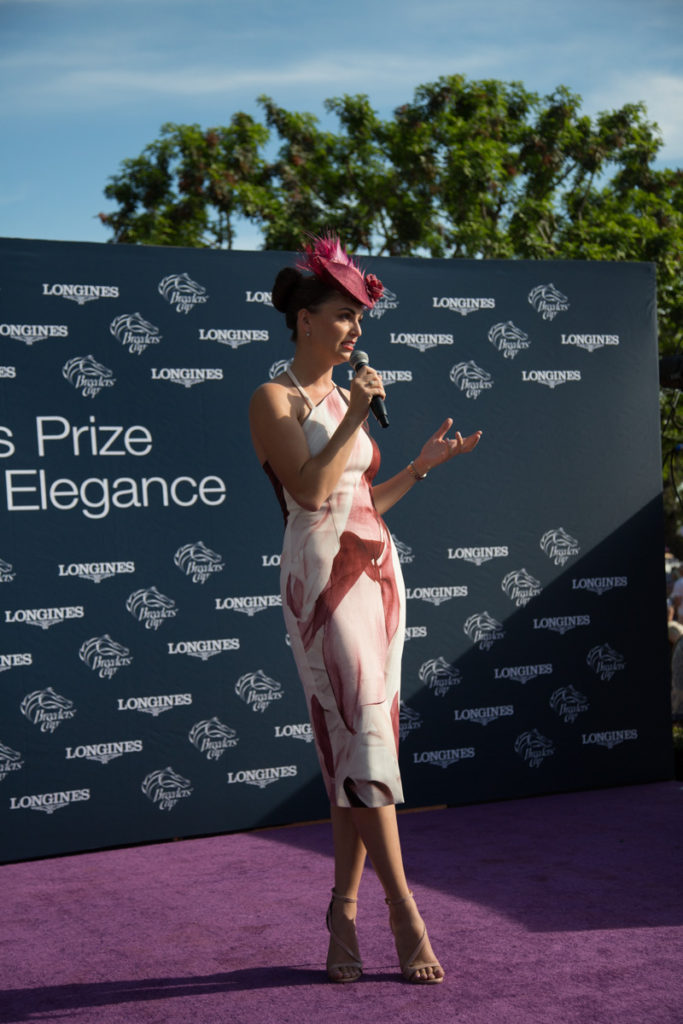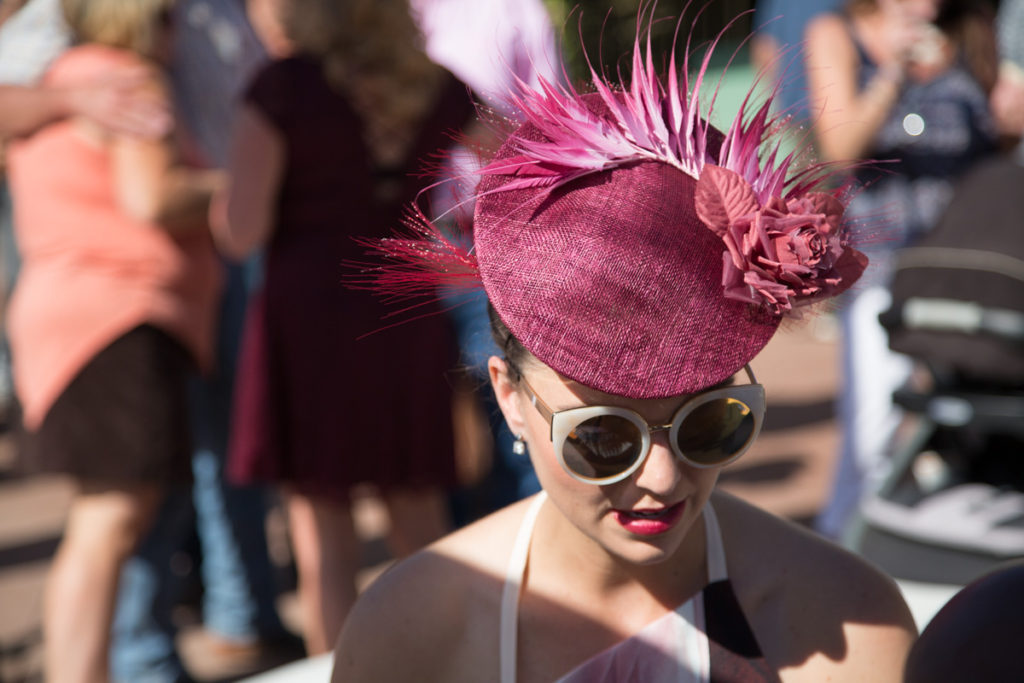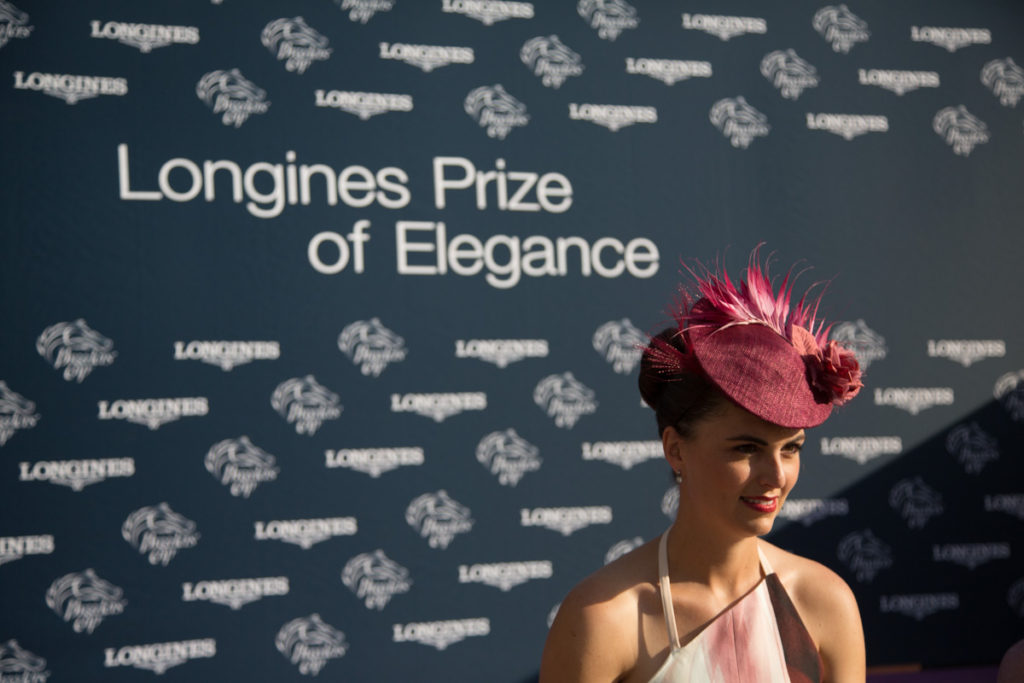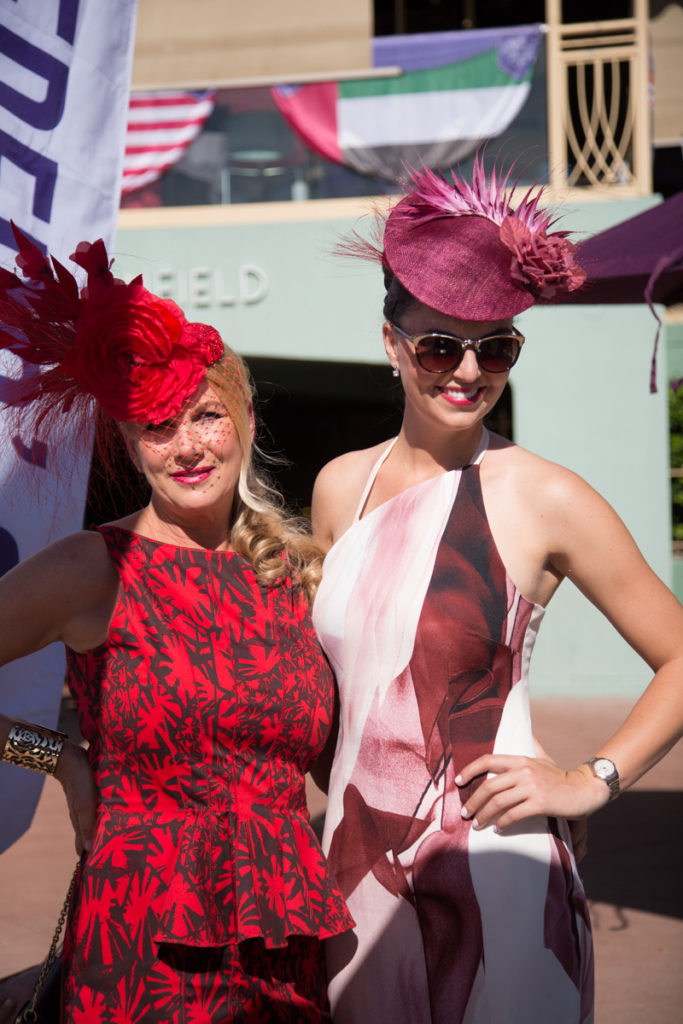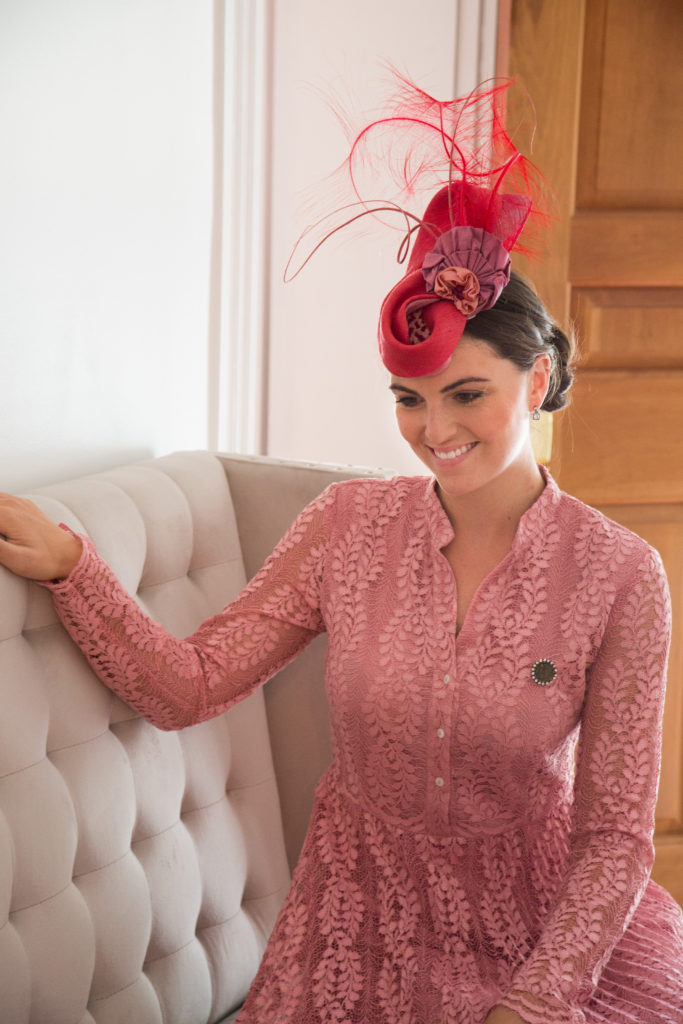 Pink lace is the epitome of feminine style. This pink lace dress found in a Warehouse Sale and was a great buy. It had a small stain on the upper left chest area which is wear the 'pin' is positioned (have to give my girl Christine Lund credit on that one!).
Paired with the Karen Morris fascinator adding a darker pop of color which is matched by the darker fuchsia heels. For a piece like this, put your hair up so we can focus on your gorgeous face and millinery. Too many times hair styles fall flat and it ends up ruining a beautiful topping. I styled a simple low bun (with donut included) which will stay in place for the entire raceday. This style took me less than 5 minutes to do!
This outfit is a great cross over of fall and spring- perfect for the late months in California.
Pictured in my Parisian styled foyer, I love how the pinks really pop out in a delicate way.
This exact dress is 40% off right now! See below to click and shop I've also included some more pink lace dresses that are always perfect for the races or any event you might have. If you'd like to purchase the one-of-a-kind fascinator you can do so here.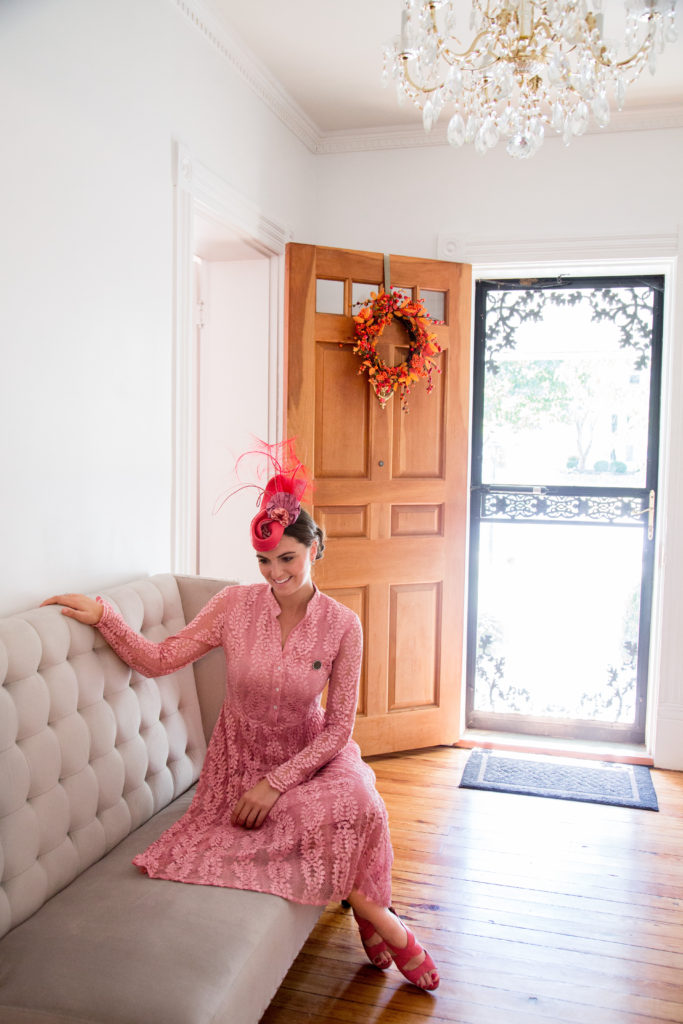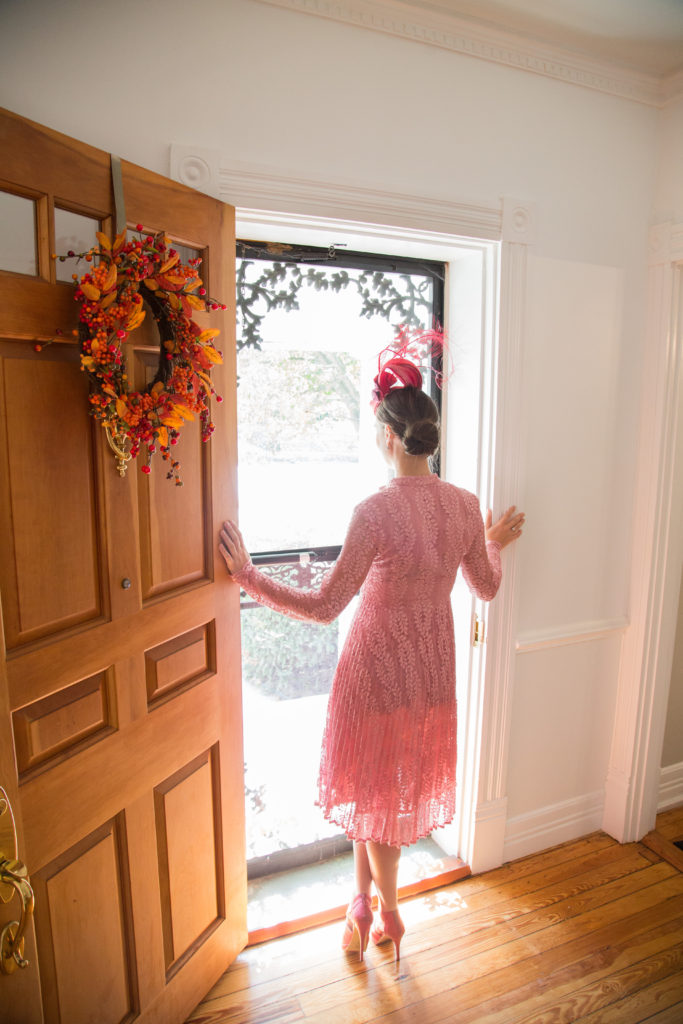 When in Doubt…Wear Red
Beware the Lady in Red
Red is a powerful powerful color. I would be lying if I said it was for just anyone…Red is for a lady with fiery spirit! Someone who knows how to pack a punch and has a strong presence…or WANTS to have a strong presence. Once you put on a red dress, you have prepared yourself for a day to remember.
I wore this BCBG dress to the Kentucky Derby a few years back and don't have the heart to pass it on yet. It is a light fabric with sheer detail at the chest and a pleated skirt with a peekaboo slit down the left leg.
How fitting it was to pair this with the bold Sophie Hunter fascinator from Ireland. With a sequin dark champagne center and white floral detailing, this piece NEEDS a strong dress to stand out with it.
Not many accessories are needed with this bold ensemble. A red lip is probably the best match and really accentuates your gorgeous smile. I kept things simple and classic with my always necessary Longines Timepiece, a pair of stud earrings, and red BCBG pumps. I tried adding a gold belt just for some extra metallic which the outfit could go with or without.
These sunglasses with a white pearl surrounding and gold reflective lenses are PERFECT for the added punch the outfit doesn't require but always accepts….and only $60! I've included links to the exact pair of glasses as well as some other styles below. Check out some fabulous red dresses and heels as well as gold belts- these are fashion items that can be worn with other outfits outside the races. Timeless pieces!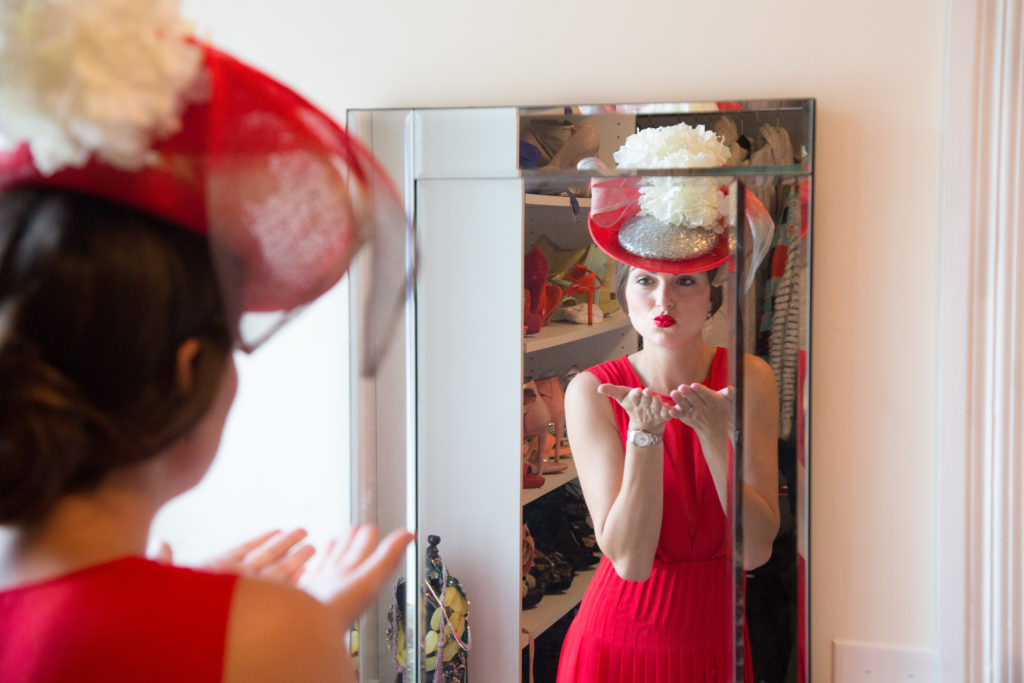 Always Fun in Florals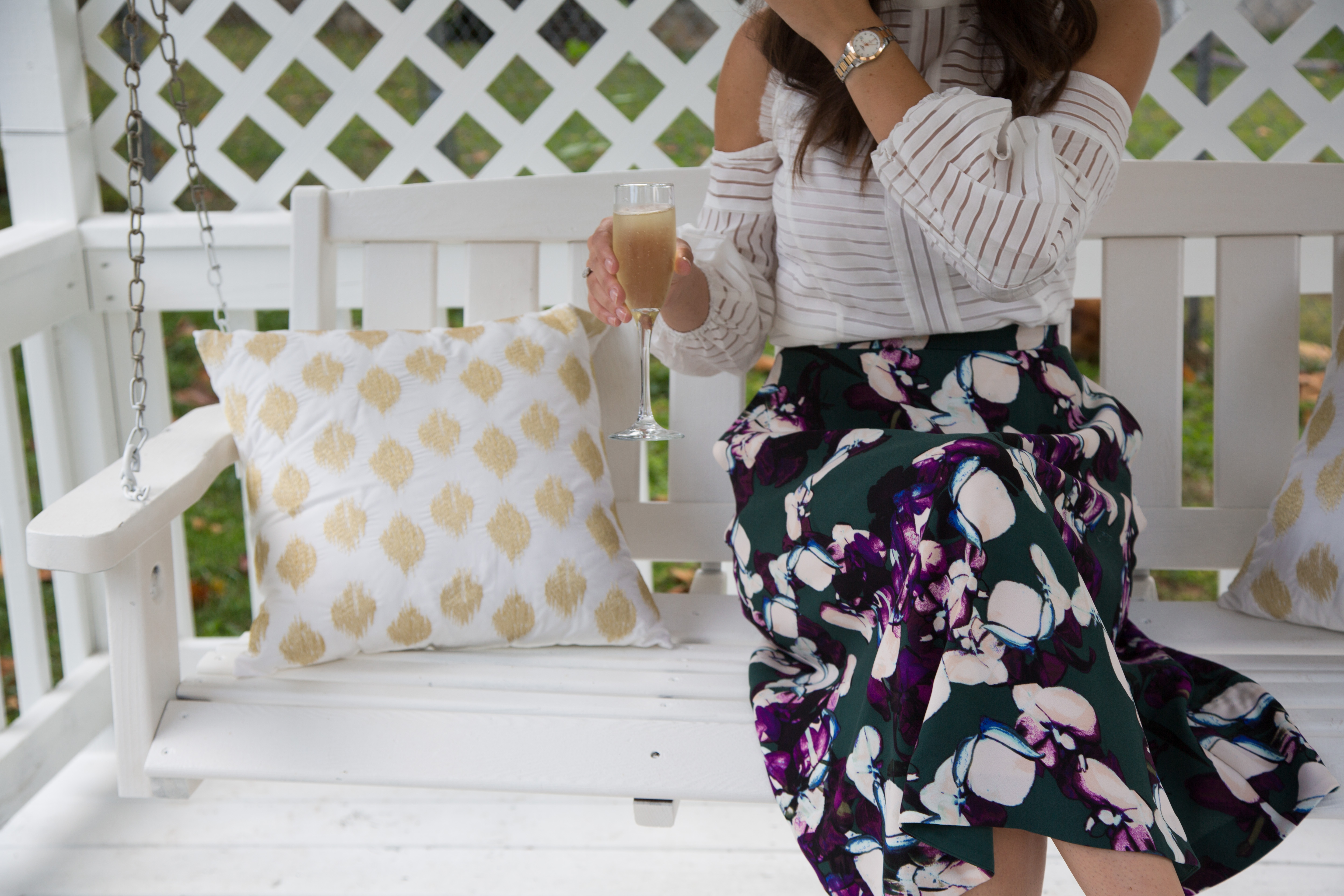 It is finally feeling like fall here in the Bluegrass States. The leaves have changed and began to fall, the sun is a bit weaker than a month ago, and the nights cool down to a crisp temperature.
Fall racing is full steam ahead at Keeneland but we still need to set our sites on a warmer raceday brought on with the California Sun. Breeders Cup at Santa Anita still has us thinking spring/summer fashion but with the crisp air still a possibility, we need to prepare for the in between.
This outfit was literally plucked from my closet of pieces that I've had for a bit and wear in my everyday regular fashions (I actually wore this top out Saturday night). The skirt was a lucky buy at Banana Republic for $22 and the hat, which is perfect for Breeders Cup I might add, came from Ireland from the talented Sophie Hunter. The veil is removable but I think its an added drama that would be fabulous to rock at the races.
This shirt is back in stock and under $100. With all the feedback I've gotten from these pictures- you will definitely be getting asked where its from! I wore a Medium so if you usually grab a small possibly order one up. It fit perfectly!
With the high collar of the shirt, there's not much need to wear a necklace so as I usually do, I kept my accessories simple with my Longines Watch and Pandora earrings.
Of course its totally normal for me to be dressed in my raceday fashion on my backyard swing with a glass of GH Mumm champagne. Typical Saturday…and wouldn't have it any other way.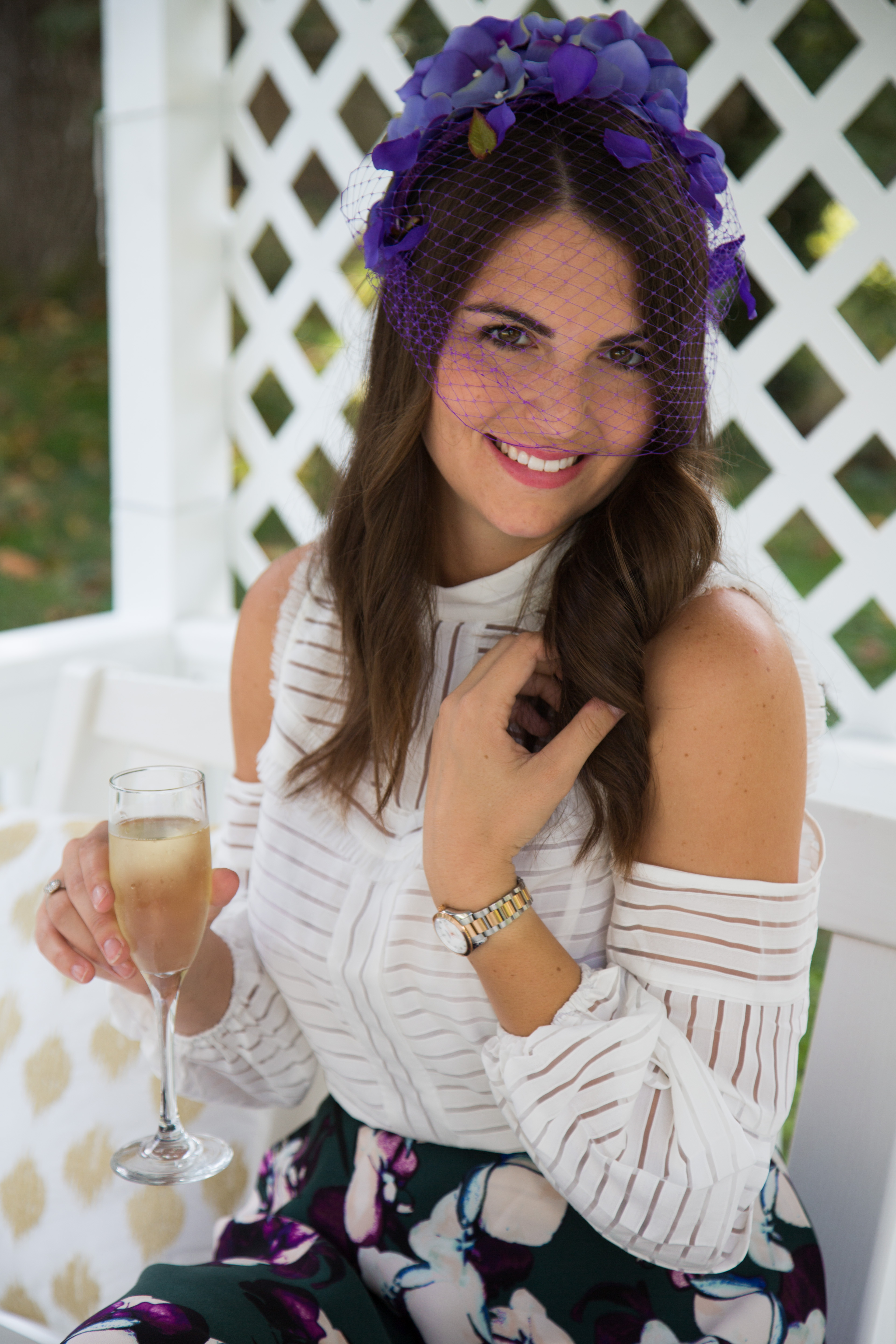 Shop My Look:
Sophie Hunter Fascinator: $110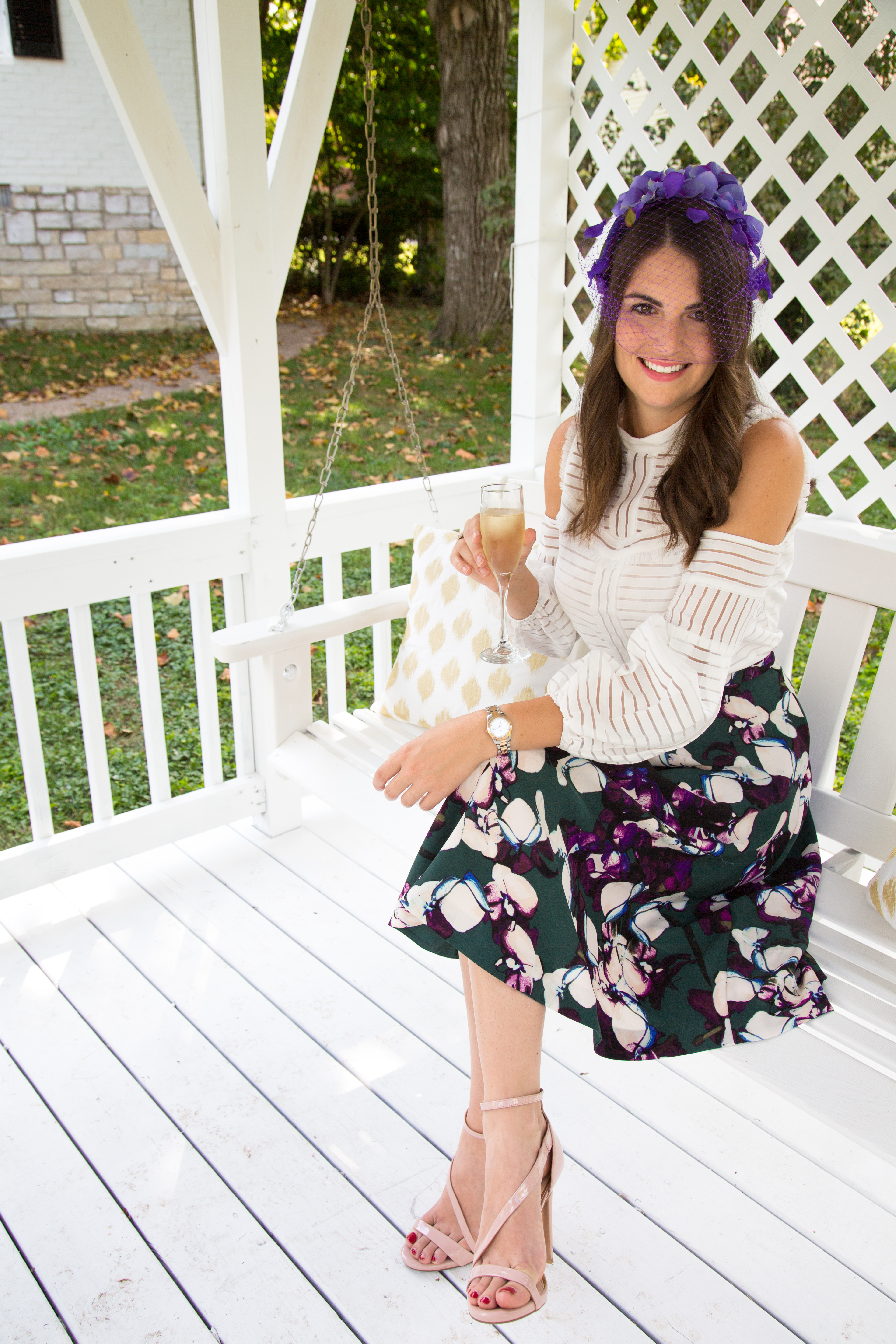 Metallic Florals
This is one of my most favorite racing outfits so far. I chose the ASOS dress because of its silhouette and it was under $150! It has such a classy shape that is formfitting to the woman's body. It has my favorite midi length with longer "short" sleeves and a high neck.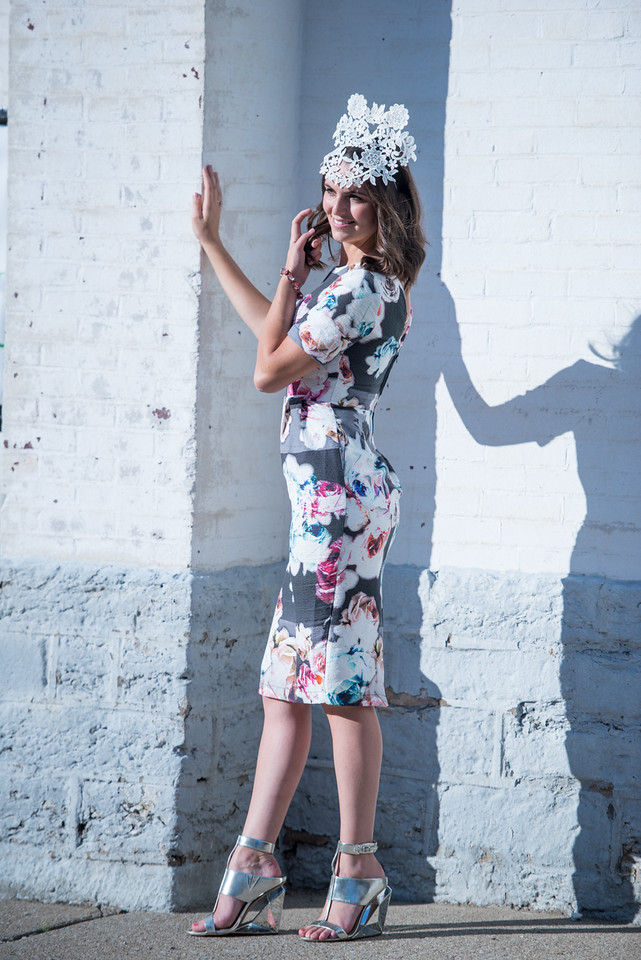 The back shows a little bit of skin with a lower "v" shape. (I got terribly burnt at the Preakness because I forgot to apply sunscreen there!)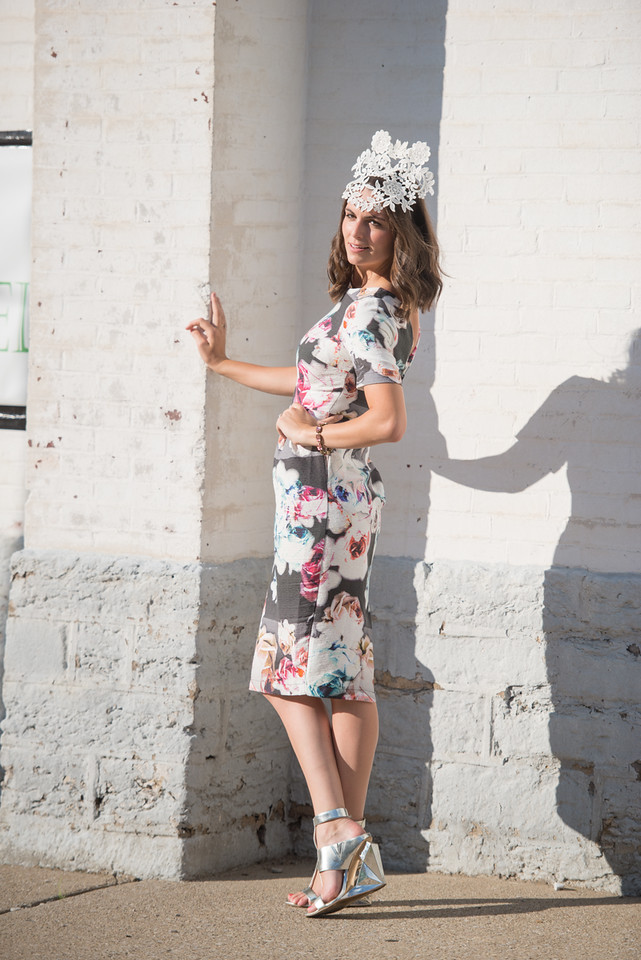 The print was a darker floral that could easily translate into fall. I paired it with a simple but gorgeous fascinator from Australian milliner, Locopa Designs. The Floral Crown brought out the white accents in the dress.
Since we are in the Corporate Village at Preakness which means I'll be on grass most the day, I opted for a wedge shoe but still wanted them to be high fashion rather than a typical espadrille. I grabbed one of my favorite shoe buys, my metallic BCBG heavy heels. They were still a bit dirty from the Preakness rain storm we had to run in! Wasn't ready to wipe off the fun memory just yet…
I never go to the races without my Longines Timepiece as I need to keep track of the time in between races and when the feature races are….like the Preakness Stakes!
What purse can you match with this outfit? A white clutch would be great but the metallic pony purse was PERFECT!