Welcome to The Racing Hub 
LONGINES AND THE THOROUGHBRED WORLD!


In flat racing, Longines is the official partner and timekeeper to numerous prestigious events around the world. Alongside the Prix de Diane Longines, it is affiliated to other iconic races such as the Qatar Prix de l'Arc de Triomphe, the Dubai World Cup, Royal Ascot, the H.H. The Emir's Trophy presented by Longines, the Longines Hong Kong International Races, the Longines Singapore Gold Cup, the Melbourne Cup Carnival, the Longines Handicap de las Americas, the Grand Prix Longines Lydia Tesio, the Longines Grosser Preis von Baden and our very own Kentucky Derby.
This year Longines for the first time will be the official partner and timekeeper for all of the three Triple Crown races. Americas most exciting and prestigious event within the thoroughbred racing community. The Triple Crown is the title given to the three races for the countries best three year olds, those being the famed Kentucky Derby, Preakness Stakes and Belmont Stakes in New York.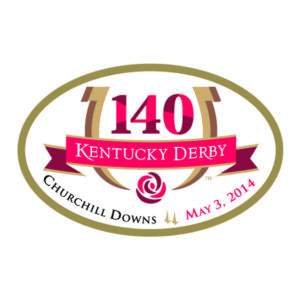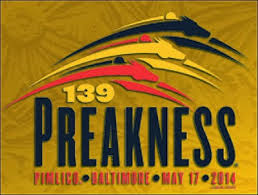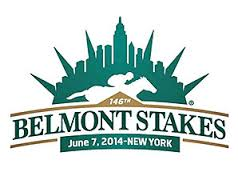 It's been 35 years since AFFRIMED became the last horse to claim the title, and whilst there have been some close attempts since, many believe it is a feat that in today's racing world, may never be achieved again. Maybe with this unique first of Longines being partnered with all three races, their very own 'Triple Crown' effort, we just might be blessed with one in 2014!
Furthermore, Longines is the official sponsor of the "WORLD'S BEST RACEHORSE RANKINGS" classifying the top thoroughbred racehorses in the World. You can follow the ranking on here at
WORLD'S BEST RACEHORSE RANKINGS: www.ifhaonline.org.
Let's hope that this new affiliation with the Triple Crown last a very long time, as Longines are proving to be a champion of all that is great about horse racing around the world and now we are lucky enough to have them championing our biggest thoroughbred event!
THE WORLDS RICHEST RACE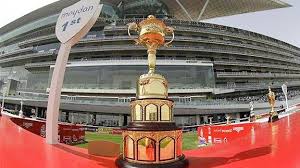 March 29th will see the annual edition of the $10 Million, yes that's right $10 Million dollar Dubai World Cup, the culmination of the three-month-long Dubai World Cup Carnival.
Not only is this the richest race in the world, the entire evening is an amazing experience from the moment that the gates open to the 'Oasis' in the desert that is the Meydan Racetrack.
No expense is spared when this night for racing royalty is planned and it has stamped itself in the racing calendar as a 'must visit' once in a lifetime event for true thoroughbred fans, but also for anyone who just wants to attend an amazing world class event that is accompanied by everything that you would expect to go hand in hand. The benchmark is set at the very highest level for everything you can imagine, fashion, food and entertainment just to name a few!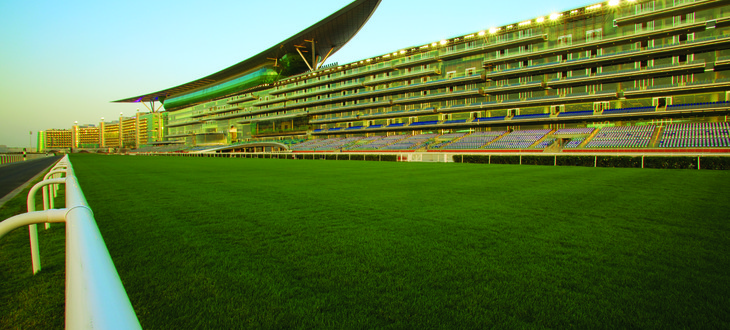 The racing side sees a total of $27 Million dollar up for grabs on the night, a staggering amount of prize money that really attracts a quality amount of runners from all over the entire racing world. And with that sort of competition the racing is always an exciting a spectacular centrepiece for the evening.
This year's edition will have some amazing horses competing for the huge prize and they will come from all corners of the globe. 2013 Breeders' Cup Classic winner Mucho Macho Man will hopefully be making the trip, journey man Red Caduex look likely to try again and as does classy stayer Dunaden. Bottom line is that it will be a start studded race as it always is!
The current reigning champion is ANIMAL KINGDOM, retired now to stud, his victory last year for Team Valor international was maybe the highlight of his career, however we cannot say for sure as he also has a Kentucky Derby in his trophy cabinet so it may just be too close to call.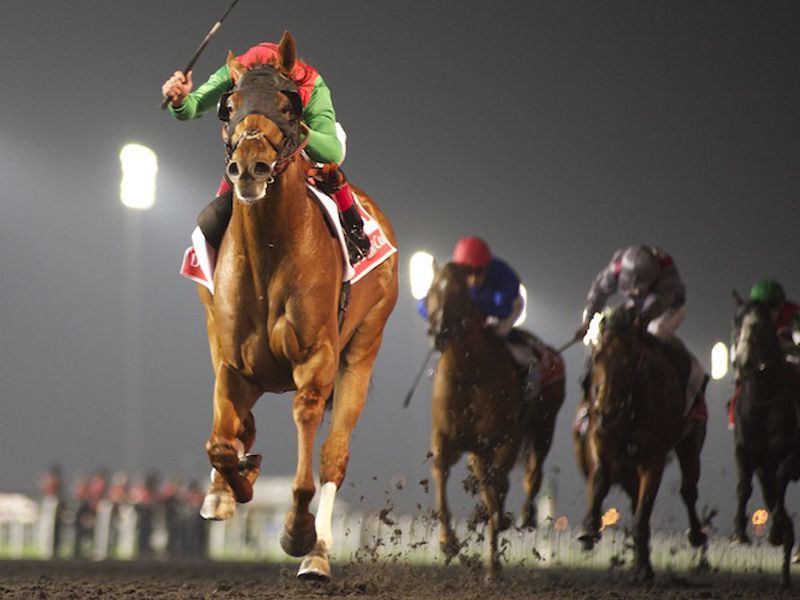 On the entertainment side, this year, racegoers will be treated to a persona full length concert by none other than Jennifer Lopez to close out the celebrations of the evening. With the usual fireworks displays that are put on this will truly be an amazing way to finish such an experience.
Triple Crown Greatness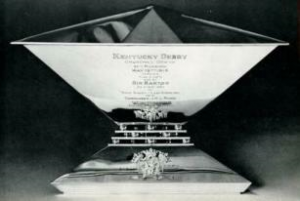 As another year begins and we stand less than 100 days out from the famed Kentucky Derby,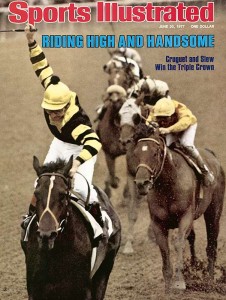 most people who love the sport with all their heart know that it's another chance for us all to dream the impossible dream…that we will be blessed with another Triple Crown champion.
It's been a long 35 years since we were blessed with the effort of Affirmed, and that funnily enough was the only time in history that there had been a back to back Triple Crown winner, with him following on from Seattle Slew in the previous year.
We have not been completely starved of chances in the past 35 years, with no less than 12 attempts at the coveted title, but none of them could write their name into the history books, although 4 of them, Sunday Silence, Silver Charm, Real Quiet and Smarty Jones came agonisingly close by finishing second in the famed final hurdle, the Belmont Stakes.
The question that is starting to really mount in everyone's mind is really pretty simple….."Will we ever see a Triple Crown champion again?" And the sheer fact is, in today's cut-throat industry, with so much placed on the value of a colt as a potential stallion prospect; it is very likely that we may not. A horse cannot be asked of too much in its formative years and a solid 2YR old campaign can offer lead to offers from studs before they even consider their 3YR old season. Then there is the consideration with how a horse must be prepared for such an arduous task as the Triple Crown.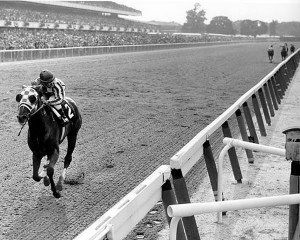 The sheer talent alone to train a 3YR old to perform at his absolute best 3 times in a week period against all the other best 3YR olds that can be put on the track…is immense. Then you just need to consider the fact that you have to find a young maturing horse with the ability to handle the long rigors that are associated with that of a horse that is aimed at the Triple Crown trail. These days, any connections will tell you that in the beginning only the Kentucky Derby is pencilled in as the target, there is so much that needs to go right and so many variables to consider that you only truly stat to consider all three races if the horse itself shows you he is ready and willing.
So as we start approach the 2014 Kentucky Derby, the first leg in racings holy grail, we will all again be saying a little prayer that the racing gods have decided it is time for us to see another racing immortal who can bring a level of excitement to the industry that can only be born of a genuine contender.
2014 SPORTINGBET BLUE DIAMOND STAKES PREVIEW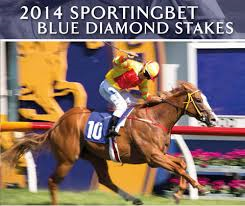 Australian racing is predominately known around the world for its ability to produce the finest sprinters on the planet, and a lot of this begins in the ranks of the 2YR old racing where the riches put on offer for the youngsters is unparalleled anywhere else in the racing world.
Victorian richest race for 2YR olds is the Blue Diamond, a $1,000,000 (AUS) sprint race over 1200m that will be the beginning for a select few who are on the way to the richest 2YR old race in the world, The $2,000,000 (AUS) Golden Slipper.
It all starts at Caulfield Racetrack on the 25th of January this year when we get to see the first real serious hit out for the big race in the Blue Diamond Previews over 1000m. This is where the best of the best, and some longshot hopefuls will step out and try and stake their claim for a spot in the coveted field of 16 vying for the title of Victoria's premier 2YR old. The runners will most likely then step out again 3 weeks later on the 8th of February in the Blue Diamond Preludes over 1100m at Caulfield Racetrack before a final rest up and a date with destiny on the 22nd of February 2 weeks later for the big one itself over 1200m, the Blue Diamond Stakes itself.
For now though, we are still 2 weeks away from the first real 'Guide' race so let's take a quick look at the current market that has been framed for the race. This market itself is still realy extremely speculative as we are just not sure yet where everyone really is in their first prep and most importantly how they are going to stand up to the rigors of the next 7 weeks.
I personally think at this very moment as I write I will wait until the previews to make some educated decisions on whom I might follow forward.
Peter Snowden's super impressive filly Earthquake is favourite at $5, with boom colt and fellow Sydneysider Rubick next at $9 following his impressive trail earlier this week.
"Jockey Christian Reith declared Earthquake to be the next Guelph after she smashed the class record in her debut win at Randwick over Spring and I know the stable have a very high opinion of her.
"I'm sure the punters will come for Gerald Ryan's Rubick after he won his barrier trial by over seven lengths, but with so many unknowns I expect the market to change significantly as more form is exposed."
Top Dolly from the Tom Hughes yard and Golconda from the Robbie Laing stable are best of the Victorians at $11 and $13 respectively.
Earthquake $5.00  Rubick $9.00  Top Dolly $11.00  Golconda $13.00  Fighting Sun $15.00
Jabali $15.00  Chivalry $17.00  Ghibellines $17.00  Boomwaa $21.00  Eloping $21.00
Nayeli $21.00  I Am The General $26.00  Liberation $26.00  Mohave $26.00  Singularity $26.00
Fontein Ruby $34.00  Moonlight Hussler $34.00  O'Reilly x Volkrose $34.00  Piacenza $34.00
Statton $34.00  Wilderness $34.00
KENTUCKY DERBY CONTENDERS 2014
It's almost impossible to believe that we are nearly half way into January 2014 already!! But the exciting thing is that it means that we are gearing up for another amazing 'Run for the Roses' with the 140th Kentucky Derby!
As per the usual (and what an amazing job they do) Churchill Downs will prepare and put on a show like no other as we begin the Triple Crown chase with what is most definitely its most prestigious leg! In only 115 Days we will all be anxiously waiting for the most exciting 2 minutes in sport just like we religiously do every first Saturday in May.
With all that aside, it's really time to start looking at some of the contenders and maybe the better chances that may be floating around right this moment. Bear in mind though, there is a lot of bridge to go under the water between now and May 3rd, so things can change dramatically the closer we get to the big day. And with the prep races just beginning to be contended, we are going to learn a great deal about the contenders in the next two months.
HONOUR CODE (A.P. Indy – Serena's Cat, by Storm Cat)
Race Record: 1-1-0-0 ($48,000)
Trainer: Claude R. McGaughey III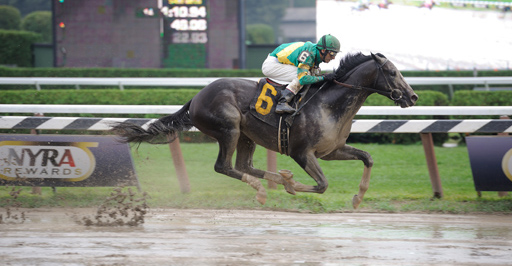 This exquisitely bred colt has a sole race on his resume, but what a race! From the conservative old-school barn that brought us this year's Kentucky Derby winner Orb, Honour Code pulled off a Zenyatta-like move in his debut. Trailing the field by as much as nine lengths at one point, jockey John Velazquez gave a text-book Calvin Borel ride, scraping the paint around the turn and splashing by the field by 4 ½ lengths before they knew what hit them.
TAPITURE(Tapit  –  Free Spin  by  Olympio )
Race Record: 4-1-1-2 ($140,838)
Trainer: S.Asmussen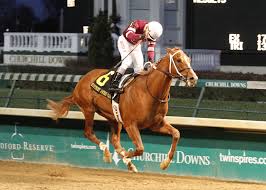 Broke his maiden in the Kentucky Jockey Club G2 so must be respected. IN great hands and shows good qualities when assessing his reliability for the KY Derby. Also thought he was a little green still as well which means he can improve and he looked like he had been waiting to go long.
COMMISSIONER  (A. P. Indy  –  Flaming Heart , by Touch Gold)
Race Record : 3-2-1-0 ($85,100)
Trainer: T. Pletcher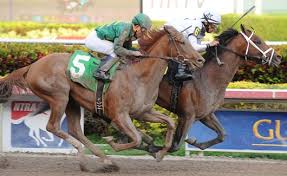 Won his second race in a row defeating the highly regarded Top Billing in an OC75/NW1 allowance race at Gulfstream Park. The race earned high Beyer Speed Figures for both of the horses.
SHARED BELIEF (Candy Ride  –  Common Hope  by  Storm Cat )
Race Record : 3-3-0-0 ($451,200)
Trainer : J.Hollendorfer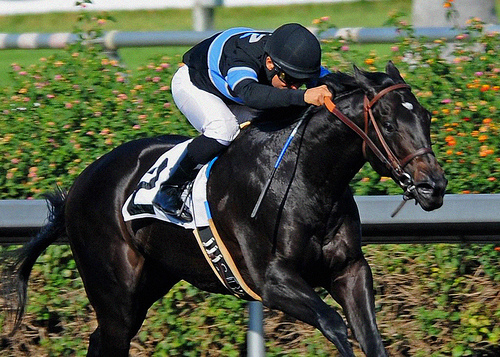 The dark bay son of Candy Ride demonstrated tremendous professionalism and crushed his opposition by almost six lengths in last Saturday's Cash Call Futurity at Hollywood Park. He has already answered the distance question…..can he answer the dirt query?
STRONG MANDATE  (Tiznow  –  Clear Mandate  by  Deputy Minister )
Race Record : 5-2-0-1-0 ($432,900)
Trainer : D. Wayne Lukas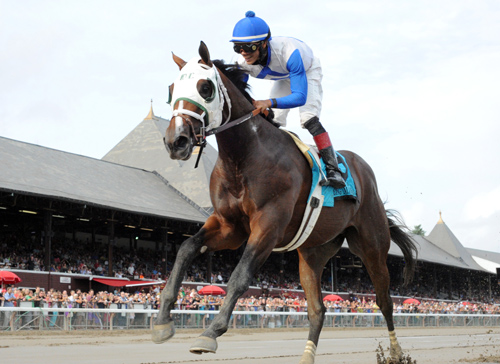 Big win at Saratoga, and yes the arguement can be made that the other runners did not handle the slop, but that said, it was the way he did it that impressed. He clearly looked a class above in every manner. Nice end of year run in BC juvenile. Serious contender.
AT SEASONS END…
As we head in to the festive season and towards the end of the calendar year for racing, it's the prime for racetracks and governing organizations to be reviewing everything with hopefully a definite aim to try and make the next year, the next five in fact, a stronger performance all round. 
When we talk about this now though, we are not just referring to the purses and the amount of graded races that will grace the tracks around North America, we need to be referring to the entire industry and everything that mak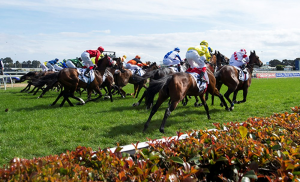 es it tick, from the race day medication right through to the fans who attend the tracks expecting to get value for their money.
In today's marketplace for the consumers' entertainment dollar, racing has unfortunately fallen behind, and it's no use burying our heads in the sand and ignoring it, we need to roll up our sleeves and start to take initiative and turn the tide. Racing has long been a domain that has been perceived maybe only as a sport for the wealthy, but this is not true, and we only need to glance an eye to our European neighbours and other countries around the world where things like syndication play a large part in the makeup of racehorse owners. The beauty of these cultures is that by making ownership (involvement) in a racehorse easy and affordable, they have been able to secure a larger marketplace share to attend their race days and appreciate the sport as a social event, not just a gambling opportunity. This is a direction we firmly believe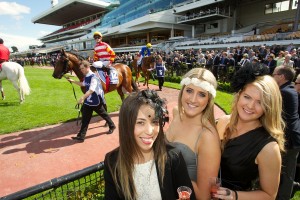 that our industry needs to steer itself towards. The races are a fantastic place to meet new friends, to take old friends and family for a day out, even a great place to get that business deal done with a little less tension than the stale old boardroom. But if we are going to send this message then we need to be a little more unified in our approach, we all need to have a common message that we wish to send to the potential new fans out there.
Social media, as we all know, has become the most important marketing tool since infomercials, and you don't have to stay up watching late night movies to get the message. With Facebook, Twitter and the likes of Pinterest creating huge interaction every second of the day between millions of people, the conduit to spread the message that "RACING IS FUN" is already built and in play. Our tracks need to harness these social media outlets and start to entice fans with promotions, giveaways, educational platforms to help them make the decision to spend a day at the track. Nothing should be to whacky in the beginning, even the craziest of ideas just might work, sure some will miss, but if we don't take aim then we will never hit!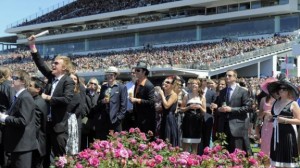 Fashion at the Races is trying to do its part and bring a little class and pizazz back to the track just like there was in the old days when the ladies dressed up and the men looked suave, but it's not about creating an elitist crowd, or making people feel uncomfortable, we just love it when people dress themselves up and take pride in themselves. Every lady we know likes to dress up and look beautiful, and more importantly, every man we know wants to be around when this is happening! So our aim for 2014 is going to be to get bigger and stronger and keep getting our message out and promoting the wonderful experience that is thoroughbred racing, in the hope we can help increase the attendances and brighten the image of the industry as a whole.
We are hoping that all the tracks we already have contact with and spend time helping promote are all in the same frame of mind in regards to trying new things to attract a whole new generation of racegoers to the track!
 AUSTRALIAN RACING AT ITS BEST!!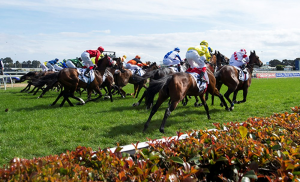 THE AMAZING SPRING CARNIVAL
Over the next few months downunder, there is some of the best racing that the world has on offer! Imagine all the class of the runners of the Breeders Cup being merged with all the fashion and party like atmosphere of Royal Ascot…then put it on steroids and run it for over 6 weeks!!
That's what's approaching at the moment in the city of Melbourne, Victoria, Australia.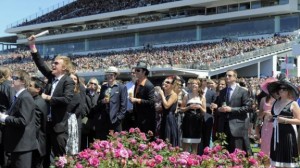 The spring carnival is a 2 month long party with the finest thoroughbreds that Australia has to offer and a fair share on international imports that make their way down to the southern hemisphere for the prestigious events and also the magnificent prize money! The whole state gets involved in the carnival, even those who know nothing about the industry because it is the in place to be seen, its the party everyone wants to attend. The main week at Flemington, spans a seven day period with four days of racing that usually takes in a crowd of national and international visitors numbering over 250,000, not to mention the parties and events that go on in-between the actual race days!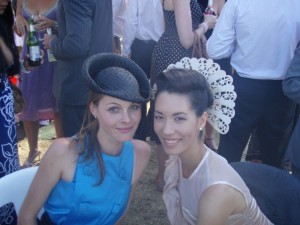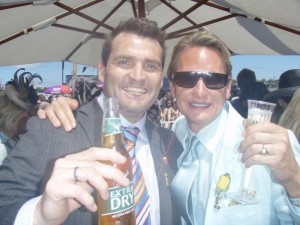 We thought that this year, as we will be paying close attention to this spectacle, both socially and also on the track, we'd put up some quick pointers for you so you don't get lost with the Australian wording that goes along with the various terms at the track.
Below is a list that will hopefully help with any confusion that may arise when we put up an article or talk about the handicapping in a race.
RACING TERMS FOR AUSTRALIA
The Tote/TAB: Refers to having a bet with the TAB. In simple terms all the money bet on a race goes into a central pool and dividends are paid out based on the odds of a horse at time of jump. Those odds are determined by the amount of money placed on a particular horse. So, if everyone places a bet on the same horse, its odds will shorten, and the potential return on your bet will decline. is divided by the number of $1 units that have had a bet on that particular horse or combination.
Correct Weight: The Stewards declare "correct weight" after the jockeys have weighed in after each race. It means that each horse has carried the right amount of weight in the race and the Stewards are happy to declare the result. That's also when you can collect your winning ticket!
Bookie: A nickname for on-course bookmakers. If you bet with a bookie you get the odds as displayed on the ticket, whereas the tote can fluctuate depending on the flow of money invested on each horse.
Length: The measurement used to describe the distance between one horse finishing from another (eg. "Super Cool wins by four lengths"). One length in time equates to less than 0.2 seconds.
"On-the-bridle": The horse is "cruising along" in the run and looking pretty good!
"Off-the-bridle": The horse is struggling to increase any momentum and improve its position in a race. Also refered to as being "off-the-bit".
"Put on condition": When a horse has built some extra muscle mass, or filled out, as it has matured. It is a good thing for younger horses but, like humans, too much body mass can be a negative.
"Trained on": When a horse has shown improved fitness in its races and track work.
"Drawn in the carpark": When a horse has drawn an outside barrier.
Drifter: When a horse's odds drift out in the betting market. Suggests that punters have little interest in backing it. Also referred to as "easing in the betting market".
Firmer/Market Mover: When a horse's odds  "come in" or firm in the betting market. Suggests punters like its chances of winning. Also referred to as "firming in the betting market".
Odds-on: When a horse has a better than even chance of success. Champion Black Caviar was often "odds-on" when she raced to her 25 straight wins.
Acceptances: Confirmation from the trainer that the horse intends to run in a particular race. Acceptances usually close three days before the racemeeting.
Underdone: When a horse is believed to not be at full fitness.
Odds: The dollar value indicating the horse's chances of winning a race. For example 'Pharlap' is a $4/1 chance to win the Melbourne Cup.
Early crow: When a person declares that a horse is going to win a race so far from the finish line that anything can still happen. Usually such comments are met with apprehension and are viewed as bad luck: "Oh no, you've gone the early crow!"
Moral: Also known as a "certainty". Label for a horse believed to have a near-certain chance of winning the race.
Hoop: Slang term for jockey.
Favourite: The horse regarded as the best chance of winning the race and has the shortest priced odds.
Roughie: A horse with far greater odds in a race compared to the favourite and not generally expected to win. Often referred to as "an outsider".
In-form: A horse, trainer or jockey that is generally performing well and delivering good results.
Changing Our Face…
Lately we've been watching all the various streams of Social Media and also paying attention to a few articles that have popped up regarding things such as the strength of the thoroughbred industry and just where it actually sits in the psyche of the American public as a choice for a day out with friends and family, a social adventure let's say.
Now it's no secret here that we at FATR are definitely on the 'I' side of the vote when it comes to deciding whether or not a day at the track is worth our time and our dollar, but just how do we go about getting other people to agree with us? How do we take our amazing industry and package it up so we can attract a whole new legion of fans and help it not only flourish, but thrive as we head into the first quarter of the 21st century?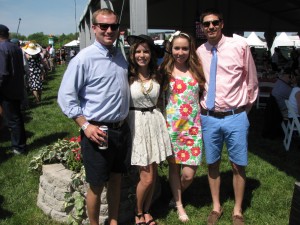 This question, in our opinion, is one that we believe has to be addressed seriously and also with a certain sense of urgency, before our beloved horse racing falls so far behind the other options that exist in today's social entertainment environment, it eventually dwindles to only a few select race days a year like the Kentucky Derby and its fellow Triple Crown legs, and as ridiculous as this may sound to you, it could happen.
In today's current climate there are so many options in regards to how to spend your hard earned dollars and more importantly your time with your friends and family. We have 3 major codes of sport in the NFL, NBA and MBL that take a huge amount of the public's attention and recreational dollar, and they have all focused on providing a spectacle that is both appealing to the purists who attend to watch the sport itself as well as those who may just want to be part of a fun atmosphere where they can meet new people and have a good time without knowing all the rules of the game.
Racing for as long as we've known it has always been a very close knit community, and that is a good thing, there is nothing wrong with that and we would never suggest that in a million years. However, it's not a good thing when that community tends to shun potential new members because they don't feel like they are knowledgeable enough to attend, and whether we like it or not, that is the image that  is being projected by a great portion of our community, be it accidental or deliberate.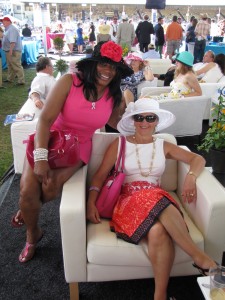 A day at the races is truly a magnificent event to partake in. You can choose to sip chilled champagne, enjoy fine dining  and bet your money in the hope of a big return all whilst dressed up with your friends and family enjoying (hopefully) being out in the sunshine. Or you can just attend in your casual clothes, chug a beer, buy a hotdog, and walk around the track and enjoy the images of the magnificent animals that race against each other for the title of 'Winner'. Either way you choose to attend on race day, you can be guaranteed of enjoying the time you spend with your family and friends and maybe learning a few new things about thoroughbreds and what makes them tick.
But we and I do mean 'WE' all need to welcome these potential newcomers with open arms! Sure there are going to be a few obnoxious ones, there will be loud rowdy ones that may not (at first) respect the track etiquette, but that's got to be something we are prepared to deal with, something we look at and say "okay, you're a little different, but you're here". In our opinion, anything the industry can do to maybe attract a potential newcomer is definitely a step in the right direction, and sometimes we all need to remember that, we need to step back before we get defensive and just give it a chance. Like we said before 'they're here' and that's the most important part of the battle, getting them to attend the actual track for a day. Once they are at the track, we truly believe that the hardest part is done, the sport itself is easy to fall in love with once you experience it first hand, and if we all have the same intention and help promote the days, champion the fun social side instead of constantly belittling newcomers whom find their way into our community, then it is a solid step in making sure that our beloved 'sport of kings' thrives once again just like it has in years gone by.
So we put it to all members of our community, Trainers, Jockeys, Handicappers, Officials and most importantly, Press Members…Encourage people to attend our days, help them when they make a mistake, educate them on something they don't know, laugh with them, have a drink with them, share a tip with them. It isn't hard, it isn't too much to ask of ourselves and it just may be the beginning of a revolution that entices people to get along and see what all the fuss is about.
 STUNNING SARATOGA TURNS 150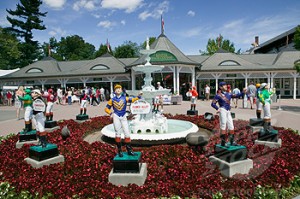 Thoroughbred racing has always been considered the 'Sport of Kings' and it is definitely one of the most amazing spectacles that one can see in real life. The speed at which the horses travel  and the skill displayed by those jockeys that sit atop them whilst they fly along in a pack is truly breathtaking when you see it live, but a day at the track can be so much more these days.
There is no disputing that the horses are the real stars of the show, and the top line performers are worth the small admission price to see run in the big races against each other, but there is also the magic of the tracks themselves and the people that attend that can make a simple day out a great memory to hold on to.
Whilst there are many beautiful tracks across the United States, and indeed around the world, we thought it would be a good time to introduce Saratoga!
Saratoga Race track in Saratoga Springs, New York will begin celebrating its 150th anniversary year in 5 days' time and it is truly a magical place to attend the races for a day, especially if it may be your first time. The track itself surrounds a beautiful lake where a canoe sits, a canoe which each year is painted in the winning colours of the horse who takes home the famed Grade 1 Travers Stakes. At the moment in a very rare year, it is populated with 2 canoes as the 2012 edition saw a thrilling dead heat between Golden Ticket and Alpha! The Grandstand that stands tall along the home stretch is a magnificent looking building with its classic red and white colouring making patrons all feel special no matter where they may be seated.
But perhaps the most appealing asset that is unique to Saratoga are the gardens that adorn the front side of the track allowing families to relax in comfort with picnics and BBQ's to enjoy a family day at the track.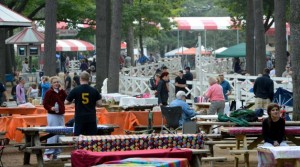 This area almost has a separate village like atmosphere that exists before you even get to the actual grandstand ad track, largely due to the tents that are erected, that showcase local artists and stores that are able to show and sell their goods to the track patrons.
There are also plenty of different food and beverage vendors who give you the chance to partake in a nice cold beer or wine, or even margarita whilst you choose between the variety of a mouth-watering pulled pork sandwich or wood fired pizza!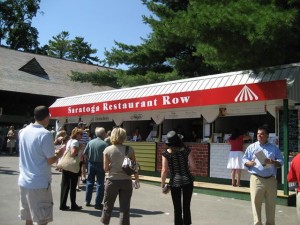 So if you find yourself looking for something new to do this July/August, don't hesitate to considering taking a day trip to Saratoga Springs New York and spending a day at the famed Saratoga race track. We can guarantee with certainty that you'll have a fun filled day, and may even come a home a little richer if you choose the right horses!
For more information and dates on certain events, just get along to the website and plan yourself a fab day with friends and family!
http://www.nyra.com/saratoga/
MAPLE LEAF RACING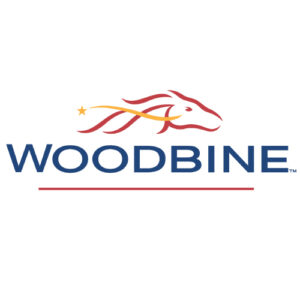 This Sunday, the 7th July, will see Woodbine race track put on its famous Queens Plate Day. The 154th running of the race that marks the first Leg in the Canadian Triple Crown.
The other gems in the Triple Crown are the Prince of Wales Stakes (July 30, 2013 at Fort Erie Racetrack) followed by the Breeders' Stakes (August 18, 2013 at Woodbine Racetrack).
Below is a list of serious contenders for this year's race.
#1 – UP WITH THE BIRDS
His workout times make it seem like he'll be ready to run his race in the Queen's Plate. He breezed five furlongs in 59.40 seconds on the main track on June 23.
#2 – HIS RACE TO WIN
Worked in company with Up With the Birds on Sunday morning, his first published work since he was nosed out by Dynamic Sky in the Plate Trial Stakes. His Race to Win and Up With The Birds recorded identical workout times; breezing five furlongs in 59.40 seconds on the main track, a workout that ranked second out of 65 horses that worked that distance on Sunday.
#3 – NIPISSING
Nipissing also recorded her first workout since she won the Woodbine Oaks on June 9 on the main track at Woodbine on Sunday. She breezed four furlongs in 48.20 seconds, a workout that ranked eighth out of 96 horses that worked that distance on Sunday morning.
#4 – PYRITE MOUNTAIN
Pyrite Mountain recorded his first published work since running fourth the Plate Trial Stakes on June 9 this past weekend. He breezed five furlongs in 1:02.00 over the main track on June 22.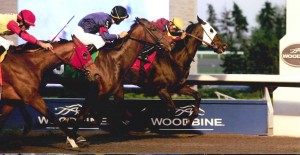 #5 – MIDNIGHT ARIA
Midnight Aria recorded his final published work before the Queen's Plate on Thursday morning on the main track. He worked five furlongs handily in company with River Seven in 59.40 seconds and finished a couple of lengths ahead of his stable mate.
#6 – SPRING IN THE AIR
Spring in the Air recorded the best five furlong work of the day on Sunday, besting the times posted by Up With the Birds, His Race to Win and Dynamic Sky. The Woodbine Oaks runner-up breezed five furlongs in 59.20 seconds over the main track while working in company with stable mate and Plate Trial winner, Dynamic Sky.
#7 –  DYNAMIC SKY
If Dynamic Sky and His Race to Win raced during their workouts on Sunday, it likely would have been another photo finish between the pair. Dynamic Sky recorded his first published work since his victory in the Plate Trial Stakes and posted an identical five furlong breeze time of 59.40 seconds to Up With the Birds and His Race to Win.
#8 – RIVER SEVEN
River Seven made his final preparations for the Queen's Plate on Thursday, working five furlongs handily with stable mate, Midnight Aria, on the main track. He broke off a bit behind of Midnight Aria and finished about two lengths behind, with a workout time of 59.80 seconds.
#9 – COUNTY LINEMAN
County Lineman hasn't returned to the track since he worked six furlongs handily in 1:13.60 last Wednesday on the main track. Even though he has raced in close to five weeks, the winner of his last start, Good Better Best, came back to run a close second to Ultimate Destiny, a 2012 Queen's Plate starter, in the Ontario-sired Steady Growth Stakes around two turns on May 15.
#10 – KAIGUN
He'll need to improve significantly off of his Plate Trial effort to compete against some others on this list, but he did show potential when he broke his maiden back on May 18. He most recently breezed five furlongs in 1:02.20 over the main track on June 24.
So make sure that if you're in town, you get along to Woodbine race track for this amazing day of racing and festivities!
You'll find all the info on the track and day right here… http://www.woodbineentertainment.com/Queensplate/Pages/default.aspx
Del Mar – Where the Turf meets the Surf!
Now anyway you look at it, 'Where the Turf meets the Surf' is pretty much the coolest slogan a race track could have isn't it?
Del Mar Race Track in beautiful San Diego is blessed with this moniker and it does not disappoint. Situated on the coast right next to the North Pacific, one wonders if the horses get any special powers from the fresh sea breeze that must blow almost directly into their stables as they prepare themselves for race day.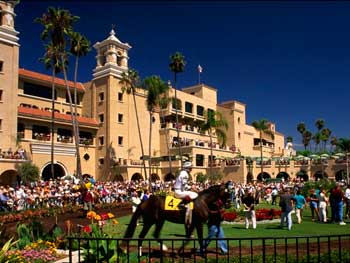 It's now only 22 days until Del Mar kicks off its 2013 Summer Racing series, and as well as producing some fabulous Listed and Graded racing throughout the season, including the $1,000,000 Pacific Classic on August 25th, the race track is leading the way in providing other innovative and lifestyle events such as its Summer Concert Series, kicking off on July 19th with the B-52s! Check out some of the other acts that will follow in the weeks after.
SUMMER CONCERT SERIES LINEUP – http://www.delmarscene.com/concerts
Another great initiative that the Del Mar track has put together is the…
DONUTS AT DEL MAR
http://www.dmtc.com/season/events/index.php?id=14
This is a chance for those people who may not be that well versed in the art of thoroughbred racing to get along to a friendly atmosphere and learn a little…..whilst getting FREE DONUTS! Track announcer Trevor Denman will host the festivities which include question and answer sessions with famous jockeys and trainers while watching the horses during their morning workouts.
Check out the page here for many more fantastic events that Del Mar are putting on over the 2013 Summer Racing Series!
http://www.dmtc.com/season/events/
So do yourself a favour this summer and get along to Del Mar race track down near the surf and experience all the thrills and fun that thoroughbred racing has to offer.
ROYAL ASCOT 2013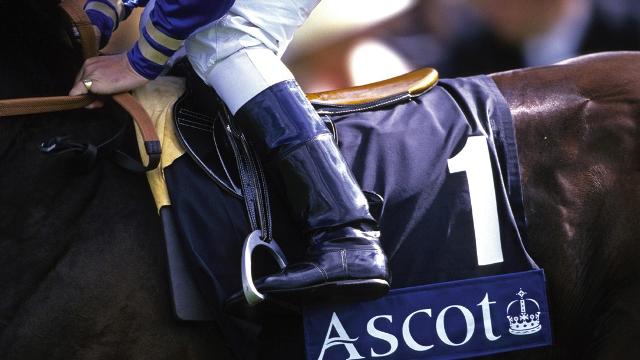 ROYAL ASCOT is Flat racing's most prestigious meeting and takes place each year in mid-June. It attracts some of the best horses and jockeys from around the world and is famous for its place in the racing and social calendar.
This year's 2013 edition will be no different as it just seems to grow in popularity each and every year, much like Australia's world famous Spring Carnival week in Melbourne Australia. Both of these fabulous carnivals are something that we here in America should strive to emulate somehow.
Each day of the 5 day meeting, which this year runs from Tuesday, June 18 until Saturday, June 22, contains at least one feature race, with three prestigious Group 1 contests kick starting the opening day, much to the delight of everyone whom attends. However this year unfortunately the meet will not be as star-studded as it was last year when probably the two greatest horses we have seen in possibly the last century, competed on the hallowed turf that is Royal Ascot.
The Queen Anne Stakes, won by Frankel last year, starts things off on the Tuesday. This year it features American raider Animal Kingdom, who won the world's richest race, the Dubai World Cup- worth a staggering $10 million – in his last start. Animal Kingdom is a wonder horse in his own right and the first Kentucky Derby winner in over 75 years to come to Royal Ascot.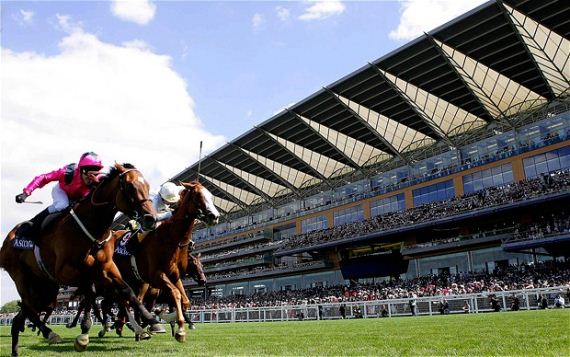 Next is the King's Stand Stakes – a rather dynamic 5 furlong sprint recently dominated by overseas raiders, especially those that come from Australia. The final of the Group 1's on Tuesday is the St James's Palace Stakes. This race is a traditional target for 2,000 Guineas winners from Britain and Ireland and this year sees Dawn Approach and Magician, the winners of those two races, take each other on. Dawn Approach will be trying to atone for his poor outing last start.
Wednesday's feature is the Prince of Wales's Stakes. Along with Saturday's Diamond Jubilee Stakes it is the most valuable race at Royal Ascot, worth £500,000. In relative comparison to other major races in other countries, this amount of money may seem small, but its prestige in the racing world is immeasurable.
Although there are multiple Group 1 races over the week, many believe the highlight of Royal Ascot is the Gold Cup, run on the Thursday. A magnificent staying test staged over 2m4f, the race is the longest Group 1 in Britain and is contested by the best Flat stayers from around the world. The mighty Yeats notched four consecutive victories in the race before being retired.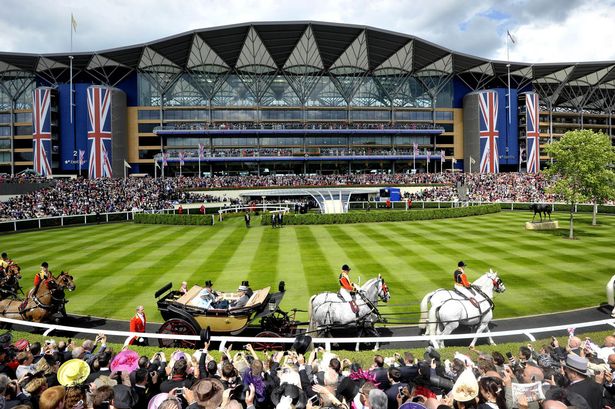 The three-year-old fillies get their chance to strut the centre stage on the Friday in the Coronation Stakes. The race provides the chance for 1,000 Guineas winners from Britain, Ireland and France to clash over Ascot's round mile, with Sky Lantern and Just The Judge due to turn up this year and hopefully give the racing fans a thrilling battle.
Saturday will see the climax of the carnival  with the Diamond Jubilee, a sprint over 6f which sometimes attracts horses who contested Tuesday's King's Stand Stakes, to us Americans this would seem almost an impossible course to plot.  Australian speedball Choisir was the last horse to win both races in 2003.
The remaining 23 races of the royal meeting are made up of lesser Group events and some very highly contested handicaps. But all of them hold the potential to unearth the next racetrack superstar of racing such is the potential of some of the horses entered in these races.
BELMONT STAKES 2013 – TRIPLE CROWN CLOSURE
The Triple Crown has ended for 2013 and its conclusion has bought us three separate winners this year, all worthy and deserving in their own right, but maybe (and it's only an opinion) not anyone who will go on to become a true champion in the following years.
The Final leg of the Triple Crown saw probably the least likely of the Pletcher quintet salute at the wire, Palace Malice closely stalked the leaders Frac Daddy and Freedom Child, most of the way, sitting just off quite a decent speed, but rounding the turn he'd put himself up alongside the Preakness winner Oxbow and was starting to edge away to what would turn out to be a lead that he would never relinquish.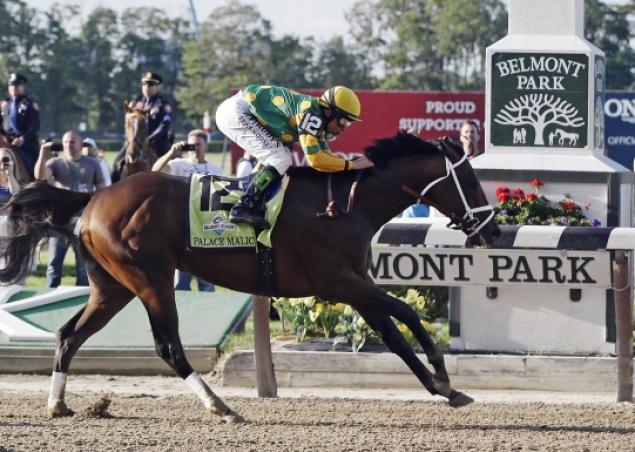 Palace Malice stretched out and put a nice gap on Oxbow, who had again worked amazingly hard at the pointy end of the field and despite a tremendous effort to not collapse could not go on. Orb, the favourite and this year's Kentucky Derby winner, found himself 2nd last un early running and despite making an amazing effort to make up ground against a track that had favoured speed all day, was only able to rally to third place and never looked like catching Palace Malice as he strode down the Belmont straight.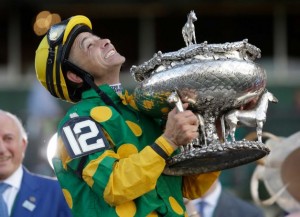 47,562 people attended the track on a day that was a complete opposite of the previous when Noahs Ark could have been the mode of transport out to the Belmont Racetrack. And they had a wonderful time enjoying some fantastic races and sunshine whilst they sipped on Belmont Jewels, the signature cocktail of the race day and enjoyed each other's company.
It was a fitting end to racings famous three race series and provided us with another fantastic trainer/owner combination in the winner's circle. No one could deny that Pletcher has been in stellar form this season and the Dogwood stable are one of his first ever clients when he began in the game, it was a fitting result for him and as he stated "A big thrill to be able to repay them for all their support over the years".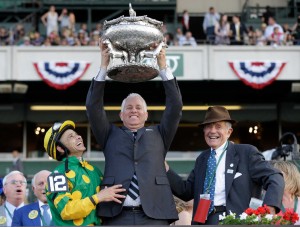 BELMONT STAKES BETTING
Tomorrows Belmont stakes is either two things to the naked eye…a handicapper's nightmare or a race that only a handful of the horses can win. We think we will go with the handful theory and try and whittle it down to just four!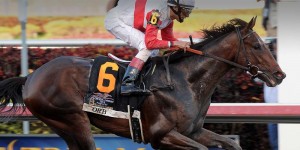 Orb – 11/4 (5)
The Kentucky Derby was not the same horse we saw win the run for the roses when he stepped out at the Preakness. Carrying the hopes of a Triple Crown chance, he never really seemed comfortable and was disadvantaged by a slow pace out in front which allowed the eventually winner Oxbow to slip away on the turn and hold off all challenges. Word is he stays all day and that's exactly what you need to be able to do to take this final leg of the Triple Crown. Has apparently worked well again leading up to this, but that's exactly what he did before the Preakness flop. Is the deserving favorite however and is definitely likely to atone for his bad run.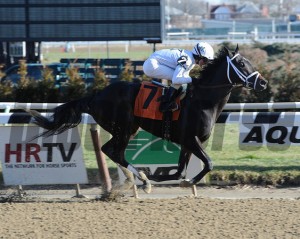 Revolutionary – 5/1 (9)
Had a solid run in the Kentucky Derby, probably did not get the chances he needed when he looked for a run, it had passed him by when he did get it. I do like the fact he is able to go between horses if needed and his track work has been very solid for this. Has the benefit of being freshened for the race, so he should give a very good sight here.

Unlimited Budget – 10/1 (13)
The only female in the field, but definitely one of the contenders. Here in NYC she should excel and she definitely looks like she will get the trip. From the powerful Todd Pletcher stable and owned by the peoples Mike Repole, her win would be very well received!

Golden Soul – 12/1 (14)
The longshot who placed 2nd in the derby looks to have come on well, he is working well in himself, seems to be happy in the surroundings and most importantly he looked like he was only getting stronger towards the end of the Derby. If that is correct and the times suggested it, he should really relish the distance on offer here and at odds is a live chance.
The rest of the field is not completely without a chance as we all know; however those are the four that we think will more than likely bring home the Belmont Crown tomorrow. The current odds and their post position are below…
Oxbow – 6/1 (7)
Freedom Child – 17/2 (2)
Palace Malice – 12/1 (12)
Overanalyze – 16/1 (3)
Will Take Charge – 20/1 (10)
Vyjack – 22/1 (11)
Incognito – 25/1 (6)
Frac Daddy – 33/1 (1)
Giant Finish – 33/1 (4)
Midnight Taboo – 33/1 (8)
Belmont Stakes 2013
Saturday will see the Belmont Stakes, the third leg of this years famed triple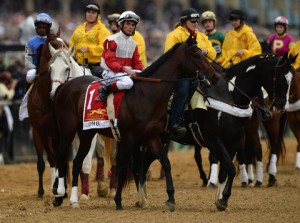 crown take place at Belmont Racetrack in NY.
Although we won't have the
same hype that was generated last year in the lead up by the potential of the
Triple Crown actually going of with I'll Have Another (who subsequently and
disappointingly, scratched the day before the race) it will be a fabulous day of
racing.
The three year olds assembled for the classic race are as even a
bunch as we have seen in recent years and both the previous legs winners in ORB
(Ky Derby) and OXBOW (Preakness) will be trying to grab 2 from 3.
Although they are both well positioned in the pre race odds, being the
Fav and 3rd Fav, there are plenty of others in the field of 14 with definite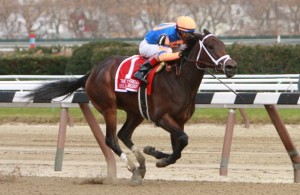 claims! And this year we also have a definite lady with a chance. Mike Repole's
Unlimited Budget will take her place in the field and try to be the first filly
since Rag to Riches broke a 100 year old drought in 2007.
The day has
plenty to offer and is a great opportunity for people in NYC to get out and see
the fun social side the track can deliver! So get along and sample this years
signature drink, the Belmont Jewel!
Tomorrow we'll give our race review
and try find you another winner like we did with Oxbow at 16-1 in the
Preakness.
Who's your pick for the Belmont Stakes??
Here's the post positions and the morning line odds!!
1-Frac Daddy (30/1)
2-Freedom Child (8/1)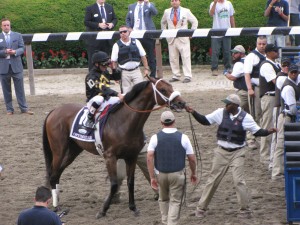 3-Overanalyze (12/1)
4-Giant Finish (30/1)
5-Orb (3/1)
6-Icognito (20/1)
7-Oxbow (5/1)
8-Midnight Taboo (30/1)
9-Revolutionary (9/2)
10-Will Take Charge (20/1)
11-Vyjack (20/1)
12-Palace Malice (15/1)
13-Unlimited Budget (8/1)
14-Golden Soul (10/1)
PREAKNESS STAKES 2013
Triple Crown Bummer
With a crowd of 117,203 (the fourth largest in history) people pouring into the famed Pimlico racetrack for this year's 138th running of the Preakness Stakes the scene was set for a fantastic day of racing. And I don't think a single one of those fans left feeling they hadn't got the entertainment they paid for.
Whilst we all had our fingers crossed for the potential Triple Crown hope, Kentucky Derby champ ORB, there was always the chance that the script might not play out exactly the way that we all wanted it too. The day was overcast for the large part, but thankfully it only really rained for a period of about an hour or two before the main race was run.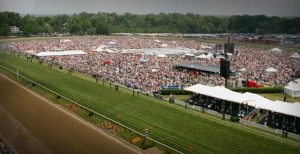 With the famed infield providing plenty of the fans with a fantastic venue to party and enjoy the festivities, the hours leading up to the potential extension of Triple Crown history were filled with plenty of fun. Ryan and Macklemore had the crowd bursting with enthusiasm first up and they were then followed by the one and only Pitbull, who provided a fast and upbeat set to the already pumped up and excited crowd.
At roughly 6.10pm when the 9 competitors were introduced to the crowd on track, the crowd was ready for the 2nd jewel in the Triple Crown, the excitement that accompanies the hope of a Triple Crown Chance was evident in the cheers and shouting when Orb was announced, we were waiting for potential history to write its second chapter…sadly to nearly all on track, it was not to be.
Orb was unable to find his rhythm after breaking slowly from the rail, and never challenged in finishing fourth. "After we passed the half mile, he had a hard time keeping up and I kind of worried a little bit," Orb's jockey Joel Rosario said. "He just kind of steadied after that. He usually takes you there. He always runs hard, but today he never took off."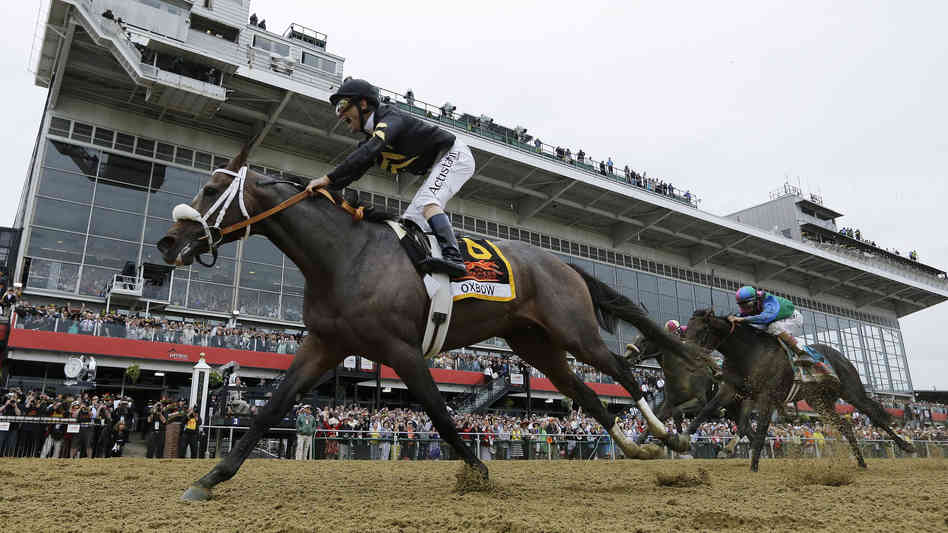 Oxbow, sent off at odds of 15-1, took charge from the start out of the No. 6 post and beat Itsmyluckyday by 1 3/4 lengths. Mylute, with Rosie Napravnik bidding to become the first female to win the Preakness, was third, followed by Orb, Goldencents, Departing, Will Take Charge, Governor Charlie and Titletown Five. Oxbow, as many writers will tell you now was always a threat after his strong run in the Kentucky Derby, but few of them really pushed him as a selection in their top 4.
Orb's trainer, Shug McGaughey, so confident in the two weeks leading up to the race, was gracious despite his disappointment. "It was a great opportunity," the Hall of Famer said. "We were 3-5 and we finished fourth. We'll pack it up and go home. Hats off to Wayne."
See the full replay here: http://espn.go.com/horse-racing/triplecrown2013/story/_/id/9289834/2013-preakness-oxbow-wins-preakness-orb-struggles-fourth-place-finish
In all it was a fantastic day as always and the team at the Baltimore Jockey Club and Pimlico Racetrack can hold their heads high for putting on an amazing day. We didn't really get the result we all hoped for, however we did see the oldest winner in history, Gary Stevens, salute and one of the all time training greats in D. Wayne Lukas take another Triple Crown race to his CV.
35 years have now past since Affirmed gave us a Triple Crown hero and we'll spend another year wondering now if the feat can ever be achieved again, but as long as the industry survives and the races keep getting run, it's always a chance!
TRIPLE CROWN…IS THIS THE YEAR?
With the first Saturday in May gone and with it the first leg of the Triple Crown decided, we now have this year's contender, the Malibu Moon colt ORB!
ORB will head to Baltimore and the famed Pimlico track, home of the Preakness, with the weight and expectations of a nation that has been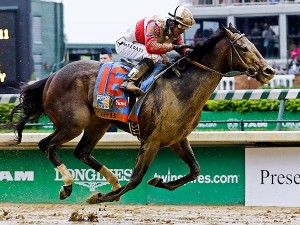 starved of a reason to really celebrate the Belmont winner since 1978, 34 long years ago. Question is…is he the horse to break the drought and deliver us the joy of seeing a Triple Crown winner in real life, not just in story books and on old archival footage.
The best thing about a Derby winner like ORB is that he was meant to win, he was the favoured runner and he did it with authority, he was no long shot fluke who ran the race of his life to upset the big guys. The reason that's a good thing is that it means we have a contender who is genuinely built to compete in the Triple Crown races and hopefully come out triumphant. And before you all tell me off for what I am saying, I am not completely discounting long shot winners and their right to attempt the chase for the elusive Triple Crown, and I am simply saying that we have a contender who has been touted as a strong possibility for quite a while.
ORB's run in the Kentucky Derby was full of merit when looking for a Triple Crown contender. He relaxed himself easily during the race, a quality always needed, and was able to circle the field on the turn with a burst of pace which he easily sustained in his run to the post. The Preakness will more than likely be the leg that offers his opponents the best chance of beating him as there is a slight drop back in distance. The Belmont stakes is the most gruelling of all three legs, and after watching ORB cruise away from his fellow 3yr olds like he did in Kentucky, the further ground will only give him a better chance to assert more authority in the run home and maybe increase his winning margin.
ORB's quest for the Triple Crown is even more endearing and exciting as his trainer, Shug McGuaghey, is a true old school trainer who firmly believes in allowing his horses to show him what they are capable of as they grow. As a native Kentuckian, the mighty Derby was one of the only things left on his list of accomplishments in a distinguished career. The fact now is that he has many people hoping that he can add to his CV the title of Triple Crown winner and give us, as well as the industry as a whole, a huge reason to celebrate.
So for now, we wait. ORB has been shipped back to his home at Belmont, where he may soon be trying to grab a little piece of history, but first he needs to conquer the Preakness at Pimlico in 10 day's time.
We hope that all of America will be sitting on the edge of their seats as they watch the second leg of the Triple Crown take place. Even better, after he wins (hopefully) this leg, we hope the ones that missed the Preakness will most definitely tune in to see if he takes the Triple Crown Title come the 8th of June at Belmont. Good luck ORB!
Kentucky Derby 139
Kentucky Derby 139 is over, but with its departure as always arrives a fresh new chance for our first Triple Crown winner since Affirmed claimed the prestigious feat in 1978.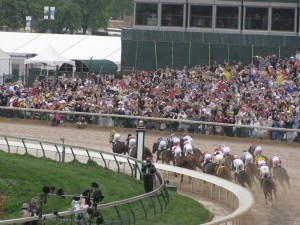 After last year's huge disappointment of potential contender "I'll Have Another" being scratched a day before the final leg, it will be a huge boost if we can get this year's Kentucky Derby champion ORB all the way to the final leg, the Belmont Stakes in New York City.
Orb was an impressive winner who stayed at the rear throughout the race when he needed and swept to the lead with the widest run around the final turn, storming ahead from the 8th pole and stretching out to a commanding 2 ½ length victory at the post.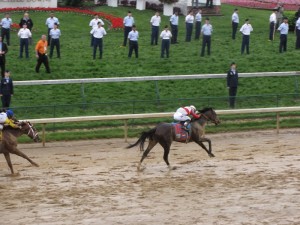 The Belmont stakes seems like an unbeatable distance for the son of Malibu Moon as he was clearly the stronger finisher of all runners in the Derby, that coupled with the fact he'll be back at home and nice and comfortable. The next leg of the Triple Crown, the Preakness Stakes looks like the one that will provide ORB with the toughest assignment, the drop in distance won't make things easier, but if he runs to his ability, he'll be hard to beat.
But if he can overcome that hurdle and head into the Belmont, we may just have a real chance at our first Triple Crown champ in 34 years.
KENTUCKY DERBY 2013
So, here we are… Monday of Derby week has been and gone and its only 4 days until the lands best 3yr olds make their 'Run for the Roses'.
Picking your Derby horse is always a hard task, and this year in particular seems to be even harder. With a very evenly measured field it seems like you will need a bit of luck on your side more than normal.
Let's take a quick look at the top five in the handicapping….
Verrazano – 4/1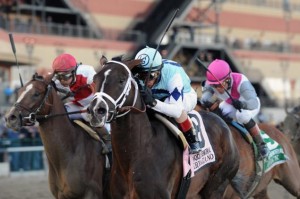 Undefeated in four starts, Verrazano electrified racing fans with a 16.25-length allowance victory in February at Gulfstream Park. He legitimized his talent with subsequent victories in the Tampa Derby and the Wood. Speedy and bred to go the distance, he survived his toughest test in the Wood. Probably a deserved favorite in a very tight field.
Orb – 6/1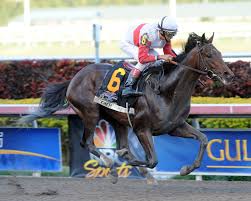 Bred for excellence by owners Stuart Janney III and the Phipps Stable, Orb has blossomed in the superb care of trainer Shug McGaughey. Orb has won both his races at 1.125 miles and stamina should not be an issue in the big one. Consistently circles four-wide and runs down his opposition, which may play against him in the big field of the Derby.  He arrives on a 4 run winning streak at Churchill Downs. Has already defeated two runners of unquestionable quality, the since-injured Violence and fellow Derby contender Itsmyluckyday. Should be right in the finish.
Revolutionary – 8/1
Exemplary finisher proved he wasn't just an inner-track wonder this winter at Aqueduct by scoring in the big race at the Fair Grounds in New Orleans. Showed a willingness to navigate traffic when bullying his way between horses in an electrifying Withers victory. The ability to run between horses should never be underestimated in a field as crowded as the Kentucky Derby. Most horses do not like it and it could be the vital difference if things get rough in the run, and it usually does.
Goldencents – 10/1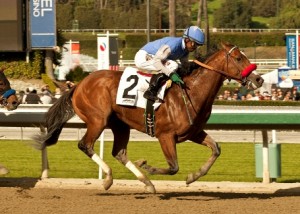 Trainer Doug O'Neill won the Kentucky Derby and Preakness last year with I'll Have Another, and Goldencents has proven very fast in winning four of six starts. Has never been farther back than second place at any time in his races and that trait will definitely hold him in good stead here. Has shown the ability to apply crushing pressure when another horse attempts to run with him and still have something left for the drive. He appeals quite nicely at the current odds.
Javas War – 16/1
Made up 10 lengths when second two starts back in the Grade 2 Tampa Derby, so we know he can rally on either surface. That Tampa race also produced his top Beyer Speed Figure, a 96. His win at Keeneland in the Bluegrass was an electrifying run however the surface change may not suit him.
 KENTUCKY DERBY ODDS
The roses are blooming and getting weaved into a huge wreath this week! Its Kentucky Derby time in the state of Kentucky and things could not be more exciting!! Big hats, VIP parties and fabulous fashion are now out in force!
Aside from making sure that you can have access to great fashion advice and also see the fabulous fashion on Kentucky Derby day here on our website, we also understand the importance of being able to make the right decisions when it comes to picking your Derby Horse.
For a look at the latest Kentucky Derby Odds, make sure you get along to our great friend "Lady and the Track" and check out Trixie's updates on the big one.
Click on this link below to make sure you get the latest odds for the big race.
http://www.ladyandthetrack.com/news/2702-04242013-kentucky-derby-2013-odds.html
SPRING FEVER
It's almost upon us, and things are definitely starting to hot up around the state of Kentucky!
This weekend will see the running of the Bluegrass Stakes at the legendary Keeneland racetrack. One of the final chances for Derby hopefuls to show their wares and pick up valuable points for this year's leader board, before they head to the hallowed dirt of Churchill Downs and attempt to write their names into the history books and hopefully start a tilt at the elusive and prestigious Triple Crown of American thoroughbred racing!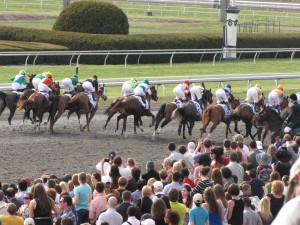 Mark Casse' Uncaptured is the early post favourite at 7/2 and promises to be a very hard horse to get past for the honours this year's trophy. He was second to Black Onyx in last month's Spiral Stakes at Turfway Park and overall has six wins in eight starts in his short career, including last fall's Grade II Kentucky Jockey Club Stakes at Churchill Downs. However,  Rydilluc and Java's War, Kentucky breds who drew the 13th and fourth positions respectively, are both 4-1 and ready to make sure that this is no cakewalk.
Rydilluc has a three-race winning streak, including the Grade III Palm Beach Stakes on March 3.
Another interesting runner will be Undrafted, the colt co-owned by now Denver Bronco, Wes Welker. IN a shout out to his own fortunes of not being taken in the draft after college, Walker will be hoping he can show enough to get himself a start in this year's Kentucky Derby, an event Wes himself has attended the last 5 years straight!
Either way, it promises to be an all-out war as the horses vie for the 170pts on offer for the Kentucky Derby, a win guaranteeing the victor a definite start if so desired.
Post-position draw and current odds for Saturdays Bluegrass Stakes
| | | | | |
| --- | --- | --- | --- | --- |
| PP | Horse | Jockey | Trainer | ML |
| 1 | Dynamic Sky | J. Rosario | M. Casse | 10/1 |
| 2 | My Name Is Michael | S. Bridgmohan | W. Mott | 15/1 |
| 3 | Undrafted | C. Nakatani | W. Ward | 10/1 |
| 4 | Java's War | J. Leparoux | K. McPeek | 4/1 |
| 5 | Palace Malice | G. Gomez | T. Pletcher | 8/1 |
| 6 | Channel Isle | J. Rocco | D.W. Lukas | 30/1 |
| 7 | Uncaptured | M. Mena | M. Casse | 7/2 |
| 8 | Charming Kitten | J. Bravo | T. Pletcher | 10/1 |
| 9 | Tesseron | J. Carroll | J. Carroll | 50/1 |
| 10 | Footbridge | C. Lanerie | E. Harty | 20/1 |
| 11 | Balance the Books | J. Castellano | C. Brown | 15/1 |
| 12 | West Hills Giant | J. Espinoza | J. Terranova | 20/1 |
| 13 | Rydilluc | E. Prado | G. Contessa | 4/1 |
| 14 | Fear the Kitten | R. Napravnik | M. Maker | 30/1 |
| AE15 | Divine Ambition | J. Graham | D. Miller | 50/1 |
Meet our Featured Young Lady in Racing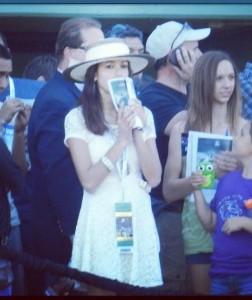 Earlier this year we received a tweet from a young lady dressed up and at the track for the 2012 Breeders Cup. Upon closer investigation of Terra Turrin it was revealed that her desire was to hopefully become a jockey one day. We found this a very rare and refreshing aim for a fresh faced 17 year old girl from California, so we decided to touch base and ask her a little about her current course. Here's what we found out.
First taken to the track at the age of about 6 by her father, specifically Hollywood Park and Del Mar, Terra fell in love with the sights and imagery of horse racing, but of all she fell in love with the stars, the horses. Although by her own admission this love was cultivated much earlier "I started riding the horses on merry go rounds when I was about 3, if I didn't ride them every day, I would've thrown a fit". Over the next decade her love has only grown stronger to the point where she used social media to obtain the number of trainer Doug O'Neill to see if she could say goodbye to one of her favourite horses, Triple Crown star, I'll Have Another before he left for Japan.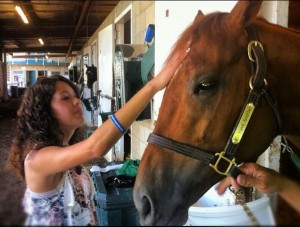 Upon a kind and positive response from O'Neill she got to meet I'll Have Another face to face, however she informed us that it was not love at first sight for the dual triple crown leg winner, every time she tried to pet him he would try and give her a nice little love bite! Terra got to know O'Neill's assistant trainer???? as a friend, so much so that from this summer to Fall Terra is spending her weekends at the stable getting a feel for the horse life and building up from pony riding to maybe a license for the actual racehorses one day in an effort to see if it really is something she'd like to pursue as a career.
Terra has been very lucky in the sense that her parents have always been supportive of the choices she has made and helped to enable her with following this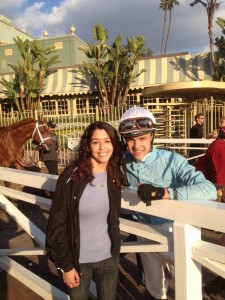 dream to this point. Having the support and encouragement from her parents has clearly made this current path much easier to handle and we truly commend them for taking that role, it's a fantastic thing to see parents actively involved with and helping their children follow their dreams.
She already has her favourites in the industry, Eblouissante the half to the mighty Zenyatta and another of O'Neill's stable, promising newcomer He's Had Enough, owned by Paul Reddam, I'll Have Another' owner, just to name two. She is sure that this list will begin to grow as time passes by.
Terra is a fantastic example of how it is possible for our industry to attract vibrant new young fans and hopefully draw them into the fantastic world that is thoroughbred racing. Hopefully her passion and enthusiasm will bleed into some of her friends and it could be the small pebble that starts the ripple to affect the whole pond.
All of us here at Fashion at the Races wish her all the best this summer and hope that she thoroughly enjoys her time with the O'Neill team. Who knows, maybe one day we'll sure Terra on the back of the next Kentucky Derby favourite!
Meet our First Ladies of Racing
Claire Novak:
Claire Novak, racing writer for Blood-Horse Publications, is an Eclipse Award winner who has covered the sport for some of the nation's best-known outlets, including The New York Times, ESPN The Magazine and ESPN.com, the Associated Press, Hearst Publications' Albany Times
Union, and NBC Sports. She is a human-interest reporter with a personal passion for "new journalism," and writes literary fiction in her spare time; her short story "Cry" was nominated for a 2011 Pushcart Prize. She is a lifelong equestrian and is intimately acquainted with the sport she covers.
Founder of The Hopeful Farm Foundation, Ms. Novak is also a registered therapeutic riding instructor with the Professional Association of Therapeutic Horsemanship International (PATH Intl). She is a Chicago native who now lives just outside Lexington with her family, a horse called Bob, and her extremely energetic and semi-trained dogs – an Australian Shepherd/Collie rescue named Vesper and a Great Pyrenees mix named Puppy. Twitter: @ClaireNovak, @BH_CNovak/Facebook: https://www.facebook.com/turfwriterclairenovak?fref=ts
Jen Roytz
Marketing and communications director Jen Roytz joined the Three Chimneys team in 2008 and oversees all advertising and marketing, including television and print advertising, social media endeavors, the annual stallion brochure, the web page, public relations, media relations and special events. She also handles all of the farm's equine aftercare efforts and outreach.
Jen is a native of Cleveland, Ohio and has a background in both thoroughbreds and performance horses. She earned her BA in advertising and public relations from Morehead State University and completed her MA in Integrated Communication at the University of Louisville. Jen sits on the board of the Make A Wish Foundation's Kentucky chapter, is on the advisory board for the Thoroughbred Aftercare Alliance and is involved with the Ronald McDonald House of the Bluegrass and The Race For Education (a scholarship organization for college-bound kids from racing/breeding families or who have a keen interest in the Thoroughbred industry).
Keep in touch with Jen on twitter @JenRoytz.
Penelope Miller
Penelope Miller is the Senior Manager of Digital Media for the America's Best Racing. She has been involved with the Thoroughbred industry for most of her life and wants to make sure that the great sport of horse racing is enjoyed by people all over the nation. Working in the United States on breeding farms and all the way in Australia, Penelope has gained experience in all facets of the industry and wants to share that knowledge with new fans all over the United States.
Keep in touch with Penelope on twitter with @abrlive.
We caught up with them and asked some questions about horse racing and fashion…you might be surprised by some of their responses!!
1. How did you first get interested in the industry?
Claire:  I read the Black Stallion series by Walter Farley as a young girl – I was hooked!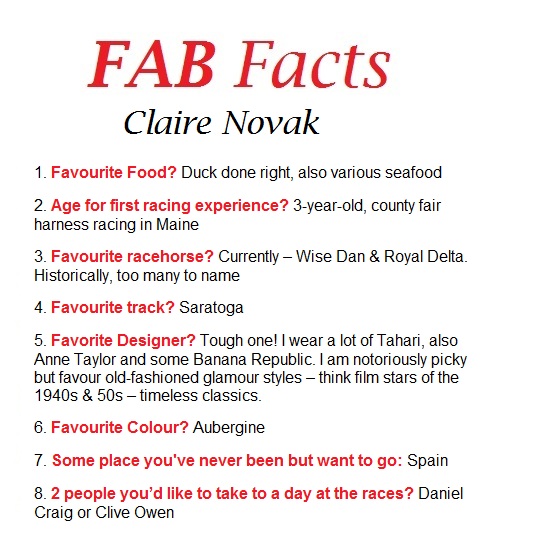 Jen: I grew up a horse-crazy girl in Cleveland, Ohio riding since I could walk and later focusing on hunter/jumpers. Eventually I developed a love for Thoroughbreds and by the time I was in high school I was walking hots at Thistledown Racetrack, breaking babies and riding racehorses at local farms, and re-schooling off-track Thoroughbreds as show prospects. I came to Kentucky for college and worked as an exercise rider at the track in the mornings, went to class in the afternoons, and rode my own training/re-sale projects in the evenings. By the time I was ready to graduate, there was no question about what direction I wanted my career to take – marketing and communications within the Thoroughbred racing and breeding industry.
Penelope: I was fortunate to grow up on a Thoroughbred farm near Ocala, FL, and from the time I was a little girl I knew that the horse racing game would be a huge part of my life. After I graduated from college, I went to work on farms to gain industry experience; I ended up working in foaling barns in Florida, Kentucky and Australia, and then was lucky enough to work at Tampa Bay Downs. Now I am the Senior Manager of Digital Media at America's Best Racing, and I have the privilege of getting to introduce the sport to a whole new generation of fans through online initiatives and various forms of social media. I wouldn't trade places with anyone in the world!
2. What do you love about what you do every day?
Claire: Bringing the stories of horses and their human connections to my readers, sharing behind-the-scenes info. There's always something fresh and exciting to write about – oh, and I get to hang out with some pretty amazing equine athletes!
Jen: I love that I get to wake up and look forward to coming to a job that is fun and meaningful on both a professional and personal level, at a place that is gorgeous, and with people who are this fantastic combination of good at what they do, enthusiastic, friendly, and compassionate toward both animals and people.  This is my dream job – I am in heaven.
Penelope: I love interacting with fans through our various social media outlets. Horse racing is such a fun, beautiful and complex sport, and social media is the perfect way to showcase it to an audience that may not know much about the industry. There are so many different aspects of the game, from the horses to the fashion to the social atmosphere at the track and the people behind the scenes who have dedicated their lives to these animals. It's a joy to help people understand the lifestyle surrounding the country's oldest sport.
3. What was your favourite race day memory?
Claire: There are so many. Bernardini's Travers comes to mind because it was my first and I was so excited to be there. Same for Street Sense winning the Kentucky Derby. Most of my favourite memories are of covering campaigns – Mine That Bird, Summer Bird, Blame, Flat Out, Caleb's Posse… each of these runners delivered thrilling performances with plenty to write about, but quiet moments during training hours or back at the barn were also very special to me.
Jen: You know, I don't have a specific one. I've been lucky to attend some big races and fantastic tracks, but my favourite memories are from when I was a teenager in Cleveland and would watch the horses I hot walked and groomed on the weekends run at Thistledown. It taught me a lot about the compassion so many grooms, trainers, and riders have for horses at the blue collar level.
Penelope: I would have to say that it was when Wise Dan won the Breeders' Cup Mile this year. I've been a huge fan of this horse for ages, and I have the utmost respect for the amount of heart, courage and determination he shows every time he runs. The Breeders' Cup Mile was one of the toughest races at the World Championships, and Wise Dan not only won, but he set a track record when he did it. It was a great moment in sports.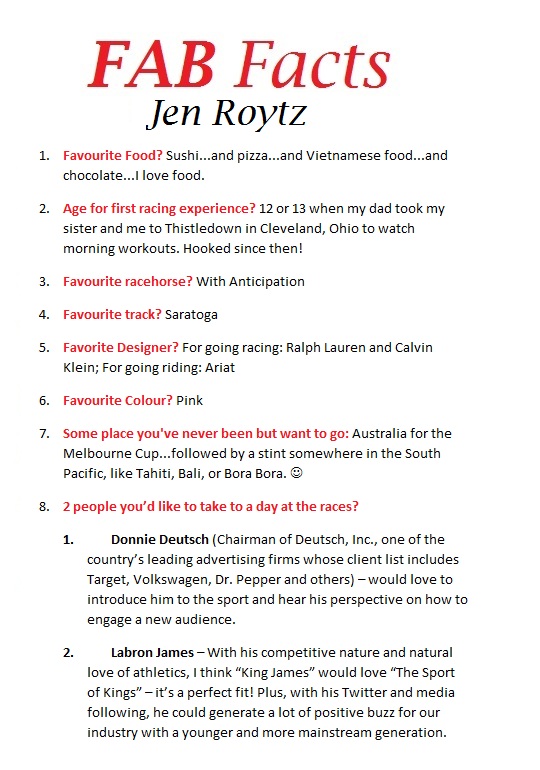 4. Can the industry do things better? Where and how?
Claire: The industry needs to do a better job of listening to the younger voice and mentoring young people to take the place of the older management figures who are nearing the end of their careers. We're the future, and we know how to make the sport relevant. It is already exciting enough on its own, it just needs to be marketed correctly to the modern audience.
Jen: Of course there are things any industry can do better, and ours is no different. My focus tends to rest with the equine welfare –related issues. From that perspective, I feel that aftercare and medication reform are two topics that are of primary relevance to elevating our sport in the eyes of the public. I think these two issues, and many others, would be greatly helped if American racing had a central governing body.
Penelope: Well, I'm a bit of a micromanager, so I can always find room for improvement! But in all seriousness, horse racing needs to market itself to the next generation of sports fans. That's why I'm so excited to work for America's Best Racing – we're all about new fan development, and we have some seriously cool plans for 2013. Stay tuned!
5. Where do you stand on the increasingly important issue of Lasix?
Claire: Sadly, I do not expect significant progress to be made on this extremely complex and multi-faceted problem; there are too many self-interests and private agendas. However, I would be thrilled if uniform medication rules went into effect at some point in the near future, and if we had higher standards and harsher punishments for those who violate them.
Jen: The Lasix debate is a complicated one, and I'll be the first to admit that while I'm somewhat informed about it from a layperson's perspective, there are veterinarians, trainers and owners in our industry who are far more well-versed on the topic than I am. That being said, here's my "in a nutshell" approach:
I am an opponent of race day Lasix use, and I strongly believe the United States should adopt the European racing model. I also understand that this would be a process, not an overnight change, but I think it behooves our sport's long term viability to pursue such sanctions.
While Lasix does have a short-term positive effect for confirmed bleeders, it places other horses not on the medication at a competitive disadvantage. Either all or none should be on the medication from a "level playing field" standpoint. Studies have shown that horses on Lasix, whether confirmed bleeders or not, place much higher than horses not on Lasix. As a diuretic, it results in water loss and thus decreased weight to carry. Another study found that the incidence of overall breakdowns is much higher on racetracks that allow Lasix versus those tracks that do not. While I do agree it helps horses with EIPH, I do not believe the benefits justify industry wide use.
Penelope: My advice is to not show up to the races on Lasix – on big days, the lines for the restroom can be quite long!
6. What would you do to bring a new generation to the track for a day?
Claire: Combine more focus on the celebrity, glamour, high-end party style with more big-name horses that race long enough to command national attention and gain a following. Del Mar does the former quite well, Zenyatta was a good example of the latter. An up close and personal fan experience with horses, jockeys, and celebrity owners/trainers is also a must.
Jen: Bringing a new generation to the track for a day and converting a new generation into being racing fans and aspirational owners are two different problems. If the goal is simply to have a one-day push to drive them to the track, then the motivator needs to be things that are popular with that target audience (which horse racing currently is not) – concerts, drinking, other sports, food, etc.  – piggy-back on things that are already popular with that target audience – and there needs to be a budget to get the message to the masses.  Then once they're there, find ways to give them touch points involving racing and horses while you have the audience in front of you.
What I think is a stronger approach is to work to engage this audience over time, playing off of what compels them. Animal welfare is one of the most posted about topics on Facebook, so to me it's obvious that racing needs to play up not only the horses, but their care, the people they're surrounded by, and the compelling stories each and every one has, if one digs deep enough. Basically, our equine athletes need to be "humanized."
Admittedly, this approach will work better on our female target demographic than male…and I understand the female psyche better than that of males. For males, one of the most posted about topics on Facebook is competitive sports. Betting is competitive by nature as well, so logically engaging males via this approach would make sense, but this has been and continues to be done in bits and pieces and has garnered mild to moderate success.
Penelope: What wouldn't I do! The best way to get new people to the races is to show them the complete package that racing offers as an afternoon out. You can dress up, hang out with all of your friends, have some cocktails and maybe even make some money.  Plus, an afternoon at the races is incredibly affordable, especially compared to other major sporting events.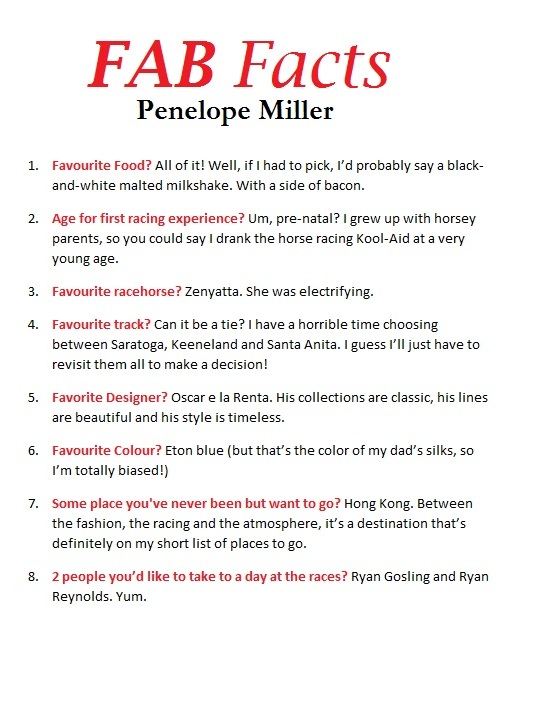 7. Do you think Fashion is important to the horse racing industry and why?
Claire: Fashion will always be a key facet of the sport of kings. A high-end day at the races is all about dressing up, enjoying the company of friends, watching the best athletes in the business.
Jen: I think it's important from the standpoint that it helps to market and brand the sport. In the same way that fashion elevates events like the Grammy Awards and Oscars, it does the same for major races like the Kentucky Derby and Breeders' Cup.
Penelope: Fashion is an integral part of the racing industry. Half of the fun of going to the track on a big day is planning your outfit! For both men and women, the races are a place to see and be seen. That's part of the reason I love going to places like Saratoga and Del Mar – people don't really even get dressed up to go to church anymore, but almost everyone dresses to the nines when they're heading to the track!
8. Hat or Fascinator? Why?
Claire: Depends on my mood and my outfit. Usually I try to wear something that doesn't block my line of vision J
Jen: Personally, I like wearing a hat better. You can be creative with either, and I've worn both, but I like the bold statement that the perfect hat makes when paired with a fierce outfit.
Penelope: Sadly, I don't get to wear hats to the races very often any more, since I'm normally photographing the action on the track and I'm terrified that headwear will blow off of my head and into the stretch during a race! But my old credo was: hat in the winter, fascinator in the summer. That way you're warm in the cooler months, but when it's hot you get the style of headwear without the dreaded hat-head. Win-win!
9. What's your fashion at advice for women dressing for a day at the races?
Claire: Dress appropriately. Nothing is worse than some poor girl shivering at Keeneland because she wore a sun dress to opening day of the spring meet when it's 50 degrees and cloudy. Those of us who work in the sport laugh at such folly, and that's what gorgeous outerwear is for. Comfortable heels are also a must, especially if you'll be spending time in the paddock or winner's circle. Above all else, class and decorum is appreciated… almost as much as it is in our horses.
Jen: For the ladies: Live a little when it comes to pumping up the color – don the shades of the season and make a statement, both with your dress AND with your mani-pedi and make-up. While I'm not one to say to compromise fashion for comfort, I would also say that whatever is worn to the races should be comfortable enough to move around in, especially if you're going to be walking to the paddock, cheering for your horses, and making trips to and from the betting windows (and hopefully the winner's circle!).
For the men: Don't be afraid to rock a hat (and I'm not talking about a baseball cap, dude)! A fedora or a Panama hat is a perfect and easy way to exude casual confidence.
Penelope: Have fun with your fashion! The races are a chance to show off your personality through style in a way that's almost unheard of these days. Whatever your fashion sense is: vintage, preppy, modern, urban or anything else, the races offer a chance for fans to showcase that style in the chicest way possible.
One other piece of advice for ladies: don't forget your hat! And if you can, slip a pair of fold-up flats into your handbag if you're planning on wearing heels. Your feet will thank me later!
This week our Racing Hub will feature a few articles on the lightening fast mare, Black Caviar.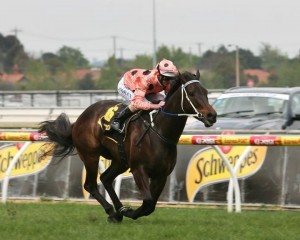 BLACK BEAUTY…AUSTRALIA'S SUPERSTAR MARE!
This Saturday, the 16th of February, nearly 45,000 people are expected to make their way to the world famous Flemington racetrack to witness the resumption of what many say is the greatest sprinter to ever grace the turf…anywhere! If you haven't heard of her, all you need to know is that she stands undefeated from 22 starts including an amazing 12 Grade 1 races, 7 Grade 2, 2 Listed stakes and her first ever start was a Hcp.
Black Caviar, the striking daughter of Bel Espirit and Helsinge, will step out in front of her adoring fans for the 23rd time in a race she has won for the past two years, The Lightning Stakes. However this time, she will be running to win a trophy that now bears her name, such is her standing in Australian racing history; she'll be running in the Black Caviar Lightning Stakes!
We had the rare opportunity to catch up with the wonder mares vet, Peter Angus, who many associated with the horse, will openly tell you, plays a big part in keeping her sound as she continues to write herself into the pages of history. Peter has been an equine vet now for over 20 years, and has worked with some of Australia's best trainers.
1. First of all, how is the mighty mare? Rumours abound that's she's a little overweight?
BC is in great order at the moment. She is enjoying being back in training and her weight is reducing well although I feel she has grown and strengthened since her last race if that is possible in a 6yo mare. It is possible as some horses can take until 7 or 8 to fully mature.
2. Were there concerns at ascot she may not run at any stage?
In the week leading into the Ascot race she had a few niggles but she has had niggles leading into other races and performed well. She has a great tolerance to pain and can cope with things most other horses cannot. This is what makes her so successful.
3. Did you feel like it was a lot of personal pressure given your closeness to her when she was not 100% at ascot?
I didn't feel too much pressure because I knew we had done whatever we could for her and her amazing ability to handle niggling issues would see her do her best.
4. How did you feel in that last 25m when she was eased down and almost lost?
I was concerned with how quickly she stopped in the last 25m but relieved she stuck her head out to win. It averted what would have been a nightmare for all involved.
5. Did you think she'd return to racing again?
After that race I thought that it would probably be the end of her career but she has a great recuperative ability to overcome injury that you could not write her off without giving her the chance to heal.
6. What is she like to work with, temperament wise?
She has a brilliant temperament and is excellent to work on. She is a very inquisitive horse and at all times she shows me that she is actually very intelligent.
7.Has she always been a race to race horse to manage?
She has been a day to day proposition since her early days as the speed at which she travels puts enormous strain on her body.  She needs a lot of maintenance to keep her going.
8. What do you think it is that makes her so invincible?
It's her V 12 engine (heart) that makes her so fast but her high pain threshold and desire to win make her invincible. I've never actually witnessed anything like it in another racehorse and I don't believe that I ever will.
9. Has it been an honour to be associated with what is possibly the greatest sprinting mare ever to grace the track?
It has been an amazing honour to work on a horse that will go down in history as one of the all-time greats. It will certainly be the pinnacle of my working life and something to tell the grand kids about!
10. Can you believe the attention that she gets?
I am constantly amazed at the attention she receives and the publicity she has generated for horse racing.
11. Will she win this Saturday in her namesake race? And will she remain undefeated?
She will win this week and I believe barring severe injury will never be beaten.
Cheers Pete!
Our Racing Style expert was able to see her race twice on her trip to Australia last year and here is her article she wrote for the 'Bloodhorse' Website: 2/12/2012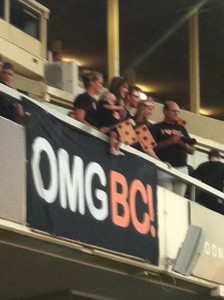 "Too Easy" were the words of choice after her first run over 1400 meters. Black Caviar, the five year old powerhouse that has taken over sprint races in Australia silenced her doubters on Saturday by adding another 200 meters to her winning distance range. She ran against some of the best including the Caulfield Cup winning mare, 'Southern Speed,' the million dollar winning colt 'Playing God' and 'Efficient'  the only other horse to win both the Victorian Derby and Melbourne Cup since the Australian legend Pharlap. Unfortunately for these horses, they were no match for this mighty mare. As she bumped her impressive record up to 18-0 with earnings exceeding 4.5 million dollars, the impressive crowd showed their support by the sea of pink and black polka dots. Everything from ties, hats, t-shirts, and dresses in her silks colors, people flocked from every corner of Melbourne and beyond to see another page in history.
As an American traveling in Australia, I know how lucky I am to see this fantastic animal show her talent. I first witnessed her on a Friday night at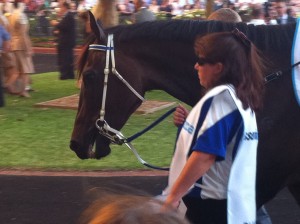 Mooney Valley racecourse when she sauntered past the wire to win the Australian Stakes (G2) over 1200 meters. One of the smaller racecourses in Melbourne, Moonee Valley had to open the gates up with free admission as they feared the growing crowd would not be able to get through before she raced. It is easy to say this mare brings people to the tracks just as our great mare Zenyatta did. The next Friday night, the same Moonee Valley was unrecognizable compared to her race night. On that evening the mounting yard was barely "standing room only" as she paraded before her adoring fans, but that next week it seemed a ghost town.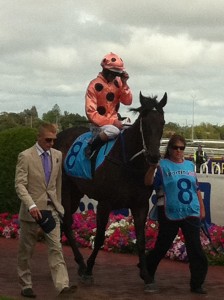 This Saturday, again she brought the crowd to the track. Children wearing "I <3 BC" t-shirts, men in suits with pink and black polka dot ties, and the black and pink flags waved all over Caulfield's grand stands.  Huge banner's lined the stands with such words as, "Black Caviar: Gone in 57 seconds," "OMG BC!," and "Black Caviar Made in Victoria." As each race passed, you could feel the energy and excitement build just a little bit more as the sixth race closed in. Leaving the gate with the best jump she has ever had, Black Caviar stayed close to the leaders. Rounding the turn she began to ease up alongside the leaders, and as the crowds cheers began to heighten she unleashed her trademark blistering turn of foot resulting in an astounding 10.6 second furlong which gave her a three length lead as she coasted to the finish line.
This special mare has yet to stretch herself out in a race as the jockey has never been required to use the whip to call on her reserves. Black Caviar remains the best sprinter in Australia and as many would say the world. As her trainer Peter Moody prepares her for the foreign meets at Ascot and possibly Dubai he talks of staying at or under the 1400 meter mark. Her next achievement could happen sooner than we think as Moody talks about bringing her back this Saturday at Flemington Racecourse for the 1000 meter Coolmore Lightening Stakes (G1) followed by the Futurity Stakes (G1) at Caulfield on the 25th of February. Wins in both these races would result in a record breaking 20-0 career never achieved in Australasia.
As a racing fan from the younger generation, I really only have one horse to compare the experiences I've witnessed so far with Black Caviar. Our most recent American race horse legend, the great mare Zenyatta. I watched as she grew her record to 19-0 and saw her live as she took on the 2010 Breeder's Cup Challenge at Churchill Downs in Louisville, KY. I've never felt such electricity as I did in those stands as she rounded the last turn onto the stretch.
Just as Zenyatta brought fans to the tracks as well as their televisions, Black Caviar does the same in her home country. As "Z" was and still is loved by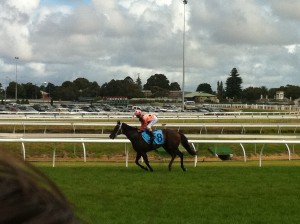 everyone in the United States, Black Caviar or better known by her stable name 'Nellie' is cherished by young children and grown men alike here in Australia. As her fan numbers continue to grow on Facebook, it's easy to see that what Zenyatta did for the American racing is being mirrored by Black Caviar here in Australia.
American race goers looked at Zenyatta as just what our industry needed to get people interested once again. Although very different industries and horses, Black Caviar and Zenyatta are two champions that help the racing world grow in success. We all know that these champions don't come around very often and they need to be cherished and celebrated. This is exactly what I will be doing come Saturday if she steps out to equal the Australasian record at 19-0, the same mark as that of our own great mare Zenyatta.
More Pictures Below:
KENTUCKY DERBY
With only 93 days left till our nation's premier 3yr olds "Run for the Roses" we thought we could take a look at a few of the contenders in place now and see if we can start to plan who our hard earned money might be best placed on.
VIOLENCE
TRAINER: TODD PLETCHER
The son of the "sire of the moment" Medaglia D'oro, Violence remains undefeated to date and has been impressive in all of his three starts. The last being his first victory at Grade 1 level in the CashCall futurity, where he stalked the leaders comfortably and was strong down the stretch to the wire.  Before winning his first 2-turn attempt, the big, leggy Violence broke his maiden despite a slow start in his SAR debut then survived an inquiry to take the bumpy G2 Nashua Stakes at AQU on 11/4. Bred at Dell Ridge Farm in Kentucky out of a Gone West mare Violent Beauty. His family includes champion older mare Sky Beauty, G1 Breeders Cup Distaff winner Pleasant Home and multiple G1 victors Tale of Ekati, Point of Entry, and Pine Island. He seems to be right on track at this stage and is definitely one of the main contenders as we head towards the "Run for the Roses".
SHANGHAI BOBBY
TRAINER: TODD PLETCHER
As we all know, currently the reigning Eclipse 2YR Male  of the year, he suffered his first defeat at his first start as a 3yr old at the hands of another contender, Itsmyluckyday, but he was by no means disgraced and should not be discounted on that effort. The introduction just before the Breeders Cup of the Coolmore crew shows just how highly this boy is regarded. He'll bounce back right into contention we bet after his next start and it would be silly to hop off him now on just one defeat.
UNCAPTURED
TRAINER: M.CASSE
John Oxley's Uncaptured (Lion Heart-Captivating) added his 3rd stakes victory in Woodbine s Swynford S. and remained a perfect 4-for-4. An upset loss in the G3 Grey Stakes derailed plans for the Breeders' Cup Juvenile and left his connections to scratch their heads. Taking a less ambitious route, the Mark Casse trainee was shipped to Churchill Downs and supplemented to the opening day G3 Iroquois S., in which he put on a dazzling display to dust a deep and talented field. His next stop was the Kentucky Jockey Club S. over the same surface and he was an impressive winner to again stamp himself as a serious contender for the big day in May.
IT'SMYLUCKYDAY
TRAINER: EDWARD PLESA JNR
Though he had romped in the New Year's Day Gulfstream Park Derby, it was the 1/26 G3 400,000 Holy Bull S. victory over juvenile champion Shanghai Bobby that stamped Eddie Plesa, Jr. s charge as a major player on the road to Louisville . As expected, Shanghai Bobby went to the lead from his rail post and Itsmyluckyday settled behind the favourite and longshot Clearly Now. The son of Lawyer Ron and Viva La Slew took charge passing the mile and finished the 1 1/16 miles two lengths ahead of the champ in a track record 1 41.81. The 10 points and winners share of the purse propelled him to 5th in the new Kentucky Derby points standings that will determine eligibility to run for the roses this year. Itsmyluckyday broke his maiden in his 2nd career start at Monmouth Park and has now bankrolled 425,600 with five victories in nine starts. Plesa has only had one Kentucky Derby starter in his 33-year career- the filly Three Ring, who finished 19th in 1999.
GOLDENCENTS
TRAINER: DOUG O'NEILL
A victory in the G3 Sham S. at SA on 1/5 catapulted Doug O Neills charge to the top of the Kentucky Derby point standings with a total of 24 to Shanghai Bobby's 20. In tight early, Goldencents stalked just behind Sham pacesetter Manando, took command nearing the sixteenth pole and drew away for a 1 length margin at the wire. He stopped the clock in 1 36.50 over the mile, earning a 93 Beyer Speed Figure. Goldencents earned his 1st graded stakes score in his 2012 finale, the G3 Delta Downs Jackpot. The only loss in four starts was a 2nd to Eclipse Award winner, Shanghai Bobby. From the first crop of outstanding freshman sire Into Mischief and out of the Banker's Gold mare Golden Works.  The reigning KY Derby trainer seems to have a very real chance of going back to back here at Churchill Downs in 2013.
FLASHBACK
TRAINER: BOB BAFFERT
Trainer Bob Bafferts Tapit colt announced his arrival on the Kentucky Derby trail with an emphatic debut, taking a 7f BHP maiden race on 12/8 by 1 length. Flashback signalled his ability with some very flashy morning works and was sent to post as favourite. He settled in the middle of his eight rivals a few lengths off the pacesetter and advanced three-wide into the stretch. Julien Leparoux gave him a left-handed crack of the whip and he responded to quickly grab the lead and kick clear. The grey colt is out of the Mr. Greeley mare Rhumb Line, making him a full brother to the multiple stakes winning mare Zazu and a half-brother to Corinthians Jewel, who won the 9f Restoration n S. at MTH.  We all know what sort of magic this man can weave so he definitely has to sit on your radar as we move forward.
CERRO:
TRAINER: GRAHAM MOTION
The Irish-bred son of Mr. Greeley was purchased by Team Valor after a winning debut on the grass in Italy. He remained on the turf for his next two, including a drubbing in the G3 Pilgrim S. over a yielding course at Belmont Park. When moving to the dirt on New Year's Day, Graham Motion's charge showed dramatic improvement and checked in 3rd behind highly-regarded Triple Crown nominations Bradester and Gunderman. He then impressively downed five rivals in a 1 1/8m main track allowance optional claimer at Gulfstream Park on 1/26 and is headed to the grassy Palm Beach S. next before a possible Polytrack prep in route to Louisville. The Team Valor team have been big players in this race the last few years including winner Animal Kingdom, so it would pay to be wary of what they are bringing to town this year as well.
'The New Star at 'WinStar'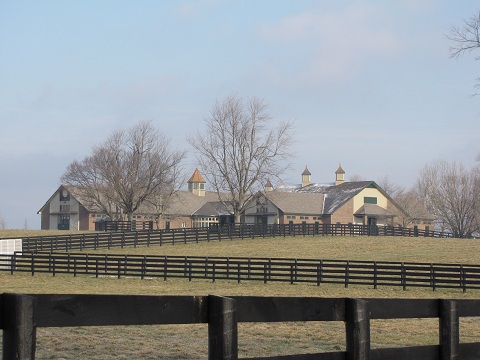 We got an exclusive look at the new gem of the already diamond mine that 'WinStar Farm' is. As WinStar has grown from just two stallions, Kris S. and Distorted Humor in 2000 to now over 20 stallions, WinStar has definitely become a breeding machine warehouse and as a result needed to expand. Leaving its 10 stall farm and entering its new, improved, and very large 29 stall barn.
This year alone, three new stallions came off the track to the farm, the well known Bodemeister, Take Charge Indy, and Gemologist. Another addition came with the Vinery Farm in Kentucky going up for sale, so does their five stallions, Congrats, More Than Ready, Pure Prize, Kodiak Kowboy,  and Street Hero.  Since WinStar wasn't already kickin' butts and taking names, they decided to pick up this fast five and add them to the 2013 Stallion Roster. However, this was after the new barn's plans and already been decided on as well as construction had been started. Why the issue? There aren't enough stalls in the new barn! No worries though, this isn't WinStar's first rodeo, the team had built a barn near by for mares to possibly stay, well instead this is now a new portion of the main Stallion Barn. Think of it like a Satellite Campus.
Back to the barn itself, this new barn has 18 stalls, two wash stalls, two breeding sheds, and 22 large paddocks giving the horses plenty of room to stretch their legs.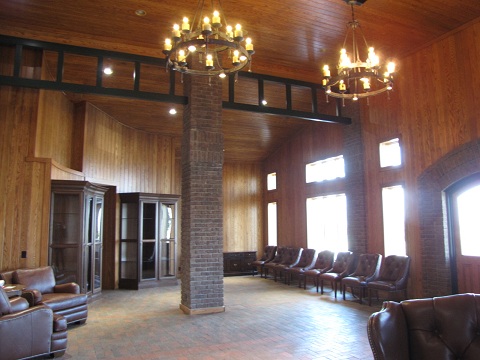 Walking into the lobby alone makes you want to move in. Beautiful leather furniture, very tall ceilings with gorgeous chandeliers, a HUGE ipad to play with and look at all the pedigrees, past performances, and pictures of your favorite stallion…and check your facebook page! Two offices will reside in the left side lobby, stallion manager Larry McGinnis and stallion coordinator Tony Cissel. The right side of the lobby has a gorgeous kitchen, with of course the WinStar emblem embedded in the tile on the wall, and two bathrooms that really could be a bedroom.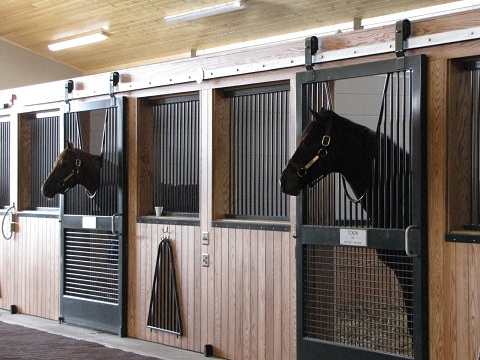 When you walk through the lobby, through the double doors, you enter the large centerpiece of the barn. This is where the stallions will stand during their shows. On both sides of you are the long hallways of stalls featuring these amazing athletes. Distorted Humor, Drosselmeyer, and the Kentucky Derby Winner, SuperSaver can all stick their heads out of the stall and see whats going on which is something you don't usually see in stallion barns. Even at Lane's End, The Queen Zenyatta was the only mare to have an open top so she could stick her head out of, and make all the other mares jealous.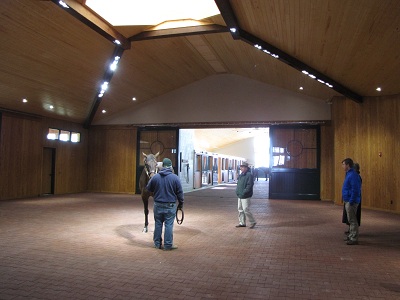 Leaving the centerpiece and walking through the the next set of double doors brings you to another show walkway that is next to an indoor viewing room in case people don't want to stand out in the cold. As you keep walking, you enter the doors as the Studs would to do their job. 2 breeding sheds with each their own viewing dock. One better than the other though…don't miss out on the coffee and doughnuts every morning!
Entering from the other side brings you to the loading dock and into the breeding machine warehouse. With 11 holding stalls for mares and the teaser split on both sides, two barracks and washing stations with heated water, WinStar didn't leave anything out! You'll have to come check it out at the Open House February 9th! To give you a bit of a Spoiler Alert…here are some photos!
*** Fun fact about the statue: Created by a quarter horse artist, the horse is 7/8 real size but its two man parts you can so easily see? REAL SIZE.
Eclipse Awards 2013
The 'Golden Globes' of horse racing took place Saturday January 19th at Gulfstream pack in Florida. A fabulous award show hosted by ESPN's Jeannine Edwards, the best of the best were voted by 250 people. Congratulations to all nominees and winners and all their connections!
Missed out? Here are the results:
Horse of the Year: Wise Dan
2-Year-Old Male: Shanghai Bobby
2-Year-Old Female: Beholder
3-Year-Old Male: I'll Have Another
3-Year-Old Female: Questing
Older Male: Wise Dan
Older Female: Royal Delta
Male Turf: Wise Dan
Female Turf: Zagora
Male Sprinter: Trinniberg
Female Sprinter: Groupie Doll
Steeplechase Horse: Pierrot Lunaire
Trainer: Dale Romans
Owner: Goldolphin Racing LLC
Breeder: Darley
Jockey: Ramon Dominguez
Apprentice Jockey: Jose Montano
Handicapper: Michael Beychok
Award of Merit: Nick Nicholson
Media Eclipse Awards
Photography – Tom Keyser, Daily Racing Form; "Brooklyn Handicap," July 12, 2012.
Writing – Feature/Commentary – Ryan Goldberg, Daily Racing Form; "Keiber Coa presses on a year after father's fateful spill," July 7, 2012.
Writing – News/Enterprise – Mary Simon, Thoroughbred Times; "Added Obstacle," June 9, 2012.
Television – Feature – ESPN, "Notinrwildestdremz"; Heather Lombardo, Producer and Director; Oct. 30, 2012.
Television – Live Racing – NBC, "2012 Kentucky Derby," Rob Hyland, Coordinating Producer; May 5, 2012.
Audio and Multi-Media Internet – Glenye Cain Oakford, Daily Racing Form; "Zenyatta: Wait for first foal combines art, science, and anticipation," Feb. 28, 2012.
Visit the 'Style Section' to see our take on the fashion and the show itself!! (coming soon)
Why the rush??
Over the last few years we have been lucky enough to have a few very special horses grace us with their presence and breathe a much needed breath of fresh air into the industry. The likes of the mighty Rachel Alexandra, the almost invincible Zenyatta and most recently our potential Triple Crown champion I'll Have Another have bought a renewed interest in the sport.
It was the reaction from the non- racing fraternity when these champions were plying their trade on the track that made me realise we need more of them to make sure racing can thrive, can attract a new breed of fan, can appeal to those who really know nothing about this amazing sport. You see, no matter what the sport, a champion attracts interest; they attract people who just respect someone constantly standing out, performing the extraordinary.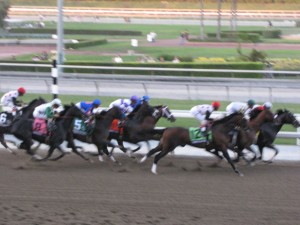 Problem is, lately, well not just lately, since I can remember, we are constantly having champions retire way before their prime so they can head to stud and earn money in the breeding game. Obviously this is far more prevalent in the colts division, but even the fillies are starting to head to the breeding barn before their time. What if we could do something crazy, what if we could get the industry to agree to an age limit on the time that an entire could start his breeding career? Can you imagine if we set the age limit at say 5 or 6? How much more would we get to see of horses that thrilled us in their 2yr or 3yr old season, another year or two of thrills, another year for people to get the chance to see something special, to see great duels between champions who are born in the same era! But that seems to be one of the problems, you see losing races can hurt the stud value of a potential stallion, but it shouldn't! Some of the best sires in history have been good on the track, but not brilliant. A stallion's true worth comes from his progeny, how they perform on the track, what they are capable of doing.
I would even argue that the word "Champion" is overused or let's say misplaced on a 2yr old who dominates in that season then retires to stud (and it happens all over the world) without going on to a 3rd, 4t,h and 5th season of racing. 2yr olds are so different, like all kids, some mature more rapidly than others and dominate, but as we all grow, things level up and we come into our own. How many times in sport does a champion end his career and when you look back at his initial early efforts they are nothing special or amazing, but as they matured we got to see what they were really capable of doing.
I know what I'm asking here is a pipe dream, the dream of someone who is not invested heavily in the breeding game, but if we don't have dreams then life would be pretty boring. Our industry is in a very interesting place right now, and we need to find ways to build a new following to ensure that we can become a powerhouse in the American sporting public's eye again. I am definitely not saying that this is the key, that this will miraculously change our industry's attendance race, but it is one idea we can think about, and that's what the industry needs more of, new initiatives and plenty of ideas.
 The Story of Lucky Canuck
Preface: I met this wonderful lady in a hat shop in Lexington. We began talking about Fashion at the Races and the exciting fall meet coming up at Keeneland, (this was in August) and she began telling me she is a racehorse owner and told me this story. I wanted to share it all with you. This story she wrote originally for someone else there may be some lines that won't make sense to you directly, but it is some story!! So many newcomers to the industry think that its only for rich people, this is the perfect example against that. Anyone can get involved at whatever level they choose and enjoy the sport in the best way possible. No feeling is better than seeing your horse come down the straight, regardless of its finishing position.
Stay tuned for the updates.
May 22, 2012
Thank you for contacting me about Dennis' horse.  So much has happened in regard to his dream that I thought it would be best for me to write down the detail.  As you know, Dennis was on cloud nine the week before his death as he had found a wonderful broodmare to breed a Kentucky sire to.  When he died suddenly I was contacted by the owner of the mare and asked if I wanted to continue one with the verbal deal she and Dennis had made.
Of course, I answered yes.  Dennis was the love of my life and I felt obligated to do whatever I could for him as he had always been selfless for me and our family.  My son Preston and I went to work learning about bloodlines and how one can make arrangements to breed to a fine Kentucky horse.  We made several trips to farms and decided on a son of Seattle Slew by the name of "SLEW CITY SLEW" We had the mare shipped to Ky and brought her back to Indiana.
That was in May of 2008.  Things were going along fine and we had decided to name our foal when it was born "SLEWS RUSE" Sadly, the mare lost that baby and we had to rebreed her back.  The new breeding was to be free of charge as there is no cost to a breeder if a baby does not go to term and I had already paid the fee up front.
Well, as luck would have it 2 days before we were to take the mare back to KY, the farm where SLEW CITY SLEW was standing as stud called and informed me that the horse had developed colic and would not be available for breeding.  Needless to say I was heartbroken, but the farm offered me a younger sire with Seattle Slew bloodlines instead.  I agreed and we took the mare back to KY.
This pregnancy went without a hitch and our little foal (a colt) was born April 14, 2010.  My son named him "Lucky Canuck" in honor of his sire and dam.  The sire of Lucky is "Canadian Frontier," and the dam is "Slot Machine Jean" Thus the name Lucky Canuck.
Lucky was still at the farm where he was born and was scheduled to arrive at my house in June. In late May, the little colt was kicked in the shoulder and it was badly broken.  I rushed him to Purdue where he underwent a total of 3 different surgeries before he could be released to me.  He came to my home in July of 2010 with a prognosis from Purdue of "VERY POOR"  I was told by Dr. Brandenburg not to give my heart to the colt as he probably would not make it.  He was in very bad shape and could barely walk.  I had to help him up, and move his legs one after another for him to get to the food and water.  Well, with a lot of blood, sweat and TEARS the little horse continued to improve.  As his shoulder continued got better on the right side, his front leg on the left side got worse from favoring his sore shoulder.  It was a total of 18 months and 3 or 4 different styles custom made horseshoes before he could be considered as cured.  I didn't expect much at that time but for Lucky to have the opportunity to just be a horse.  I proudly watched him run around the pasture and get stronger.  AND RUN he did!  I was overjoyed that I had saved him and he would have a forever home in my pasture.  There were times I was saddened by what might have been but the accomplishment and the heart of the little horse were worth the cost of the pain.
The story doesn't end here!  I was to send Lucky to a trainer here in Indiana to be broken and learn some horse manners.  That was in January of this year (2012) as he turned 2 years old.  My daughter became very ill and spent the entire months of December and January in 4 different hospitals so as you can imagine the training was postponed.
When my daughter was finally on the mend I decided to take a weekend away from all my responsibilities and booked a weekend get away to French Lick.  It was there I saw a little old man at the crap table that looked so much like P.L. Myers (Dennis' father) I had to stop and say hello.  He said the crap table was not treating him so well and that he usually only gambled on the horse races.  I laughed and said I have a 2 year old race horse that needed a good trainer, and did he know of any?
It has snowballed from there! He gave me a name "Kenneth McPeek" of Lexington KY. www.McPeekRacing.com.  I contacted Mr. McPeek and he actually CALLED ME and asked to see my horse's pedigree.  He made arrangements to take Lucky to be trained and unbelievably he is doing SO WELL.  He is smart and fast! Barring any unforeseen accidents or incidents he should be ready to race in October.  Lucky Canuck is at Dennis' favorite racetrack in the US.  KEENELAND! I know this sounds crazy, but I was sure the moment you called me that it was really a divine sign from God and Dennis that he was letting me know that he( Dennis) was aware and proud of all I had done.
God's Blessings on you and yours,
Rae, Preston and Sally Myers
Horse of the Year??…A Wise Decision
As the racing year heads to its conclusion we start to see the old familiar arguments begin to be put forward in regards to who will or more importantly should be this year's Horse of the Year.
This year in my opinion, it seems to be considered by many a very open affair,  even given the standout performances that we have seen. The problems seem to centre on arguments built on a myriad of different components which range from age to length of campaign and surfaces raced on.
Personally, I think there is only one horse that seems to me should be the deserving winner of this year's title given his exemplary display over the period of 7 months against continued quality opposition and most importantly (in my eyes) his ability to perform on multiple surfaces. This is a quality that seems to not receive the recognition that it deserves when one is assessing the qualities required by a HOY contender.
If you have not guessed by now, I am referring to Charles Loprestis  5yr old gelding Wise Dan! This year in a campaign that stretches from late April thru to his track record win in the Breeders' Cup Turf Mile, he has put together a 5 from 6 campaign against quality opposition which included 3 Grade 1 races.  As I stated before he has also won across 3 different surfaces, showing an adaptability that eludes so many of our modern day thoroughbreds. Granted there are a few stars this year, Shanghai Bobby has clearly dominated the juvenile scene, and will be rewarded accordingly, Royal Delta won her second Ladies Classic, but had a few slight stumbles along the way that should rule her out. When it comes down to it, I think the only decision to be made is whether or not we cast our votes on a fantastic career best season or fall into the romanticism of the Triple Crown. Yes I am referring to the much loved I'll Have Another!
Whilst the bulk of you may consider this to be treason, I cannot in good conscious cast my vote based on a horse, and don't get me wrong, a very good horse, nearly winning a Triple Crown. I'll Have Another was fantastic promotion for our sport at a time when we clearly need it, and this year's crop of 3yr olds did contain some great horses as well, but his campaign was shorter, his runs were limited to one surface and it's fair to say he met the same horses most times.
I'm sticking with Wise Dan and I very well may be wrong when the title is announced, but there's no room for sitting on the fence with this one.
Breeders Cup 2012: Fun in the Sun
Santa Anita California this year played host to the most exciting 2 days of horse racing that is the Breeders Cup. Nestled in the suburb of Arcadia and based at the foot of the San Gabriel Mountains, Santa Anita race track is a magical place to spend the day in the company of some of the worlds best racehorses.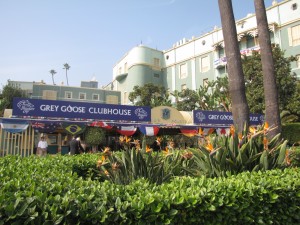 Friday, the first day of the event, saw the crowd bathed in gorgeous sunshine for the entire time that the horses graced the track.  We saw a fantastic day of racing that started with undefeated Juvenile Merit Man being upset by the outsider of the field, Hightail, in a thrilling photo finish and culminated with Royal Delta taking her second Ladies Classic and at the same time provide Mike Smith with his 16th Breeders Cup win making him the all time leading rider in Breed
ers Cup history. It was a fitting end to the day and a great lead into what was to come on the Saturday.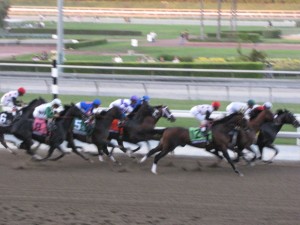 But first we had to make a detour that night to the Breeders Cup Taste of the World extravaganza at the Huntington Library Botanic Gardens. A magnificent affair hosted by Bobby Flay, that bought together some of the best chefs and mixologists from different regions of the world. The party saw trainers such as Bob Baffert, Aidan O'Brien, and Graham Motion mix with the owners of horses and VIP guests of the Breeders Cup. The fabulous evening allowed everyone to mingle inside a marquee tent set on the botanical lawns and taste delicacies from Australia, Brazil, France, and Argentina just to name a few. Mixing in with these were fantastic cocktails provided by the accompanying mixologists and of course the special Grey Goose
cocktails that were designed especially to accompany the Breeders Cup event. It was truly a fantastic celebration and a wonderful evening for those people who love the industry to talk in great anticipation about what was to come the next day.
Saturday saw us awake to a gorgeous blue sky and brilliant sun that was to soar to the high 80′s by mid afternoon, providing an absolutely gorgeous stage for the main day of the Breeders Cup weekend. With racing superstars like Groupie Doll, Game on Dude, Wise Dan, and St Nicholas Abbey just to name a few it was always going to be an amazing day! Throw into the mix, the return of 2011 Kentucky Derby champion Animal Kingdom and it was the only place to be for a true racing enthusiast and a great place to get introduced to this wonderful sport. The day saw some upsets, with Arlington Million winner and
20/1 shot Little Mike outlasting the fast finishing and heavily favored Point of Entry and St Nicholas Abbey in the turf as well as the Argentinean Calidoscopio cruising home in the Marathon at juicy odds of 18/1. The mighty Shackleford was well below his best in the Dirt Mile as was equal favorite Emcee, they both finished midfield and were never in the hunt as Tapizar took the honors.
But handicappers got a few dollars back in the Filly and Mare Sprint when odds on favorite and crowd favorite Groupie Doll produced a memorable run to travel wide most of the way and then proceed to crush her rivals in the stretch by 4 1/2 lengths on the wire. It was truly a magnificent run to behold. They also were able to make some money thanks to an unbelievably gutsy run by what must be this year's top Juvenile, Shanghai Bobby, who looked spent halfway down the straight but refused to yield and held off He's Had Enough to take the Grey Goose Juvenile.
All this had led us to one point, the Breeders Cup Classic. With a $5 Million purse, the richest in American racing, the crowd had been given a magnificent serving of entrees and now it was time for the main course. And it did not disappoint, from the moment the crowds put down their drinks to the moment they picked them back up to toast the winner, it was a magical place to be, suspended in gorgeous sunlight at the foot of the San Gabriel mountains watching these magnificent creatures give their all for one of racings ultimate prizes. In the end it was left to two to fight tooth and nail down the straight to see who would be this year's Classic champion. Fort Larned had gone out to the lead early and he wanted to keep it that way, but Mike Repoles Mucho Macho Man was going to chase him home every step of the way down the straight, and with every step he was going to get a little closer. The crowd was a choir of roaring voices as they approached the final furlong and it looked like Mucho Macho Man was going to get there, but Fort Larned looked him dead in the eye and like a horse worthy of joining such greats as Zenyatta, Curlin, Cigar, and two time winner Tiznow, he stood his ground to take the 2012 Breeders' Cup Classic.
Fort Larned and Mucho Macho Man
The sun started to set as if it knew it was time to remove itself from the stage and allow the curtain to fall on what had been an amazing celebration. People remained to toast the past two days winners and new fans were born into the sport of horse racing. It was a magical two days that was filled with every emotion you could possibly think of, a trademark that is somewhat unique to this wonderful industry that has the ability to take you to the highest of highs and the lowest of lows. As we made our way back to our hotel to celebrate a little longer and try and hold onto the last two days, it was summed up by one of our group, whom noted that it was like Christmas for him…and now he had to wait another year for it to come again.