Welcome to The

Style Section
Dreaming in Pink
Here's a few of our favorite dresses from Phase Eight that would be just PERFECT for the Pink out at the Longines Kentucky Oaks:
These are perfect dresses for the fun feminine day. Pair with delicate millinery and a dainty clutch and you will be sipping on those Pink Lilly Cocktails in true fashion!
Kentucky Oaks: All about the Pink
Ladies we are less than two weeks away from the biggest Ladies' Day at the Races in the United States. The Kentucky Oaks has grown substantially not only in attendance but in popularity and recognition. This is the race day for the girls and it can't be missed with the sea of pinks that it showcases!
Longines is the title partner of the Longines Kentucky Oaks. " The first running of the Longines Kentucky Oaks was on May 19, 1875 when Churchill Downs was known as the Louisville Jockey Club. The race was founded by Meriwether Lewis Clark, Jr. along with the Kentucky Derby. The Oaks and the Derby are the oldest continuously contested sporting events in history, and the only horse races to be held at their original site since its conception. The Longines Kentucky Oaks was modeled after the British Epsom Oaks. The Longines Kentucky Oaks is considered by some to be among the most popular horse races in American horse-racing society due to its high attendance. It attracts about 100,000 people in attendance a year." (From http://www.kentuckyderby.com/kentucky-oaks) However, you have clicked on The Style Section, why don't we focus on the style on the day?? If you haven't been to the Longines Kentucky Oaks-you are sure missing out. The most important thing you need to know can be said in one word: PINK! Oaks Day is ALL ABOUT THE PINK. Pink in your outfit, on the horses, in the drink in your hand…PINK PINK PINK! This is definitely the day to bring that girliness that for some may be deep down hidden, but we know you're able to pull it out just for this particular Friday!
There's so many different ways to rock pink for this raceday. You can choose a dainty pink lace dress paired with simple accessories and a great medium brimmed hat.   Not into the all too feminine look? Choose a fun modern pink print instead. Pair with a stand out shoe and cute clutch. This type of outfit would be perfect with a standout fascinator instead of the brimmed piece.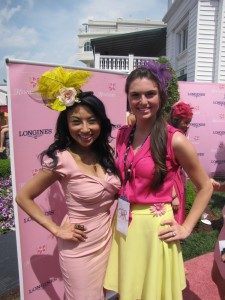 All pink too much? Try color blocking! A pink shirt with a bright yellow colored skirt is a great combination. Pink and orange, pink and turquoise, or even pink and green can be great color combinations for the day. You'll be stand out in these combo's yet still feminine and elegant.
If you're looking for a more subtle combination, try Pink paired with either white, black, or a nude tone. Bri Mott's says "If you choose the Pink and Black combination, make sure its more on the pink side. Oaks and Derby are all about color and femininity. Save the black heavy outfits for Preakness or Belmont."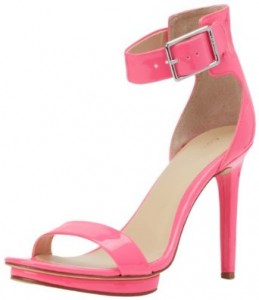 If you want to really step it up fashion wise and show off a bit to the crowd…do this through your shoes. A fantastic pair of pink shoes is just the extra something to set your outfit apart from the rest. Pink shoes aren't all over stores and aren't frequently worn in your everyday life. This is the day to purchase and showcase them!
Lastly, finish your outfit off with some great jewelry. Pink bracelets, and statement necklaces are a great tie in to your Oaks outfit. The best tie in is a great Longines Watch. Our favorite for the day is the Longines DolceVita.  Gorgeous stainless steel finished with a light pink face…um yes please! Don't forget Longines will once again select the Most Elegant Woman at the Longines Kentucky Oaks Fashion Contest which celebrates elegant Derby style. The winner of the Longines Kentucky Oaks Fashion Contest will also be awarded a Conquest Classic timepiece. This is enough reason to put thought into your Oaks outfit! Stay tuned for all the inside info on these competitions.
Audrina Patridge in the Triple Crown Trends
Fashion at the Races was requested again by NBC's LXTV 1st Look to dress their host for the Triple Crown. Audrina Patridge, famous first from the reality show The Hills, has become the new host after ex-Bachelorette Ali Fedotowsky left LXTV and went to E! News to be the beauty consultant. Audrina Patridge who projects  a wild rocker side with her leather boots, multiple earrings, and thumb rings was so much fun to dress in the #TripleCrownTrends. Each outfit completely different than the last, Audrina learned about the styles of the race track and what racing fashion is all about.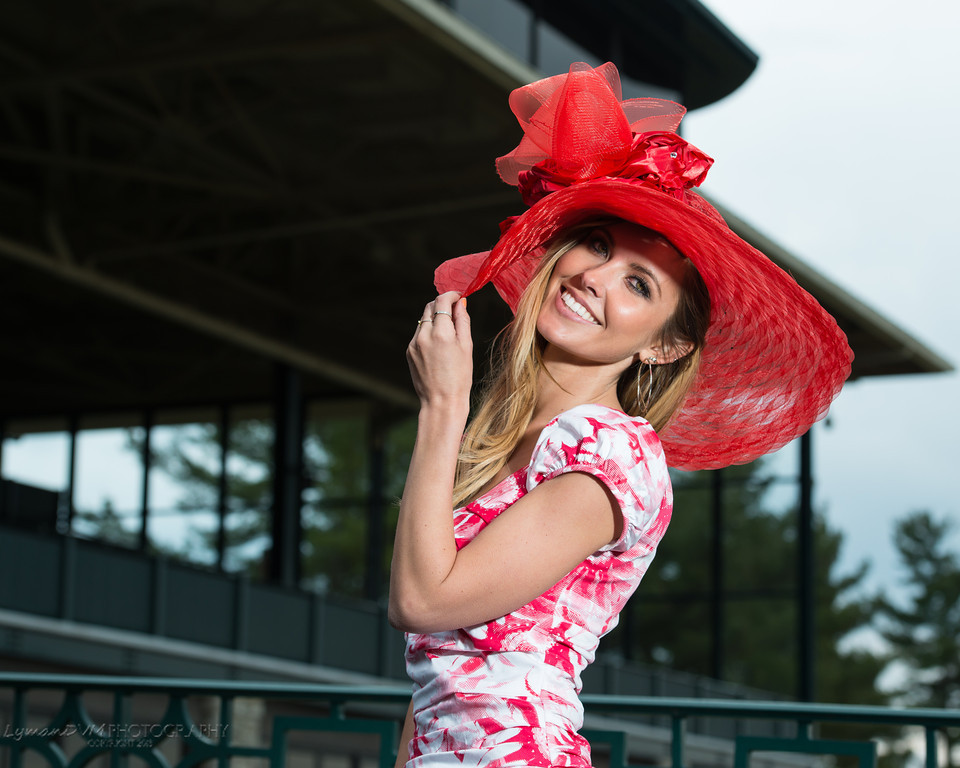 For Derby we dressed Audrina in a red and white floral dress with the traditional big brimmed Derby Hat. The hat was designed one-of-a-kind by CrowningLori Hats (which you could WIN on our website!). Lipstick red with sequin details, the hat is a stand out just as much as the young lady wearing it!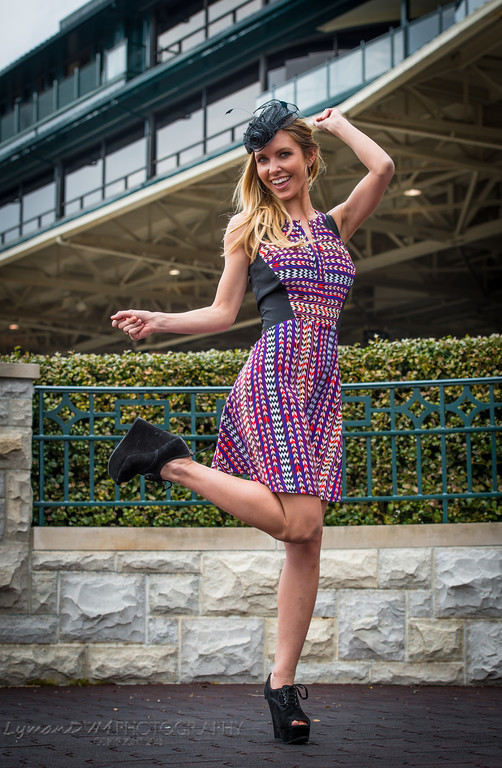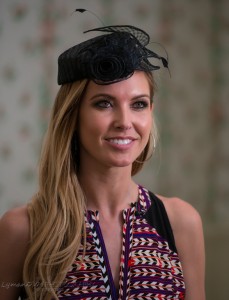 Preakness is definitely Audrina's raceday. We dressed her in a KACHEL modern printed dress with an A-line skirt. Since the race day is all about the party, we keep the millinery light and simple. We went with the amazing "Black Widow" by Lisa Tan Millinery. A light and airy piece that sits on the head and doesn't mess up the hair. Looking to dance? This dress is the best to get your twirl on and the hat won't get in your way either! Cheer on your horse and lets party!!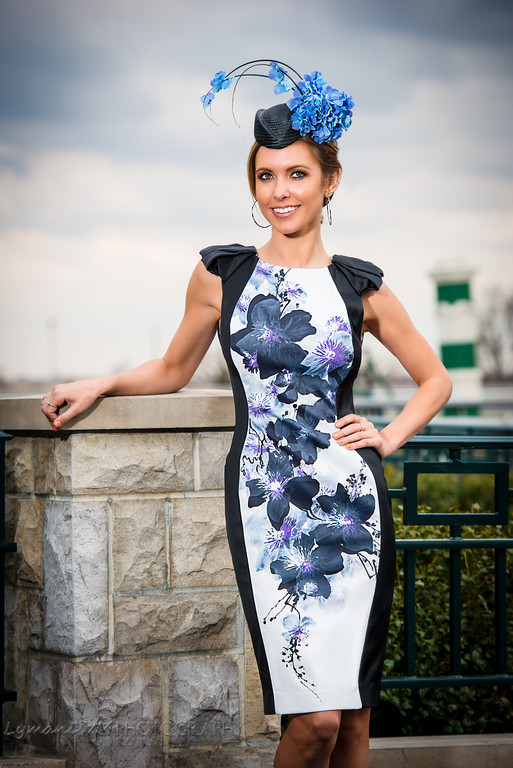 Lastly we channel New York for the Belmont Stakes. The monochrome from the city is brought into Audrina's race wear. We chose a Karen Millen dress that is flattering to any body type with black panels down the side and a floral print front and back. Rather than JUST black and white, we added a little bit of lavender color to set her apart from the crowd.  We matched this dress with a beautiful Sophie Hunter fascinator. Best showcased with the hair up, we put Audrina's hair in a low bun.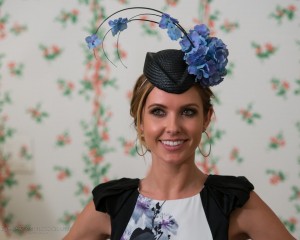 The Triple Crown brings the best horses, best atmospheres, and of course the best racing fashion that the United States has to offer. It's important that you know the #TripleCrownTrends before heading to the track. From the first leg, the Kentucky Derby, to the last in New York City, the Belmont Stakes, these are the races to see and be seen. Audrina Patridge will be turning heads at each race and we may take a little bit of the credit 😉 Stay tuned for the NBC 1st Look episode featuring Bri Mott dressing Audrina Patridge for the Triple Crown! It will air the night of the Kentucky Derby after Saturday Night Live!!
 Tea Cup Anyone??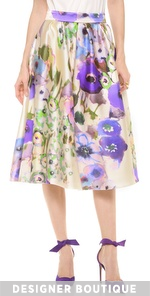 Although the races has a sort of elegance as a proper 'Tea Party,' this is not why we are referencing the length of dress or skirt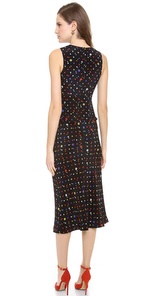 as a Tea Cup. It truly has nothing to do with a Tea Party or the Races for that matter. A Tea Cup Skirt is a length that falls below your knee into your calf area. Some would say it's the in-between of a midi and a maxi. However, we say it's virtually the same as a midi (as we hate anything maxi for proper racewear). This is the perfect length for any raceday as well as a trend for Spring 2014. Its more elegant than a skirt that drops to your knee and of course the mini skirt (which as a reminder should never be worn at the races). Whether it be in pencil form or a free flowing full skirt, this is the length to try out. It looks fabulous both in a dress or skirt form. If in a skirt, opt for a high waist fit which will elongate your body making you look slimmer and taller. On the shorter side? Pair it with a pair of nude heels… this will elongate you even more.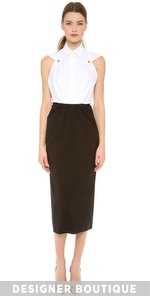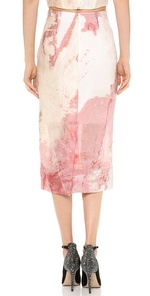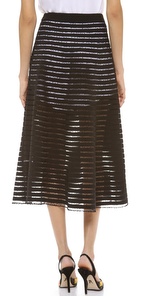 Lady like yet still modern-exactly what racewear should be.     ShopBop: http://www.shopbop.com/clothing-dresses-midi/br/v=1/2534374302204904.htm?baseIndex=0
 Check out our Kentucky Derby Fashion advice on WHAS11 ABC in Louisville!
 5 Quick Tips on Dressing for the Races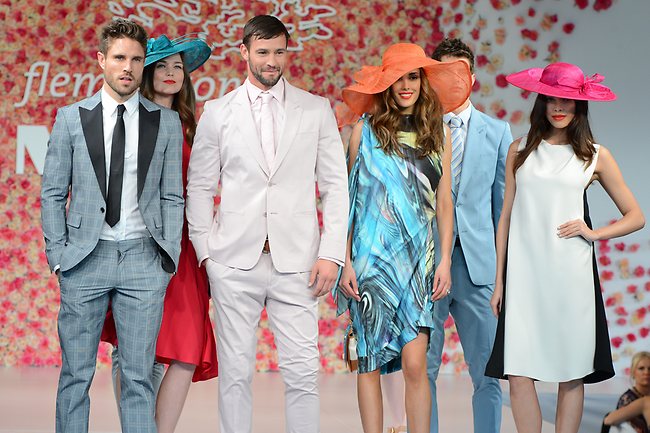 Women
Be comfortable-no one looks good in "someone else's" clothes or shoes


Leave the night club dress at home. Think classic and feminine when putting together you race outfit

Wear headwear! Hats and Fascinators are very fashionable and take any outfit from pretty to STUNNING!

Dress for the weather–if it's hot– don't risk "pitting out"–chilly? Wear stockings or a shawl/sweater.

Lastly, SMILE. Too many times girls are too busy giving the b**** look to each other–and it's never flattering.
Men
Shine your shoes before you arrive. Girls do pay attention to this. (Obviously NO SNEAKERS)

Tie your tie or bowtie correctly–need help? Check out this link: http://www.tie-a-tie.net/

Make sure your suit fits. It's so easy to recognize when your suit isn't fitted. Spend the extra and Get R Done!

Sunglasses…great for outside…UNNECCESARY INSIDE. Take them off or look like the tool—your choice

Smell good (PLEASE!) We are all attracted to good smells…don't find yourself in the other category.