Welcome to The

Style Section
 Derby Day Kicks off Melbourne Cup Week in High Fashion
Derby Day (setting the precedent for Belmont Stakes day here in the USA) is all about the monochrome. Whether its crisp whites paired with patent leather black heels and a red lip or mixing of black and white patterns- the ladies grab their best monochrome and put on a show. Here are a few of our favorite Derby Day Styles from previous years:
There's too many to choose a favorite! Don't you think??
Breeders' Cup Trends
We are less than two weeks out from the Breeders' Cup Championships at Santa Anita Park just outside of Los Angeles, California. It may be fall in the United States but the weather in California on this weekend can frequently resemble a summer vacation rather than a cool fall weekend. However, you must be prepared for anything as the shade can bring out the goosebumps.
We have our three trends for Breeders' Cup and can't wait to see these on track:
Metallics have been seen on the runway and we are introducing them to the track. Whether you bring out the metals in your accessories or millinery or go full board by wearing a copper or silver toned dress0 this trend will have you shining at the 'Park.' Christine models a Victoria Secret silver metallic dress with BCBGMaxazria artistic wedges. A gorgeous sterling silver necklace from our jewelry partners at Chloe and Isabel shines just below the gorgeous Formé Millinery fascinator. The fabric is light enough for a hotter day but also covers her up in case it gets a bit cool.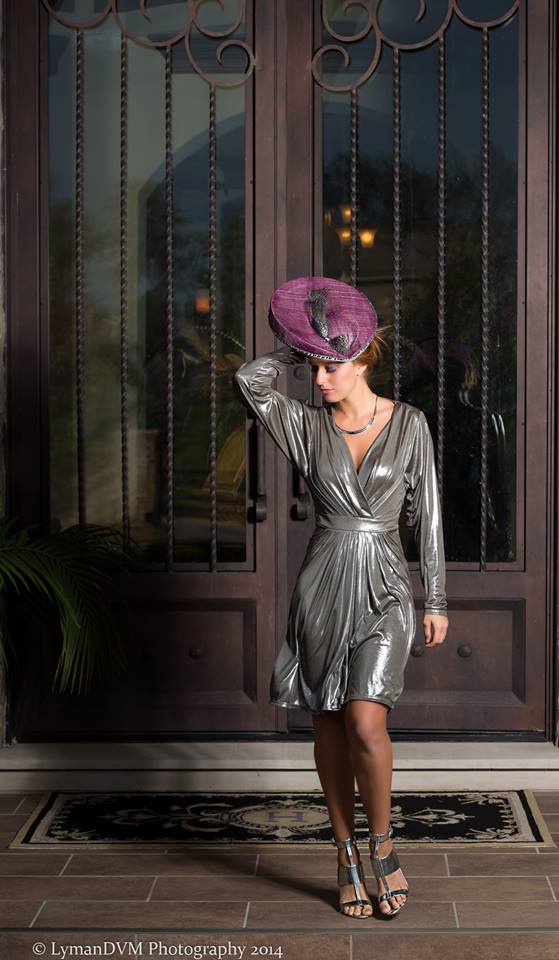 Our second favorite trend for the race weekend is color blocking. Bringing out the sunny side of California, we can't forget our bright happy colors. Neons are still a go for this years fashionable weekend paired with a bright but not so loud color. These bright colors will separate you from a sea of monochrome outfits and show your bright and happy personality which we know you have. Who wouldn't want to grab a martini wearing this trend? We've styled Christine in a bright orange chiffon dress with zipper detail paired with a chic fascinator by Studio 910. As the colors are bright enough, you don't have to go all outwith your accessories, with a great statement ring or bracelet doing the trick.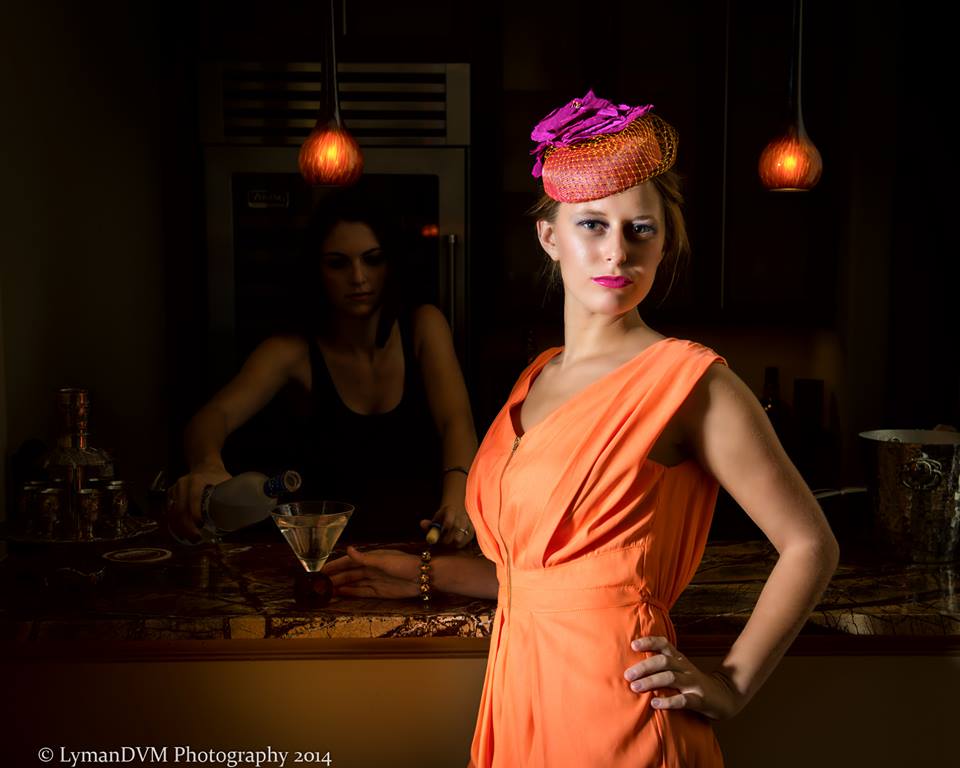 Lastly- you can't do Breeders' Cup without including the #BCPurple. In our last outfit we included a little bit of purple in Christine's fascinator (and her shoes that you couldn't see!) but this one we are going all out! Purple from head to toe can absolutely be done if done right! Bri Mott is in a great purple dress (bought at a thrift shop for $7!) with purple platform pumps from Zu in Australia- but do you even care about the outfit. It is ALL ABOUT THE HAT! This great piece by Carol Kennelly (Ireland) is nothing short of fabulous. You will have to check out the piece in our store to see all the beautiful beaded detail-trust us you will want to!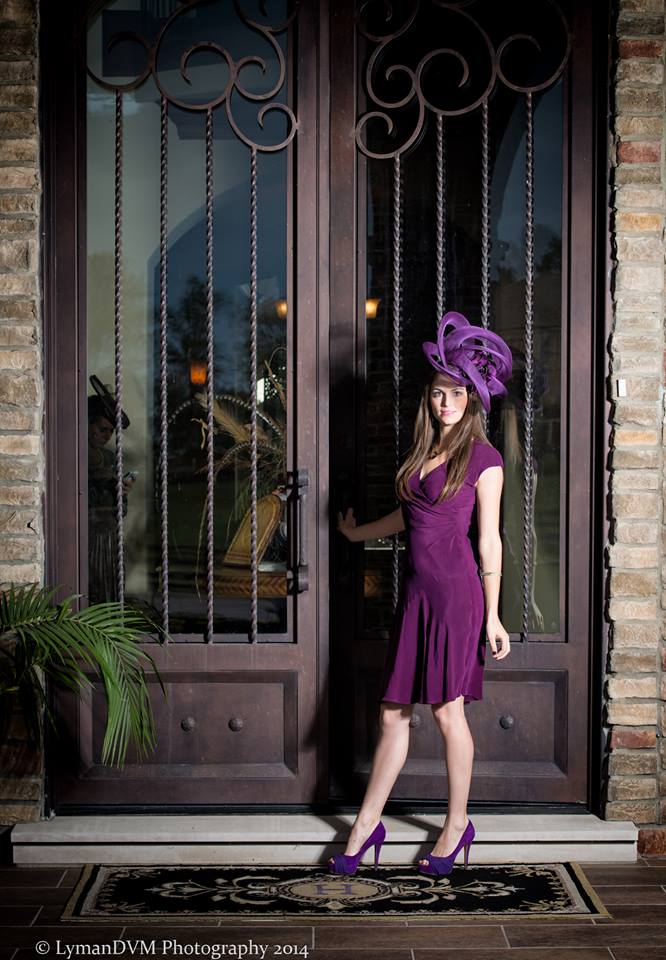 These are three fun fashion ideas to play with for the big weekend. You not only have one raceday to dress for- but two!! Saturday is definitely the bigger day of the two but there will be a fashion contest on both days so dress your best and strut your stuff!
Need more millinery inspiration for BC14? See our picks here! 
Happy Breeders' Cup 2014!
 Paris is Always a Good Idea!
The beginning of October is such a great time in racing all over the world! Northern Hemisphere heads into fall where we start to see the fabulous jackets and furs along with gorgeous fall millinery. Our friends in the Southern Hemisphere bring out their spring colors preparing for the all too fashionable Spring Carnival.
This weekend we head to France (Oh Mon Dieu!) for the Prix De L'Arc De Triomphe at Longchamp. Fashion can't hit a higher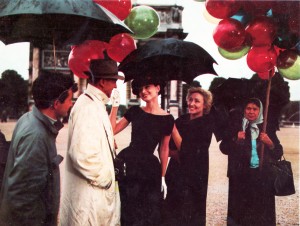 note than right outside of Paris. Of course we have to include a picture from Funny Face of our racing fashion idol Audrey Hepburn. Nothing says Paris like her style- maybe because her top clothing designer was french! (Please give a round of a applause for the amazing Givenchy).
You might assume that the millinery worn to the Prix De L'Arc De Triomphe will be small and quaint, but in past years racegoers have proven quite the opposite. Ladies adorn themselves with statement pieces and show off to the masses. This year, Longchamp has partnered up with our stylish friends at Longines, as well as Qatar Tourism and Citroën Automobile Company to find "Les Beaux Duos!" Longchamp will be looking for the Best Dressed Couple or the "Beautiful Two."
From the Qatar Prix De L'Arc De Triomphe website:
Only 20 duos, selected from photos taken at the racecourse by a professional photographer, will be judged by our fashion ambassador. The three most elegant couples will win some great prizes. The prizes up for grabs are two Citroën cars (1st place), a week-long holiday to Qatar for two people (2nd place), and two Longines watches (3rd place). So dust off your glad rags, find a worthy partner and match your outfits in a bit to become the first ever "Beau Duo" of the 93rd Qatar Prix de l'Arc de Triomphe!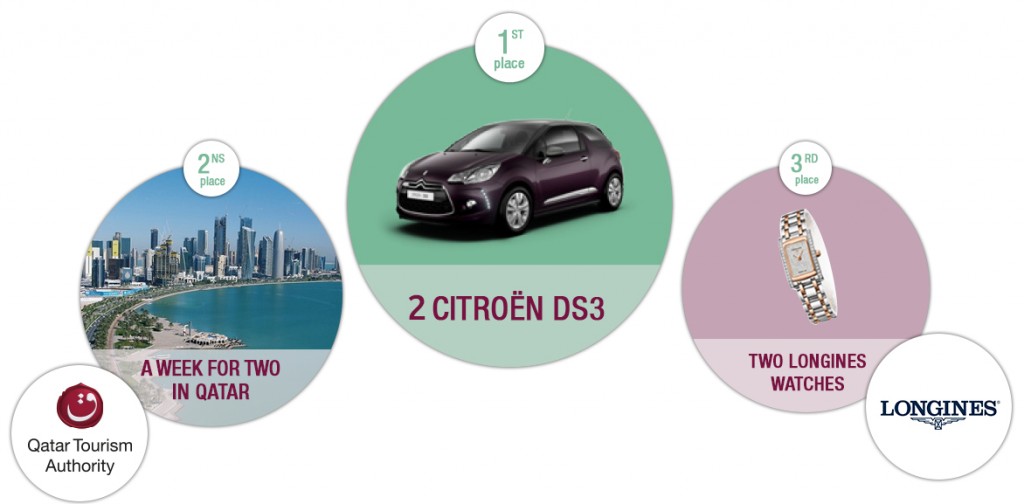 The care with which you plan your outfit for the event each year is finally going to be rewarded. But beware, you will need to match your outfit to that of your partner, as our fashion ambassador will judge the elegance of the couple as a whole. So pick a partner – son, daughter, parent or other half – who is as stylish are you are!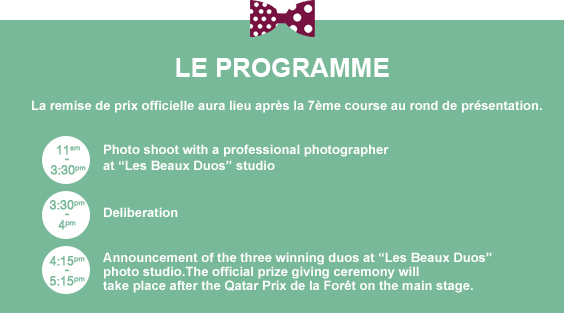 Our photographer Mathea Kelley will be on site snappy all the fabulous fashion and horses of courses!
If you are in attendance- tweet us a picture of your fab outfit!! Happy Racing!
Sofitel's Girls Day Out Signals the Start of the Spring Racing Carnival
From the Flemington website:
It's time to reacquaint yourself with hats, heels and horses at Sofitel Girls' Day Out. Step out in style in your finest spring fashion whilst enjoying a great day of racing.  Gather your friends and experience Flemington's world class dining facilities and, for the fashion lovers, a visit to Paris Lane is a must!
Sofitel Girls' Day Out
Date: 

Saturday

13

 

September

2014

Gates open: 11am

First Race: 12.30pm

Last Race: 5.15pm

Where: Flemington Racecourse
Gates open 90 minutes before the first race.
'Paris Lane' featuring the Flemington Retail Village
Paris Lane is a free retail and entertainment precinct featuring the Flemington Retail Village, live music and gourmet food and wine. The enclosed venue located above the horse stalls, boasts amazing views of the racetrack and Melbourne skyline. Paris Lane is the perfect venue for you and your friends to enjoy the fun, fashion and fillies that Flemington is renowned for.
For the fourth consecutive year, the general public can enjoy:
the Flemington Retail Village, displaying millinery and accessories available to purchase on the day
live music
pop-up nail bar
gourmet food and wine
Lavazza Coffee Lounge.
Retailers will have a selection of millinery, fashion and accessories available to purchase on the day.
Hats and High Tea – presented by Sofitel Melbourne On Collins
Celebrate the start of spring in style and treat yourself to a delicious buffet of sweet and savoury delights at Flemington's Hats & High Tea on Sofitel Girls' Day Out. Located in the Panorama Restaurant in the Hill Stand, this package includes:
racecourse admission
entry into Hats & High Tea presented by Sofitel Melbourne On Collins
racebook
savory buffet prepared by Peter Rowland Catering at Flemington
high tea sweet delights created and prepared by Sofitel Melbourne On Collins
cash bar for beverages
variety of tea blends and coffee
interactive millinery display
prizes and giveaways
parking in the VIP Car Park
covered seat in the Hill Stand to view the races
tote facilities and televisions within the room.
The standard dress requirement is racewear for ladies and jacket and tie for gentlemen.
 Judges Tips for #BestDressedLady at the Arlington Million
Just a few days away is the Arlington Million where Arlington Park, Valor Ladies, and of course, Fashion at the Races, has teamed up to find the #BestDressedLady on the day!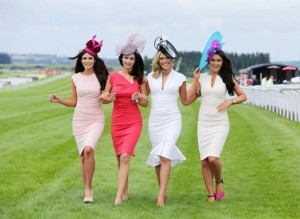 We have 3 stylish judges including FATR's Bri Mott, CEO of the Ladies Only Racing Syndicate, Valor Ladies, Megan Jones, and lastly winning jockey and race fashionista, Stephanie Slinger!
Here are their tips for ladies entering the contest on the day:
Stephanie Slinger: 
1. Pick an outfit that'll represents your personality. Think timeless. Racing has a lot of tradition and fashion in racing tends to be the same. Have fun but think derby!! And of last but not least, be confident! If you wear something always wear it proudly. It makes such a difference!
Megan Jones:
I think being both confident and comfortable in your clothes is so important. Fashion is one of the most powerful forms of self expression, so if what you wear to the races reflects your personality and in some way channels the spirit of the event then you're perfect! 
Bri Mott: 
These fashion competitions can be nerve racking-trust me the Dubai World Cup Jaguar Fashion Stakes had my knees a knockin! So have fun with it! Smile the whole entire time. Your smile will make you more beautiful than an outfit ever could. Dress to your personality and what you are comfortable in. We can all spot someone in clothes they don't feel good in.  Lastly, this is not a night club or the beach. Leave the skimpy dresses at home, and as always #bebetterthanthefloppy. No floppy hats!! xxx
 Fashion at the Races' Focuses on Jewelry
No racing outfit is complete without some fabulous jewelry. When Bri Mott came across a fabulous company, Chloe and Isabel, that made stunning and affordable jewelry, she thought "how fitting for the races!"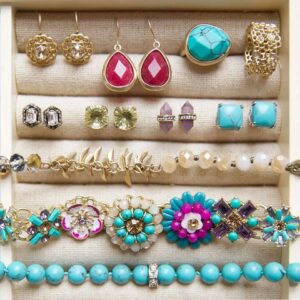 "I think good jewelry is hard to find. Most of the time, it is the last thing I spend money on. I'd rather get hats, fabulous dresses, and of course shoes before I put my wallet out for jewelry. These pieces are stand out in quality and design. Even better, they come with a lifetime guarantee so if something breaks down the road, we will replace it for you!"
Chloe + Isabel jewelry is produced at the world's best-known fashion jewelry manufacturers, who also produce jewelry found at stores such as Neiman Marcus, Barney's and Bergdorf Goodman. By designing and sourcing our pieces directly through our NYC studio and removing layers of middlemen, we are able to offer our luxe and timeless pieces at significantly lower prices. All pieces are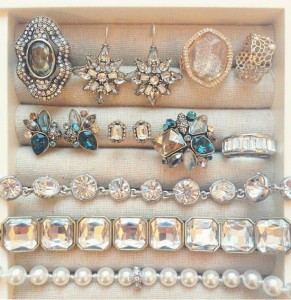 hypoallergenic, nickle-free, and lead safe! 
Everyone has a different style and Chloe and Isabel gives you so many options to show off your personality through your jewelry. We have beautiful retro pieces that can give you an Old Hollywood vibe to statement necklaces in our 'Moroccan Summer' collection with a boho vibe. We also have great 'convertible' pieces that give your more than one jewelry option in one piece! One of our favorites is the Convertible Pearl Necklace: 2 necklaces, and 1 bracelet in one piece!

If you are on the FATR email list, you would have received an email from us giving you an exclusive invitation to our FATR Online boutique! We want you to take a look at the beautiful pieces and see if you find your next raceday accent. -We think you will! Right now there is a limited edition called Papillon Nocturne and it is flying off the shelf! The ring has already been sold out- so if you like don't wait on this one! It'll be gone before you know it!!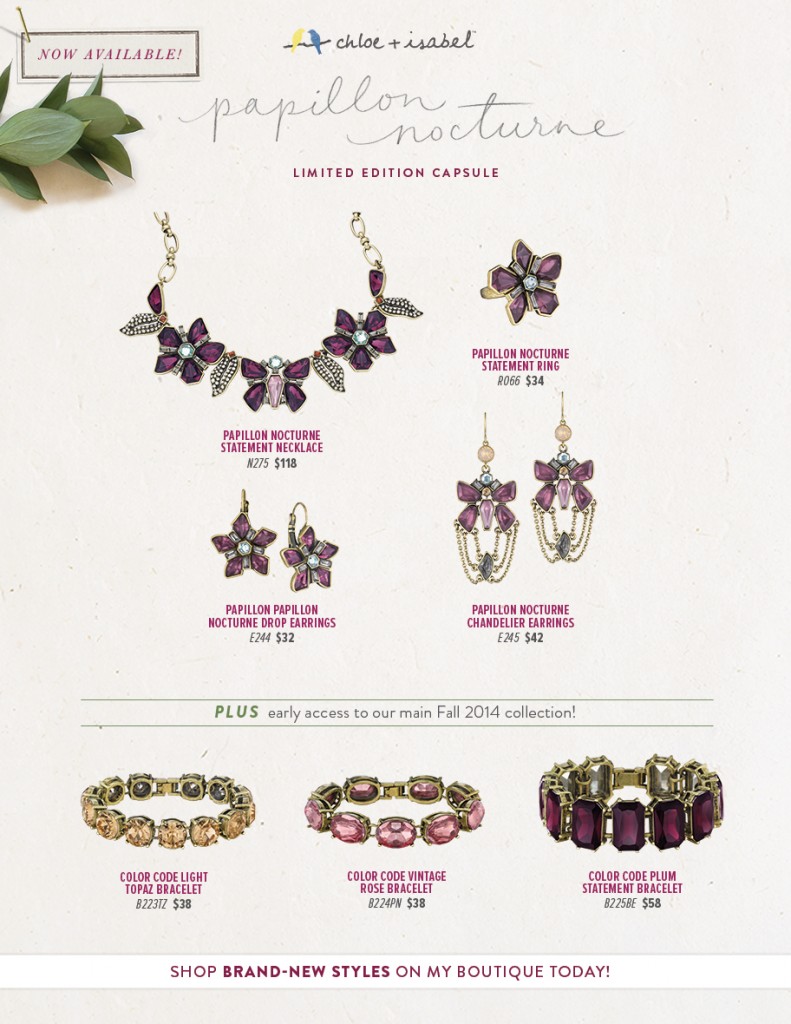 If you shop from Saturday August 9th, until Monday August 11th, you could win $25 toward your next purchase of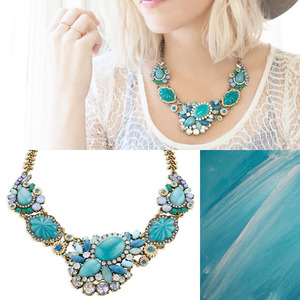 $75 or more!!   Check out this fabulous jewelry here and tell us which one is your favorite!
 Saratoga Soc

ialite: MaryLou Whitney

This weekend at Saratoga Racecourse in upstate New York, shines light on a famous family in horse racing. The Whitney's have been involved in horses since before the 1920's. The involvement, success, and philanthropic efforts have made them famous in horse racing throughout the United States. In 1928, Saratoga Racecourse named a race after William Whitney which over 100 years later will run this Saturday.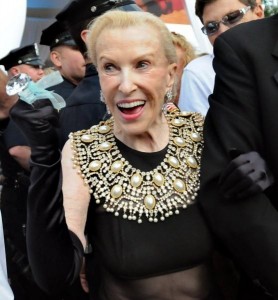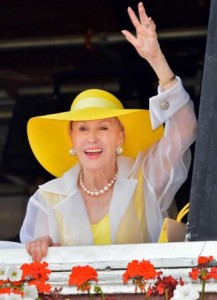 MaryLou married the grandson of William Whitney, Cornelius Vanderbuilt "C.V" Whitney in 1958. MaryLou was swept up in the world of horse racing and after her husbands death in 1992, MaryLou got even more involved than she ever was. In the 1980's C.V. dispersed much of the Whitney thoroughbreds to make sure the MaryLou wouldn't be burdened upon his death. However, after he passed, MaryLou spent a substantial fortune buying back the Whitney breeding stock including Dear Birdie, the dam (mother) of Birdstone, the 2004 Belmont Stakes and Travers Stakes winner. She is known not only for her success in horse racing but also her philan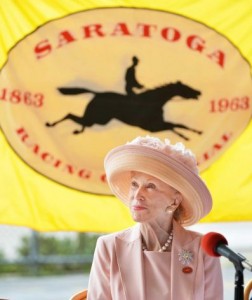 thropic efforts with retired racehorses and cancer research and care. Her accomplishments, awards, and good deeds are both truly impressive and extensive! See more of them here. Part of the reason people look forward to this weekend's raceday, The Whitney, is the fashion. Much of the fashion and style on this day we attribute to Ms. MaryLou herself. Never have you seen MaryLou disheveled. Her style is always impeccable, elegant, and classic. She wears hats to the races (as every woman should) with bold statement jewelry. Pearls are her go-to and she has created quite the staple in wearing them. Her style has a Jackie-O vibe paired with the elegant yet upbeat style of Saratoga Springs. Saratoga fashion and MaryLou go hand in hand. Last year she waved to the Saratoga crowd in a bright yellow dress and sheer white coat with eccentric buttons. She always arrives in a bright and fun color giving her such a welcoming vibe to all of her fans.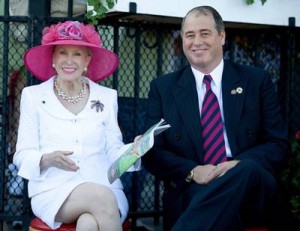 Never has she worn a huge gaudy hat. Her millinery is always just the right size. Take notes Ladies!!  IF there was ever a style icon for American Racing- MaryLou would be just that. In a world that seems to loose its luster, and an industry that leans more toward the handicapper in his ripped jeans and Hawaiian shirts, MaryLou still keeps it classy and shows the fans what horse racing used to be about. The horse, the glamour, the fashion, and the fun.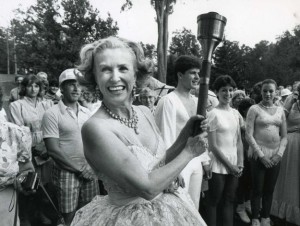 MaryLou Whitney…cheers to you.
 Galway's Ladies Day
Galway's Ladies Day offers some of the best fashion forward style at the races in Ireland. Ladies dress in vintage inspired clothing but put their modern spin on in it. Regardless of their choice of fashion, the ladies that will enter the "Best Dressed Person Competition" will be dressing to win!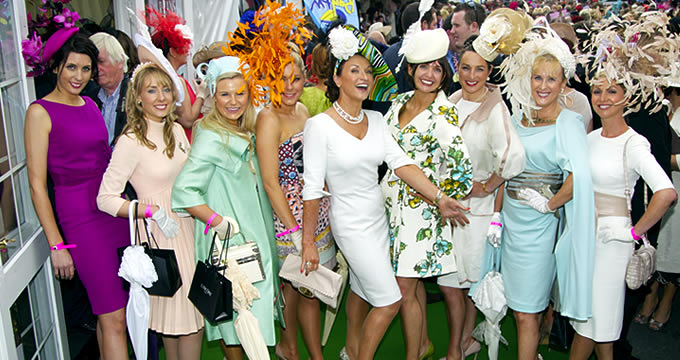 Last year, Rachelle Guiry from Limerick took home the Best Dressed Title (she also just won at the Curragh!) in a Ted Baker dress, vintage clutch, and Carol Kennelly Millinery. Her baby blues caught the judges eye and she stood out in her pastel outfit. Her skill of applying makeup (she is a talented make-up artist) probably didn't hurt either! This year we will be seeing  a little bit less of the vintage wear and more towards the modern bits. Jumpsuits may be thrown in the mix which will have to be paired with some fabulous accessories and millinery to beat out the typical racewear. Bold prints and colors will be seen on track and hopefully will be paired with a sunny day and not the rain that last years Ladies Day brought.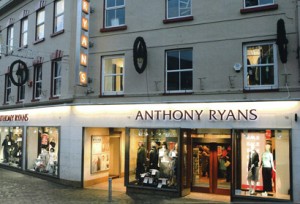 This year the Best Dressed Person competition is sponsored by Anthony Ryan Ltd of Shop Street, Galway. Anthony Ryan Ltd. has a strong reputation for quality service and an unequalled variety of collections. Galway Ladies Day is famous for being stylish, vibrant, and chic. Ladies can also compete in the Best Hat category and for the Wear Irish  Award. …and the prizes! Oh the Prizes!! This year's Anthony Ryans Best Dressed Lady will walk away with a one carat diamond solitaire pendant valued at €8500, a shopping spree worth €1500 in Anthony Ryan's, Galway and €1000 cash. She will also receive a Lancôme Presentation Gift Hamper worth €500 and a corporate hospitality package for Galway Races October Bank Holiday Racing Festival. Celebrity stylist, author and TV presenter Lisa Fitzpatrick has been lined up to join the judging panel for the Anthony Ryans Best Dressed Lady competition at the Galway Races Ladies Day on Thursday 31st July 2014.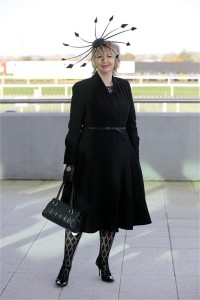 She will join fellow judges Bairbre Power, Fashion editor of the Irish Independent and PJ Gibbons, Editor of Social & Personal Magazine in selecting a winner from the crème de la crème of the fashion elite attending the busiest day of the Galway Races summer racing festival. (Information from Galway Races.) There is no formal or pre-entry for the competition. The judges will wander around and find well dressed ladies whom they will invite to compete. If you want to participate in this years competition, be sure to arrive early as the finalists will be chosen before 2:30pm. The winning outfits are usually announced at approximately 3.30pm. The prize giving ceremony will take place in the enclosure immediately after the 5th race. Here is last years winners: 1. Winner of Best Dressed: Rachelle Guiry 2. Winner of the Best Hat Competition,Alex Butler, Best dressed lady, Rachelle Guiry and winner of the Wear Irish Award, Aisling Maher.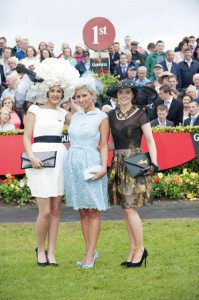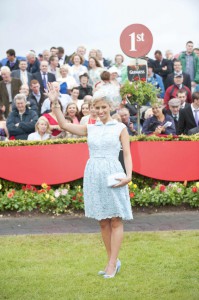 Check out more information on the Galway Races website.
 Del Mar Opening Day
One of the most well known "Opening Days" in American racing is held at Del Mar. Known as "Where the Turf meets the Surf," Del Mar brings out the beachy style in young race fans! However just because the beach may be near by, that doesn't mean you should be showing up in flip flops and a bathing suit cover. Instead give your racewear a beachy and fun vibe! Here's how to do it: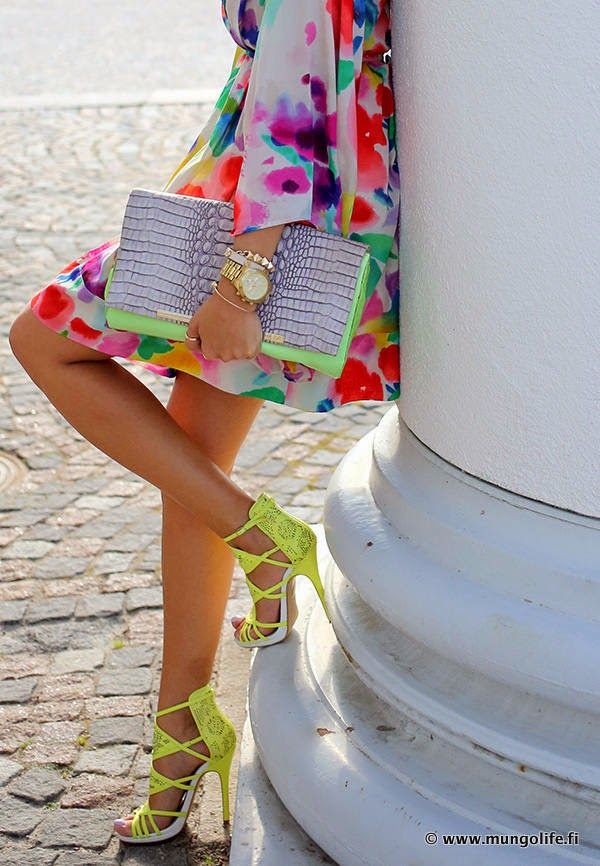 Rather than the flip flops-grab a fun and comfortable wedge. We are loving the wedges from BCBGMaxazria which are both flashy and practical.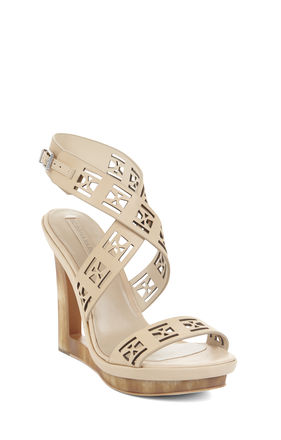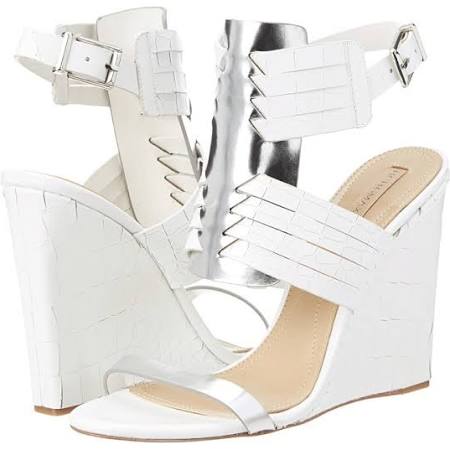 This metallic gold wedge with a Greek influence will have your feet traveling happy all day (especially with those Dr. Scholl's Dream Walks added!).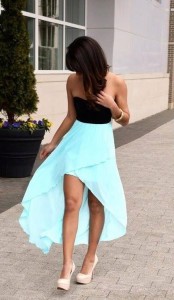 Leave the LBD at home on this one. You want bright colors and flowing fabrics such as corals and chiffons. Enough of the "mullet" dresses already!! Not only does it dress you down but it also puts you in the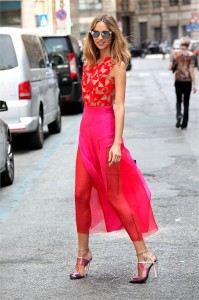 "tweeny" world. Racewear is supposed to be elegant and classic with your modern stylish twist- enough of these dresses!
Besides the "mullet" dress, our last pet peeve is floppy hats for this raceday. A floppy hat is not proper raceday millinery and it most definitely brings your raceday style down a bit. If you have put the effort into your outfit with beautiful shoes, a great dress, and beachy waves in your hair-keep up the high style with a great sinamay hat or fascinator. Sinamay is the perfect millinery material for warmer days at the races. Many of the Derby hats that you are used to seeing is made from this material. Check out this hat by Studio 910.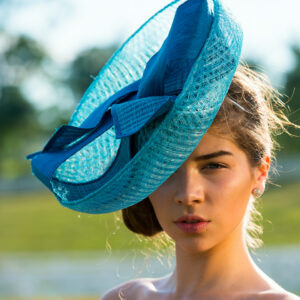 Statement necklaces will be a plenty on track and for good reason! A great way to incorporate more color and style into your raceday outfit. Dont' get too matchy matchy but instead bring it in as a fun surprise! For your purse you may want a shoulder strap for this raceday. You'll need both hands to hang on to your winning tickets and your beachy cocktails!!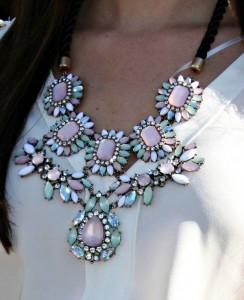 Send us a picture of your raceday outfit via twitter!! @FashionatRaces
Queen's Plate 2014
As a first year attendee of the Queen's Plate at Woodbine Racetrack right outside of Toronto, Ontario, I can't say that I was disappointed in the least. I have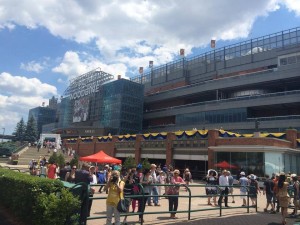 been a fan of what Woodbine has promoted the past two years with the Hats and Horseshoes Party. It is the perfect example of what a racetrack can do not only to increase attendance, but also to increase the effort  that attendees put into their outfits for the day.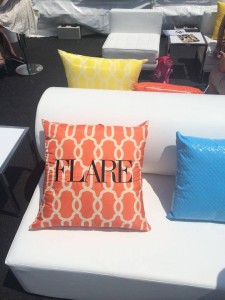 From start to finish, everyone was such a joy to be around, from the professionals at the track to the everyday attendees. When we first arrived, the main entrance of Woodbine was definitely a site to take in. After we got our excitement together, looking to my left I saw the walking ring. It was interesting to take in as it almost seemed off-track. However, the walking ring was surrounded by the Hats and Horseshoes Party with tables and chairs, a main stage with a band, a red carpet for stylish attendees to get their picture taken and David Dunkley's tent which was the temporary housing to so many beautiful millinery pieces. If you kept walking around the back of the walking ring, you passed colorful food trucks with the tempting and amazing aromas of the food being cooked inside. Passing all those (reluctantly) led me to the most stylish party in Toronto at the VIP Flare Magazine Tent.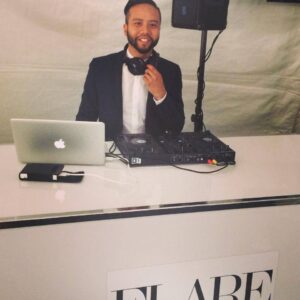 If you weren't invited to the party…you wanted to be! A fabulous greed hedge with the FLARE name built in, had everyone stopping to get their picture taken. Although it was a 'private party,' the best thing about it was many stylish attendees were invited from the Hats and Horseshoes area just because of their racing fashion! See ladies- you dressing up at the races will always pay off! The area had a D.J. pumping some fun house music with TV's on each wall to let you enjoy the races just the same. A gorgeous white bar housed Grey Goose and Champs along with the official drink of the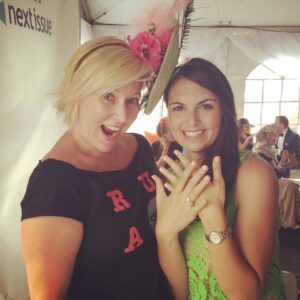 Queen's Plate, the Blue Diamond. Delicious finger foods were brought around to keep your tummy happy but you still free to socialize. After you got your dance party on and had a few sips of your cocktail, you could get your hair done by the girls at the Pixii Salon. Forgot your fascinator? That's okay- you could make one or have one made with flowers and a headband! Last but certainly not least, why not get your nails touched up by Cheeky Monkey Cosmetics! Even if you didn't want your nails done, it was worth checking out the different names of their nail polish! ("Camel Toe" was one of them-just saying)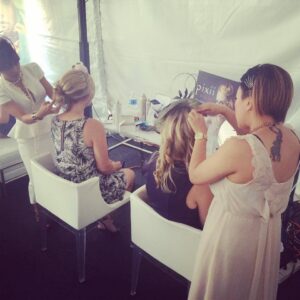 Betting stations within the tent allowed you to enjoy a day at the races outside of the grandstand. You could pick out your horses in the paddock, make a wager, be pampered, dance, drink, and just have a fabulous time! Racetracks in the U.S. need to talk note! (We may have to move to Woodbine otherwise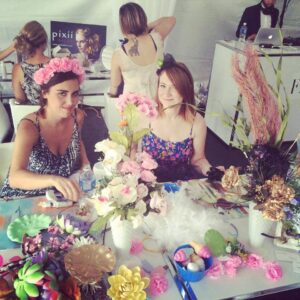 Of course we need to put some focus on the race itself and Congratulate owner Gary Barber and all connections including trainer Mark Casse of the fabulous winning LADY of the Queen's Plate. Lexie Lou took on the boys and showed them who's boss and took home the biggest prize on the day…in pink silks we might add! Congratulations!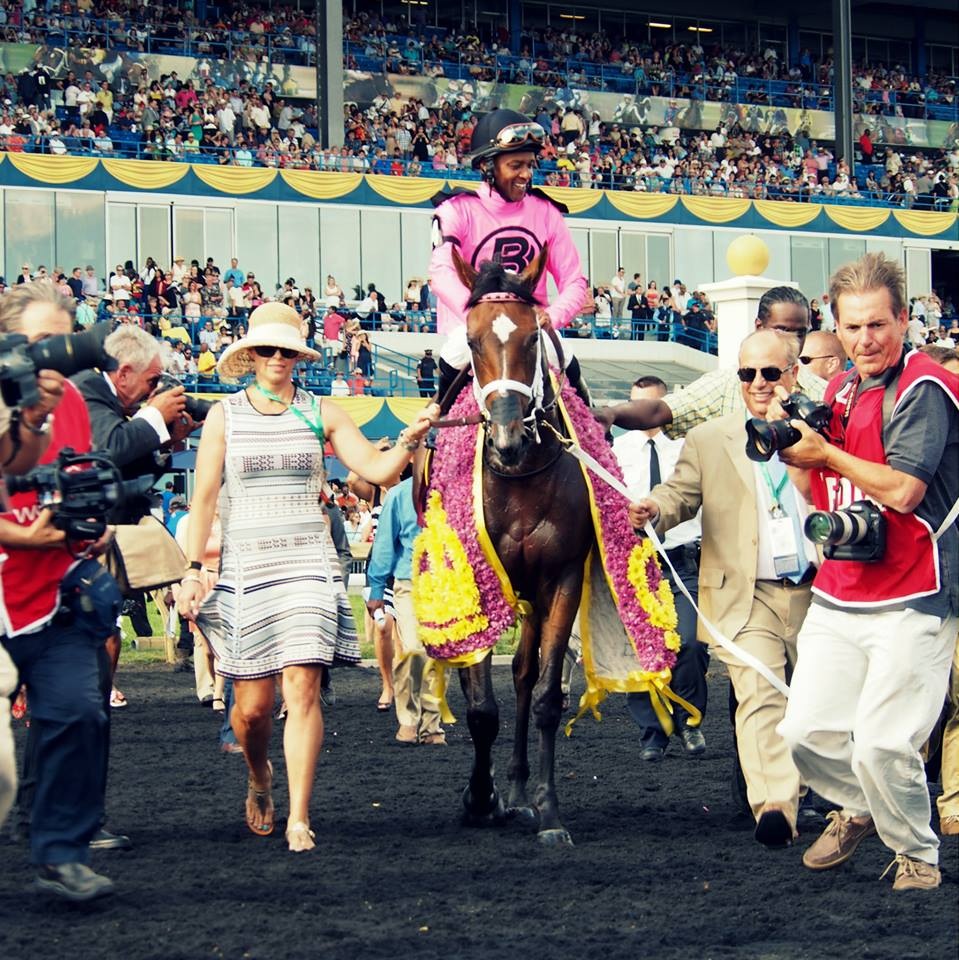 Thank you to all the people at Woodbine who created such a fantastic event. From the band, to the food trucks, to the FLARE Party tent-it was the perfect fashionable day at the races.   Don't forget about the George Brown Millinery Competition.
Congratulations to the Longines Most Elegant Woman: Kelly Davis!
It is definitely a tough feat to win a Longines Conquest Classic Timepiece. Belmont Stakes may have been the hardest out of all three of the Triple Crown Jewels. With the New York City Fashion just flowing to the racetrack, each lady dressed their best with an attitude. No race's fashion portrayed it better than Belmont Stakes: Elegance with an Attitude. Bri Mott caught up with the Longines Most Elegant Woman, Kelly Davis from NYC.
Tell me full details on your outfit from hat to shoes, where you purchased etc. (tell about making your hat).
 

My jumpsuit is from a small boutique on the upper west side in NYC: ShiShi. Interestingly enough, I have a horrible time trying to find jumpsuits and rompers that fit my frame (hello girls with hips!). A friend recommended I try this place, and within 15 minutes I was sold not only on the jumpsuit, but a few other outfits as well. Enter this boutique at your own risk!
The wrap belt is black python leather and is also from ShiShi—that's another dangerous thing about this boutique, they accessorize your entire outfit before you can even look in the mirror. Really now, you have been warned.
As I mentioned during the Longines competition, the thoroughbred brooch I wore is a family heirloom. We have owned horses since before I was even born. I was that kid who grew up with an actual pony.  

Wedges: Levity from DSW. I did stilettos last year, and learned my lesson.

 

Pearl bracelet (for that dash of traditionalism): Givenchy

Rings: an eclectic mix from artists all over NYC. Check out the East Village on Bowery (near 6th Ave) during Saturday afternoons, and eat your heart out.

White clutch to break up the all-black outfit and to highlight the white accent flowers in my hat: From the boutique, Francesca's. Some great style of your own here, Bri! (***Bri Mott and Kelly sported the same clutch!!)
And the pièce de résistance: My hat. I started designing my own hats last year when I couldn't find a design I liked for a price I was willing to pay. However, finding basic sinamay hats that you won't feel terrible making revisions to and that your wallet can handle is quite the tall order. Enter the tiny hat store, LaCrasia in Grand Central Terminal. They have beautiful hats ranging from extravagant millinery to simple sinamay hats that I could build upon. I originally spotted a lavender hat I wanted to wear this year, but by the time I went back to purchase it, it was gone (now that I think about it, divulging the name and location of my secret hat store may not have been the best idea!). However, the black hat was my second choice, and it ended up being exactly what I needed.
For this hat, I used simple silk flowers, black glitter tulle, lots of craft adhesive, and hours of hand sewing. From my lost lavender hat, and also to pay tribute to California Chrome, I wanted the centerpiece of the hat décor to be bright purple flowers. The white roses were a tribute to the white carnation blanket they give to the winning horse at the Belmont, and the red accent flowers were drawn from the plaid bow tie I picked out for my boyfriend and Belmont escort (dressing up is so much more fun in pairs!).
Arranging flowers on a hat is a lot like arranging flowers in a vase. You don't want the same colors all clustered together, leaves should be used as accents, and adding a ribbon makes everything better!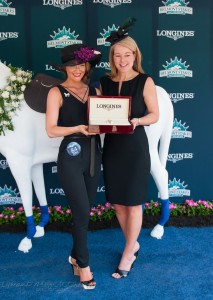 What brought you to the races on Saturday?
   Two words: Triple Crown! Well, let's be serious, I would have been there regardless. I'm a country girl at heart, and will do anything to get around horses. The Belmont has become a bit of a tradition since living here in NYC.
Was this your first Belmont?
 This was my second Belmont, but first Belmont Stakes with a Triple Crown contender. I knew they would be different experiences, but I could not have imagined the energy of Saturday's Belmont. The crowd was so electric. And good heavens, the betting took forever, so I was able to save some money!
Will you attend other race days?
    Absolutely. I would even like to attend other racetracks such as the Saratoga Race Course. New York has an incredibly rich history when it comes to horse racing. I don't see how I can live in New York City and not explore all the tracks! As for the next big race, I would like to attend The Breeder's Cup in California this fall. All in racetrack style of course.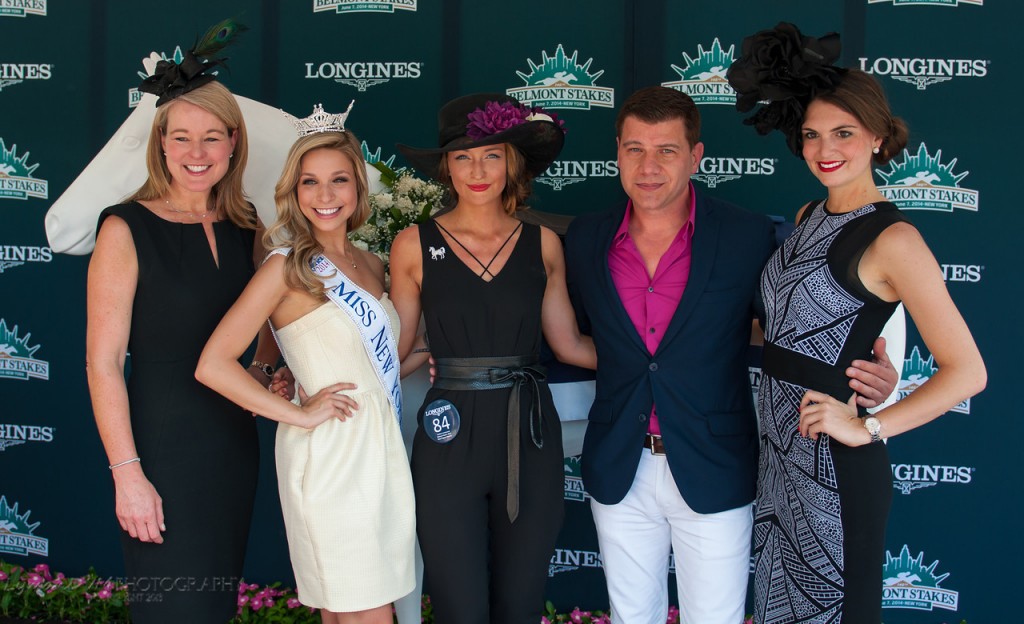 Were you rooting for California Chrome?
       I grew up reading the stories of Triple Crown winners and famous horses, especially my all-time favorite horse, and in my opinion the greatest that ever lived, Man O'War (whose owner the Belmont Stakes was named after!). To watch a triple crown won in person would be a literal childhood dream come true—I don't know how you could NOT cheer for the contender! But besides all the Triple Crown business, the story behind California Chrome is so heart-warming, and it really brings us back to the simple love, respect, and admiration of these incredible horses instead of seeing them as a business to win a large purse off of. So to answer your question, I was absolutely cheering for Chrome (he even follows me on Instagram now!).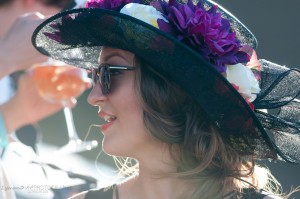 What would be your advice to women dressing for their next raceday?
    Well, if they are reading Fashion at the Races, they are already in the right spot for inspiration. I definitely checked this blog out when compiling my own getup! But as for my own advice, I would say to merge the traditional with the modern. We get dressed up for the races because it is a tradition born from a beautiful history, but at the same time, it is 2014! Do not be afraid to try something new and incorporate some new trends that are currently popular (hello jumpsuit!). Also, if you can't find it, then make it! Original is always the way to go, why do you think couture is known as the epitome of fashion? Finally, pay extra attention to the details. The actual star of my outfit was the brooch, not even my hat!
What would be your advice to ladies entering any future Longines competitions?
      The Longines motto is "Elegance is an Attitude." Channel that elegance and dash some attitude on top ladies! And to sound completely cliché: have fun. There is absolutely no reason to be nervous, the Longines group is quite possibly the sweetest on Earth.
What do you love most about your Longines watch?
   If you love horses, then right out of the gate, you love Longines. But now, after being an official Longines watch owner for a whole 48 hours—of which I have not taken the watch off—I would definitely say the trademark elegance is my favorite part. It is shiny without being gaudy, sparkly without being flashy, and sweet mother of pearl, the face of the watch is stunning! If I walked into a Longines store, this is the precise watch I would have picked out—it really feels like this watch was made specifically for me. Thank you Longines!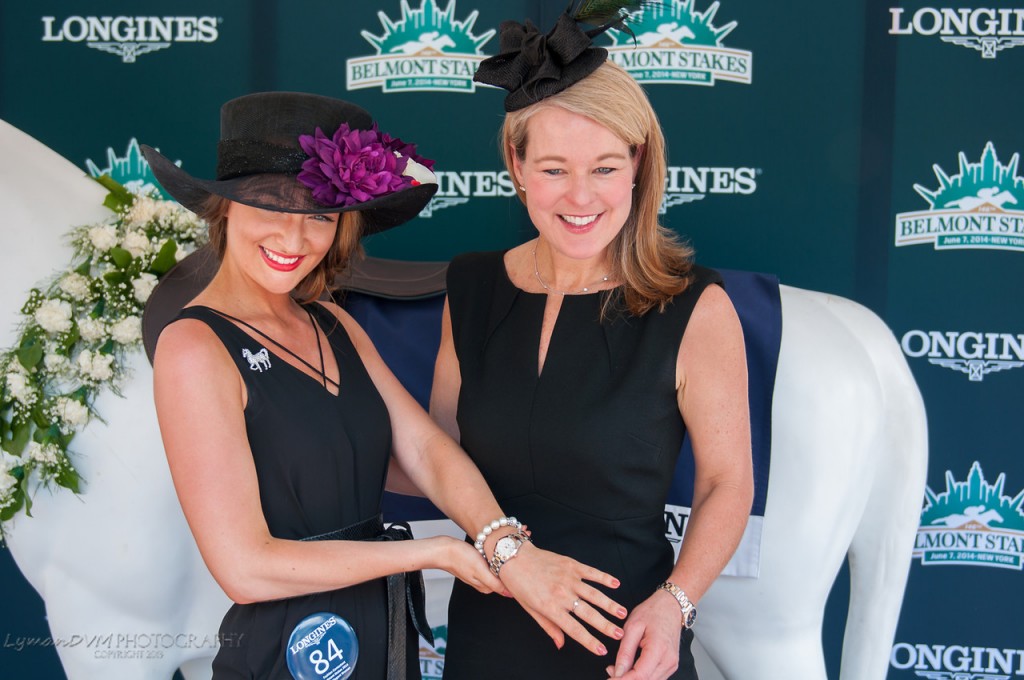 The Most Stylish Belmont Stakes
 This years Belmont Stakes will bring upon the highest fashion that is has showcased in years. With the hope of a Triple Crown winner through California Chrome, the grandstand will not have a dry seat in the house. Ladies and gents will all be dressing their best for the big day, snapping photos to save the memories of being on the grounds where history could be written.
Media and press will be on its toes running around trying to capture the social aspect of the day as well as the horse racing athletics. Fashion at the Races will have two photographers on the day to make sure we don't miss any well dressed ladies and gents.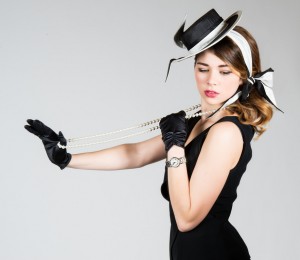 As the Official Timekeeper of the Triple Crown and of course the most fashionable watch at the races, Longines will again be looking for the Most Elegant Woman on the Day. Our Bri Mott will be walking the grounds choosing the best dressed on site and inviting them to the competition that will take place at 1:00pm right outside the paddock (by the white seating area). At 1pm the Top 20 will be chosen and celebrity judges  will choose the Longines Most Elegant Woman and she will be awarded a Conquest Classic Timepiece.
Don't forget the major trend on the day: Monochrome in Black and White style. Bring the inspiration from the metropolitan area that is New York City! Become a New Yorker on the day and grab that starbucks, dress in black, and walk like your heading to the most important meeting.

Check out our Belmont Lookbook for inspiration!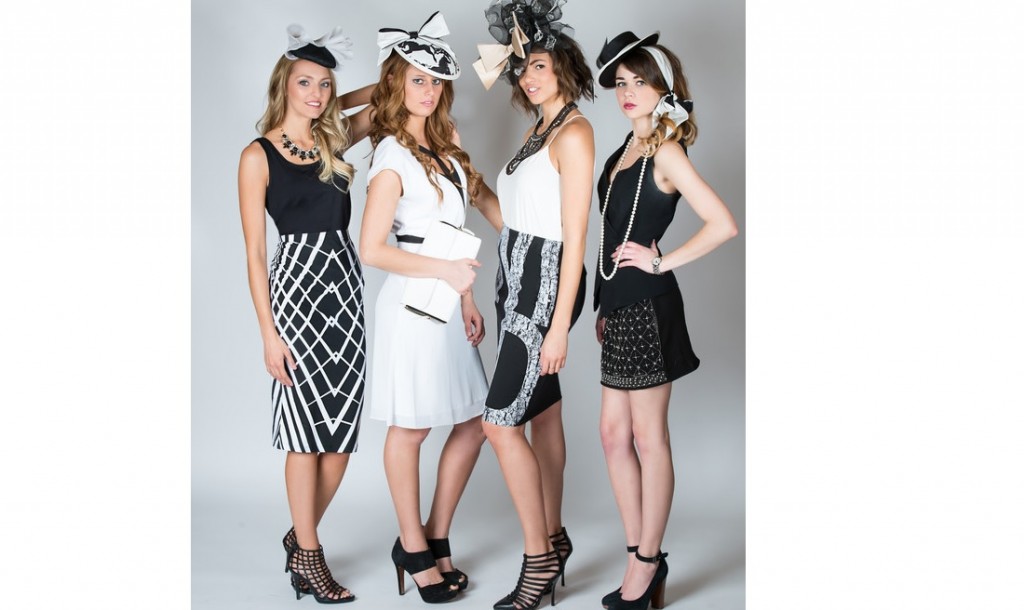 Different ways to sport the monochrome trend are full black or full white, or mix and the two in a modern print. Want to get a little crazy? Mix Black and white prints that would most of the time seem opposite. For example: A polka-dot top paired with a black and white striped skirt. If you want a pop of color, add a birght colored clutch or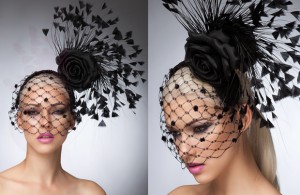 pair of shoes. A bold lip color or nail color is also a great way to set your monochrome outfit off!
Cheers to the chance at a Triple Crown Winner! Good luck to California Chrome and all his connections. We at Fashion at the Races will be rooting for you….in a fashionable way!

Lacey Johansson becomes the Longines Most Elegant Woman at Preakness Stakes
We were so excited to be a part of the Longines Most Elegant Woman competition at the Preakness Stakes. Women really made the judges job hard this year as they all looked so elegant and fabulous! Over fifty women found in the Corporate Village at Pimlico lined up on the Longines Fashion stage.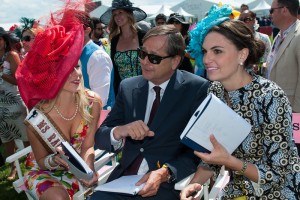 Each strut their stuff in front of the judges which included Longines Vice President Charles Villoz, Ms. Racing Queen Linsey Toole, and our own racing fashion expert, Bri Mott. It was a bit of a debate to narrow the lovely dressed ladies down to the Top Ten Most Elegant Ladies. From a wide array of fashion choices including big brimmed hats, feather fascinators, and sinamay hatinators, the style varied at the Preakness but the #TripleCrownTrends prevailed! The winner was in a bright fun printed green coat paired with a feather fascinator and smart wedged heels.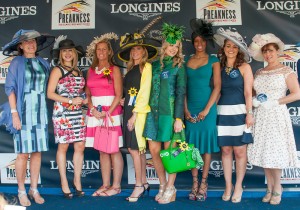 Lacey Johansson from Baltimore Maryland comes to the Preakness every year. This year in particular she put together the outfit that won her a gorgeous Conquest Classic timepiece as the Most Elegant Woman. On a visit to New Orleans, she found a hat shop, the Fleur De Paris and met Kimberly Gondrella who constructed this green fun feathered piece just for her. The colorful hat that received so many compliments was from Las Vegas from Desigual. Since it had poured the day before and we were in a grassy area, Lacey went smart with a pair of gold Steve Madden wedged heels. Finishing off the look with a Michael Kors purse that brought out the bright greens in her coat and hat. It's tough not to touch upon her gorgeous green eyes that really were the staple of her whole color coordination!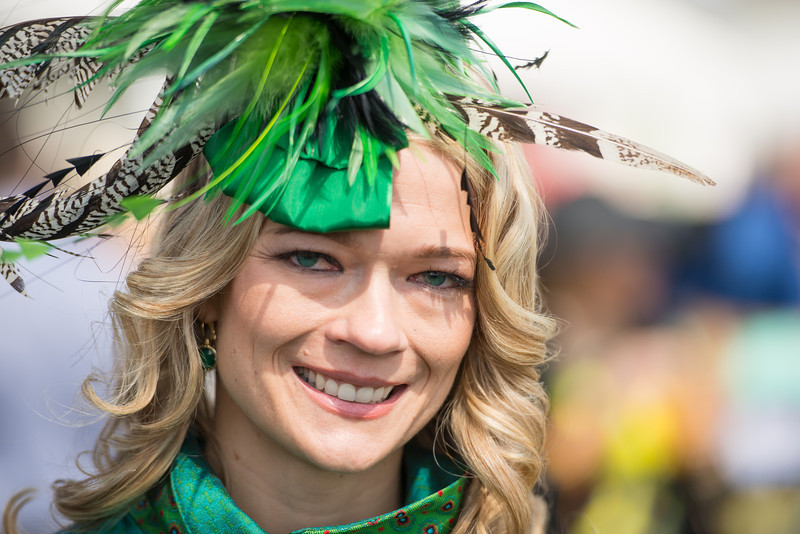 Bri Mott caught her for a quick interview:
What brought you to the races on Saturday? Preakness is just about my favorite day in Baltimore. I have been going to the Black Eyed Susan races for a girls day with my mom, godmother, and Aunt ever since I was a baby. It has become an annual tradition. I started going to the Preakness when I was 17 years old. It is a wonderful event that I always look forward to and as a bonus I get to see a ton of people that I want to catch up with all in one place.
Will you attend Belmont? I am actually looking at buying tickets. I would love to see a Triple Crown winner in person.
Were you rooting for California Chrome? Absolutely. I had the #3 and the #10 in an exacta and the #3 to win.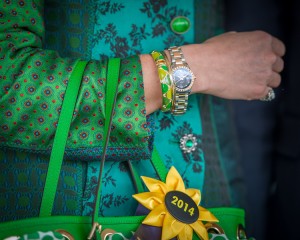 What would be your advice to women dressing for their next raceday? Raceday is an opportunity to dress out of the box in something you typically wouldn't wear. I always look for unique pieces that really stand out. I think a hat or fascinator really tops off the outfit. I always find my dress first and then look for the hat afterwards however I think I am doing that backwards. Since the hat is the statement piece it may be easier to buy the hat first and then find the outfit. Also, if you are going to Preakness then wedges are key given the surface you are walking on.
What would be your advice to ladies entering any future Longines competitions?
Be original and find something unique.
What do you love most about your Longines watch?
I love the rose gold and diamonds on my Longines watch. This watch is an extremely elegant timepiece and is a piece of jewelry to accessorize a special occasion outfit.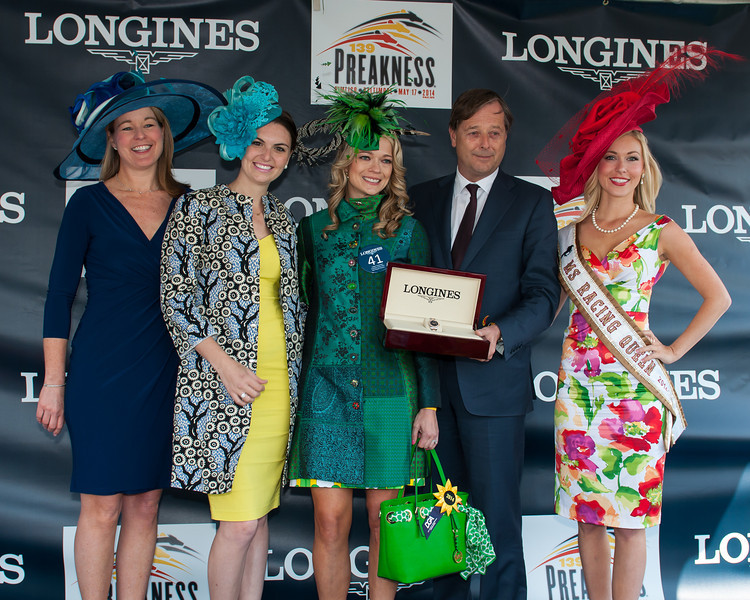 Lacey won this beautiful Conquest Classic timepiece from Longines and was presented the piece in the Winner's Circle at Pimlico Racecourse. Here's a great video that showcases the great day:   Congratulations to Lacey and to Longines for a successful Most Elegant Woman competition! We aren't far from the Belmont Stakes where Longines will again be looking for the Most Elegant Woman on the day!
 Longines Looking for The Most Elegant Woman at the Preakness Stakes
Each year we have seen an increase in the effort that is put in the fashion at the races throughout the United States. This years Preakness Stakes will be no different; especially with the growing Longines Most Elegant Woman competition! Last year Fashion at the Races teamed up with Longines Watch Co., The Official Timekeeper and Watch of the Triple Crown, to find the Most Elegabnt Woman on the day. This year our partnership has grown and so has the competition. Our Bri Mott will be walking around the Corporate Village inviting well dressed ladies to enter the competition. A Longines 'button' will be given with a number and the fashionista will be invited back to the Longines fashion stage at 3:00pm to strut her stuff in front of the celebrity judges and crowd! Of the 100 contestants, ten will be chosen as finalist but of course there can only be one Longines Most Elegant Woman at the Preakness Stakes.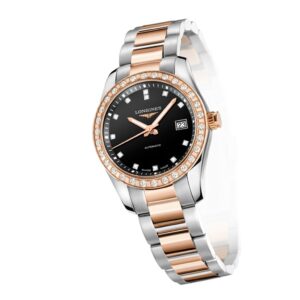 The winner will be presented with the 2 leg of the Triple Crown Fashion prizes, a beautiful Conquest Classic Timepiece. This gorgeous piece made of shiny stainless steel and 18 carat rose gold is finished off with 12 Wessleton VS diamonds for some added elegance! Worth over $5000 this piece will have any woman smiling in the Winner's Circle Presentation! Last year was a bit rainy and dreary but we expect sunny skies for this years fashion competition! Keep an eye out for the Longines photographer and Bri Mott! They will be looking for you in your most Elegant outfit!
Recap: Longines Kentucky Oaks Fashion Contest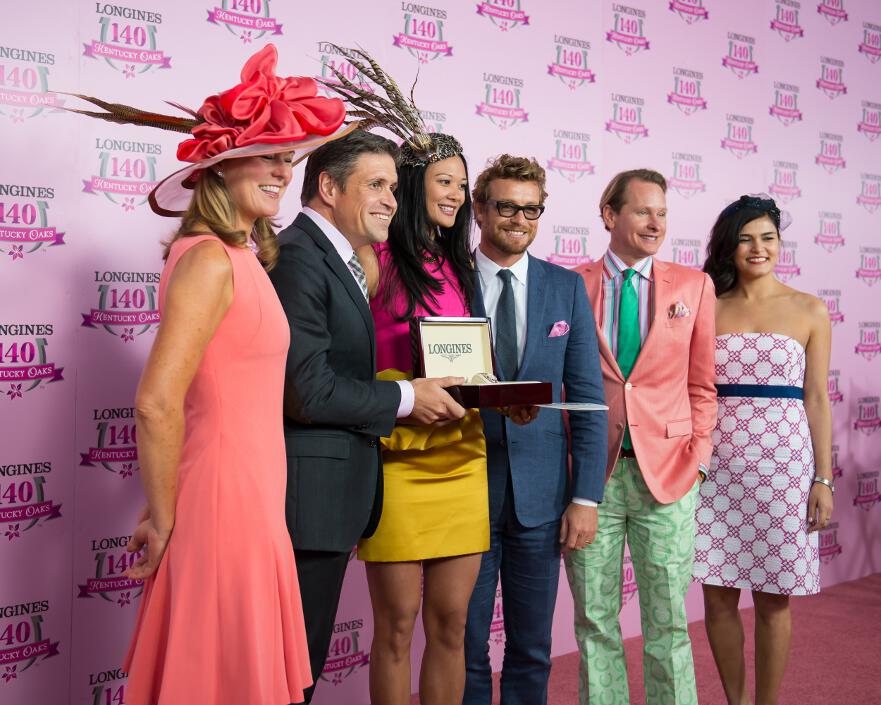 We are so excited to be apart of the Longines movement to improve the elegance at the racetracks through out the Triple Crown. Their main weapon? The Longines Kentucky Oaks Fashion Contest of course! And what elegance there was! Gorgeous and fashionable ladies lined up to get their paddle to walk the Longines Pink Carpet and show the celebrity judges the outfit and confidence that they brought to the Kentucky Oaks Day.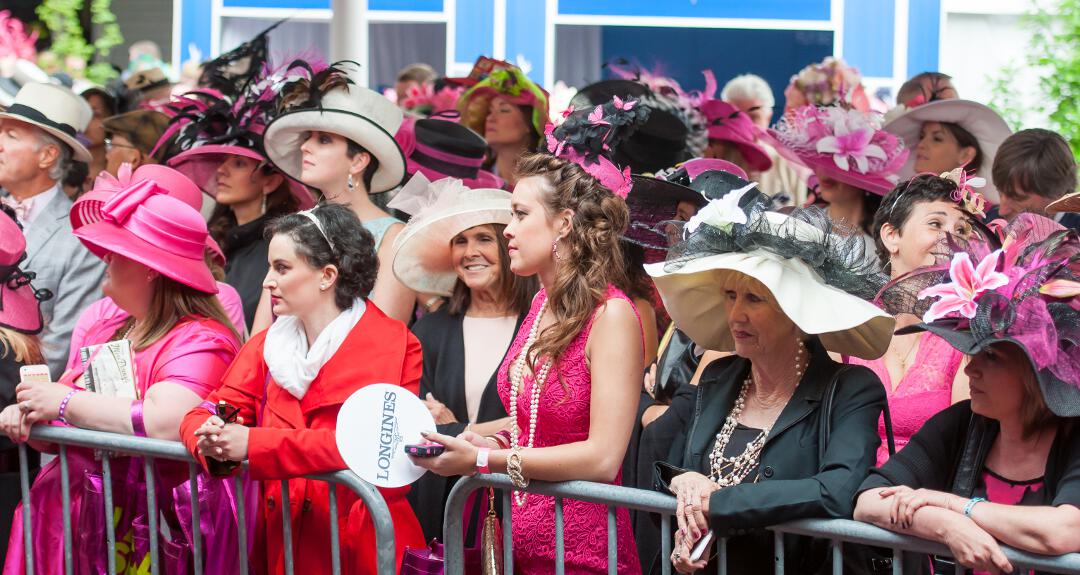 All ages participated in the contest, from ten year olds to their elegant elders and they all looked fabulous! No proposals this year, can't say we are heartbroken over that, but everyone kept it elegant and chic. The celebrity judges included Longines Ambassador Simon Baker who has also judged Fashions on the Field events in Sydney, Australia. Carson Kressley joined Simon along with Southern Living style editor Stephanie Granada. They had a tough job to pick from two hundred beautiful and well dressed ladies and decide not only on the Top Ten Most Elegant Women but then pick one to become the winner of the Longines Conquest Classic Timepiece!!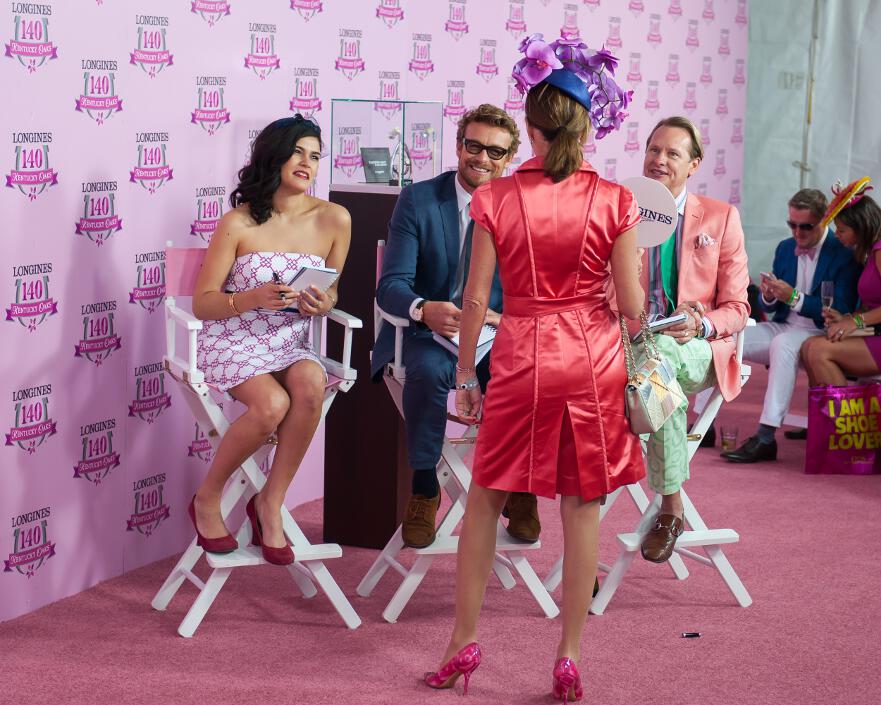 But only one can win, and win she did!!  
2013 Longines Kentucky Oaks Fashion Contest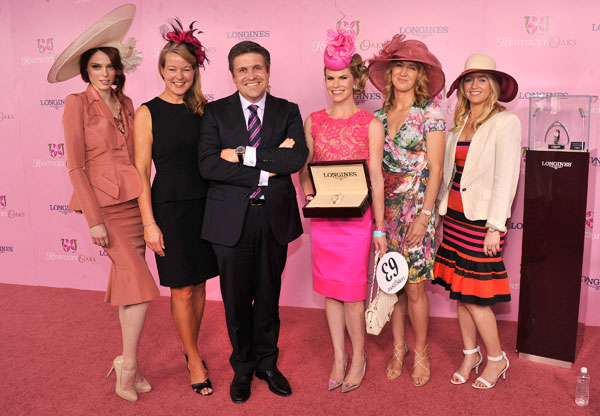 Just a few days away is the Longines Kentucky Oaks where the fillies compete against one another for one of the highest crowns in racing. It's not just the equine fillies that will be in competition though, us two legged ladies will be putting on our fashionable boxing gloves (metaphorically speaking of course) to fight for what the most fashionable prize on the day: a Longines Timepiece. Since Longines Watch Co. has become involved in the festivities of the Triple Crown, the bar on fashion at the races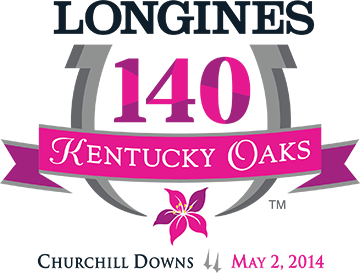 has been raised. Through their emphasis on tradition and elegance, it has become evident that ladies have put more effort into their outfits on each of these race days. Fashion is such an important aspect of the sport as it showcases what a social gathering the horse races can be as well as where the sport has grown from. In the United States, nothing showcases this more than our Kentucky Derby weekend. The Longines Kentucky Oaks Day focuses on celebrating the ladies at the races. The track is outfitting everywhere in the color pink including its patrons! Longines has taken this Pink Pride to a whole new level with their "Pink Carpet." Located near Gate 10, the Pink Carpet comes alive around 1:30 pm on Oaks Day as fashionable ladies begin to line up to strut their stuff in front of celebrity judges. What are they strutting for? The chance to win the most elegant accessory a woman can wear, a Longines Watch from the Conquest Classic Collection.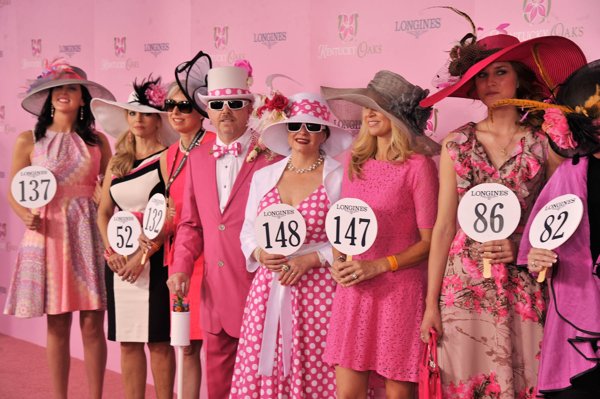 The Longines Kentucky Oaks Fashion Contest has become an event of its own on raceday. Mid afternoon, people from the stands begin to flock down to the main floor to get a glimpse of the well dressed women. Press and media line the carpets deciding who they think should win the prize as the shutters of their cameras are constant.  Each and every spectator, and even the ladies participating, will have their own opinion on who should win, but the only ones who truly have a say are the three sitting in the directors chairs at the end of the carpet.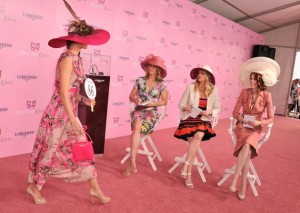 Last year Longines had a Top Model to represent as a judge of the contest. Coco Rocha was stunning in a coral skirted suit with a beautiful off-white hat. Sitting along with her was German Tennis Star Stefanie Graf in a gorgeous floral number and pink sinamay hat. Lastly, Longines brought along fashion expert from Harper's Bazaar, Joyann King in a fun striped number with matching flopping hat. With these three as the power team of judges, you knew the competition would be fierce.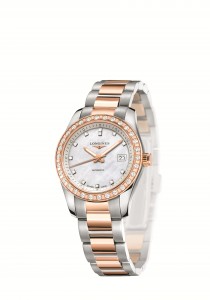 This year being similar to last year, Longines will cap the contest at the first two hundred contestants; ladies will walk the pink carpet and show both the judges and the audience their beautiful raceday fashions. As tough as it is, the judges will have to narrow down to ten finalists from the overwhelming two hundred.  From the Top Ten finalists, the judges will choose the Longines Most Elegant Woman and will award her a beautiful timepiece from their Conquest Classic Collection with a value of $5,825. Free to enter this contest is a no brainer for all you Elegant Women out there! Longines will be on the look out at all three Triple Crown Races, but just as the Longines Kentucky Oaks, this is the competition that gives us 'fillies' the most bragging rights. Can't wait to see your elegant racing fashion on both Oaks and Derby day! Happy Racing!
Kentucky Oaks: All about the Pink
Ladies we are less than two weeks away from the biggest Ladies' Day at the Races in the United States. The Kentucky Oaks has grown substantially not only in attendance but in popularity and recognition. This is the race day for the girls and it can't be missed with the sea of pinks that it showcases!
Longines is the title partner of the Longines Kentucky Oaks. " The first running of the Longines Kentucky Oaks was on May 19, 1875 when Churchill Downs was known as the Louisville Jockey Club. The race was founded by Meriwether Lewis Clark, Jr. along with the Kentucky Derby. The Oaks and the Derby are the oldest continuously contested sporting events in history, and the only horse races to be held at their original site since its conception. The Longines Kentucky Oaks was modeled after the British Epsom Oaks. The Longines Kentucky Oaks is considered by some to be among the most popular horse races in American horse-racing society due to its high attendance. It attracts about 100,000 people in attendance a year." (From http://www.kentuckyderby.com/kentucky-oaks) However, you have clicked on The Style Section, why don't we focus on the style on the day?? If you haven't been to the Longines Kentucky Oaks-you are sure missing out. The most important thing you need to know can be said in one word: PINK! Oaks Day is ALL ABOUT THE PINK. Pink in your outfit, on the horses, in the drink in your hand…PINK PINK PINK! This is definitely the day to bring that girliness that for some may be deep down hidden, but we know you're able to pull it out just for this particular Friday!
There's so many different ways to rock pink for this raceday. You can choose a dainty pink lace dress paired with simple accessories and a great medium brimmed hat.   Not into the all too feminine look? Choose a fun modern pink print instead. Pair with a stand out shoe and cute clutch. This type of outfit would be perfect with a standout fascinator instead of the brimmed piece.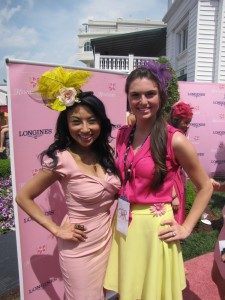 All pink too much? Try color blocking! A pink shirt with a bright yellow colored skirt is a great combination. Pink and orange, pink and turquoise, or even pink and green can be great color combinations for the day. You'll be stand out in these combo's yet still feminine and elegant.
If you're looking for a more subtle combination, try Pink paired with either white, black, or a nude tone. Bri Mott's says "If you choose the Pink and Black combination, make sure its more on the pink side. Oaks and Derby are all about color and femininity. Save the black heavy outfits for Preakness or Belmont."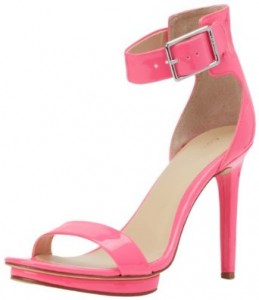 If you want to really step it up fashion wise and show off a bit to the crowd…do this through your shoes. A fantastic pair of pink shoes is just the extra something to set your outfit apart from the rest. Pink shoes aren't all over stores and aren't frequently worn in your everyday life. This is the day to purchase and showcase them!
Lastly, finish your outfit off with some great jewelry. Pink bracelets, and statement necklaces are a great tie in to your Oaks outfit. The best tie in is a great Longines Watch. Our favorite for the day is the Longines DolceVita.  Gorgeous stainless steel finished with a light pink face…um yes please! Don't forget Longines will once again select the Most Elegant Woman at the Longines Kentucky Oaks Fashion Contest which celebrates elegant Derby style. The winner of the Longines Kentucky Oaks Fashion Contest will also be awarded a Conquest Classic timepiece. This is enough reason to put thought into your Oaks outfit! Stay tuned for all the inside info on these competitions.
Audrina Patridge in the Triple Crown Trends
Fashion at the Races was requested again by NBC's LXTV 1st Look to dress their host for the Triple Crown. Audrina Patridge, famous first from the reality show The Hills, has become the new host after ex-Bachelorette Ali Fedotowsky left LXTV and went to E! News to be the beauty consultant. Audrina Patridge who projects  a wild rocker side with her leather boots, multiple earrings, and thumb rings was so much fun to dress in the #TripleCrownTrends. Each outfit completely different than the last, Audrina learned about the styles of the race track and what racing fashion is all about.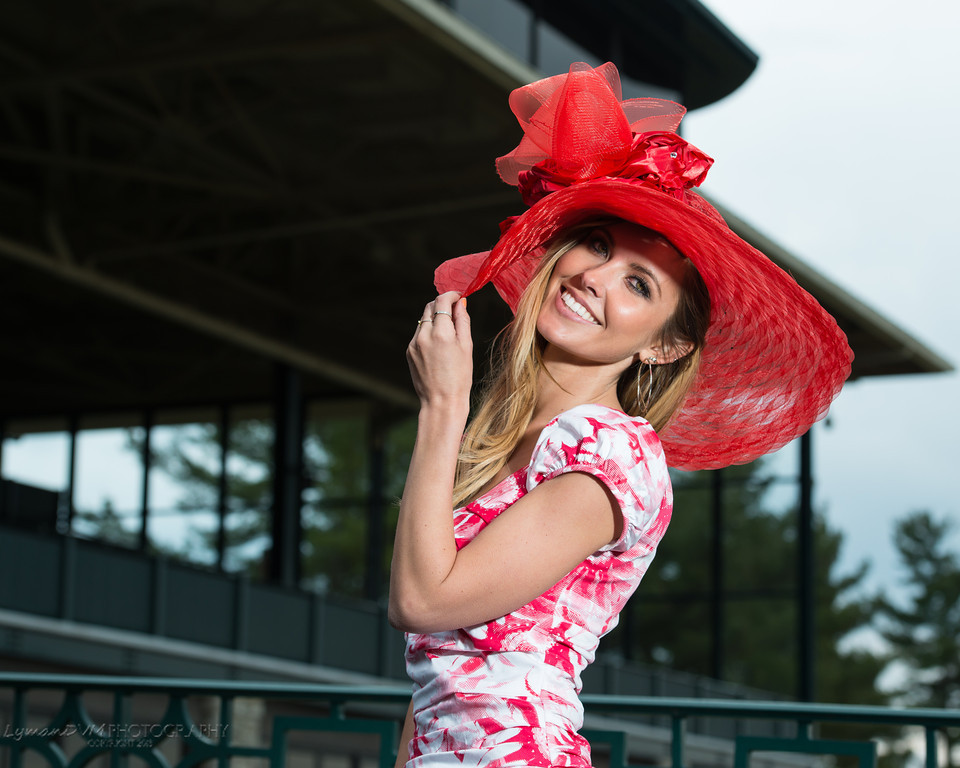 For Derby we dressed Audrina in a red and white floral dress with the traditional big brimmed Derby Hat. The hat was designed one-of-a-kind by CrowningLori Hats (which you could WIN on our website!). Lipstick red with sequin details, the hat is a stand out just as much as the young lady wearing it!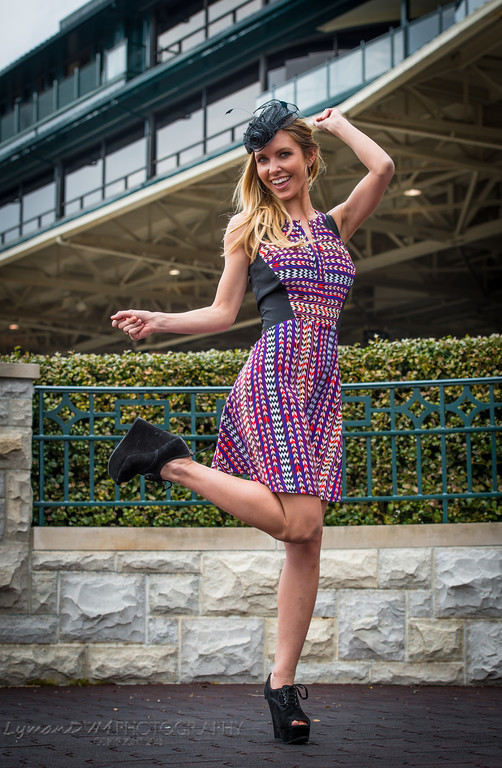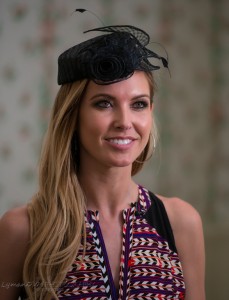 Preakness is definitely Audrina's raceday. We dressed her in a KACHEL modern printed dress with an A-line skirt. Since the race day is all about the party, we keep the millinery light and simple. We went with the amazing "Black Widow" by Lisa Tan Millinery. A light and airy piece that sits on the head and doesn't mess up the hair. Looking to dance? This dress is the best to get your twirl on and the hat won't get in your way either! Cheer on your horse and lets party!!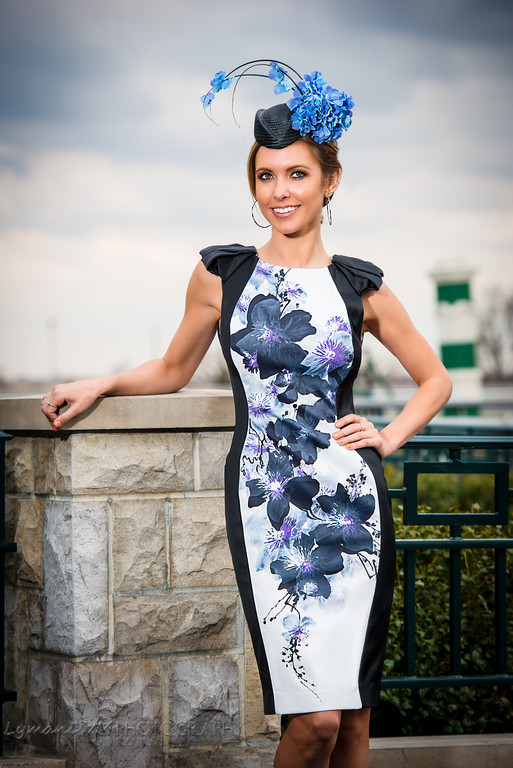 Lastly we channel New York for the Belmont Stakes. The monochrome from the city is brought into Audrina's race wear. We chose a Karen Millen dress that is flattering to any body type with black panels down the side and a floral print front and back. Rather than JUST black and white, we added a little bit of lavender color to set her apart from the crowd.  We matched this dress with a beautiful Sophie Hunter fascinator. Best showcased with the hair up, we put Audrina's hair in a low bun.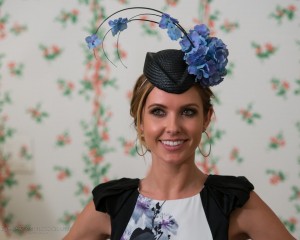 The Triple Crown brings the best horses, best atmospheres, and of course the best racing fashion that the United States has to offer. It's important that you know the #TripleCrownTrends before heading to the track. From the first leg, the Kentucky Derby, to the last in New York City, the Belmont Stakes, these are the races to see and be seen. Audrina Patridge will be turning heads at each race and we may take a little bit of the credit

Stay tuned for the NBC 1st Look episode featuring Bri Mott dressing Audrina Patridge for the Triple Crown! It will air the night of the Kentucky Derby after Saturday Night Live!!
Dubai World Cup Fashion 2014
What a fantastic day (and night) of racing! The 2014 Dubai World Cup brought the best of the best from all over the world. No we aren't talking about the horses, we are talking fashion! Irish Millinery, Australian Designers, Kate Middleton inspired pieces and of course some of the best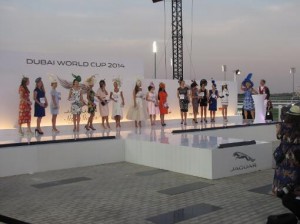 fashions in the UAE. This was a fantastic day full of beautiful hats, fabulous dresses and stunning shoes and they were all showcased at the classy Jaguar Style Stakes.   All the way down the western side of the enormous Meydan Racecourse, the Jaguar Style Stakes set up a fantastic 'fashion arena' where stylish ladies and gents could rest their feet on the patent white leather couches and enjoy a cocktail while watching the races. Jaguars were showcased in each corner of area pointing to the main event: the fashion stage.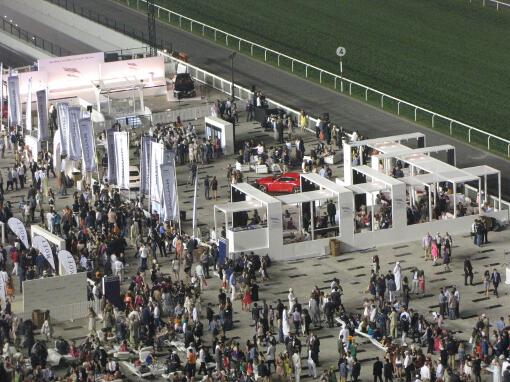 With a competition gearing toward the hat, best dressed male, best dressed couple, and the grande finale of the best dressed lady, people not only lined up to compete but also to enjoy from the sidelines. From outrageously big hats to small artistic pieces, ladies brought their most stylish millinery to the track for the chance to win spa packages and more. From 'Most Creative Hat' to 'Best Hat' each hat had a chance to take home the prizes. Large peacock pieces competed with couture modern art pieces. Most creative went to a floral inspired piece and Best Hat went to a fun (almost Dr. Suess inspired) headpiece. (See our Millinery Section for these photos)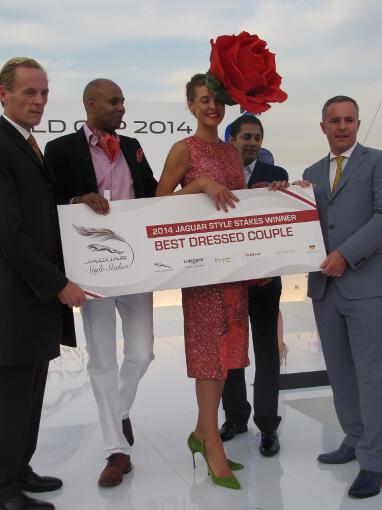 The Best Dressed Couples brought their A-Game as well. Included "fake proposals" and kisses and of course a few twirls to win the hearts of the judges. What won, however, is just the fashion itself. Incorporating the beautiful red color from the lady's rose millinery in the gentleman's pocket square and printed dress shirt, this couple screamed stylish couture in such a chic way! The Best Dressed Male provided the crowd with the most entertainment. Dances, winks, blowing kisses and more. Anything goes with these stylish (and ambitious) guys! The one who took the cake was in an Ascot inspired Top hat, three piece light grey and black suit with white button accents. Oh and white shoe laces on black dress shoes. Seriously! He not only worked the judges, he worked the crowd as well! Well done sir! The finale was the Jaguar Style Stakes' Best Dressed Lady. Over 300 well dressed ladies walked the stage for their chance at the big prize of the lipstick red convertible Jaguar! Big smiles, fancy poses, and confidence in their walks, these ladies strut the stage with a stylish vengeance. The judges had a tough job of narrowing it down to only 20 ladies for the finale. These 20 ladies in an array of colors, dresses, shoes, and of course millinery. From these 20 ladies, Longines picked their Most Elegant Lady and Jaguar needed to pick the runner up as well as THE BEST DRESSED LADY! Longines chose a gorgeous young lady in a simple mint green A-line dress with black shoes and a black Kate Middleton type hat.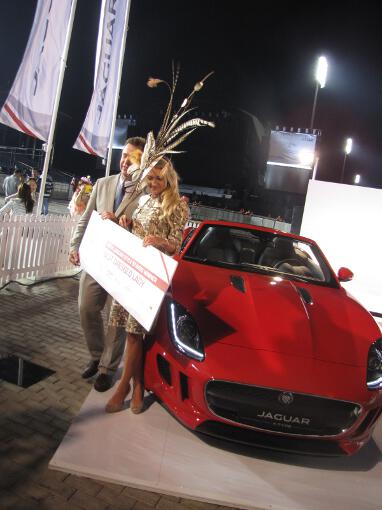 Jaguar's Best Dressed Lady Runner Up went to an Australian but UAE Resident dressed in a royal blue dress complimented by Kim Fletcher Millinery with pink accents. The Best Dressed Lady title was awarded to a printed dress in natural colors with a white color accent. Subtle nude shoes were offset  with a statement hat with a ton of different natural colored feathers on a light cream base. This young lady took home to Red Convertible Jaguar for a whole year! Jealous??   All the ladies were winners as we know how tough it is to get up on that stage. Fashion at the Races' own Bri Mott entered the Best Dressed Lady Competition and according to her she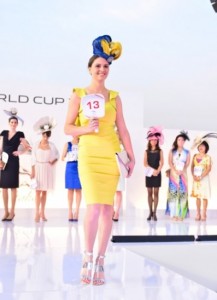 "shook like a leaf!" Wearing a dress from Asos.com, millinery from Boring Sidney Hats, and shoes from BCBGMaxazria.  Being in front of not only five powerful judges, media with camera's snapping, but hundreds of people watching your every move?! Well its nerve racking! All ladies that walked up those stairs and showcased their stylish racewear are winners in our eyes! BRAVO GIRLS!   Even the ladies who didn't enter the competition were top notch on this race day. Looking around at all of the racewear on the day is so inspiring to what women can do with just a little work and time. The different styles of each lady shows how fashion can showcase your personality in such a wonderful light. Even better, at the races you have one more facet you can use to showcase your personality. Whats that? Your millinery of course! And trust us….the DWC2014 brought out all different kinds of personalities through their millinery!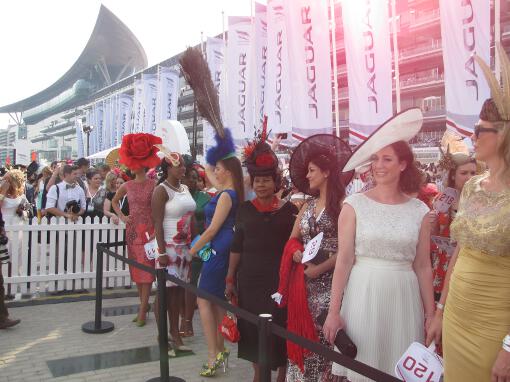 All in all this was a fantastic day of racing and racing fashion. Not sure that any other race day can top this one! But maybe we spoke to soon?? Here we come Kentucky Derby! Melbourne Spring Carnival! Breeders Cup! Royal Ascot! There's O so many!!

Let the racing fashion day dreaming begin ** To see all the fashion goodies check out our photo gallery!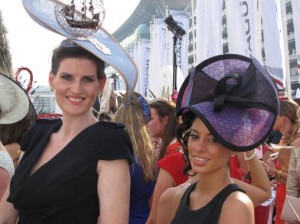 Jaguar Style Stakes: Are You Ready?
The Dubai World Cup, at the end of March each year, is one of the most prestigious race days in the world! Few can compete with the scenery and excitement that the Dubai Racing Club offers at the Meydan Racecourse. If all you've experienced is night racing at Moonee Valley or Churchill Downs…get ready for this night to blow your mind!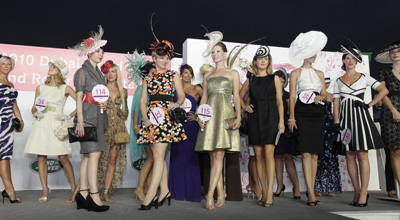 Surrounded by everything that screams elegance and style, from Land Rovers to Longines Watch Co., this race course brings out only the best for its biggest day of the Dubai World Cup Carnival. White linens covering the tables of the private suites, golden couches in the common areas and the views from the surrounding windows showing the gorgeous Meydan Racetrack on one side, and the entire Dubai Skyline on the other. If the fantastic racing isn't enough, "Jaguar is once again playing host to the highly anticipated fashion competition."  Along with our friends at Longines Watch Co., Jaguar looks to find the Best Dressed and the Most Elegant Lady. Offering additional categories such as Best Dressed Man, Best Dressed Couple, Best Hat, and the Most Creative Hat, this competition is sure to bring out the most stylish ladies and gents in the UAE and from all over the world!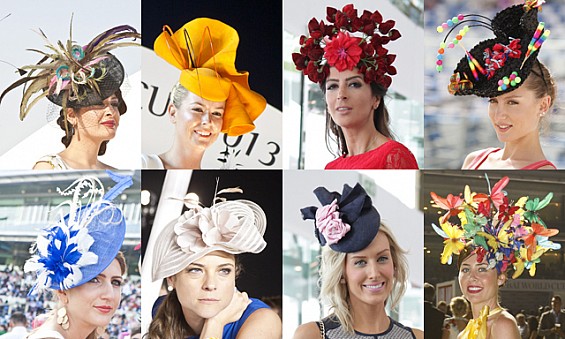 This year, Jaguar has picked a new panel of judges, giving the competition the credibility it truly deserves. "Renowned television personality, makeup artist and Max Factor Regional Creative Director Joelle Mardinian" joins "internationally acclaimed fashion designer and stylist AlAnoud Badr, alongside Miss World Runner-Up 2012 Jessica Kahawaty and finally Marketing Manager Nicola Gibson who represents title sponsor Jaguar. " This line up of judges shows how seriously the competition is taken not only by the men and women involved but also by the press and media that cover the event. 'Commenting on the competition's sponsorship by Jaguar, Hannah Naji, Marketing Director, says" Combining power with style is the forefront of Jaguar's leading automotive technology, and the Jaguar Style Stakes is an ideal platform to engage with our audience and bring these values to life…Fashion has always been an integral part of why people love coming to the races and we hope to make this a day to remember."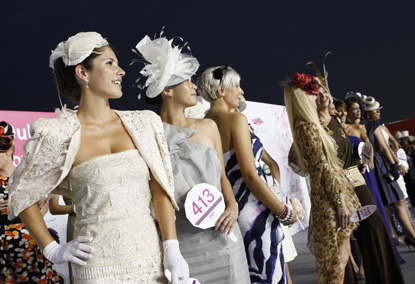 The Best Dressed Lady (UAE resident only) will be awarded a brand-new Jaguar F-TYPE Convertible for a whole year. The Longines Most Elegant Lady will of course walk away with a beautiful watch on their wrist. Besides these advertised prizes…. bragging rights of course! Online registration has closed but there is still room to register on the day between 2:00 and 3:45 pm. The event begins at 4:00pm and continues until 7:30pm. Three full hours of fashionable fun!!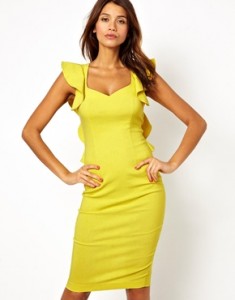 Our own Bri Mott will be entering the competition! In a dress that cost $33 from the clearance section of Asos.com, gorgeous silver shoes from BCBGMaxazria, budgeting accessories and millinery from Boring Sidney hats…she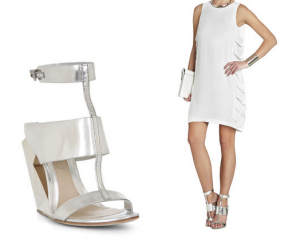 is excited to be a part of the Jaguar Style Stakes and strut her stuff on the international stage! (Hopefully with no trips!) Stay tuned for pictures of the outfit on our twitter and facebook accounts!
The Biggest International Stage Fashionista's have Ever Seen!
 Jaguar Style Stakes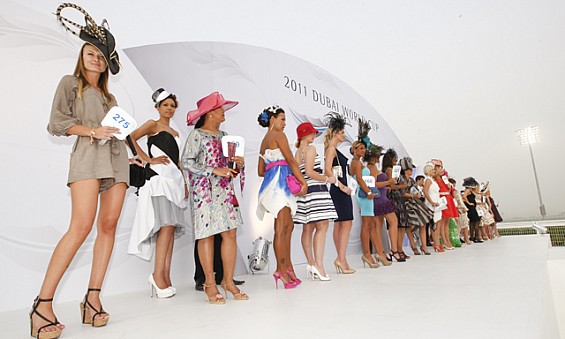 From the Dubai World Cup Website: Jaguar is proud to be associated once again with the Style Stakes competition at the 2014 Dubai World Cup. The Jaguar Style Stakes, a must for any self-respecting fashionista, is one of the region's most hotly anticipated events for fashion trend setters, with the winner securing a 2014 Jaguar F-Type for a year. The judging panel brings expertise from Dubai's Fashion and Media industry, Alanoud Badr (Fashion Designer, Consultant & Stylist), Jessica Kahawaty (Miss World Runner Up 2012), Joelle Mardinian (TV Presenter & Beauty Expert) and Nicola Gibson (Jaguar MENA Marketing Manager). The Jaguar Style Stakes judges will critique some of UAE's most stylish men and women competing for a place in the below categories: • Best Dressed Lady       • Best Dressed Man       • Best Dressed Couple       • Best Hat       • Most Creative Hat       • Longines Most Elegant Lady This year the Best Hat and Most Creative Hat categories will be judged side by side at the same time, bringing to the stage an exciting line up of colourful millinery. The judges will once again be looking for original pieces displaying distant creativity and attention to detail in each head piece. Longines Most Elegant Lady will be exclusively handpicked from the impressive lineup within the Best Dressed Lady category, by our Longines judge. The winner will be presented with a  Longines Conquest Classic watch. The watch has a diameter of 29.5 mm, featuring 12  diamonds on a mother of pearl dial  and 30 diamonds embedded in the watch casing. The stakes will be higher than ever within this category.
Pre-Registration:
Entrants will get a chance to register online in advance, saving time on the day. Limited entries will be available for advance registration. On the day, registration will be available between 2:00pm and 3:50pm on Level 1 – Gate A, Gate C, Gate D and the Jaguar Style Stakes arena, with the competition starting at 4:35pm in the Jaguar Style Stakes Arena in Apron Views.
Please click on the link below to access the Pre-Registration Entry Form:
Registration:
Registration forms will be available on Dubai World Cup day (March 29, 2014) from all Jaguar Style Stakes registration desks located on Level 1 – Concourses at Gates A, C, D and at the Jaguar Style Stakes Arena. All entrants must be 21 years of age or above to enter. The winners must be over 25 years of age and UAE residents to qualify for the Jaguar F-Type prize.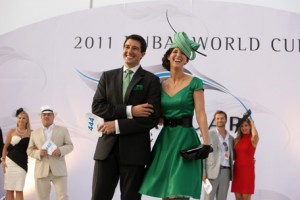 Jaguar Style Stakes Schedule:
| | |
| --- | --- |
| 4:35pm | Best Hat / Most Creative Hat |
| 5:00pm | Best Dressed Man |
| 5:25pm | Best Dressed Couple |
| 6:05pm | Longines Most Elegant Lady |
| 6:05pm | Best Dressed Lady |
All participants must be present at the Jaguar Style Stakes Arena, 15 minutes prior to their registered category. Judges will be on the lookout for style, originality, attention to detail, as well as appropriateness of the outfit for the race day. Below are useful tips from internationally renowned stylist, Mandi Kingsbury on what the judges are looking for: • Hats/fascinators are essential for ladies       • Style and originality       • Grooming and deportment       • Coordination of ensemble       • Enjoy the invigorating colour palette of Spring: Coral, Lime Green, Summer Blues       • Elegant close toe heels or sandals       • Dramatic clutches are a must-have but should not be too heavy or Chanel inspired bags to          sling around your neck       • Statement necklaces with a simple dress, if you are brave enough to carry it Below are useful tips indicating what the judges are looking for and what is considered inappropriate: • Bare heads (hat or fascinator is essential)       • Revealing attire (i.e. miniskirts/dresses, plunging necklines, bare midriff, or clothing made of         see-through materials, visible underwear)       • Evening gowns       • Arriving late       • Sunglasses on stage       • Jeans or trainers       • Clothing that resembles nightclub wear       • Under 21 years of age – all entrants must be at least 21 or older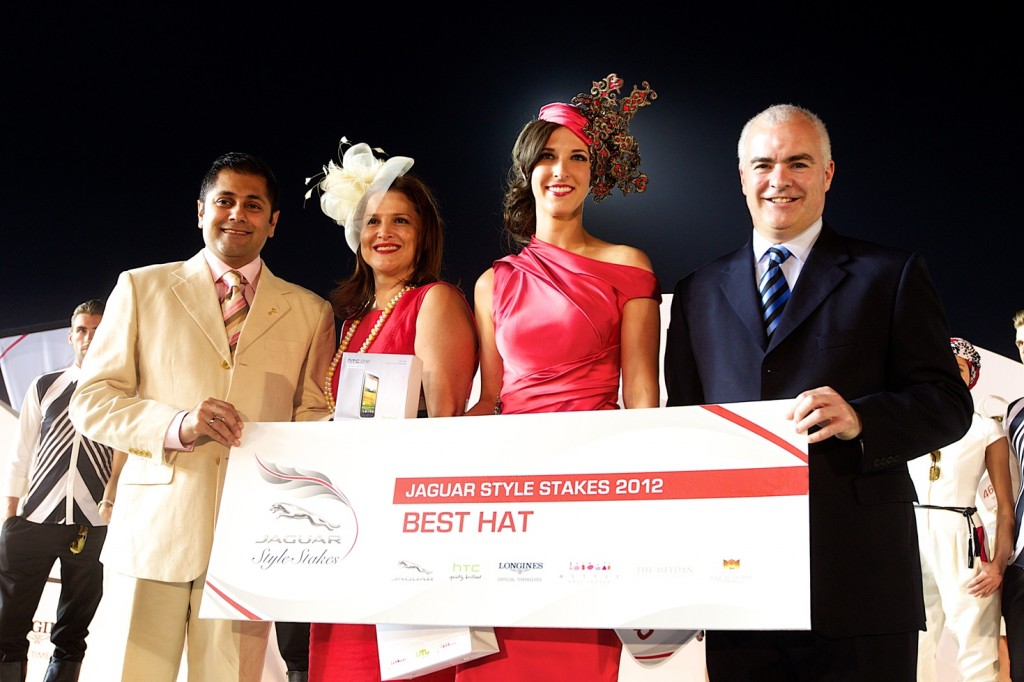 Why wouldn't you enter ladies and gents? This is a perfect opportunity to show off your fabulous outfit and have a fabulous time at a fabulous race day?? (Enough fabulouses??)

  Stay tuned for more!!
CHELTENHAM RACING FESTIVAL
England and its racing fraternity gather at Cheltenham each March of every year for one of the premier racing carnivals outside of Royal Ascot. The carnival is a magnificent tradition and houses 4 days of thrilling racing where there is always money to be made. A great place to do that too is at William Hill. They put up some amazing specials throughout out the carnival so don't be afraid to take a look at the Cheltenham festival betting offers – William Hill.

But if we are being honest and let's face it, we are 'Fashion at the Races' this year, much too absolute squeals of delight around our office was the inclusion for the first time of the "Fashion Zone Live"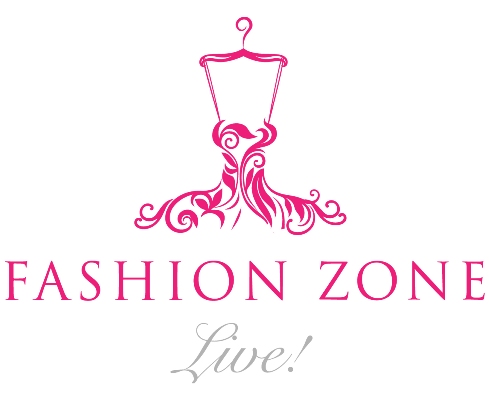 Set up to celebrate the best of male and female fashions throughout the week. Based in a circular marquee in the tented village, it will include a catwalk with models, a Champagne bar and live jazz music. Now doesn't that just make you want to dress up to the nines and have a fabulous time?! Featuring fashion shows throughout the week, it has been designed as the go-to place for snappily-clad females on Ladies' Day. The idea comes courtesy of the Jockey Club's new regional head of marketing Matthew Foxton-Duffy, who will be putting his stamp on this year's festival, who is the son of a racehorse trainer and the grandson of a bookie. A great part of Cheltenham festival has always been the amazing dresses on show on Ladies Day and throughout the whole week, as it is at other amazing premier carnivals around the world.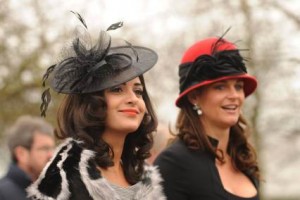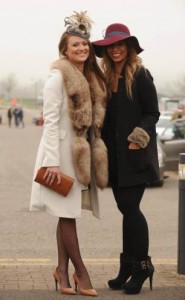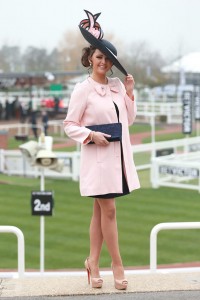 The Fashion Zone will be open throughout the week with models strutting down the catwalk promoting the very latest fashions. Later on each day there will be music from the prestigious Ronnie Scott's Jazz Club. Creating an amazing atmosphere to compliment that already created by having world class racing going on outside. On ladies day, when the female racegoers, traditionally dressed to the nines, enter the area, they were snapped and a select few were invited to walk the catwalk as part of the annual best dressed competition. Such an exciting opportunity as well as a reward and recognition to the ladies who really love to attend the track and look absolutely stunning, which we must argue now, is becoming a big draw card for a lot of the eager single males attending the races these days. Stay tuned for a follow up with some of the fabulous fashion!
The Ms. Racing Queen Pageant is back!
In 2013, the Stronach Group decided to do something completely different and hold a 'pageant' searching for one young lady to represent the racing industry for a year. With over 100 contestants from California to Florida, young ladies competed for their chance at the Title which also awarded them $100,000! After such a successful year for the 2013 Ms. Racing Queen, Tatiana Schoeppler, The Stronach group has decided to go forward and hold the competition for a second year. We first met Tatiana Schoeppler at the Preakness Stakes. She was a breath of fresh air to the races, as a new comer yet also an obvious fan; she championed the importance of gaining new fans to racing by showing them how much fun it can be! F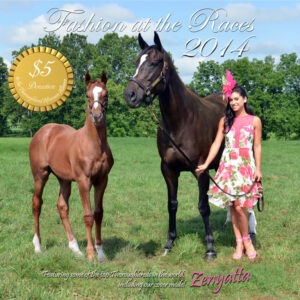 ashion at the Races began dressing Ms. Racing Queen for her big race days and press opportunities. In June of last year, we were so excited to have her as our Cover girl of the 2014 Fashion at the Races Calendar. A gorgeous day at Lane's End Farm brought Tatiana and the other Queen of Racing, Zenyatta together for the first time. With Z's 2013 colt running around half the time, and chewing on Tatiana's dress the other half, it was a wonderful and fun experience for all involved.  If that wasn't enough, we were able to have Ms. Racing Queen star in another month in our Calendar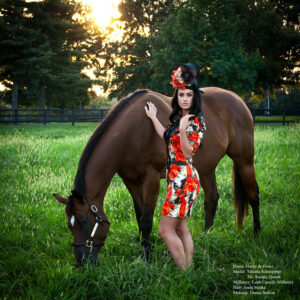 with the $10 million mare, Havre De Grace. If you don't already have one, get your copy here:   To incorporate the importance of race day fashion into the competition, the Ms. Racing Queen pageant has a Derby Wear Category where each girl struts their stuff in their race day fashion for the famous Run for the Roses. Fashion at the Races' own Bri Mott has been asked to judge the competition this year and we cannot think of anyone better qualified to judge this category?? Here's her advice on how to look your best for the Derby Day Fashion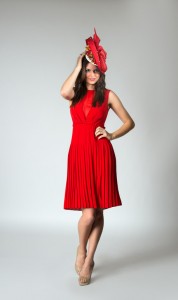 Category: The Kentucky Derby is known for its mint juleps, southern hospitality, and fashion of course! When people think Derby, they think big hats! So of course there is a bit of focus on the adornment upon your head but we will save this focus for last.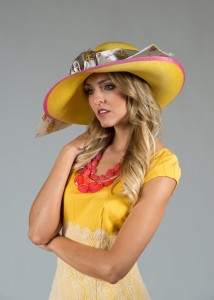 Wear an outfit that compliments your frame in a feminine way. Nothing to tight and nothing too loose. Short skirts and dresses should be left at home as they have no place at the races, especially on such as tradition driven day. Skirt lengths should be just above knee (2-3inches but no more) or below, such as a tea cup length. (To learn more about Tea Cup lengths keep reading after this article!) In our eyes, Maxi dresses are not proper for the Derby. They have more of a West Coast vibe about them but also in the crowds at Derby, they will be stepped on and ruined, if you don't trip on them first. Lace, florals, and pastels are three trends to aim for. You should be your most feminine self and any one of these will help execute that. Leave the dark colors for fall and the black for the Belmont Stakes. Feel free to mix colors throughout your outfit your with accessories and shoes. Last and most importantly: Your Derby Hat. Your millinery or headpiece is what brings the whole outfit together. Most frequently seen at the KY Derby are the bigger brimmed pieces; however, bigger is NOT always better. Especially in this competition! If you walk that stage with a huge brimmed piece that hides half of your face, you aren't doing yourself any justice. You would do much better to pick a medium or smaller brimmed piece, or even a 'Hatinator.' A Hatinator is a cross between a fascinator and a hat. These types of pieces are perfect for any race day and you can find one that fits your style perfectly! Also, don't overdo it with trimmings, or the
flowers/feathers etc. that are on your hat. Keep it chic and simple! It's not a hat competition, it's a head to toe competition and you want to carry your hat and your fashion with a smile and a good deal of confidence! If you are new to the concept of purchasing millinery, don't fall from the idea that the pricier it is, the better it is, because sometimes this couldn't be further from the truth. One of the great things about Fashion at the Races' Estore is we offer all different styles at all different prices. Take a look to find something in your budget as well as what best fits your style! If you haven't found anything, drop us a line and let us do the finding for you!!   The races are a place to have fun and look great. That's what this category is all about in the competition. Be sure to remember that as you look for your winning millinery piece as well as the rest of the outfit. If you have any questions, feel free to email us at info@fashionattheraces.com! Be sure to follow us on Facebook and twitter for the latest and greatest of all things horse racing fun and fashion!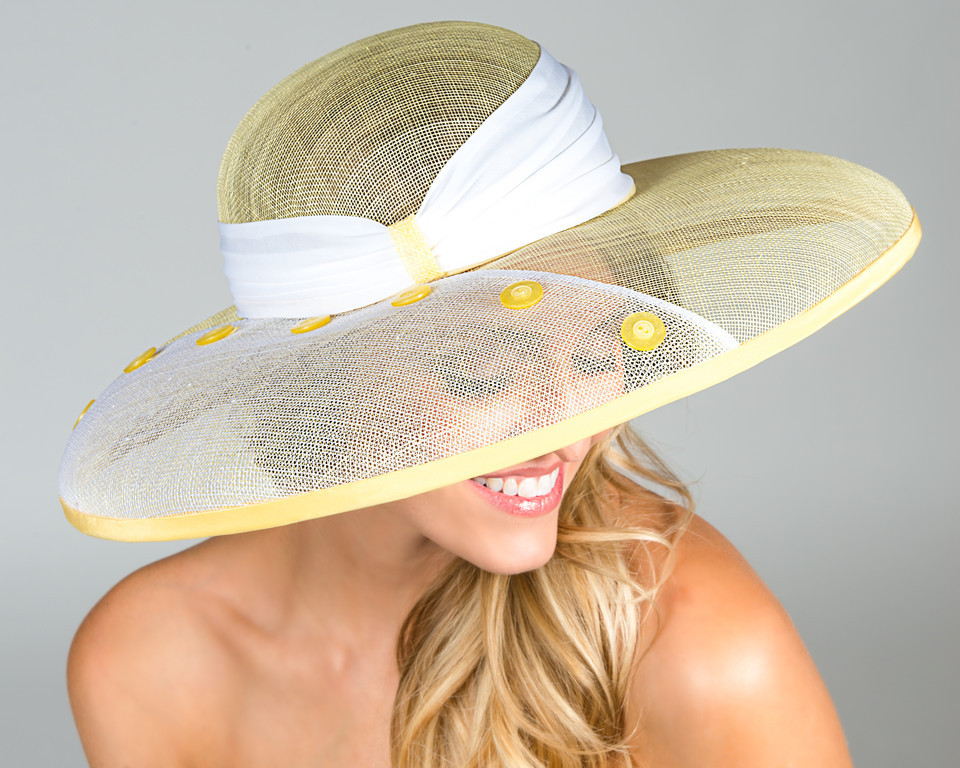 Tea Cup Anyone??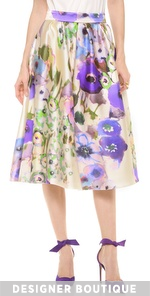 Although the races has a sort of elegance as a proper 'Tea Party,' this is not why we are referencing the length of dress or skirt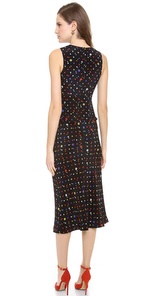 as a Tea Cup. It truly has nothing to do with a Tea Party or the Races for that matter. A Tea Cup Skirt is a length that falls below your knee into your calf area. Some would say it's the in-between of a midi and a maxi. However, we say it's virtually the same as a midi (as we hate anything maxi for proper racewear). This is the perfect length for any raceday as well as a trend for Spring 2014. Its more elegant than a skirt that drops to your knee and of course the mini skirt (which as a reminder should never be worn at the races). Whether it be in pencil form or a free flowing full skirt, this is the length to try out. It looks fabulous both in a dress or skirt form. If in a skirt, opt for a high waist fit which will elongate your body making you look slimmer and taller. On the shorter side? Pair it with a pair of nude heels… this will elongate you even more.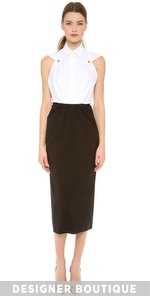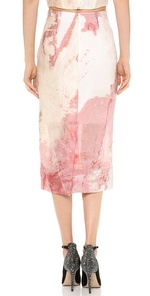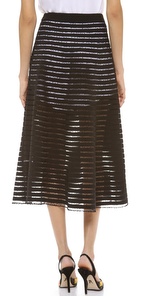 Lady like yet still modern-exactly what racewear should be.     ShopBop: http://www.shopbop.com/clothing-dresses-midi/br/v=1/2534374302204904.htm?baseIndex=0
 Check out our Kentucky Derby Fashion advice on WHAS11 ABC in Louisville!
 5 Quick Tips on Dressing for the Races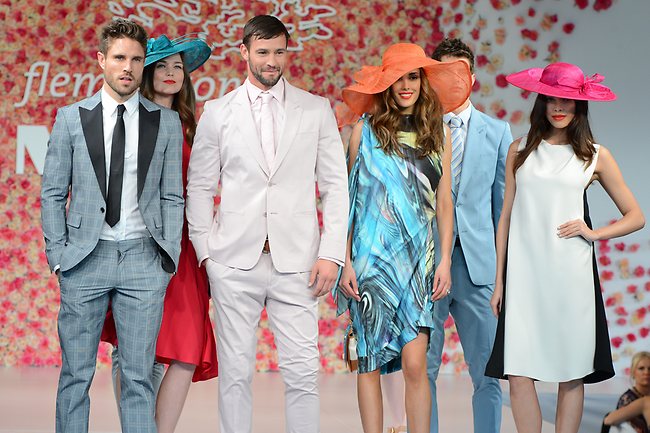 Women
Be comfortable-no one looks good in "someone else's" clothes or shoes

Leave the night club dress at home. Think classic and feminine when putting together you race outfit

Wear headwear! Hats and Fascinators are very fashionable and take any outfit from pretty to STUNNING!

Dress for the weather–if it's hot– don't risk "pitting out"–chilly? Wear stockings or a shawl/sweater.

Lastly, SMILE. Too many times girls are too busy giving the b**** look to each other–and it's never flattering.
Men
Shine your shoes before you arrive. Girls do pay attention to this. (Obviously NO SNEAKERS)

Tie your tie or bowtie correctly–need help? Check out this link: http://www.tie-a-tie.net/

Make sure your suit fits. It's so easy to recognize when your suit isn't fitted. Spend the extra and Get R Done!

Sunglasses…great for outside…UNNECCESARY INSIDE. Take them off or look like the tool—your choice

Smell good (PLEASE!) We are all attracted to good smells…don't find yourself in the other category.