Welcome to The

Style Section
 To Dress Code?? Or Not to Dress Code??
Newbury racecourse in the UK recently implemented a stricter dress code in their enclosure which has created quite a stir.
According to David Yates from 'The Mirror,' "A few racegoers who attended Newbury on Thursday have got in touch with the Daily Mirror – and they are not happy at the way they were treated upon their arrival at the track."
We all remember the 'Fashion Police' at Royal Ascot this year implementing the stricter rules in the Royal Enclosure….some would say too much??
Before we give our full (and heated) opinion…we want to hear what you think about dress codes. PLEASE visit our Facebook Page (https://www.facebook.com/FashionAtTheRaces)  and comment on the post pinned to the top. We WANT to hear what you think!
See David Yates' full article here: http://www.mirror.co.uk/sport/horse-racing/david-yates-column-newbury-needs-2865664#comments
It's Breeders' Cup Time!!
The annual Breeders' Cup Championships is just around the corner and if you already haven't been organizing your two winning outfits for this day…well, ya better get to it!
The first Friday and Saturday of November brings star racehorses and people from all over the world to Santa Anita Park in Arcadia, CA. The horses have been training all year to prepare for this 2-day spectacle of some of the best racing in the world.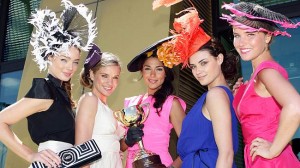 As for the front of house, Breeders' Cup is the best atmosphere when it comes to racing (no offense Kentucky Derby!) . Another year at Santa Anita will bring fantastic weather,  beautiful surroundings, and of course, our favorite thing, fantastic fashion!
The best thing about #BC13 in California is there really are NO RULES! Warmer weather in the fall months gives you as much leeway in your fashion choices as possible. No white after labor day? Psh! Wear white, red, blue, orange, or bold neons! Modern prints and textures are welcomed! Pick and trend and push it to the max. The only trend not in…"playing it safe." These two days are all about having fun and you should portray that in your outfit.
Don't feel you need to just pick a solid color dress and then a hat in the same color family. Find a fun printed skirt, add a bold color peplum top and compliment these colors with a standout millinery piece.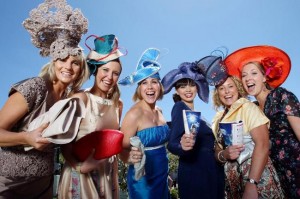 The Fascinators and Fedora's Contest is the biggest focus on fashion of the two days which spotlights the headwear in your outfit. This contest has grown each year and has a prize of $5000 shopping spree to the Westfield Mall (right next to Santa Anita Park) for both the female and male winner! (You could buy a fair few racing outfits with that check! ) So make sure you spend some time on your millinery choice. Steer away from the typical Derby big brimmed hats. These two days are more for constructed pieces that compliment your face, not hide them! Fascinators and Hatinators are the go-to for the weekend.
Still need a headpiece? Check out the Fashion at the Races Store: http://www.fashionattheraces.com/store/all-headwear/ .
3 Trends for the Breeders' Cup
BC Purple
You can't go wrong with bringing more purple to these two days. Any shade of purple would be perfect. Lilacs, plums, violets or whatever you can find will have you standing out on either Friday or Saturday. Feel free to mix it up with another color or be bold and stay purple from your millinery piece to your shoes! Accent with accessories of course!!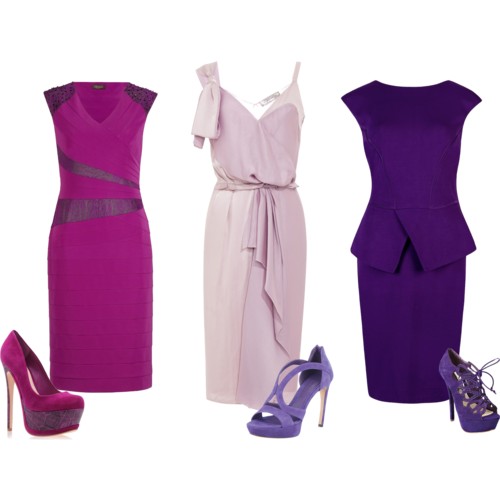 Modern Prints
This is a fun trend to go with no matter what the occasion. Mixing up abstracts with colors can create a bold fun look that will have heads turning everywhere you walk. Pair a print skirt with a solid top, or go big and mix two prints together! These types of prints can give you free reign in your millinery choice. You can pair your outfit with something totally different than what you would normally wear and it will all flow together! This type of outfit shows you as the fashionista you truly are! Shows you can take a risk…and still look fabulous!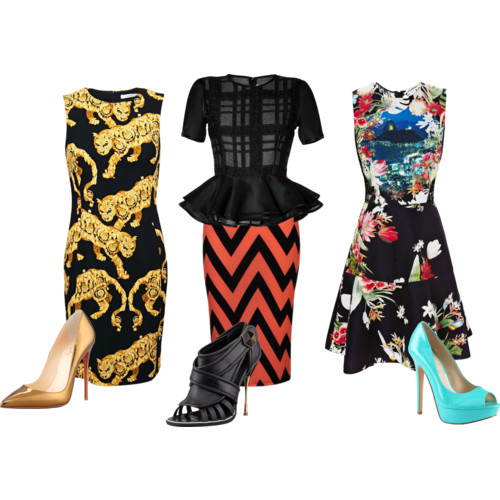 Monochrome
Black and white may be the staple for the Belmont Stakes but there is no reason that a little New York can't be brought to the West Coast. Play with separates or prints to get the monochrome trend. A black A-line skirt with a pretty white blouse paired with bold accessories is so classy. Want to try something different? Try a monochrome jumpsuit! Pair with a bold red lip and small clutch and you look like you are ready for the Purple Carpet!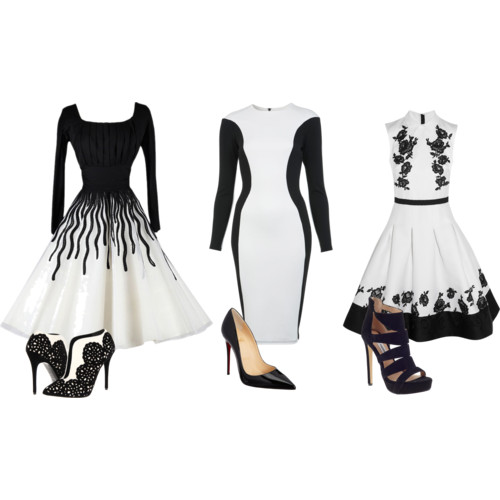 Regardless of your trends choice, make sure you have fun with your outfit and have fun at the races!!! Happy Racing!
BREEDERS' CUP WORLD CHAMPIONSHIPS ANNOUNCES THIRD ANNUAL FASCINATORS AND FEDORAS CONTEST
Fashion event open to all ticket holders for chance to win up
 to $10,000 in Westfield gift cards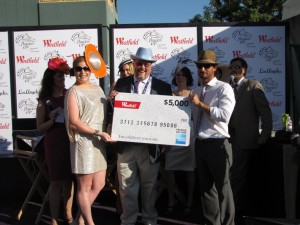 The Breeders' Cup announced the return of the third annual "Fascinators and Fedoras" fashion event, presented by Westfield Mall and Los Angeles Magazine. Fans sporting the most fabulous headwear, including, but not limited to, fascinators and fedoras, will be eligible to win up to $10,000 in Westfield gift cards.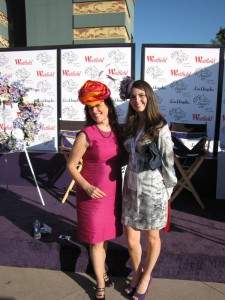 All Breeders' Cup ticket holders will have access to the event, which takes place throughout the 30th running on Nov. 1 and 2 at the Fascinator and Fedora Lounge at Santa Anita Park. The Fascinator and Fedora Lounge, presented by Westfield, is located by the Kingsbury Fountain. Winners will be selected from a group of finalists sporting the best headwear on Saturday afternoon. Full contest details can be found here. General admission tickets are currently available for purchase online at www.breederscup.com/tickets.
"I'm looking forward to judging the Fascinators and Fedoras fashion event for a second time," said judge and New York City-based designer Christine Moore. "I'm hoping to see many Breeders' Cup fans sporting my exclusive Breeders' Cup SILKS collection to match their favorite Breeders' Cup contender, and can't wait to see many beautiful fashion pieces on display."
"On top of world-class racing, the Breeders' Cup is full of fashion and style, with fans dressed to the nines," said Peter Rotondo, Breeders' Cup Vice President of Media and Entertainment. "We're excited to bring the Fascinators and Fedoras contest back for a third year to give fans the chance to put their most fashionable headpieces on display."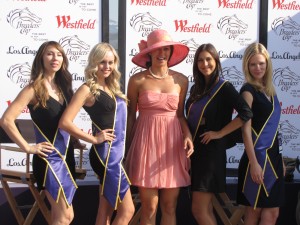 The Fascinators and Fedoras contest was launched at the 2011 Breeders' Cup World Championships at Churchill Downs in Louisville, Ky., to crown the lady with the best fascinator and the gentleman with the best fedora in attendance.
About Breeders' Cup
The Breeders' Cup administers the Breeders' Cup World Championships, Thoroughbred racing's year-end Championships.  The Breeders' Cup also administers the Breeders' Cup Challenge qualifying series, which provides automatic starting positions into the Championships races. The 2013 Breeders' Cup World Championships, consisting of 14 races and purses totaling $27 million will be held Nov. 1-2 at Santa Anita Park in Arcadia, Calif., and will be televised live by the NBC Sports Network. Breeders' Cup press releases appear on the Breeders' Cup Web site, www.breederscup.com. You can also follow the Breeders' Cup on social media platforms Facebook, Twitter and YouTube 
Its only a few weeks away!!
Are you going to pick the literal Breeders' Cup Purple for Fashion Inspiration??
Check out some great purple pieces below!! Pair it with a great millinery piece from our Hat Shop!
Santa Anita Opening Day… Color Color and more Color!
Santa Anita Opening Day is one of the anticipated days in racing! This is one of the best tracks to see and be seen. Dress your best and go out with friends for a great day of racing, cocktails and just some stylish fun. The weather in Arcadia, CA is going to be gorgeous. Highs in the 80′s with the beautiful sun shining.
Even though we are heading into fall, California plays by its own rules. With the temperature still pushing 90 degrees we are free to wear our summery best. What should you wear to this years opening day?? Color, color and more color!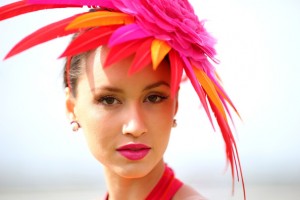 With no knowledge of when the temperatures will actually turn colder, you may as well use the heat while you can! Leave the darker colors at home for this day. Bold and bright are your winners. Lipstick Red, Royal Blue, Emerald Greens and Canary yellow are perfect color choices.
Make sure your millinery is an accent to the bright colors in your outfit whether it be through a contrasting bright color or a corresponding print. Be a bit daring and try a bright lip color that ties in with the rest of your outfit. Keep the rest of your makeup light and more on the natural side. Make sure you bring the lipstick in your clutch for touch ups!
Have fun with your outfit for this day! It's not going to be summer for too much longer and this great day allows you to keep your summer clothes out and show them off! (Also a great time to shop for new summer clothes with all the sales going on heading into fall!! *wink)
See the outfit below for inspiration!
August Style Snap Winner
Fagan McKagan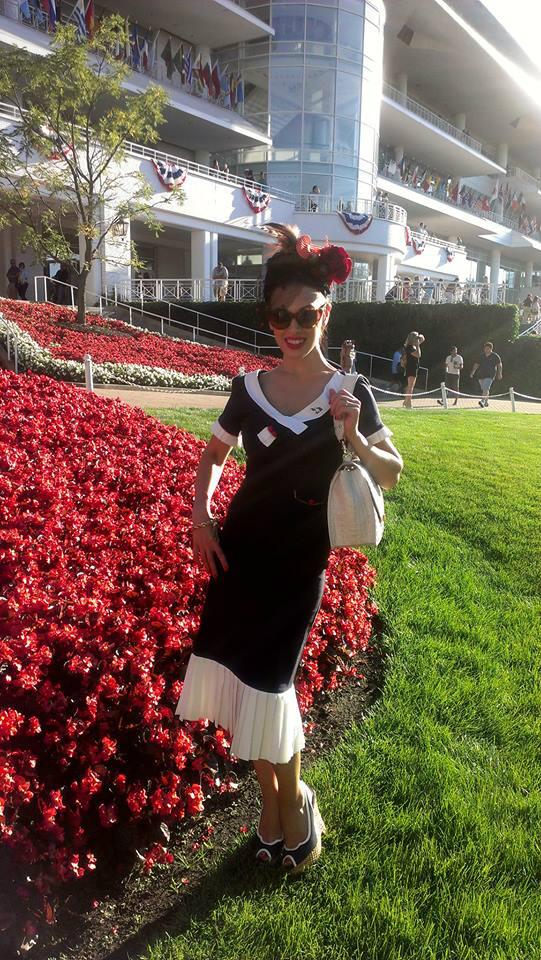 Congratulations on being the best dressed for our August version of the BC STYLE SNAP competition! Fagan McKagan, we absolutely loved your vintage look for the Arlington Million.

Tell us a little about yourself.
I work in the beauty and fashion industry as a professional makeup artist, hair stylist and consultant I'm also a published model. I live in Chicago with my husband and daughter.
Describe your full outfit.
I'm very inspired by vintage glamour.
My dress is from Stop Staring, a company that designs retro reproduction clothing. I own several of their dresses. The purse is a Brahmin, I love their handbags because they have classic silhouettes and are very affordable. I accessorized minimally with gold hoop earrings and a matching bracelet. I wanted to keep my hair simple and away from my face to accommodate the headpiece and the veil.
We love that you had a fascinator on, where did you find it?
The fascinator was actually made for me by the accessories designer, Erin Peachee, who I had worked with on a few photo shoots. Erin made the piece for me to wear to the Kentucky Derby a few years back.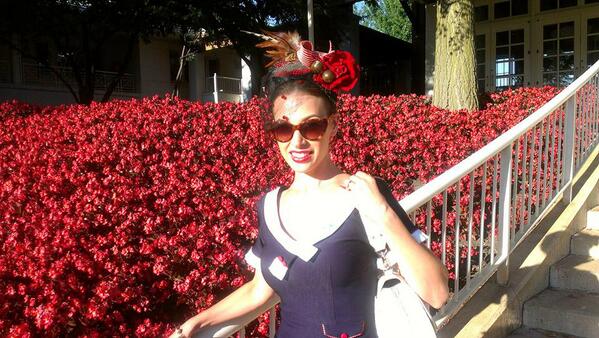 Why do you feel it's important to dress up for the races?
Dressing for the races is as traditional as the races themselves. It is a respectable sport that requires respectable attire. No Budweiser shirts and washed out jeans allowed! Horse racing is classy and beautiful and fun and so is the fashion.
Who is your favorite racehorse either on present day or all history?
The household favorite racehorse is Istabraq out of Saddler's Wells.
Have you ever been to the Breeders Cup?
My husband has been to the Breeder's cup, but I have not. We are hoping to go together in the future. It would be fantastic if they brought the Breeders Cup back to Arlington Park, we' be there for sure!
Already planning my ensemble for the next year! Thanks for everything…
VRC's Myer Fashions on the Field 'Peoples Choice' award 2013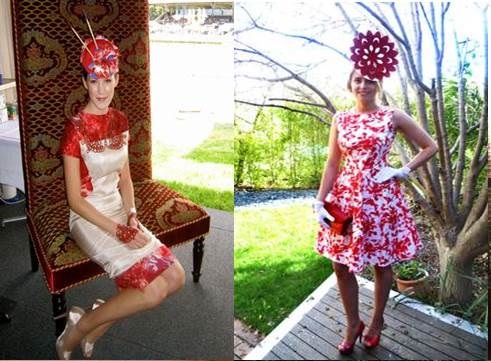 In what is just another shining example of how innovative and forward thinking the Australian racing industry has become, as well as its awareness of how important a role fashion is playing in the strength of their entire industry, the VRC has again announced the MYER 'Peoples Choice' award for the Fashions on the Field event in 2013.
Ladies from all over the country, and indeed the world, are encouraged to take a portrait style snap of themselves in their best raceday ensembles and enter via the Facebook page provided by the Flemington racecourse. Last years competition was such a success, its sure to get even bigger for 2o13.

Simply enter the 2013 Myer Fashion on the Field Women's Racewear People's Choice, for your chance to win a ten day trip of a lifetime to the 2013 Melbourne Cup Carnival, with automatic entry to and compete for the coveted Myer Fashion on the Field National title on Crown Oaks Day –The Ultimate Style Day.
There are three crucial stages to the competition:
Stage 1: Submit your entry via Facebook from Monday 2 September until Monday 30 September 2013.
Stage 2: The top 20 finalists will be selected by an expert panel of judges and announced on Wednesday 2 October.
Stage 3: Public voting to determine the winner will take place from Wednesday 2 October until 5pm, Monday 21 October.
Every week one lucky contestant will be chosen as Myer's Pick of the Week and will win a $500 Myer Gift Card. The winner's entry will be posted on Myer's Facebook page.
The 2013 Myer Fashions on the Field Women's Racewear People's Choice winner will be officially announced on Monday 21 October once the public votes have been tallied.
All applicants must be available to travel to Melbourne between Tuesday 29 October and Friday 8 November 2013.
And make sure you pay attention to their criteria to give yourself every chance possible to win the fantastic a ten day trip of a lifetime to the 2013 Melbourne Cup Carnival, with automatic entry to and compete for the coveted Myer Fashion on the Field National title on Crown Oaks Day –The Ultimate Style Day.
Contestant Criteria
One entry per person permitted
Contestants must be at least 18 years of age
Must be available between 29 October and 8 November 2013
Women's Racewear must be worn, including headwear
Photos submitted with the contestants' entry must not be altered or digitally enhanced in any way
Image must be portrait and display full outfit including shoes and headwear
Contestants and/or their outfits are not permitted to promote commercially a brand, store or designer
Contestants must not receive any compensation from a third party for entering this competition
All prizes awarded to the contestant must remain the property of the contestant
Contestants are not permitted to alter or add to their outfit in any way from the time they enter the online competition until the end of the National Competition
Judging criteria
A panel of judges based their votes on the following Women's Racewear criteria:
Style and originality
Appropriateness of the outfit for the Melbourne Cup Carnival and the individual
Attention to detail with accessories
Understanding and interpretation of the current fashion trends
Grooming and deportment. Suitability of the outfit for the raceday
This is just another fantastic competition that is attached to the illustrious spring racing carnival that is such a platform for the wonderful fashion and lifestyle that exists within Australia and their thriving racing industry.
SPRING CARNIVAL BEGINS AT FLEMINGTON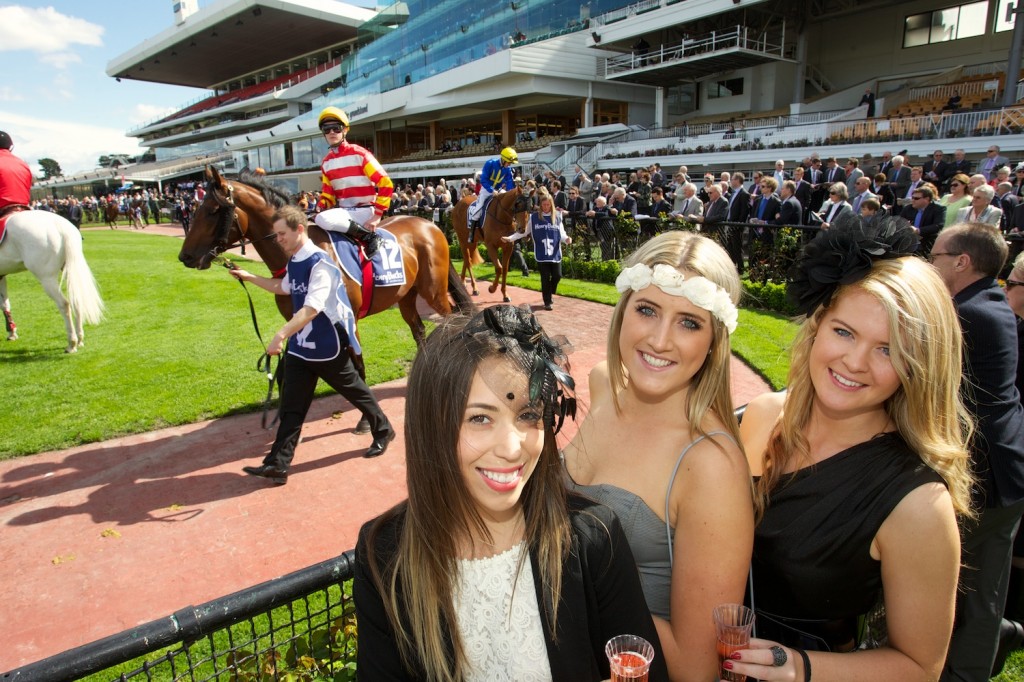 Melbourne's spring carnival kicked off on Saturday just gone with the appropriately named 'Girls Day Out'.
Considering how big a role the ladies and their fashion plays in the sport downunder and its continuous growth and success, the headquarters of racing, Flemington Racecourse, was the scene for the first Group 1 of the actual spring season and started in style.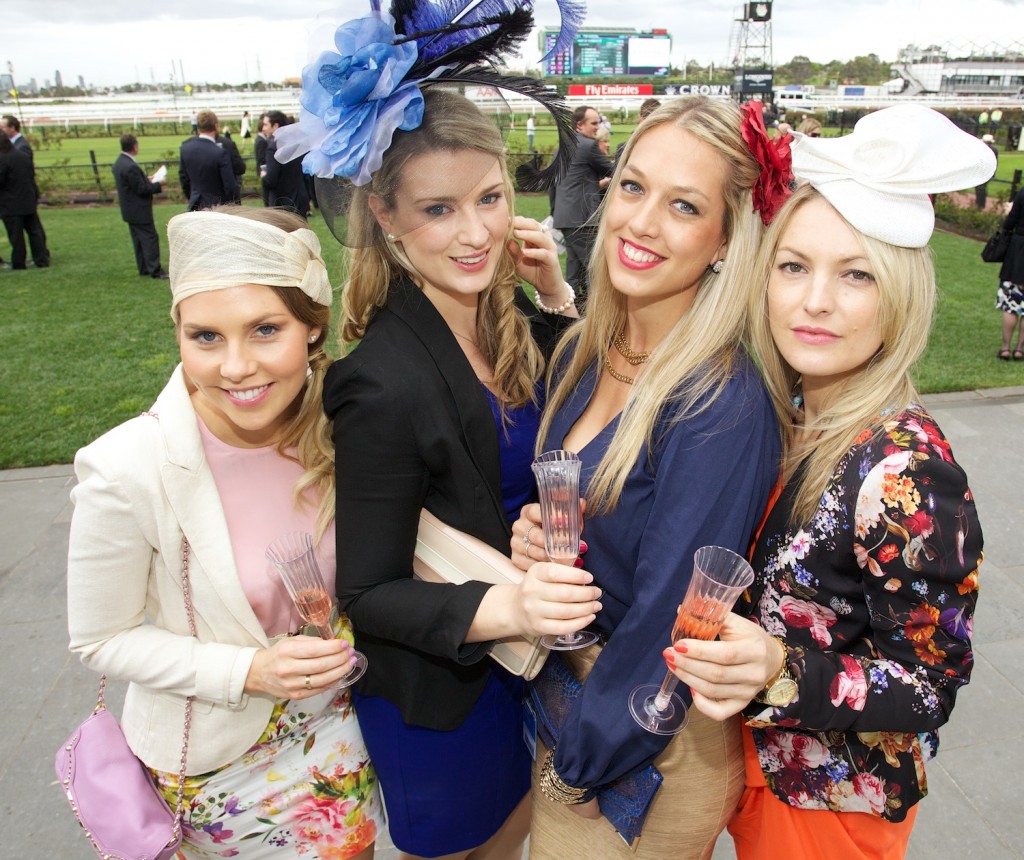 This year, in what is a pointer to the influence and important of the ladies that attend the track, there was a special area on track called the "Paris Lane' precinct, named after the Melbourne Cup winner, dedicated to fashion and the ladies that incorporated plenty of fine Millinery to look at and try out as well as some special fashion parades during the day showcasing some cutting edge and revolutionary designs by the students at Melbourne's very own RMIT university.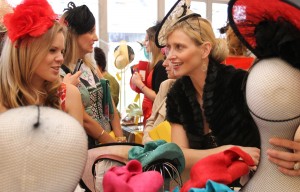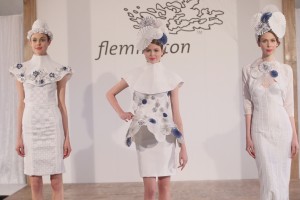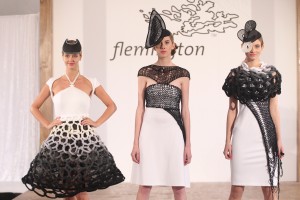 It was a fantastic idea and was executed beautiful by the VRC.
Spring has arrived and there is just an air of excitement in Melbourne that cannot be matched anywhere in the world at the moment as this great city gets ready for the carnival.
Spring Carnival Fashion Trends
Spring has come in Melbourne Australia, and with it comes arguably the most exciting racing carnival that the world has to offer! Yes, England has a weeklong festival at Ascot that attracts a little attention (tongue firmly in cheek), and yes we know that the United States has the Kentucky Derby, Preakness Stakes and Belmont Stakes over a 6 week period that decides the Triple Crown, but try as hard as they may nothing gets close to the actual 2 and a half month long bonanza that the Australians call the Spring Racing Carnival.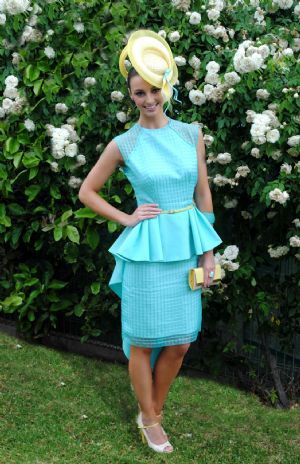 Apart from the fact that it is the time of the year when the best horses race for the biggest prize money week in and week out, with a culmination in early November of a solid week of racing that is the Melbourne Cup carnival. It is a 2 month extravaganza of social and fashion circles colliding with special events every week dedicated to the racing and its attendees.
The Myer Fashions on the Field competition will already have been collecting winners from around Australia over the last few months before it chooses the final National competition finalist from its Melbourne Cup week events. Close on 3000+ ladies and gents will grace the catwalk during cup week at famous Flemington to try and win the $400,000 (Yes, you read correctly) prize pool on offer.
So, with all of that in mind, let's take a look at some of the definite trends we expect to see this spring in Melbourne at the track….
This years revival of the Great Gatsby has been responsible for a romantic influence to the fashion world and in our opinion it is the perfect look      and feel for some fun and flirty trackside action.
Floral prints and bright block colors (ultra violet blue, orange, and of course yellow) are in full bloom as are other detailed prints      (animal, abstract photographic, futuristic graphics and bird prints).
Pretty pastel colors in soft fabrics will be a huge hit this year,      with attention being paid to intricate details and fun feathers etc.
Black and white which is always perfect for Derby Day (monochrome,      geometric stripes and blocks) is hot, so mix it up with various patterns,      stripes or polka dots anyway you like and make a statement that will be      heard out loud!
Kosmos (digital print and pastel colors) and pure white or cream from head to toe will be popular.
Remember though, an outfit no matter how glorious it is, must be worn with confidence and grace! So when making that final decision on how you're going to step out in style, make sure it's something you are comfortable in and you'll be on a winner every time!
Take note of a few tips below….
Wear something that suits your personality and decide if you want to be quirky, fun or classic.
Whatever you do, test out your shoes before raceday. It's always a long day and nothing ruins a good mood faster than painful shoes!
Remember to dress for the occasion and possible changes in the weather;      Melbourne can be unpredictable at the best of times.
Be tasteful and avoid a short dress. Remember, it's a racetrack and     

not a night club

, so try and not go higher than two inches above      your knees.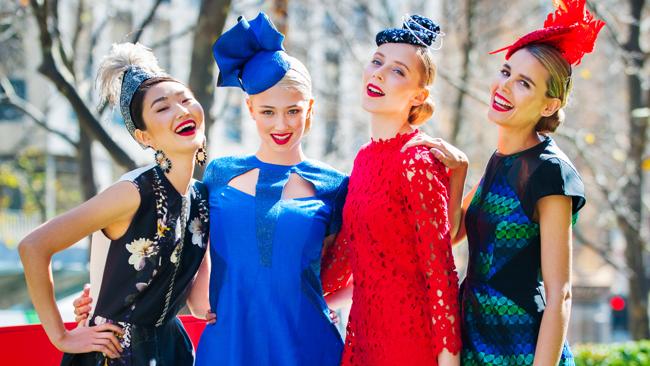 See Bri's 9 Favorite Dress's for this weekend's races at Del Mar & Saratoga
All dresses are available on the fabulous http://www.shopbop.com
Rebecca from Furlong Fashion goes to 'Glorious Goodwood!'
I had a lovely week at Glorious Goodwood. Unfortunately the weather was a little hit and miss going from one extreme to another, with Tuesdays racegoers experiencing heavy downpours and Thursday being the hottest day of the year. Race goers had to ensure that a coat or umbrella was packed or taken into consideration at all times.

Weather at Glorious Goodwood 2013
On Wednesday I had the pleasure of finally meeting Camilla Henderson, who I am working alongside with at Racing4Girls. We were colour co-ordinated wearing red dresses, black coats and floral head pieces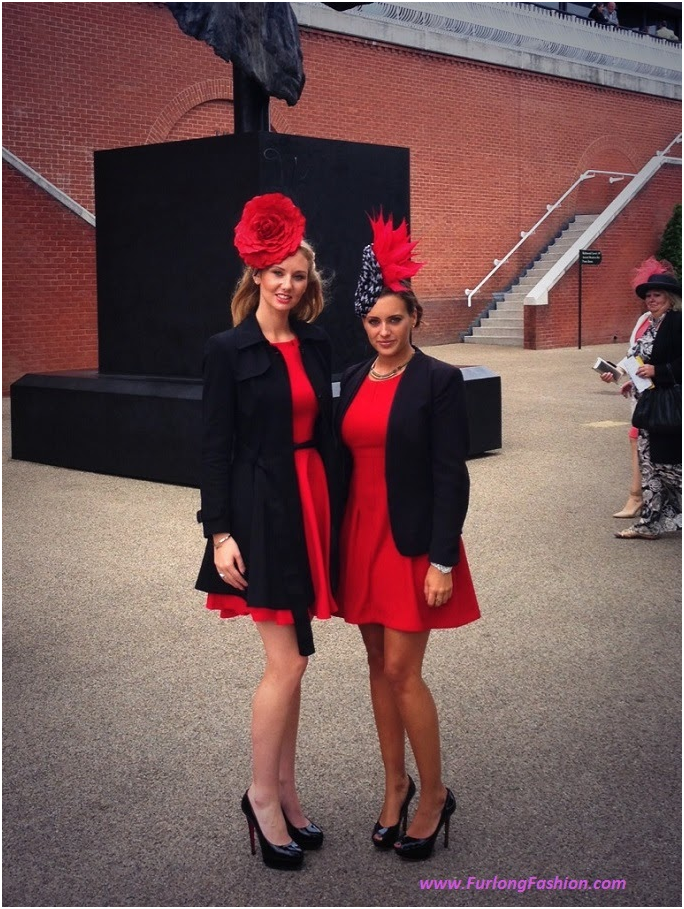 My Hat was Kindly supplied by Adorn Hats, Dress   & Coat ASOS, Shoes Christian Louboutin.
For me the highlight of Glorious Goodwood is the Goodwood Regency Ball which is on the eve of Ladies Day and plays host to racings great and glamorous, from bare knuckle fighters and Moulin Rouge esq ladies to racing by candle light and artists such as Paloma Faith and Courtney Love playing in the marque, it is an evening not to be missed. And this year certainly did not disappoint. Each year the identity of who will be performing is always kept top secret, this year it was The Noisetts who were incredible.     The evening started in the same way as most balls do, with a champagne reception followed by supper in the main house. The Earl of March and son's Lord Settrington and Freddie Gordon-Lennox set the standards for the Regency dress code in tails and breeches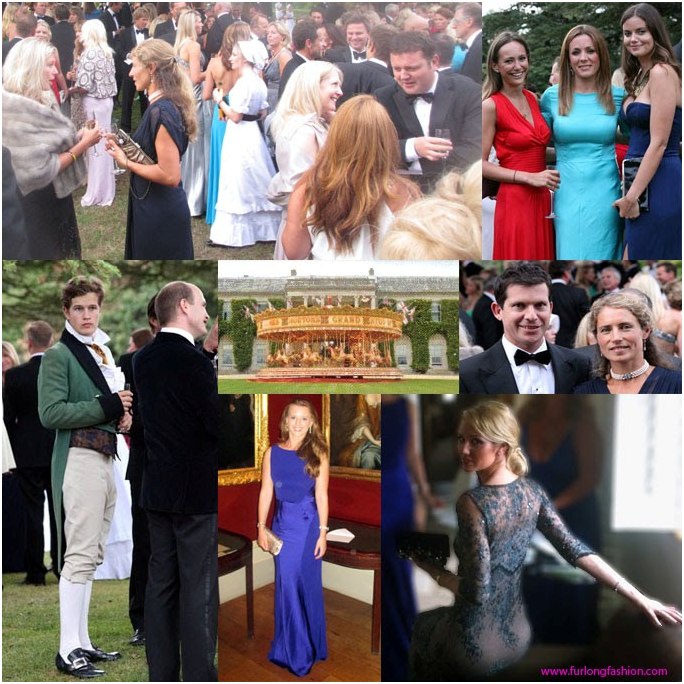 Goodwood Regency Ball
Although it was not long before the Carousel riding and general debauchery descended on Goodwood House with the evening ending with a limbo!!!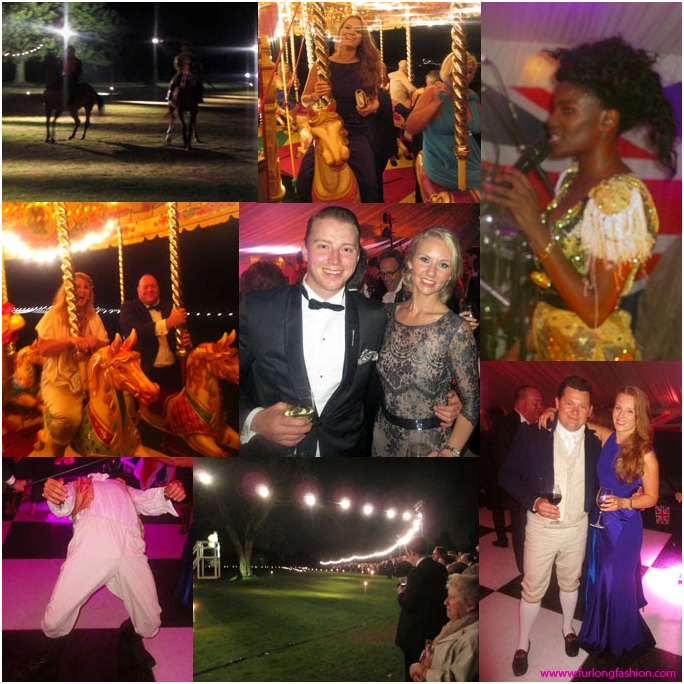 Goodwood Regency Ball 2013
The Goodwood Ball is definitely an evening which everyone should try to experience. Although I'm sure there were some sore heads on Ladies Day.   One of the highlights of Ladies Day is the Magnolia cup which is Glorious Goodwood's all-women charity race. A line-up of amateur celebrity riders wearing racing silks by designers such as Mulberry, Bella Freud and Beulah compete on horses kindly donated by various racehorse trainers across the country.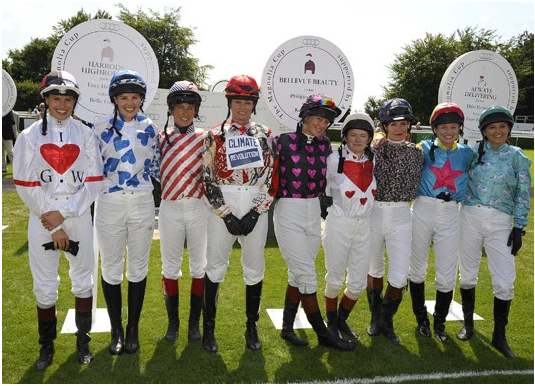 The lady jockeys line up for The Magnolia Cup,   (L-R) Francesca Cumani, Alexis Green, Lucy Henman, Tricia Simonon, Philippa   Holland, Dido Harding, Maggie Buggie, Krissi Murison and Gina Bryce. Photo:   Getty
Scott supplied a horse for the Charity race called Robyn which Dido Harding rode, she ran so well leading the majority of the way only to get caught 1 furlong out and finishing in 3rd place, hopefully Dido can go two better next year. Congratulations to the winner Philippa Holland and to all the ladies who competed as it is for such a good cause and takes alot of preparation with the jockeys having to start riding out months in advance.
On Ladies Day the Stars were out in full force. In my opinion Actress Ophelia Lovibond looked exquisite in a beautiful green floral dress accompanied with a large emerald bow in her hair & Louis Vuitton nude clutch, she was followed closely in the style stakes by Zara Phillips, who had recently announced her pregnancy and was definitely giving Kate Middleton a run for her money, wearing a yellow dress coat teamed with nude heels a black hat and Mulberry clutch. Anna Freil showed her effortless bohemian style wearing a lace off the shoulder dress, her head-wear was a little different and is clearly a love/hate piece, I think it suits Anna but would I wear it? No.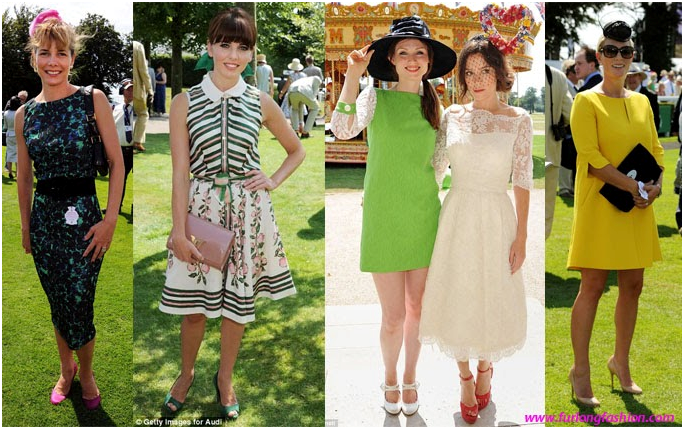 Darcey Bussel, Ophelia Lovibond, Sophie   Ellis-Bextor, Anna Freil & Zara Phillips on Ladies Day at Glorious   Goodwood.
I was disappointed with Darcey Bussel and Sophie Ellis-Bextor's efforts as normally they look immaculate. The dresses they were wearing were nice but the head-wear was poor. Darcey opted for a pink feathery headband and Sophie a black oddly shaped hat none of which matched their outfits.   As for the Gentlemen The Earl of March was wearing a classic linen suit, whilst John McCririck was as eccentric as ever wearing a blue striped jacked and "cow boy" hat.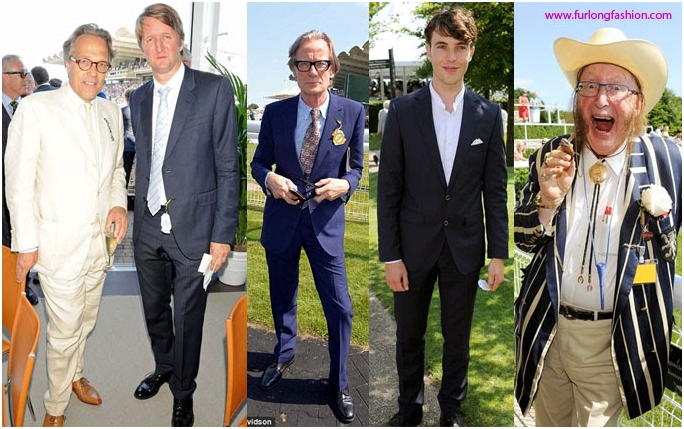 Earl of March, Tom Hooper, Bill Nighy, Tom   Hughes, John McCririck
Although Actor Tom Hughes looked dashing in his blue suit and crisp white shirt, he was lacking one key accessory…… His Tie, I wonder if he was allowed entry to the Richmond Enclosure or did he have to buy a tie like the racegoer pictured below.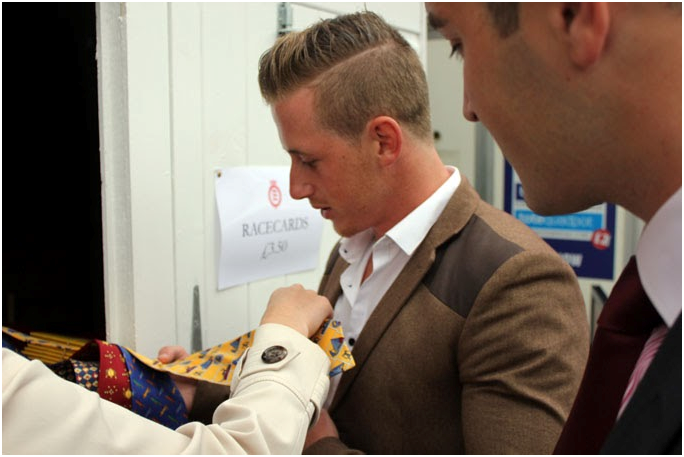 Gentleman purchasing a Tie to gain entry to the   Richmond enclosure.
There was an impressive array of millinery on show throughout the week, With Milliner Vivien Sheriff  partnering Goodwood and being this years guest milliner. She wore a beautiful colourful headpiece which is part of her 2014 collection.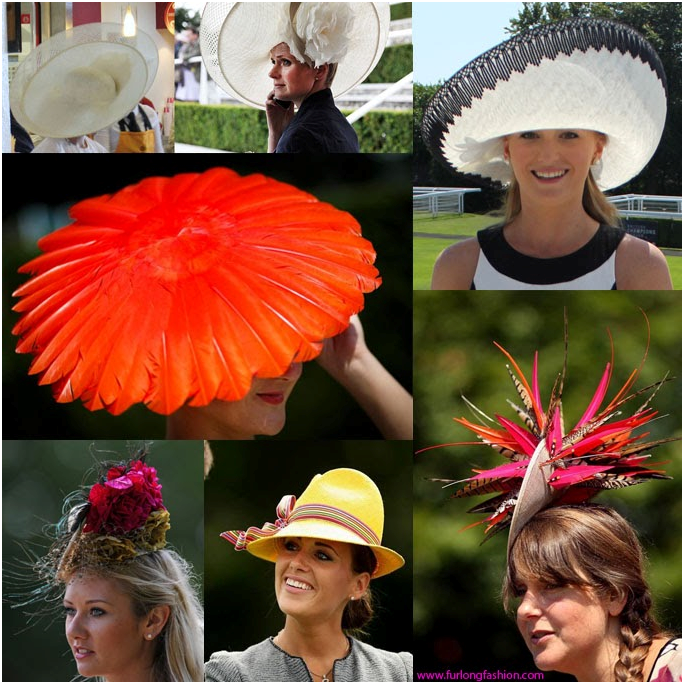 The Fashion stakes maintained an impeccably high standard throughout the week, a few of my favorites are shown below;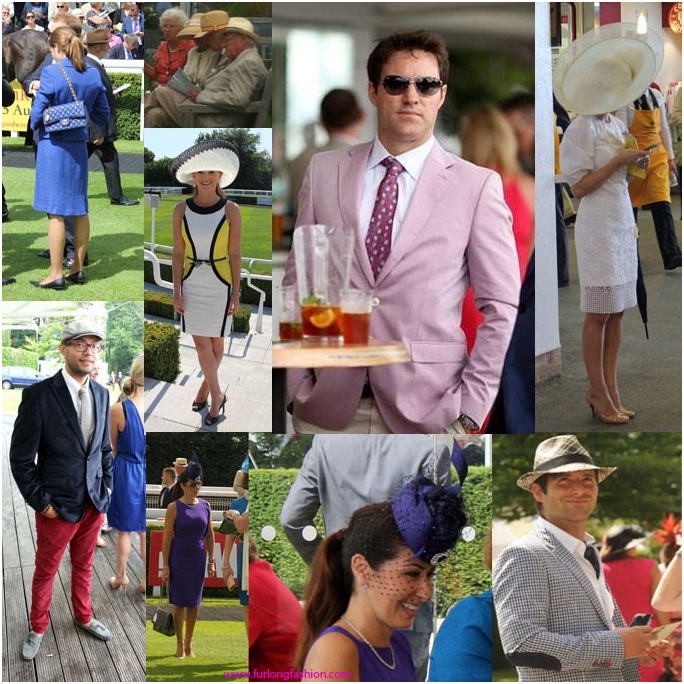 It was also lovely to see racegoers dressed so beautifully in their national dress.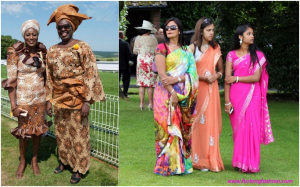 For more photos from Glorious Goodwood 2013 visit our Facebook Gallery.    I would also like to thank Jennifer Roberts from Adorn Hats for kindly letting me wear some of her beautiful creations throughout the week. They all available to hire and for more information visit www.adornhats.com
Shine for the Arlington Million Hat Contest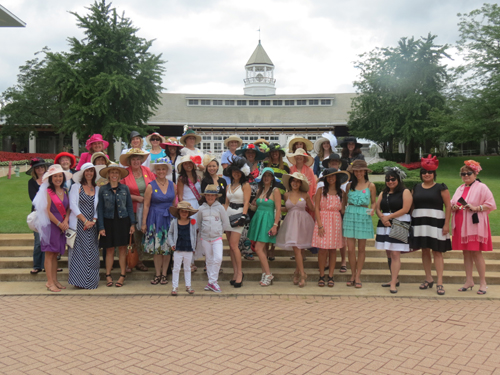 This Saturday not only brings fantastic racing at Arlington Park but it brings 2 chances to win big on the fashion front. As you should already know we've got the second weekend in August for the BC STYLE SNAP  contest but in addition to tweeting your picture out to win prizes…since you will already be dressed up, make sure to enter the Arlington Hat Contest!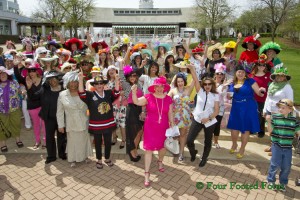 I'm so honored to be apart of this contest as a judge (Thank you Arlington!) and being so…I'm expecting big things!!! Yes its a HAT CONTEST…but I'll be looking at the whole outfit. No wearing a T-shirt and jeans with a gorgeous piece of millinery…I want to see the whole outfit tied together, shoes, dress, hat, and accessories. Mix and match and get your fashion on! The focus will be on the hat so make sure you pick your millinery masterpiece carefully. If you find yourself without a cap the day before the races…contact us as we will have a small inventory with us and can deliver to your door! No promises that it will win the prize though…but doesn't hurt to try! Check out our 'Get Ready for Arlington' Video. To enter:
After race 3 head down to the paddock (around 1:50pm) and you will be lined up on the stairs for the judges to check you out! Make sure to smile and make eye contact! Confidence is key ladies! Prizes: A Prize pack from Arlington! Includes tickets, shirts, and more! The competition will be broadcast throughout Arlington Park and also on the simulcast channel (you will be on TV!) Make sure to wear your winning (hopefully) hat and bring your friends with you! Can't wait to see everyone dressed up and looking fab in the paddock!  See Bri's Top 10 Hat picks.
Look Like Millions…for 'The Million'
One of the best races (we think) that will start the close of the summer is only a week away. Arlington Park is located about twenty minutes outside the fantastic city of Chicago, IL. On this Saturday, the stylish ladies and gents of the windy city dress for a day at the races and flock to Arlington Heights for the first post of 12:15pm for the great day of THE ARLINGTON MILLION.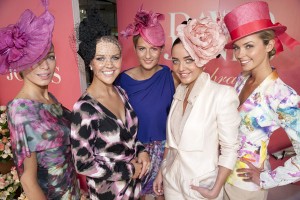 The biggest day of racing for this stylish racetrack expects the highest form of fashion which can be inspired by none other than the fantastic city in its close realm. Chicago style is all about pushing the boundaries just a little bit. You want to show your uniqueness with just a little more jazz than usual but still keep a laid back feel within the outfit. Don't just flock to the LBD for this raceday, pick something out of your closet that you've always been a little too nervous to wear. Nothing too outrageous…if you think you shouldn't have bought it…then you're probably right. As an Illinois Native, Claire Novak, says "Don't try and make a splash, make a statement." Channel our two favorite Chicago style icons: Giuliana Rancic and Corri McFadden. Both who we hope will attend this stylish raceday…(don't worry we are working on it!) .   Guiliana's style is always refined but always trendy with the just the right amount of accessories. Corri loves to wear her own line of jewelry which is usually layered bracelets on her wrist and gold cocktail rings always with her signature pop of color on her lips. Corri always looks laid back but effortlessly stylish. She does a fantastic job of picking a stand out piece and pairing with an everyday piece. Both these ladies make a statement…not a splash (Thank you Claire!).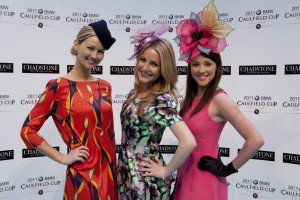 The races represent the more refined side of fashion but always include a trendy flair somewhere! This isn't the place for mini skirts and tanks with a sunhat (although we see this all too often), we want to see a more classic sense of style. Whether you're going for a vintage look of a modern print, always channel 'racewear' not 'clubwear.' Being the biggest raceday at Arlington, this is the time to go all out for your outfit. Start styling it now and get the pieces you need through the week leading to Saturday so you're not scrambling at the last minute. Carefully select your dress and hat so that they mix perfectly. We say mix because match can come across too literal. You don't need the hat to match the outfit, it is an accessory, it needs to mix but also be a standout part of your outfit. What we would LOVE to see at the Arlington Millions: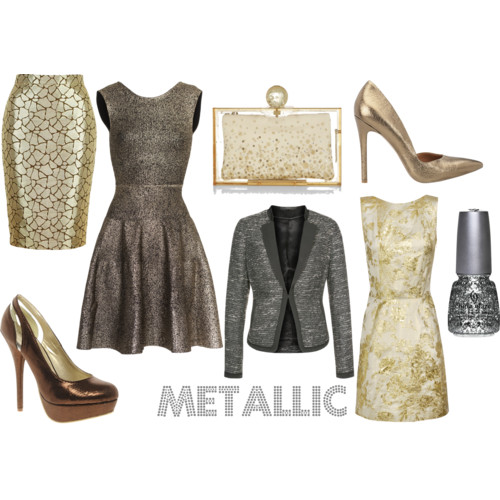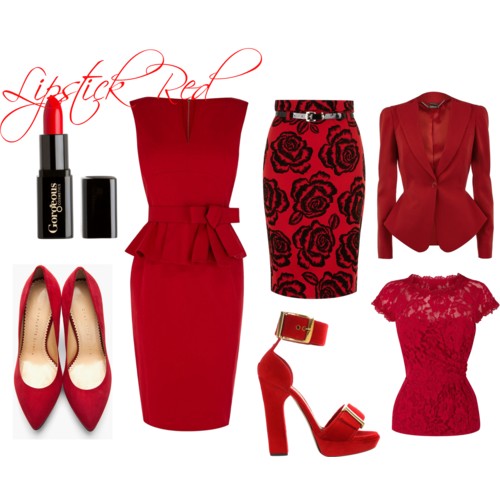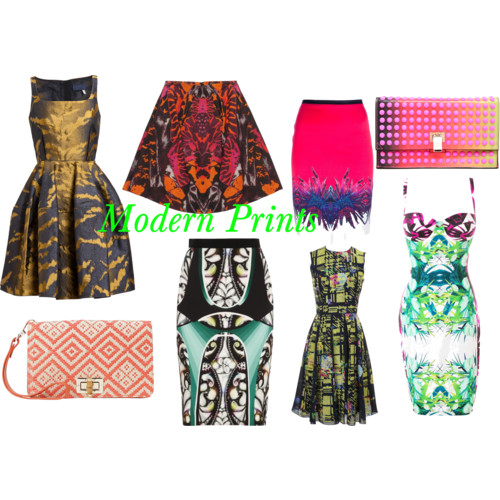 With only a week away you can still get your perfect millinery piece for the big raceday. Email us if you have interest in a specific one in our store, or contact us for a last minute piece for two of our milliners that are right in the city of Chicago! Lisa Farrell and Jenny Pfanenstiel have beautiful pieces that will finish off your outfit perfectly and we can help deliver right to your door (or hotel!) We are so excited for this raceday and can't wait to see the racing fashion it brings! Besides, why should the horses get all the attention?

 Favorite 'Literal' Equestrian Inspired Fashion
Check out a few accessories that take equestrian inspired to a whole new level…but we love it!
Our first BC STYLY SNAP monthly winner has been chosen!
Congratulations to Rachael Dickhute from the San Diego, California. She dressed up for a day at the Del Mar Races and styled her outfit to take home the prizes for the month of July! Coincidentally, Rachael is a fashion blogger and both loves to see and be seen at the races. She paired a BCBGeneration white linen 'front contrast' dress with a thick black BCBGMAXAZRIA cut-out belt with a large simple black brim hat. Her Tsubo 'Sevan' shoes were a stand out style with a thick chunky heel . A booty feel contrasted with a single strap over the toes brought your eyes to these unique shoes.
Accessories wise, Rachael went for a laid back feel with a mix of bracelets and cocktail rings. She mixed leather with gold metal, and colors red, white and black. " I chose a white BCBGeneration day dress in white because I knew it would be a bit warmer and a long day in Del Mar. Also, I kept it simple by choosing black accessories to stay on trend with black and white."   She decided to go with a big tote from H&M with shoulder straps to keep hands-free for ice cream and cocktails! " I brought a tote with me to the races, versus a clutch, because I prepared for a full say of races! I brought snacks, my camera, sunscreen and of course cosmetics for touch-ups."
We were able to catch up with her and ask a few questions:
Why is fashion important at the horse races? Fashion is a large part of the history of the races. It is one of the perfect places to debut Spring fashion and be seen. Women look forward to finally being able to wear color and effortless day dresses, not to mention pairing their outfits with a statement making hat that also serves as functional!   What would your advice be to a girl who's getting ready for a day at the races? Keep it simple! I recommend going big on the hat, literally. If you keep it simple for the outfit, you will most likely be more comfortable throughout the day, but your hat will most certainly do the talking!   What accessory should stand out the most at the races? It's all about the hat! Women can make a statement with head wear. Whether it's a fascinator, acorn hat or wide brim floppy hat, this should be the most prominent piece of the ensemble.   Want to purchase Rachael's dress??  Click here to get it on sale! Try your chances at being the BC STYLE SNAP AUGUST WINNER! See the upcoming #WAYI races and all competition information here: http://fashionattheraces.com/events-2/bc-style-snap-contest/
Oh, Stylish Saratoga

Heading to 'The Spa' for the 2013 Races? Get ready for fantastic scenery, fun bands, great 'carnival' food, and of course some of the best summer racing there is. Even if you have been to Saratoga hundreds of times, each time seems just as exciting as the first. White painted wood with some chips peeling off, surrounded by greenery in the grass, plants, and old tree's all throughout trackside. Carousal style buildings paired with white tents showcasing hats, paintings, and 'Spa' souvenirs. There is no track that compliments the style that 150 years has made Saratoga so popular. This track caters to all. The families that set up a 7:00am to get the perfect picnic spot that has a view of a TV and close vicinity to the playground. The owners that come to have a champagne, enjoy their box view and see their horse saddled up in the walking ring. Finally, the fashionista that looks for a place to show off their well thought out outfit and enjoy a fantastic sport with fantastic friends.   But enough bragging about this unique track and on to the style portion of the article. Saratoga style is all about pairing a vintage look with a fun and carefree aspect.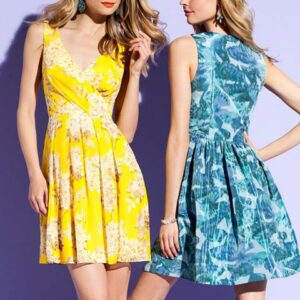 Still playing off the summer trends at the moment, polka dots , stripes, and fun feminine prints are popular choices for this racetrack. A-line dresses in a light and flowing fabric paired with medium brimmed hats or smaller fascinators. Color pops at this track so it's great to showcase that in your outfit whether is a great lipstick-red dress or a colorful print. Don't forget your millinery for this racetrack. Hats and fascinators definitely have you looking ahead of the crowd here and with all the cameras around this picturesque track you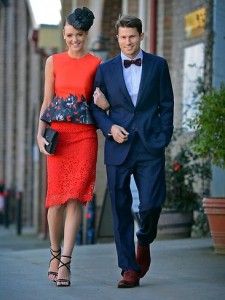 may find yourself in local papers and TV! Also don't be caught buying your millinery on the day because you will pay higher prices at the track than if you would plan ahead (all millinery prices are escalated at the tracks). Costume jewelry such as statement necklaces and cocktail rings are a great addition to your Saratoga Style. Lace or satin gloves bring out the vintage in your outfit as well as ups the ante. Pick a bag with a shoulder strap as you'll need a hand for your winning tickets and for your cocktail. If you're in the picnic area, choose wedges over the proper heel but if you have grandstand seats or are just hanging out in the Carousal area, feel free to go the regular heel route. Make sure to pick a pair with ample padding on your sole and as always one that you've already broken in. Saratoga is all about enjoying the races in the now but at the same time reliving them from years ago. Enjoy the 150th Anniversary of this picturesque and classic track with your friends, and family, and as always…make sure you're looking good! Be sure to tweet us a picture to enter yourself in the BC STYLE SNAP contest on the #WAYI days. See full details here: http://fashionattheraces.com/events-2/bc-style-snap-contest/ Besides, why should the horses get all the attention??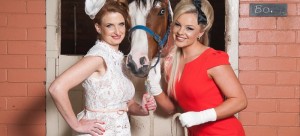 What's Happening in the UK?
Rebecca from http://www.furlongfashion.com/ tells us all about The Boylesports Ladies Day at the July Festival ….where the Fashion Stakes were definitely high.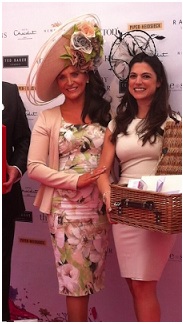 Winner of The Best Dressed Lady Competition
Maria Cheslin who had travelled from Southampton, looked truly magnificent. Her dress was from Karen Millen and her hat was made specifically to match by her friend Dawn Guibert. Dawn Guibert is based in York and has been designing and creating hats for the last 20 years. Her designs are unique and beautifully sculpted pieces of art, and it is no surprise that they can be seen adorning the heads of many celebrities and some of the most influential women in the country.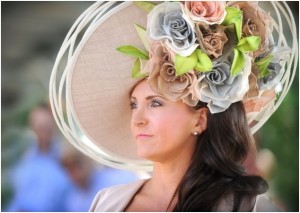 Maria Cheslin Winner of The Best Dressed Lady   Competition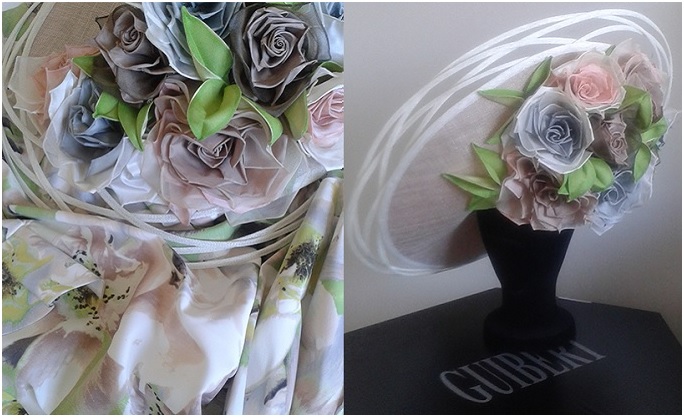 The colours in this hat match the dress   perfectly. It was no surprise to me at all that Maria Cheslin won 'best   dressed' at Newmarket.
Many of her beautiful designs can be seen on her website, along with her contact details. Lizzie's Hats and Get Ahead Hats stock many of Dawns designs to hire so they are definitely worth a visit.   Heidi Jacobs-Farnsworth and her friend Alisha Foley also stood out from the crowd co-ordinating their outfits perfectly with a splash of orange. Their hats were made by Miss Foley's sister Michelle - Who is also a very talented milliner – for more information on Michelle's hats visit Hairfascinators.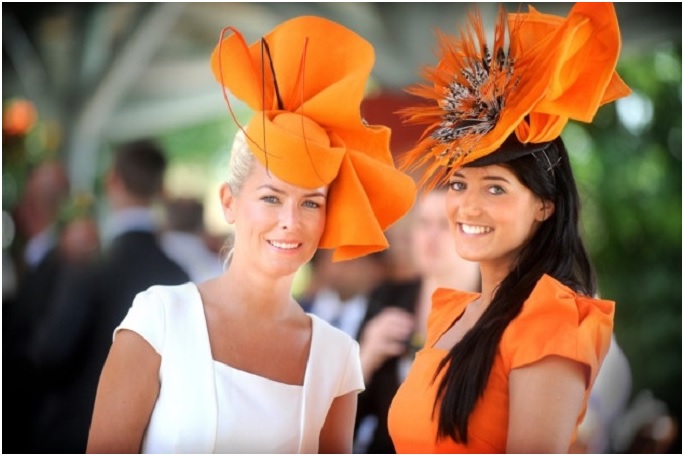 Alisha Foley – Dress Zara & Heidi   Jacobs-Farnsworth  - Made to Measure in China and were both wearing Hats   from HairFascinators.net
Alisha also wore the above hat earlier on in the year when she won best dressed lady at The Dubai World Cup.
Gentleman's Day at the July Festival  The Gentlemen were not left out at the July Festival with Friday being Dedicated to Gentleman s Day. And the Fashion on show did not disappoint with Gentlemen spotted wearing a variety of ensembles from Linen suits to keep cool in the heat and smartly tailored Three Piece Suits to Mix and Match Jacket / Trouser combinations. Hats were not compulsory on Friday or Saturday, so I chose to wear a white dress from Reiss which has seen just about every racecourse in the country, Sunglasses from Chanel, Prada shoes which look like they are the most uncomfortable shoes in existence but I promise I could probably run a marathon in them . (Please do not take me literally as I will leave the Marathon running to Jockey and Assistant Trainer Katie Margarson). My outfit was completed with a beige Chanel bag and a YSL bracelet.
Scott was wearing a Three Piece Bespoke Suit, a Shirt from Charles Tyrwhitt and accessorised with a Tom Ford Tie, Pocket Square from Crombie, Classic Church's shoes and Persol Sunglasses. The winner of the Best Dressed Gentleman Competition made sure he stood out from the competition by wearing Green Chinos with matching Green Tie as shown below.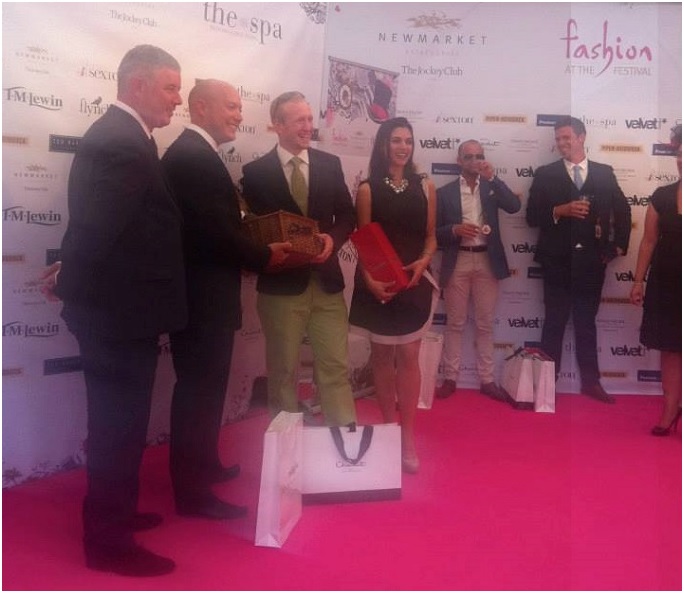 Winner of the Best Dressed Gentleman Competition   at Newmaket July Festival
The newly revamped Owners and Trainers Marquee opposite the parade ring was very impressive. It was extremely contemporary with white leather seating areas and the added touch of the most incredible cup-cakes.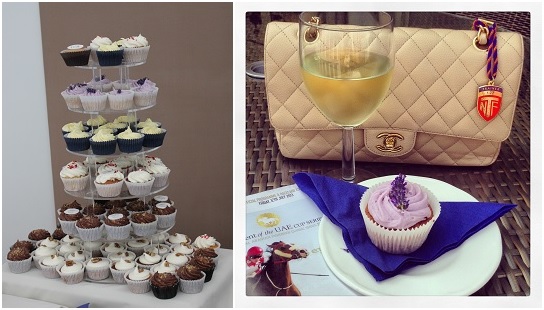 Congratulations were also in order to Katie Margarson and her team winning the Duchess of Cambridge Stakes with Lucky Kristale.   I have been unable to find out who won the Best Dressed Couple competition on Saturday at Newmarket as I was not in attendance. Chester Races  On Saturday I was at Chester Racecourse with Dr Red Eye who was competing in the listed race. Chester Races were also holding a Best Dressed Lady competition. You will always find some of the best dressed ladies in racing at Chester Races with every race-goer putting a huge amount of effort into their appearance, so it was no surprise to see numerous ladies wearing hats of all shapes and sizes. With the men making sure they are not left behind in the fashion stakes. Chester Racecourse has a strict policy that ties must be worn on course so you will often find ties being bought on the gate to ensure entry, this also results in some odd Tie / Shirt Combination. The winner of the Best Dressed Lady Competition is shown below she wore a very classic dress which suited her body shape a simple hat completed with beige accessories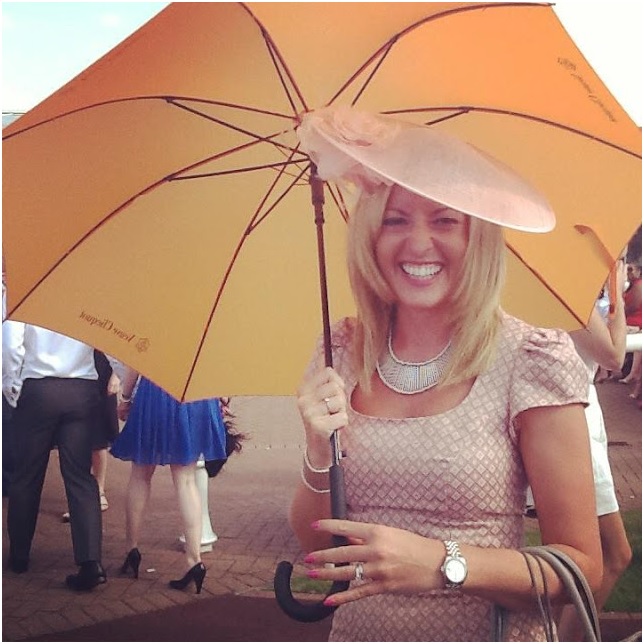 Winner of the Best Dressed Lady Competition
We almost managed to make it into the winners enclosure with Dr Red Eye leading the race until the final furlong and just getting beaten by 1 length to finish 3rd. In conclusion it was a fabulous weekend of exciting horse racing and fantastic fashion.  Check out more of Rebecca's racing experiences and advice here: http://www.furlongfashion.com/
Where the Surf Meets the Turf!
Del Mar Opening Day is on! This racetrack known for its sunny skies and summery fashion is a great place to show off your fantastic racewear.Time to get ready!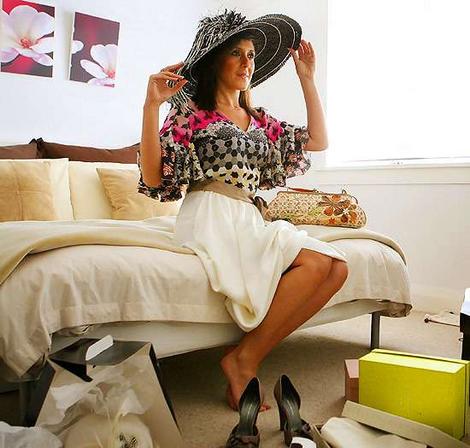 This is the place to grab that summery, flowing fabric dress, and pair it with a fabulous fascinator or hat. Del Mar is more open to the wedge heel and espadrille sandal which brings out the vacation feel from the close city of San Diego.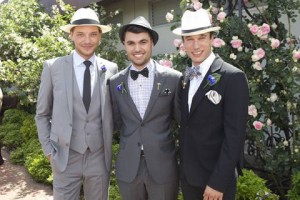 Opening day is the biggest day of the Del Mar meet. Ladies and gents dress up to see and be seen on this day of great racing. For the men lighter colored suits are the way to go here. Light blue, khaki, white pinstripe with an accent colored shirt and tie would be great picks for the (hopefully) sunny day. Rather than the regular black dress shoe, find a fun loafer that ties in the colors of your shirt and tie. Never worn a bow tie? Today's the day to try one out! Grab a fun one with polka dots, stripes, or a unique print from Martha's Vineyard. Fedora's are not a must have but are a great accent for opening day, especially with the Hat Contest. You can also try a boater instead which will have you stand out a bit more in a sea of Fedoras. Ladies you have a ton to play with here! Go for 'happy' colors and bright prints! Florals, graphics, and pastels are great trends to aim for.  Canary yellow would be a fantastic color to incorporate into your racewear. Ladies will flock toward the color pink so instead of being one of many, take the color pink and pair it with a color of the opposite color wheel.  Pink and yellow, pink and green, pink and blue etc. If you choose a print put in the extra effort to tie it into your millinery. If it's a rose print dress, pick a millinery piece with a rose flower. If it's more of a modern graphic piece, find millinery that compliment that trend. Big hats are welcomed here but make sure there is still a standout factor in your big brimmed piece or go for something more fun and risqué! Show the lookers that you put time and effort into your outfit and…it was worth it!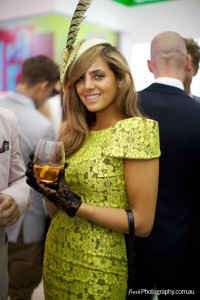 Go-to accessories for the day include gloves, lace or biker-leather, statement necklaces, and bold color bags to compliment your outfit. Pick a fun wedge or platform for your feet. It's going to be a long but fun day in the sun and you don't want your heels slowing you down. Even if it's a wedge, don't be bashful buying Dr. Scholl's heel inserts…trust me…you won't regret the extra padding.  If you're like me and usually don't pick a wedge for the races, flock toward a high platform. Del Mar is more of a modern racetrack with young and old dressing in the current trends. Instead of the vintage pick for this track, head more toward the risk taking stand out fashion that will have people talking all day long. If you have a big enough purse, slip a pair of flats in there for the walk home! This track is the place to have fun with your fashion! Incorporate the classic attributes with a more modern flair! Beautiful lace…in a neon shade! Classic gloves…but leather biker style! It's time to show off your best racewear! Besides, why should the horses get all the attention?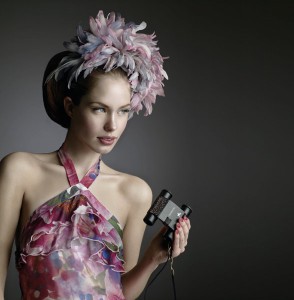 Show us your #WAYI #BCBEST today at Hollywood Park Racetrack! Tweet us your fantastic raceday fashion including @FashionatRaces @BreedersCup @CamHatsNYC with both hashtags for your chance to win 4 FATR champagne glasses and a $100 gift card to the Breeder's Cup Champion's Store at the end of the month… BUT WAIT, THERE'S MORE! By winning our monthly prize stated above, you are entered to win the grand prize of a custom millinery piece made by Christine A. Moore Millinery! Win the BC STYLE SNAP CONTEST and you won't have to worry about what millinery piece to wear to Breeder's Cup in November! Folks…it doesn't get better than this! For the full details, click here.
Hats and Horseshoes Party at Woodbine Racetrack!!

Its now time to head to Toronto in Style! The gorgeous racetrack located just 28 minutes from the city center of Toronto, Canada, known as Woodbine is hosting a 'Hats and Horseshoes Party' ! A fantastic raceday in itself, featuring the Queen's Plate which is the first jewel of Canada's Triple Crown takes place this Sunday, July 7. As you know, we love a great raceday that promotes its fashion, and that's just what this is. Dress in your Racing Best and walk the 'Red Carpet' in the walking ring to show of your fabulous hat and outfit. Although we may pair a high fashion day with couture hors d'oeurves and bubbly champagne, this Canadian track is rolling in the best food trucks in Toronto to keep your tummy's happy. Trucks include: Curbside Bliss Cupcakes, Smoke's Poutinerie, Gorilla Cheese, Kevin's Burger Obsession, and Big Grill Catering.

Instead of Champagne all day, make sure to try the signature Queen's Plate cocktail called the 'Blue Diamond' ! Don't spill this drink on your racewear though…a forever blue stain could ruin the classy day! Live music first from DJ Rob Manias and followed by the sounds of Emerson St. Rhythm Band will keep you in your heels rockin' at the races. Ladies, make sure to bring your Dr. Scholl's heel inserts to keep you on your toes all day! Save $2 on a pair now! To top it off, this day will be hosted by the Stylish Monika Platek who hosts CBC sports. She will be wearing a design by the official Queen's Plate milliner, David Dunkley. The Style parade begins at 12 noon so make sure to be at the Walking Ring a few minutes before so you can show off your fantastic outfit and millinery.   What should you wear? This is a great day to channel your 'Royal' side and really show off your millinery. Whether your more of a risk taker or a stay classic type gal, show your style first in your headpiece.  Since we are still in the spring and summer months, leave the felt pieces at home. A sinamay piece is perfect for this summery raceday. Make sure whatever piece you pick fits, and compliments your features. There's nothing worse than a big heavy hat that keeps falling over your eyes and giving you a horrific hat head! This is no Kentucky Derby so leave those bigger brimmed at home. If you want to shade your face go for an angled piece that provides mystery without hiding everything under the hat! Opposite to the huge hats, leave those tiny fascinators at home too! A small headband with feathers is not a millinery piece for the Queen's Plate. Find more than a headband to compliment your outfit. Its no problem finding a cocktail millinery piece without defeating the whole purpose of wearing one! Check out some of these more cocktail type pieces for inspiration: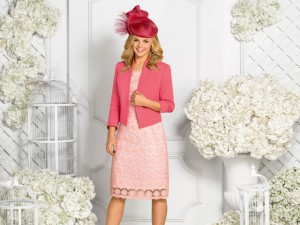 Be sure to tie your outfit into your millinery piece either with the colors or the theme of the design. As always, Keep it Classy, no nightclub wear or too short skirts. If you cannot walk in your heels, LEAVE THEM AT HOME! The races are a long day and its easy to underestimate how bad your feet will hurt in ill-fitting heels or ones you bought the day before. If possible, bring a pair of flats in your purse and save your feet on the walk home. Since this years summer in North America has been a bit unpredictable, bring a light jacket that is a strategic part of the outfit to keep those goosebumps at bay. A big style pet peeve is the light sweater that in no way ties into the outfit…just because its white does not mean it matches!! Freeze before putting the 'universal' sweater over your fabulous outfit! Get your racewear ready and start reading some form…this is going to be a great day of racing, fashion, and just overall fun! See you there!
ROYAL ASCOT STYLE 2013
You asked and we delivered!! More pics of Royal Ascot Fashion right here from Mathea Kelley:
  The third day of fashion at Royal Ascot! Gets better and better everyday! Check them out here from photographer
Mathea Kelley
:
  The second day of fashion at Royal Ascot brought more wonderful millinery designs and more risk-taking ones! Check them out here from photographer
Mathea Kelley
:
  Royal Ascot is up and running and that means the fabulous fashion is flowing through the gates! Check out our fashion photos from the talented
Mathea Kelley
who frequents the races both for the equine athletes and the fantastic fashionistas! Clink the link to see more from her and 'like' her page!
 Check out our Kentucky Derby Fashion advice on WHAS11 ABC in Louisville!
 5 Quick Tips on Dressing for the Races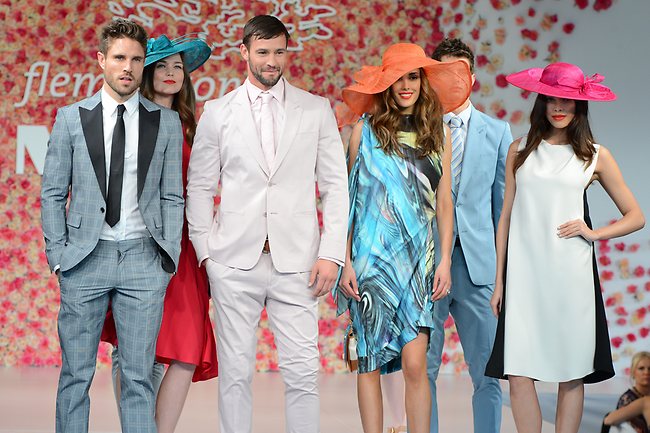 Women
Be comfortable-no one looks good in "someone else's" clothes or shoes

Leave the night club dress at home. Think classic and feminine when putting together you race outfit

Wear headwear! Hats and Fascinators are very fashionable and take any outfit from pretty to STUNNING!

Dress for the weather–if it's hot– don't risk "pitting out"–chilly? Wear stockings or a shawl/sweater.

Lastly, SMILE. Too many times girls are too busy giving the b**** look to each other–and it's never flattering.
Men
Shine your shoes before you arrive. Girls do pay attention to this. (Obviously NO SNEAKERS)

Tie your tie or bowtie correctly–need help? Check out this link: http://www.tie-a-tie.net/

Make sure your suit fits. It's so easy to recognize when your suit isn't fitted. Spend the extra and Get R Done!

Sunglasses…great for outside…UNNECCESARY INSIDE. Take them off or look like the tool—your choice

Smell good (PLEASE!) We are all attracted to good smells…don't find yourself in the other category.