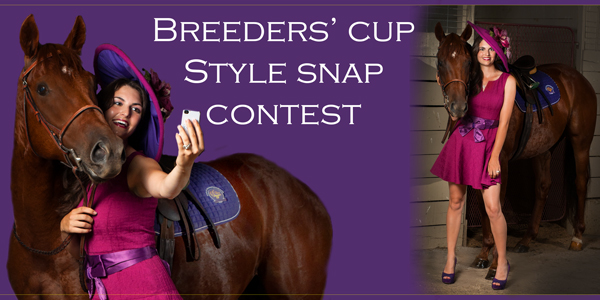 Photography and graphics by
LymanDVM Photography
Millinery by
Hats to Di For
Description
Breeders' Cup, Fashion At The Races & Christine A. Moore Millinery are proud to present "BC Style Snap."
Show off your Breeders' Cup pride and style on any US/Canada "Win and you're in" challenge race day for a chance to win one of four prizes from FATR and Breeders' Cup. Each month, from July through October, one BC Style Snap entrant will be chosen to receive a set of four champagne flutes with the FATR logo and a $100 gift card to the Breeders' Cup online store. A grand prize winner, who will be announced mid-October, will receive a custom hat from Christine A. Moore Millinery to sport on race days for years to come.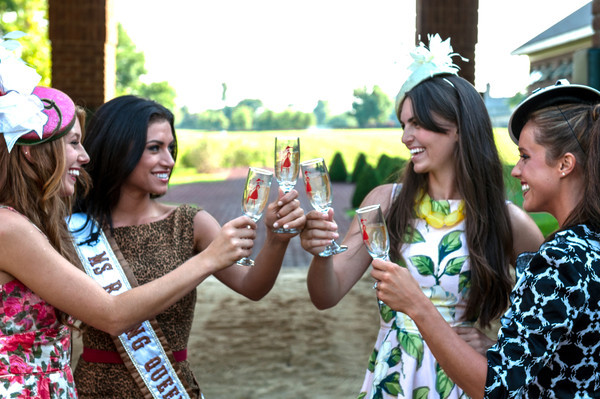 Breeders' Cup and FATR will also feature the grand prize winner with his or her custom Christine A. Moore hat on Twitter & Facebook.
Entering Style Snap just got easier, simply tweet a picture of your race day style to @camhatsNYC @fashionatraces using the hashtag #BCBest and you're automatically entered to win great prizes.
Better yet, Style Snap is expanding to Facebook! Starting on Opening Day at Santa Anita Park (9/27) you can enter Style Snap by simply posting a photo of your race day attire to the Breeders' Cup timeline using the hashtag #BCBest in your post. You'll see your photo added to the BC Style Snap album within 24 hours and you're in!
Stay tuned to Breeders' Cup, Fashion at the Races and Christine A Moore Millinery on Facebook and Twitter to learn how you can win champagne flutes, a $100 gift card to the Breeders' Cup store or two tickets to the 2013 Breeders' Cup World Championships. The best is yet to come! 
Here's an example: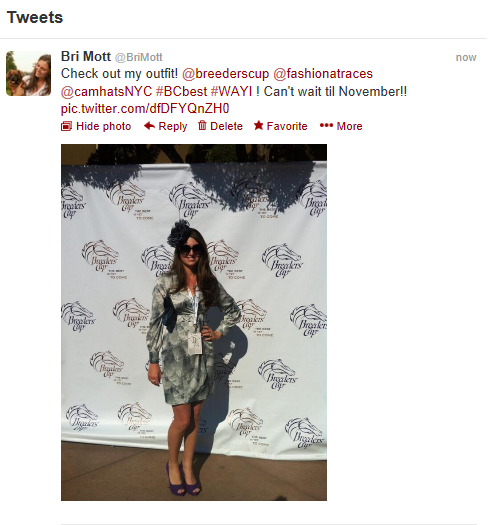 See eligible WAYI race days below:
July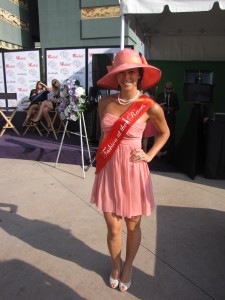 7/6/13 United Nations Stakes- Monmouth Park
7/13/13 Betfair Hollywood Park
7/28/13 Del Mar Thoroughbred Club
August
8/3/13 Del Mar Thoroughbred Club
8/17/13 Arlington Park
8/23/13 Saratoga Racetrack
8/24/13 Del Mar Thoroughbred Club
8/25/13 Del Mar Thoroughbred Club
September
9/7/13 Churchill Downs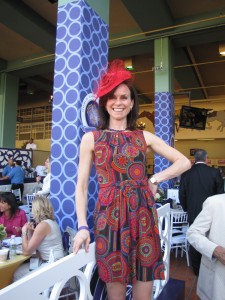 9/14/13 Woodbine Racing
9/15/13 Woodbine Racing
9/27/13 Santa Anita Park **
9/28/13 Belmont Park
October
10/4/13  Keeneland Race Track
10/5/13 Belmont Park and Keeneland Race Track
10/6/13 Belmont Park and Keeneland Race Track
10/10/13 Keeneland Race Track
10/13/13 Woodbine Racing
Terms & Conditions
1. Rules on how to enter form part of the terms and conditions of entry.
2. Entry may be refused if a contestant does not meet one or more of the Contestant Criteria:
CONTESTANT CRITERIA
ENTRY FORMAT
3. Contestants must send via the social media format of TWITTER and FACEBOOK, pictures of themselves on Breeders Cup "Win and You're In" race days.
4. Contestant entries via TWITTER/FACEBOOK must include the following hashtags to identify the competition entry #BCBEST and #WAYI
5. Contestants must send entries via TWITTER/FACEBOOK to the following accounts, @BreedersCup @Fashionatraces and @camhatsNYC
ELIGIBILITY
6. Contestants must be 18 years of age or more to be eligible to enter the competition
NO COMMERCIAL INVOLVEMENT
7. Neither contestants nor their outfits are permitted to commercially promote a brand, store, milliner or designer.
8. Contestants may not enter the competition on behalf of a third party.
9. Contestants must not receive any payment or benefit from a third party for entering (or otherwise in connection with) the competition.
WINNERS AND PRIZES
10. The Promoter will select the judging panel. The decision of the judges' is final. In the event of a draw, the Promoters Adjudicator will determine the winner.
11. Winners will be notified via social media streams
12. All prizes must remain the property of the winner once awarded. No interest in a prize may be granted to a third party.
13. Prizes are non-transferable, non-exchangeable and not redeemable for cash.
14. Prizes are subject to change at the discretion of the Promoter.
15. Should a winner prove to be ineligible for a competition, be unable to fulfill the Contestant Criteria in any way, do not agree to any of the Terms and Conditions, breach these terms or interfere with the fair running of the competition (or attempt to do so), then some or all of their prizes may be revoked.
PHOTOGRAPHS AND PERSONAL DETAILS
16. The Promoter may collect personal information via competition on request from contestants, in order to conduct the competition and provide prizes (and may provide such information to third parties for these purposes). If the information requested is not provided, the contestant may not participate in the competition. Contestants may access the information that the Promoter holds about them by contacting the Promoter's Office. Promoter and/or Sponsors may use a contestant's name and contact details to send the contestant offers, marketing materials and other information, including electronic messages.
17. Contestants agree that their image and name may be used by the Promoter and sponsors for future promotional and publicity purposes without any compensation or reward. Any photography, video or imagery obtained during the event is property of the Promoter, and any use of this material by anyone other than the promoter must be done so only with written permission from them.
GENERAL
18. All entries become the property of the Promoter when submitted.
19. The Promoters of the competition are Breeders Cup Ltd and Fashion at the Races LLC, 240 Rose Hill Avenue, Versailles, KY, 40383.