We were so excited to be a part of the Longines Most Elegant Woman competition at the Preakness Stakes. Women really made the judges job hard this year as they all looked so elegant and fabulous! Over fifty women found in the Corporate Village at Pimlico lined up on the Longines Fashion stage.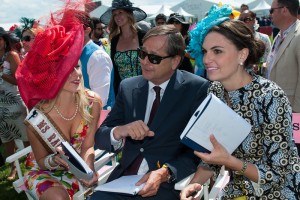 Each strut their stuff in front of the judges which included Longines Vice President Charles Villoz, Ms. Racing Queen Linsey Toole, and our own racing fashion expert, Bri Mott. It was a bit of a debate to narrow the lovely dressed ladies down to the Top Ten Most Elegant Ladies. From a wide array of fashion choices including big brimmed hats, feather fascinators, and sinamay hatinators, the style varied at the Preakness but the #TripleCrownTrends prevailed! The winner was in a bright fun printed green coat paired with a feather fascinator and smart wedged heels.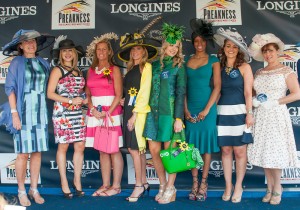 Lacey Johansson from Baltimore Maryland comes to the Preakness every year. This year in particular she put together the outfit that won her a gorgeous Conquest Classic timepiece as the Most Elegant Woman. On a visit to New Orleans, she found a hat shop, the Fleur De Paris and met Kimberly Gondrella who constructed this green fun feathered piece just for her. The colorful hat that received so many compliments was from Las Vegas from Desigual. Since it had poured the day before and we were in a grassy area, Lacey went smart with a pair of gold Steve Madden wedged heels. Finishing off the look with a Michael Kors purse that brought out the bright greens in her coat and hat. It's tough not to touch upon her gorgeous green eyes that really were the staple of her whole color coordination!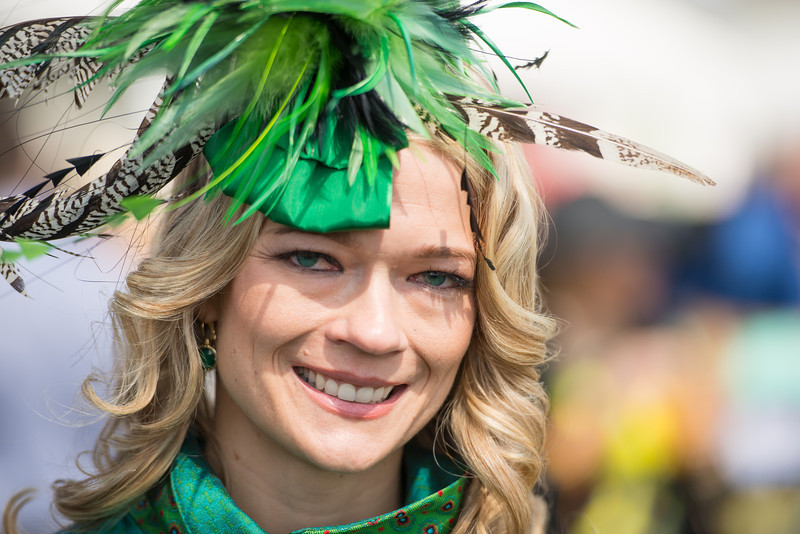 Bri Mott caught her for a quick interview:
What brought you to the races on Saturday? Preakness is just about my favorite day in Baltimore. I have been going to the Black Eyed Susan races for a girls day with my mom, godmother, and Aunt ever since I was a baby. It has become an annual tradition. I started going to the Preakness when I was 17 years old. It is a wonderful event that I always look forward to and as a bonus I get to see a ton of people that I want to catch up with all in one place.
Will you attend Belmont? I am actually looking at buying tickets. I would love to see a Triple Crown winner in person.
Were you rooting for California Chrome? Absolutely. I had the #3 and the #10 in an exacta and the #3 to win.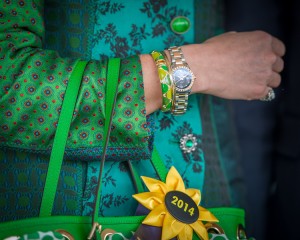 What would be your advice to women dressing for their next raceday? Raceday is an opportunity to dress out of the box in something you typically wouldn't wear. I always look for unique pieces that really stand out. I think a hat or fascinator really tops off the outfit. I always find my dress first and then look for the hat afterwards however I think I am doing that backwards. Since the hat is the statement piece it may be easier to buy the hat first and then find the outfit. Also, if you are going to Preakness then wedges are key given the surface you are walking on.
What would be your advice to ladies entering any future Longines competitions?
Be original and find something unique.
What do you love most about your Longines watch?
I love the rose gold and diamonds on my Longines watch. This watch is an extremely elegant timepiece and is a piece of jewelry to accessorize a special occasion outfit.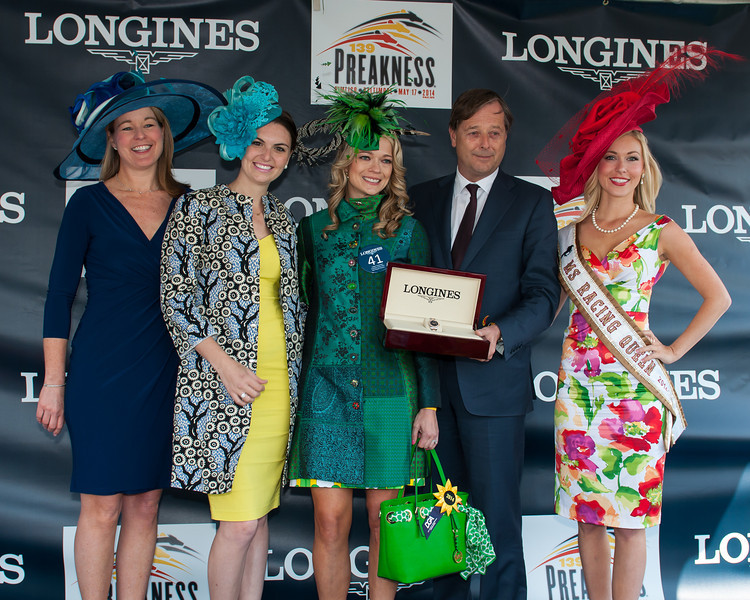 Lacey won this beautiful Conquest Classic timepiece from Longines and was presented the piece in the Winner's Circle at Pimlico Racecourse. Here's a great video that showcases the great day:   Congratulations to Lacey and to Longines for a successful Most Elegant Woman competition! We aren't far from the Belmont Stakes where Longines will again be looking for the Most Elegant Woman on the day!